Penn State's Drew Allar is finding himself a new role during spring ball
The Nittany Lions' rising sophomore quarterback has found himself a new role this spring.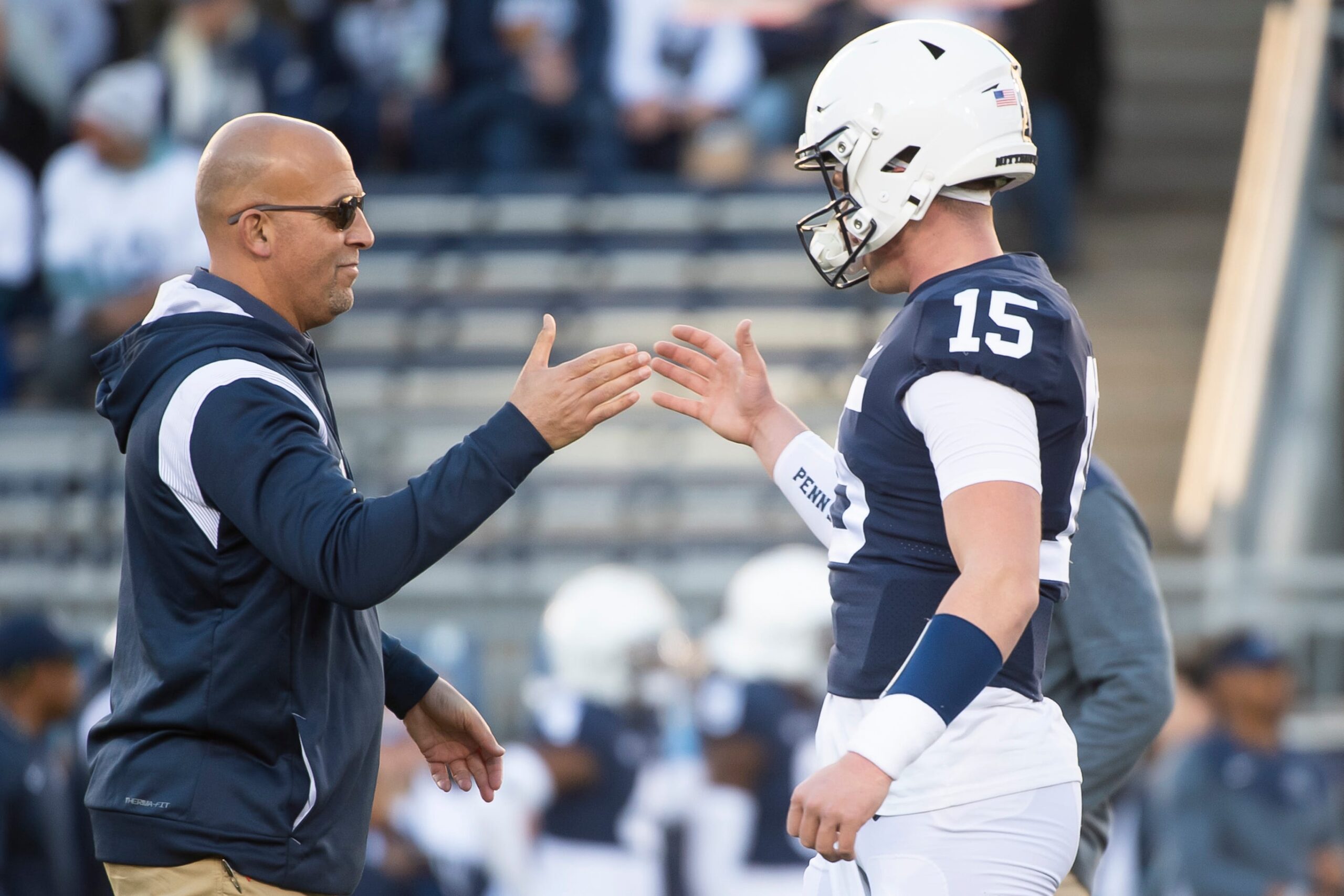 STATE COLLEGE, Pa. — Since committing to the Blue and White as a member of the 2022 recruiting class, the former top-ranked recruit in the country has seen his fair share of hype. Drew Allar, a rising sophomore quarterback with the Penn State football team, is only 19 years old, yet is already facing a season full of massive expectations for him and his team. While James Franklin insists that Allar has not won the job yet, there is a good chance that number 15 will be rolled out as the Week 1 starter against West Virginia this September.
Despite the massive expectations for Allar and the Penn State football program, Penn State's young star quarterback is taking things one step at a time — first comes spring, then the opener against WVU, and so on. Being a young face in a big place on one of the largest stages in college football, Allar is slowly finding a new role for himself as a leader amidst the chaos.
The hype surrounding Penn State's Drew Allar is at an all-time high heading into the 2023 season
The hype surrounding Drew Allar among college football fans (and especially Penn State football fans) is incredible. Several factors have led to Allar becoming one of the most hyped players in Nittany Lion history, and the timing surrounding his commitment and arrival has been impeccable. When Allar initially committed, Penn State was in the middle of a down period — Penn State had just gone 4-5 in 2020 and was heading into a 7-6 season in 2021. With the No. 1 player in the nation on his way in, of course, Allar was predetermined by many fans to be the "savior" of Penn State's program.
After having an incredible bounce-back season in 2022 — which saw Penn State football finish just outside of the top-5, win the Rose Bowl game, finish 11-2 overall, and more — the hype surrounding Allar's first start has only been amplified.
Heading into a season full of incredibly high expectations for the 19-year-old gunslinger and the Nittany Lions' program, Allar says he is locked in on what lies ahead and is stepping into a new role as a vocal leader.
Despite the noise, Allar and Penn State football are only focused on what lies ahead
During Tuesday evening's media availability, media members had a chance to speak with the 6-foot-5 former five-star quarterback — there, the young Nittany Lion had an opportunity to comment on the expectations for his team this year and how he is dealing with them.
"I think we are a really competitive team, which is only going to help us by the time the season rolls around," Allar explained. "I think we are competing against each other at a super high level right now, and it is only going to help us going into the summer."
One of the best parts about playing for the Penn State football team is that you are going against some of the best players in the country every single practice. As the saying goes, 'iron sharpens iron,' which is precisely what happens during spring ball in Happy Valley. Still, even as a sophomore in college, Drew Allar will be considered a team leader and an offensive leader.
As a new season approaches, Penn State's rising sophomore is finding himself a new role
When asked about what kind of leadership role he has, Drew Allar explained that he is starting to step into a new role with the Nittany Lions.
"I definitely feel like I am a little bit more vocal [than in the winter]," Allar said. "There is a lot of improvement across the board for everything for me, but I do feel like I am doing a better job of being more vocal at times. I do feel like I need to step up and be more vocal at times still, but I think overall the leadership as a whole is coming along. It might not be the same leadership as last year as far as the same type of leaders, but we could have more leaders than we did last year and more lead-by-example guys — the whole team is doing a really good job of that right now."
Heading into the 2023 Penn State football season, the Nittany Lions are getting more competitive, and Penn State's Drew Allar is starting to step into a much more prominent and more important role on the team as a leader both on and off of the field.
---
---
Thank you for reading Basic Blues Nation. Please follow us on Facebook and Twitter for the latest news and insights on your favorite Penn State athletics. For feedback, questions, concerns, or to apply for a writing position, please email us at [email protected] or direct message us on our social media. It's due to your support that we can become one of the market's fastest-growing Penn State sports outlets!