James Franklin, Penn State vets have endless praise for freshman linebacker
The Nittany Lions have an incredible freshman linebacker that is already receiving endless praise.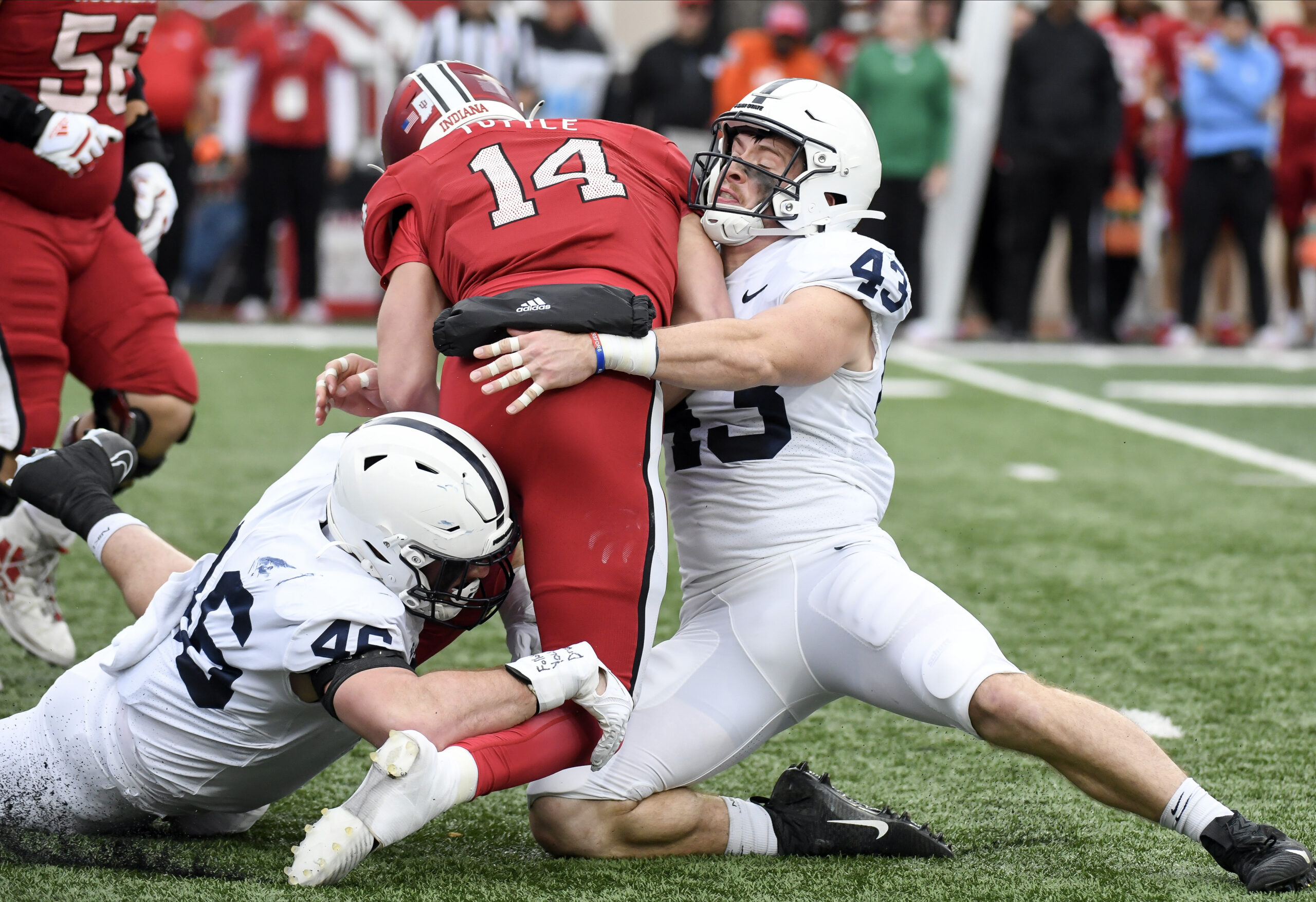 STATE COLLEGE, Pa. — Penn State University is a place known for many things: the football, the academics, the beauty of the surrounding area, and developing elite college linebackers. So far during spring ball, there seems to be no exception for Penn State freshman linebacker Tony Rojas, who has been turning heads among his teammates and the Penn State football coaching staff during spring ball thus far.
Who is Tony Rojas?
If you don't follow Penn State football recruiting very much, there's a good chance you are yet to hear the name Tony Rojas. Why? Because Rojas is a rising freshman linebacker on the Penn State football team, and is yet to see the field in the Blue and White to this point. As a high school recruit, Rojas was one of the major prospects to choose the Penn State Nittany Lions — he was rated as a consensus four-star recruit and ranked as the No. 86 player in the 2023 class, the No. 8 linebacker, and the No. 3 player in the state of Virginia.
The Penn State freshman linebacker is turning heads during spring practice
As we begin to count down the days until the Blue-White game, many Nittany Lions have had good things to say about Tony Rojas. So far, it sounds like Penn State's freshman linebacker is already turning heads through his commitment, weight room habits, and on-field ability.
"Them being here now I think is really valuable," James Franklin said about true freshman linebackers Ta'Mere Robinson and Tony Rojas being present for spring ball. "[Tony Rojas] is gaining more and more confidence every single day, he has put on 29 pounds since he's been here, and it's good weight. I don't know how that is necessarily possible, but he has put on 29 pounds. Every time I go to the nutrition bar he is sitting there eating — after practice he is getting an extra pump in, and he is playing fast and carrying the weight really well.
"There is a lot of excitement about those two guys" (Tony Rojas and Ta'Mere Robinson).
Veteran defensive players are taking note of Penn State freshman linebacker during spring ball
It comes as little surprise that Penn State head coach James Franklin took note of his freshman linebacker's weight gain and performance thus far. Yet, Franklin is not the only one in the facility to have positive commentary about Tony Rojas thus far; Penn State football defensive star Kalen King — a cornerback — also says that Rojas is standing out during spring ball.
"Tony Rojas," Kalen King said when asked about any impressive early enrollees. "Tony Rojas came in very competitive, very up to speed, he was already acclimated to the system as soon as he got here; he was running 21-22 miles per hour at linebacker — that's crazy. And he was winning most of the competitive drills and all of that, so [Rojas] is another guy as well.
"When he came [to Penn State], he was a good size, but now you can really see the difference; his muscles are a little bigger — his presence is a little bigger now."
King's praise for Rojas did not end there, either. "I feel like he didn't lose a step — I feel he gained good weight because he is still out there making plays on the ball. He's still out there, you know, making good open-field tackles, so I feel like that weight only benefitted him."
King isn't the only player to mention Rojas' athletic traits
Earlier this spring, Penn State football linebacker Tyler Elsdon also had a good amount to say about Penn State freshman linebacker Tony Rojas and his ability to transition from high school to college football.
"He is a great athlete," Elsdon said. "Like I said, good head on his shoulders, he is very mature, and he goes about his business the right way. The first time I saw him workout — besides the winter workouts — he grabbed my attention, and he continues to do that; obviously, the coaches saw it, and I think — like I said — he is going to be a great addition to [the Penn State football team] and I am very excited to see [his future]."
With all of this seemingly endless praise coming for Penn State freshman linebacker Tony Rojas during his first-ever PSU spring session, it is hard for fans, players, and alumni not to be excited for his future in the Blue and White. If this spring is a sign of things to come for Tony Rojas, he could be the next great linebacker to assert Penn State as 'LBU.'
---
---
Thank you for reading Basic Blues Nation. Please follow us on Facebook and Twitter for the latest news and insights on your favorite Penn State athletics. For feedback, questions, concerns, or to apply for a writing position, please email us at [email protected] or direct message us on our social media. It's due to your support that we can become one of the market's fastest-growing Penn State sports outlets!