Iron sharpens iron: how Nick Singleton and Kobe King are making one another better in spring ball
As the saying goes: iron sharpens iron, which is precisely what is happening at Penn State.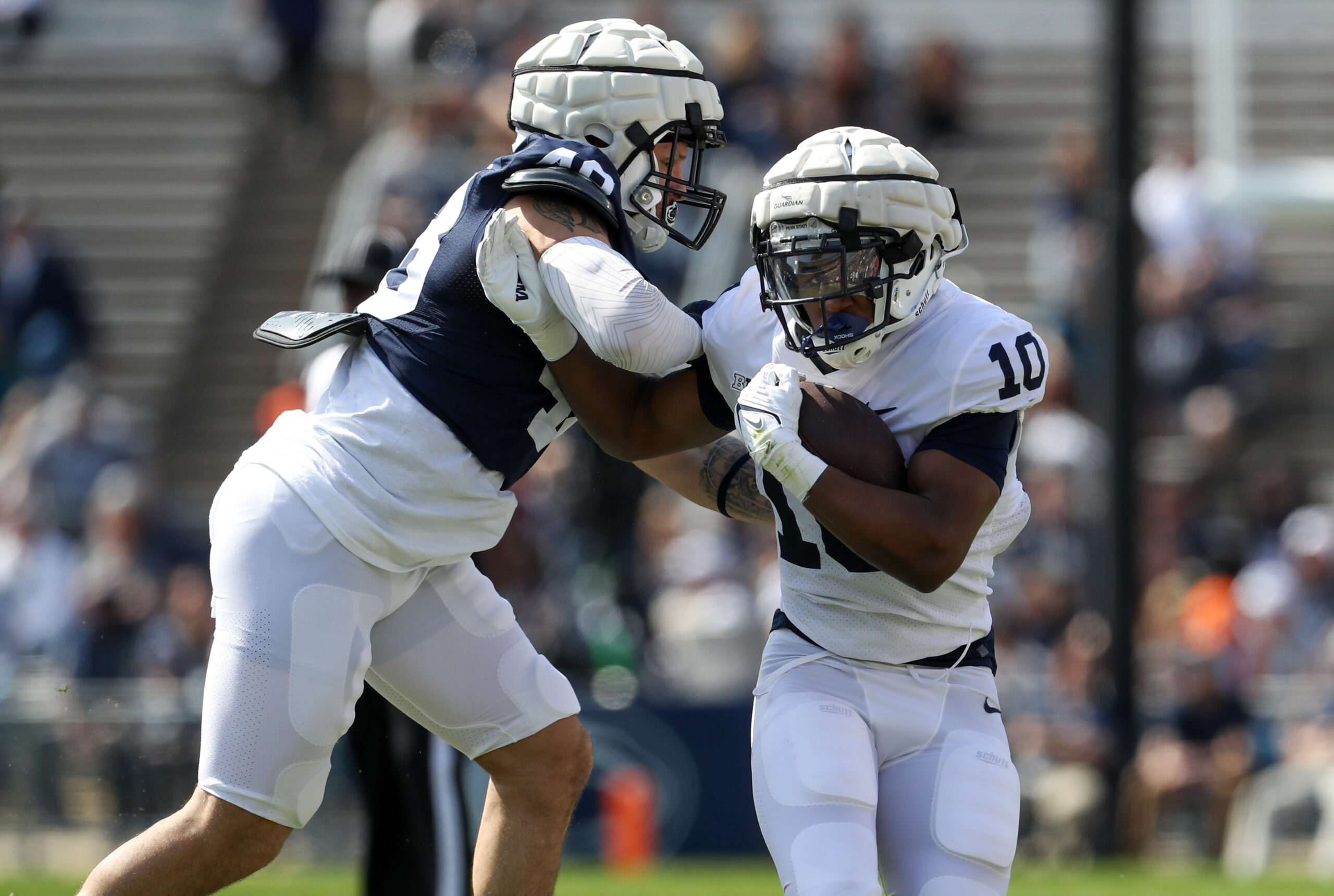 STATE COLLEGE, PA — As the month of March comes to a close, the Nittany Lions are still hard at work on the practice field. It wasn't too long ago that Penn State football was hoisting the coveted Rose Bowl trophy in the air after knocking off No. 8 Utah by 14-points to conclude an incredible 11-2 season. Now, just over two weeks out from Penn State's annual Blue-White spring game, the Nittany Lions are hoping to obtain more lofty goals in the coming season. With Penn State's spring ball comes improvement — iron sharpens iron, if you will — especially from two rising standouts: Kobe King and Nick Singleton.
Penn State football: Kobe King, Nick Singleton are making one another better during spring ball
The Penn State football program is heading into a season full of massive expectations this fall, and two Nittany Lion standouts are going to need to carry their fair share of the weight: Nick Singleton and Kobe King. So far, both Penn Staters have been performing well during spring ball, and with that comes improvement on both ends.
"I would say running with Nick Singleton more often, catching him on the wheel routes," King said when asked about how his speed and quickness have changed. He added, "I feel like I'm losing weight day by day, I'm getting faster, I'm getting stronger.
"I would say I'm a guy that runs to the ball a lot, makes sideline-to-sideline tackles, and I would say our defense is doing a better job of that, running to the ball. Just seeing the ball and going instead of just watching the ball and reacting."
Kobe King — the brother of Penn State standout cornerback Kalen King — claims that Singleton is making him better in practice, too.
"He's not getting out there as he used to," King said of rising sophomore running back Nick Singleton. "We bring the best out of each other."
This fall, both Nick Singleton and Kobe King will be needed contributors if Penn State football expects to make its first-ever appearance in the College Football Playoff — something that the Nittany Lions have been close to, yet have fallen just short of achieving many times now.
---
---
Thank you for reading Basic Blues Nation. Please follow us on Facebook and Twitter for the latest news and insights on your favorite Penn State athletics.
For feedback, questions, concerns, or to apply for a writing position, please email our Managing Editor at [email protected]. It's due to your support that we can become one of the market's fastest-growing Penn State sports outlets!