Josh Pate: 'No Surprise' if James Franklin, Penn State Make 2023 CFP
According to one college football personality, Penn State football could have a historic run in 2023.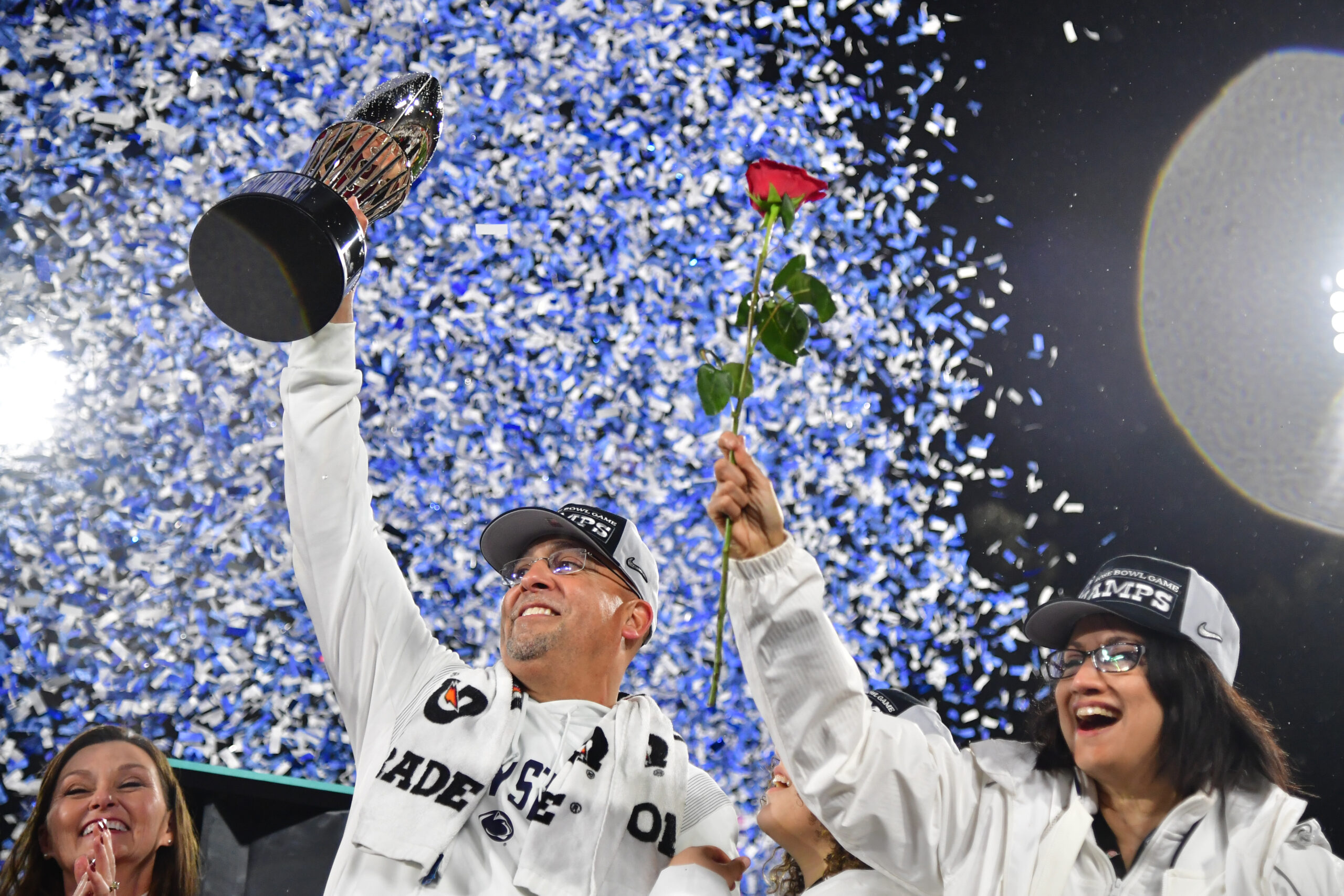 Nashville, TN — Does progress always need to occur in a straight line? For Penn State football, the answer is "no" for one of the most influential voices in college football media. It may be March, but 247 Sports' Josh Pate doesn't think James Franklin and the Nittany Lions should be sneaking up on anyone this year.
Josh Pate: Penn State Football is 'a Wolf at the Playoff Door' in 2023
On Tuesday night's episode of his show, Late Kick, Josh Pate spent considerable time discussing the current state of the Penn State football program. Pate said that the Nittany Lions are "a team I think you need to have your eye on" and that they are "a wolf at the playoff door" in 2023.
In Pate's opinion, Penn State is a real threat to win the Big Ten and make the playoff both this season and for a "sustained run" in the future. "No one should be surprised if this team pops this fall," Pate said. "And no one should be surprised if Penn State goes on a multi-year run where they're in the conversation every year."
The recipe for Penn State's potential success is simple for Josh Pate. He pointed to the likelihood of having Drew Allar, the highest-rated quarterback prospect in the program's history, as Penn State's starter. He went so far as to call Allar one of the best quarterbacks in the Big Ten. However, according to Pate, Allar won't need to carry the burden alone, as the Nittany Lions have one of the most productive running back duos in the country in Nicholas Singleton and Kaytron Allen. Pate also cited Penn State's "proven production" on the offensive line.
On the defensive side of the football, Pate called James Franklin's hiring of Manny Diaz "one of the sneakiest best pickups of last year." He noted that the Nittany Lions return 75% of their defensive production. Pate also gave a shoutout to Abdul Carter and said the rest of the nation will know the sophomore linebacker's name by season's end.
Can James Franklin Get Over the Hump?
Josh Pate also spend considerable time in the segment challenging the naysayers of Penn State football's potential. Pate acknowledged the high standard for success around the program but noted that Penn State isn't far off from that goal.
"Degrees of difference [are needed]," Pate said. "They don't need wholesale changes; they are right on the doorstep."
Pate discussed how critics cite James Franklin's lack of regular success against Ohio State and Michigan as evidence that the coach will never get over the hump. Pate claimed that the discussion is similar to critiques of Kirby Smart at Georgia before he won his first national championship. 
"Just because it has not been, doesn't mean it cannot be," Pate said.
To close the segment, Pate compared James Franklin and the development of his program to that of Dabo Swinney and Clemson. Unlike the rapid success of Nick Saban and Alabama, Pate argued that a program can still be doing things the right way if it doesn't "mushroom cloud" right away. 
"Success is not always linear. Sometimes things don't always take off right out of the gate. Sometimes there's a slow build," Pate said. 
Forget the fancy graphics package THIS is how I see Penn State right now pic.twitter.com/AcZclZuAe0

— Josh Pate (@LateKickJosh) March 22, 2023
But, Pate concluded by saying that, like at no other point in the James Franklin era at Penn State, things "may be at the point where everything finally starts to come together." Will Josh Pate's assessment of the Penn State football program be correct? We only have to wait 164 more days to find out. 
---
---
Thank you for reading Basic Blues Nation. Please follow us on Facebook and Twitter for the latest news and insights on your favorite Penn State athletics.
For feedback, questions, concerns, or to apply for a writing position, please email us at [email protected] or direct message us on our social media. It's due to your support that we can become one of the market's fastest-growing Penn State sports outlets!