Week in review: Penn State QBs Drew Allar, Beau Pribula, Jaxon Smolik shine
The Penn State QB room is already impressing early on in spring practice.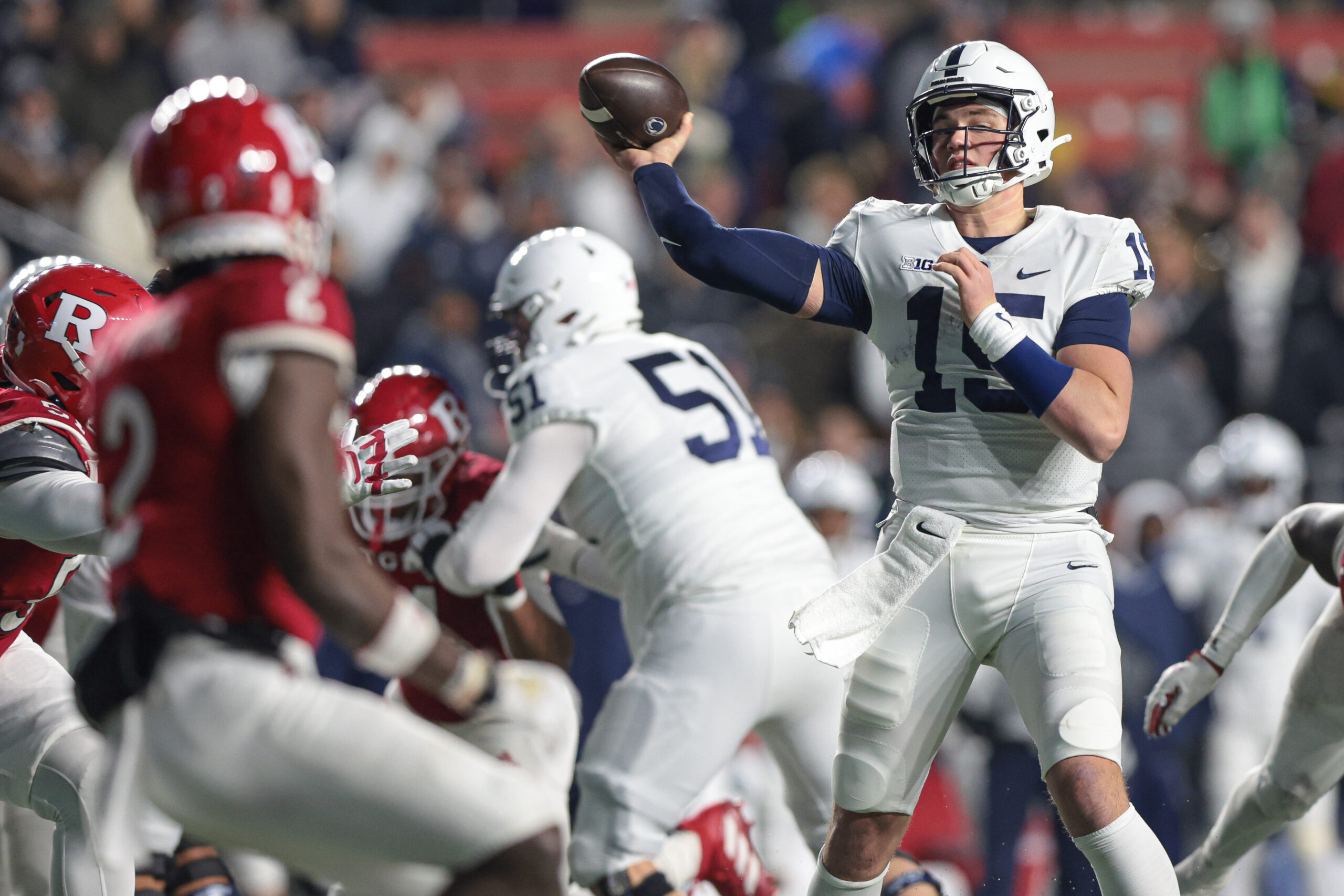 *Editor's note: This piece is a first person account of this week's Penn State football open practice. the thoughts and opinions expressed are those of Colin Crissey, a contributor for Basic Blues Nation.
State College, PA — On Tuesday, Penn State football held its fourth of 15 spring practices. The media was allowed a window to watch some of the practice and then had a period to talk to James Franklin and offensive coordinator Mike Yurcich. While there are many players and themes that stood out, it was hard for my attention to not be drawn to the Penn State QBs. Although it's still early, it's evident that Drew Allar, Beau Pribula, and Jaxon Smolik are each settling into their own unique roles this spring.
Marques Hagans gets comfortable in his new role
I saw Penn State's new wide receivers coach Marques Hagans work up close with his position group for the first time. Hagans was teaching his receivers proper technique on comeback routes in the limited viewing window that the press had. The veteran WR coach emphasized attacking the ball at the catch point and turning upfield after catching the ball. 
It was nice to see how fast Hagans has integrated with his new team and how he is already teaching his receivers. Hagans position group already includes a talented roster, including KeAndre Lambert-Smith, Malik McClain, Harrison Wallace, Liam Clifford, and Kaden Saunders, to name a few. Penn State will add even more depth when Kent State transfer Dante Cephas enrolls. 
New WR coach Marques Hagans teaching comeback routes pic.twitter.com/Vl3qIWG0Q1

— Colin Crissey (@ColinPat3) March 21, 2023
Who was James Franklin impressed with?
James Franklin made it clear that he was impressed with a lot of his roster. But he specifically mentioned three early enrollee offensive linemen – J'ven Williams, Alex Birchmeier, and Anthony Donkoh – as young players who have stood out. 
Freshman Safety Elliot Washington made a play in practice that Franklin showed the entire team. Clearly, the four-star safety from Florida has impressed early. The linebacker duo of Ta'Mere Robinson and Tony Rojas also caught Franklin's eye. Tight ends Joey Schlaffer, Khalil Dinkins, and Jerry Cross have also impressed the staff. 
Mike Yurcich's thoughts on Jaxon Smolik and the Penn State QBs
The Penn State QBs are much leaner as a position room than a few months ago. In the 2023 class, the Lions only added three-star Jaxon Smolik after losing veterans Sean Clifford and Christian Veilleux. However, offensive coordinator and QB coach Mike Yurcich is impressed with how the youngest of the Penn State QBs, Jaxon Smolik, is performing so far.
Yurcich said, "He's a very poised young man. He doesn't get real high, he doesn't get low, and that's a good mentality to have as a quarterback." He added, "he's able to process information very well. He's still trying to get a grasp on the offense, and I think he's better when he hits the field."
Yurcich praised Smolik further by saying, "When he's on the field, he sees it, and he gets it, and he has really good vision. That's a really important trait to have as a quarterback. Being on the blackboard and being able to spit out information the way we spit it out as coaches will come with time. He's still learning that, and that will be a transition for him. I'm very pleased with how he gets on the field and is ready to go and can see the defense and use his eyes very well."
Smolik joins Drew Allar and Beau Pribula in a very young QB room. A lot of attention has gone to Drew Allar this offseason, and for a good reason. Allar will likely take the reins of Penn State's offense this year. Still, it's essential to build the depth of the entire room. 
Drew Allar and Beau Pribula can sling it
In practice, Yurcich asked the young Penn State QBs to make difficult throws. Yurcich had Allar and Pribula throwing deep to the pylon. It was a good test for the arm strength of both Allar and Pribula. Yurcich also made them move in the pocket before resetting their feet and firing. Allar was especially impressive here. 
Allar and Pribula throwing to the pylon. pic.twitter.com/etxRnCb2JT

— Colin Crissey (@ColinPat3) March 21, 2023
Allar and Pribula were also throwing out routes in front of the media, which are notorious for being difficult to throw in stride to a receiver. But Allar put the ball on the money almost every time. 
Allar throwing out routes ✨ pic.twitter.com/GT9at4wQAR

— Colin Crissey (@ColinPat3) March 21, 2023
While it is not surprising, I have a newfound respect for the arm talent of both Drew Allar and Beau Pribula after seeing it live. Allar is expected to be a huge part of this offense, and it starts with the freakish natural abilities displayed in front of the media. But don't be surprised if Pribula has a role as well.
---
---
Thank you for reading Basic Blues Nation. Please follow us on Facebook and Twitter for the latest news and insights on your favorite Penn State athletics.
For feedback, questions, concerns, or to apply for a writing position, please email us at [email protected] or direct message us on our social media. It's due to your support that we can become one of the market's fastest-growing Penn State sports outlets!