Penn State football: breaking down the Nittany Lions' new wide receivers coach
James Franklin and Penn State football have a new wide receivers coach. Let's break down the hire and what it means for PSU.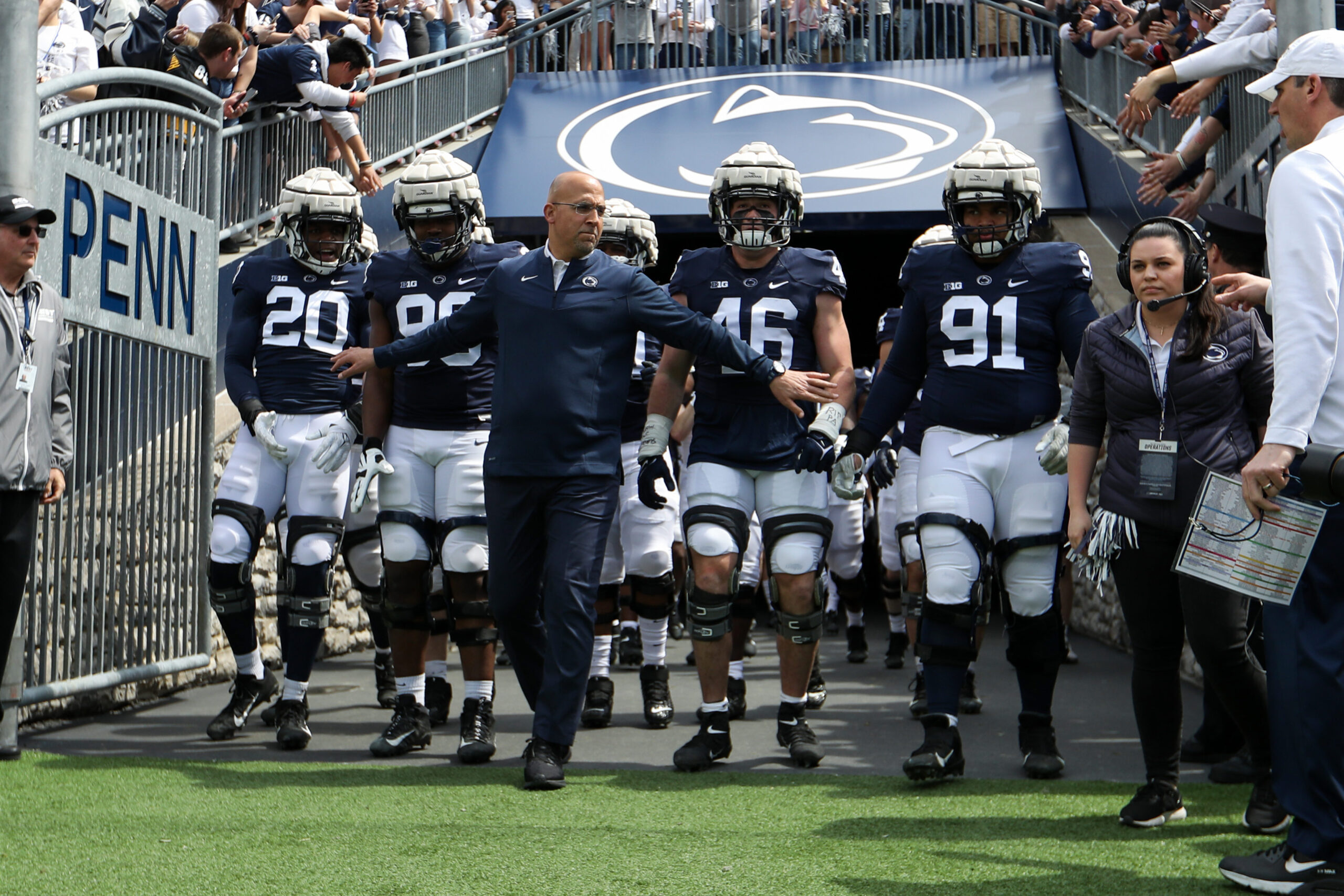 On Monday morning, James Franklin officially announced the hire of University of Virginia wide receivers coach Marques Hagans as Penn State's new receivers coach and offensive recruiting coordinator. The decision comes eight days after parting ways with Taylor Stubblefield, who was with Penn State football for three seasons.
A mainstay at Virginia, the move grabbed headlines as Franklin was able to lure Hagans away from his alma mater.
"He is a veteran coach, whose experiences playing both quarterback and wide receiver at the highest levels will bring tremendous value to our program," Franklin said of the hire. "Marques has a proven track record of developing receivers throughout his career and has worked alongside many coaches I respect. Marques is a relationship-based leader, whose family values align with the culture of Penn State football. We are thrilled to welcome Marques, his wife, Lauren, and sons, Christopher and Jackson to Happy Valley."
"Drop" in production
Penn State's wide receivers experienced a significant step back in 2022. Stubblefield experienced great success with Jahan Dotson in 2021. Dotson led the Nittany Lions with 91 receptions for 1,182 yards and 12 touchdowns.
Parker Washington took the mantle in 2022 but did not experience Dotson's level of success as the primary wide receiver. Washington caught 46 passes for 611 yards and two scores in 2022. While he missed the final three games due to injury, that was still a considerable decline from 2021.
However, the entire receiver room struggled in 2022. Total receptions from receivers decreased by 40, from 200 in 2021 to 160 in 2022. As a result, receiving yards declined by over 600 yards (2,676 in 2021 to 2,048 in 2022) and touchdowns dropped by seven (20 to 13).
The fall in production was undoubtedly due to a change in opportunity. As Penn State's running attack – led by Nicholas Singleton and Kaytron Allen – took off in 2022, the need for the receivers to carry the offense subsided. Stubblefield's receivers had over 300 targets in 2021, compared to less than 250 this year.
But Nittany Lion receivers didn't always capitalize when their numbers were called. According to PFF, Penn State's receivers had 10 dropped passes in 2021. In essence, this equates to one dropped ball every 30 passes. This past season, the receivers dropped 16 passes. This doesn't seem significant initially, but accounting for the decline in targets, this comes out to one drop every 15 passes – half that of the prior year.
There are also aspects of the game that are more difficult to measure. The receivers struggled to get open in critical situations for stretches this season. This was most evident in the deep passing game, where the Lions struggled to develop consistency.
Whatever you pinpoint as the reason for the drop in production in 2022, it ultimately fell at the feet of Taylor Stubblefield. And – for better or worse – it'll be up to Hagans to fix it.
Leaving home
Hagans has spent nearly two decades as both a player and a coach for Virginia. A four-year letterman, Hagans currently ranks seventh on Virginia's all-time total offense list with 5,779 in his career.
After a five-year NFL career, Hagans rejoined the UVA staff in 2011 as a graduate assistant. Promoted to wide receivers coach in 2013, Hagans has coached ten of the 15 receivers on Virginia's career receptions list. This included currently Atlanta Falcon Olamide Zaccheaus, whose 2,753 career receiving yards ranks second in school history.
In 2021, the Cavaliers were the only school in the nation with five different receivers with at least 500 receiving yards. Most recently, Hagans guided Keytaon Thompson to third-team All-ACC honors this fall, where he finished the season 12th in the nation with 6.6 receptions per game.
Overall, this hire is impressive for Franklin, as he was able to lure Hagans away from a school where his roots run deep. Additionally, Hagans will bring deep ties to Virginia recruiting to Happy Valley, an area which has been critically important for James Franklin's recruiting classes in the past.
Penn State Football Has a Solid Foundation
Hagans will not have to start from scratch in 2023. Several players in Penn State's receiver room could be poised for a breakout next fall.
KeAndre Lambert-Smith made his opening arguments to be the Nittany Lions' next leading receiver in the Rose Bowl. Lambert-Smith had three catches for 124 yards, including the longest touchdown pass in Rose Bowl history.
Lambert-Smith finished the year with 389 yards and four scores. He possesses the raw speed and ability to be a star next year. Still, he will need to develop consistency this off-season.
There is also potential among some of the younger receivers on Penn State's roster. Harrison Wallace III had a respectable redshirt freshman season, where he caught 19 passes for 273 yards and one touchdown. Omari Evans only had 55 yards in his true freshman season but flashed with a nice deep touchdown against Ohio. In addition, freshmen Kaden Saunders and Anthony Ivey redshirted in 2022 but were both highly touted recruits out of high school and could be ready to take the next step in 2023.
The newest addition to Penn State's receiver room could also be the biggest breakout star. Last week, Kent State transfer Dante Cephas announced his commitment to the Nittany Lions. Cephas caught 48 receptions for 746 yards and three scores for Kent State in 2022, a year after recording 1,240 yards and nine touchdowns. He had offers from every Power Five school the Golden Flashes faced in 2022, including the back-to-back national champion Georgia Bulldogs.
Cephas was the splash in the transfer portal that Penn State football needed to make at receiver this offseason. Cephas adds instant production to the Nittany Lion offense. Hagan's first task will be to maximize his skillset next fall.
Of course, Hagan's task should be made easier by who he has throwing the ball to his receivers. We saw Mike Yurcich's offense lead the way to Penn State's emphatic Rose Bowl win. But now, Drew Allar has the potential to take Penn State's offense to new heights. If Yurcich and Hagans can get the most out of this receiver room, the Nittany Lions could have a historic offense in 2023.
Josh Pate: 'No Surprise' if James Franklin, Penn State Make 2023 CFP
According to one college football personality, Penn State football could have a historic run in 2023.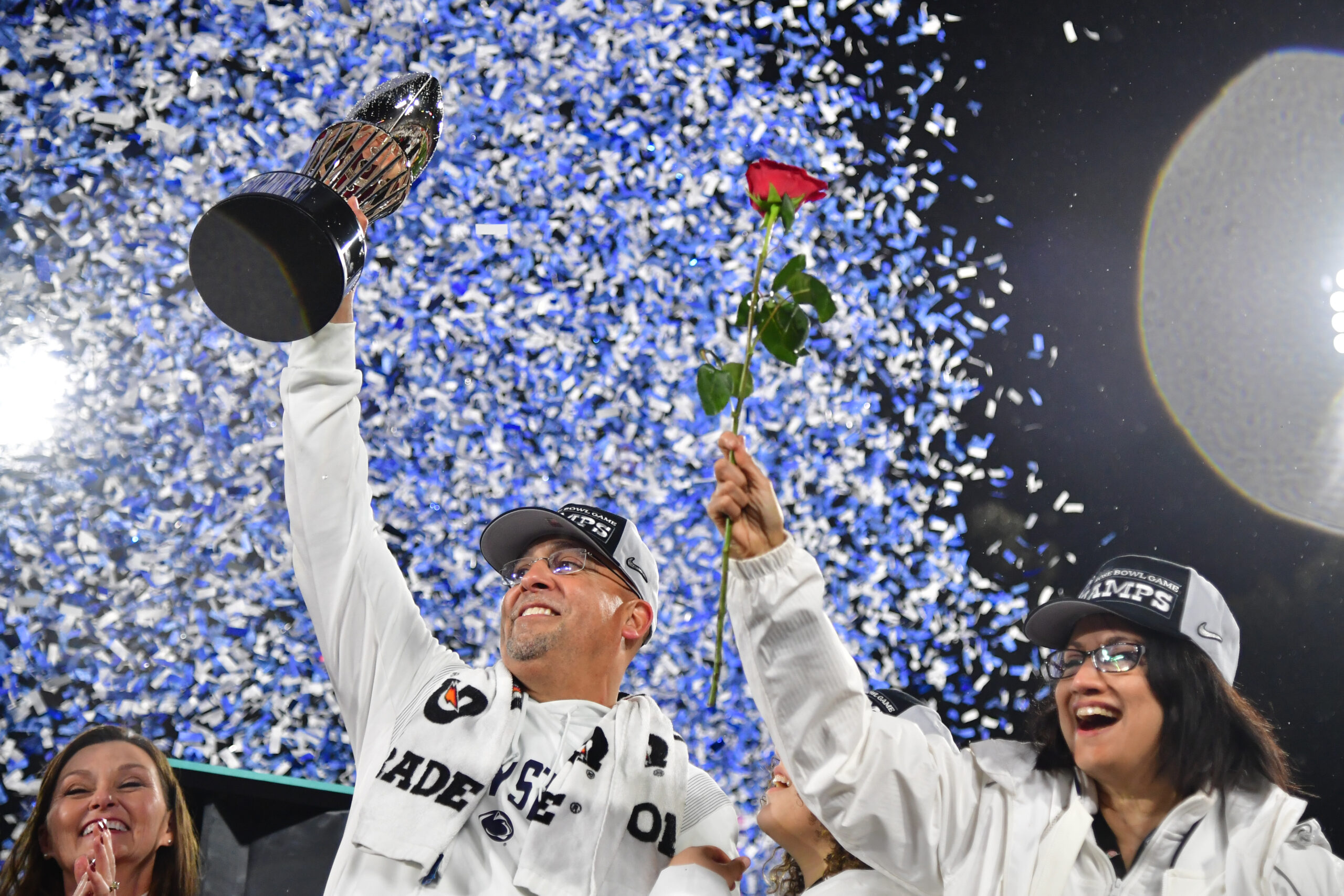 Nashville, TN — Does progress always need to occur in a straight line? For Penn State football, the answer is "no" for one of the most influential voices in college football media. It may be March, but 247 Sports' Josh Pate doesn't think James Franklin and the Nittany Lions should be sneaking up on anyone this year.
Josh Pate: Penn State Football is 'a Wolf at the Playoff Door' in 2023
On Tuesday night's episode of his show, Late Kick, Josh Pate spent considerable time discussing the current state of the Penn State football program. Pate said that the Nittany Lions are "a team I think you need to have your eye on" and that they are "a wolf at the playoff door" in 2023.
In Pate's opinion, Penn State is a real threat to win the Big Ten and make the playoff both this season and for a "sustained run" in the future. "No one should be surprised if this team pops this fall," Pate said. "And no one should be surprised if Penn State goes on a multi-year run where they're in the conversation every year."
The recipe for Penn State's potential success is simple for Josh Pate. He pointed to the likelihood of having Drew Allar, the highest-rated quarterback prospect in the program's history, as Penn State's starter. He went so far as to call Allar one of the best quarterbacks in the Big Ten. However, according to Pate, Allar won't need to carry the burden alone, as the Nittany Lions have one of the most productive running back duos in the country in Nicholas Singleton and Kaytron Allen. Pate also cited Penn State's "proven production" on the offensive line.
On the defensive side of the football, Pate called James Franklin's hiring of Manny Diaz "one of the sneakiest best pickups of last year." He noted that the Nittany Lions return 75% of their defensive production. Pate also gave a shoutout to Abdul Carter and said the rest of the nation will know the sophomore linebacker's name by season's end.
Can James Franklin Get Over the Hump?
Josh Pate also spend considerable time in the segment challenging the naysayers of Penn State football's potential. Pate acknowledged the high standard for success around the program but noted that Penn State isn't far off from that goal.
"Degrees of difference [are needed]," Pate said. "They don't need wholesale changes; they are right on the doorstep."
Pate discussed how critics cite James Franklin's lack of regular success against Ohio State and Michigan as evidence that the coach will never get over the hump. Pate claimed that the discussion is similar to critiques of Kirby Smart at Georgia before he won his first national championship. 
"Just because it has not been, doesn't mean it cannot be," Pate said.
To close the segment, Pate compared James Franklin and the development of his program to that of Dabo Swinney and Clemson. Unlike the rapid success of Nick Saban and Alabama, Pate argued that a program can still be doing things the right way if it doesn't "mushroom cloud" right away. 
"Success is not always linear. Sometimes things don't always take off right out of the gate. Sometimes there's a slow build," Pate said. 
Forget the fancy graphics package THIS is how I see Penn State right now pic.twitter.com/AcZclZuAe0

— Josh Pate (@LateKickJosh) March 22, 2023
But, Pate concluded by saying that, like at no other point in the James Franklin era at Penn State, things "may be at the point where everything finally starts to come together." Will Josh Pate's assessment of the Penn State football program be correct? We only have to wait 164 more days to find out. 
---
---
Thank you for reading Basic Blues Nation. Please follow us on Facebook and Twitter for the latest news and insights on your favorite Penn State athletics.
For feedback, questions, concerns, or to apply for a writing position, please email us at basicbluesnation@gmail.com or direct message us on our social media. It's due to your support that we can become one of the market's fastest-growing Penn State sports outlets!
Penn State opens the season at No. 5 in preseason poll
The Nittany Lions are ranked at No. 5 in a major preseason poll.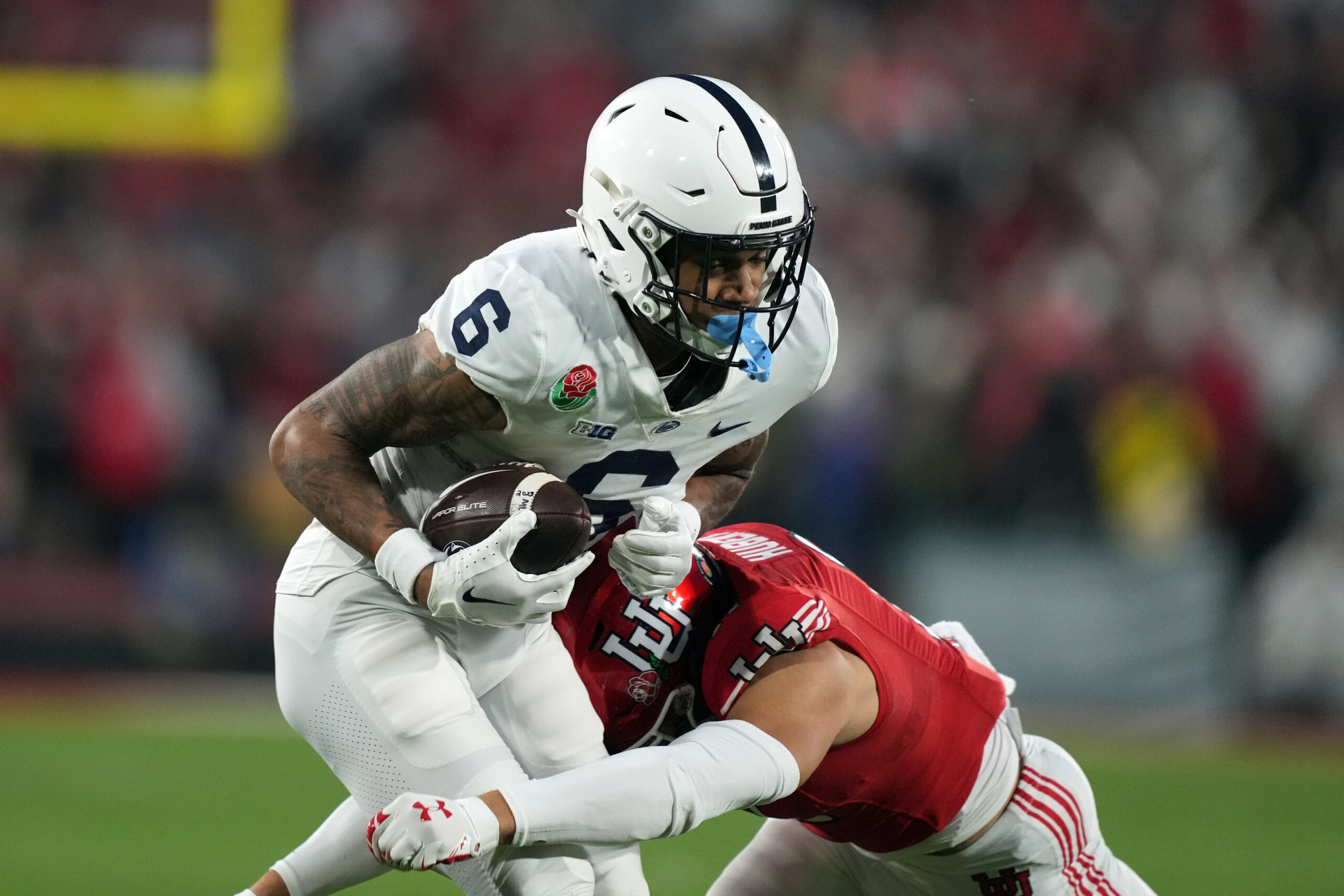 STATE COLLEGE, PA — On Tuesday, 247 Sports released its 2023 college football preseason top 25 poll. 247 lists three Big Ten programs in the top-5 and four Big Ten programs in the top 25. Among the top teams in the nation is Penn State football, who checked in at No. 5 on 247's preseason poll.
Penn State football ranked at No. 5 in major 2023 preseason poll
The Penn State football team had an incredible season in 2022, going 11-2 overall, finishing the year at No. 7, and winning the Rose Bowl game against No. 8 Utah. If that was not enough, the Nittany Lions return a ton of talent, including some old faces like Chop Robinson, Nick Singleton, Kaytron Allen, Abdul Carter, and more. On the other hand, Penn State will also have some new faces starting, such as rising sophomore Drew Allar, who will be taking over as Penn State's starting quarterback for the first time this fall.
Heading into the new season, Penn State's win total is set at 9.5 — the only two Big Ten teams listed above Penn State are the Michigan Wolverines (10.5) and Ohio State Buckeyes (10.5) — these two are both ranked ahead of Penn State football in the 247 preseason poll as well.
Here are the four Big Ten teams ranked in 247's preseason poll and where they rank:
What does 247 say about the Nittany Lions in their preseason poll?
247's ranking system is based off of cumulative points, of which Penn State football has 114. The team ahead of the Nittany Lions — the Alabama Crimson Tide — has 131. In comparison to Michigan (141) and Ohio State (137), there seems to be some work to be done in order to catch up. Here is what 247 had to say about Penn State ahead of the 2023 season:
"Ranked as high as No. 5 by 247 Sports and as low as No. 9 (The Sporting News), there's a bit of a preseason variance associated with the Nittany Lions, who welcome back a pair of standout freshmen ballcarriers and former five-star quarterback Drew Allar, who assumes the starting title. Getting through Michigan and Ohio State is the primary task at hand for Penn State, who won 11 games last season but failed to conquer the Wolverines or the Buckeyes."
---
---
Thank you for reading Basic Blues Nation. Please follow us on Facebook and Twitter for the latest news and insights on your favorite Penn State athletics.
For feedback, questions, concerns, or to apply for a writing position, please email our Managing Editor at cjmangum29@gmail.com. It's due to your support that we can become one of the market's fastest-growing Penn State sports outlets!
Penn State is dominating the 2022-23 athletic calendar
Few athletic departments, if any, are seeing levels of success like Penn State right now.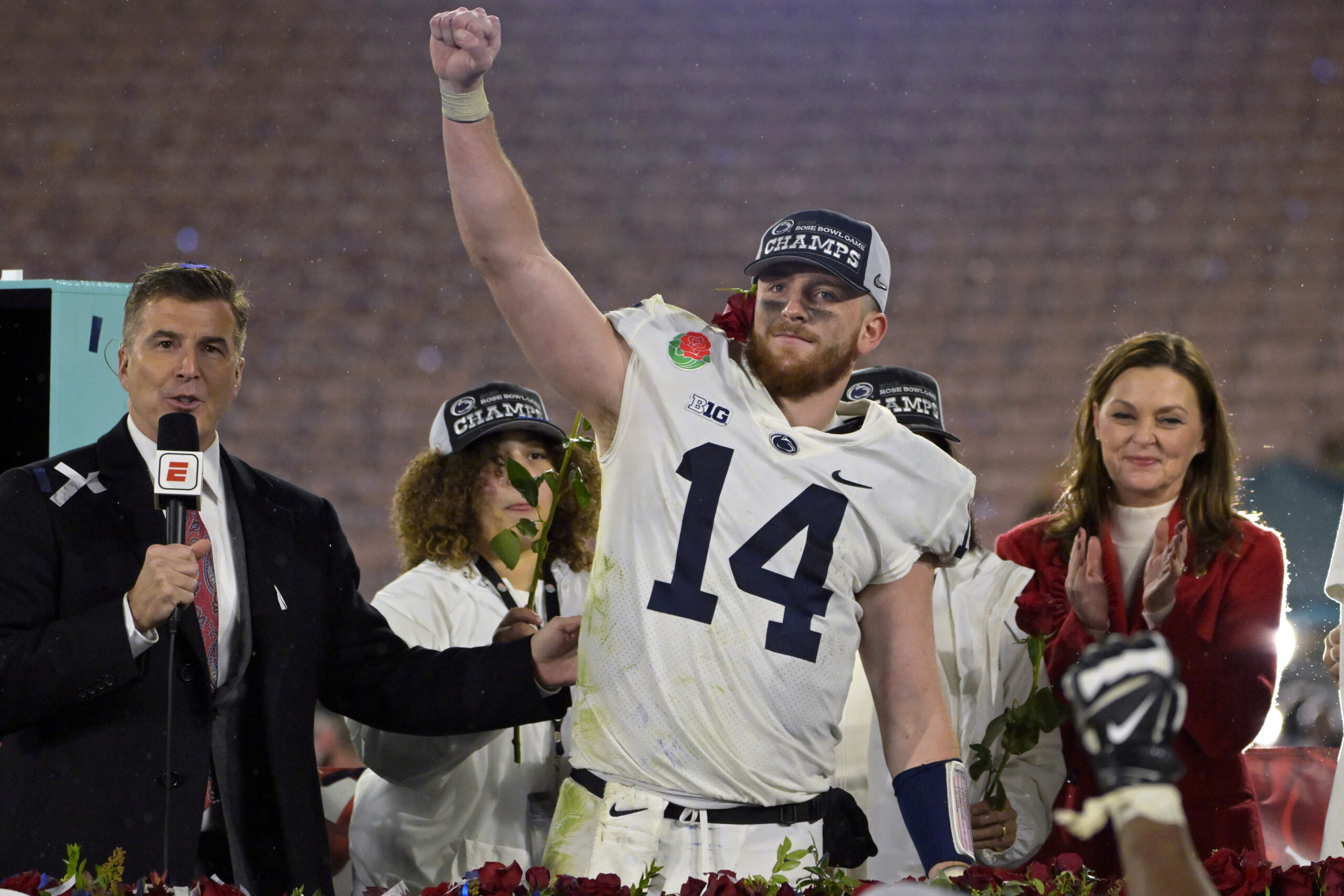 STATE COLLEGE, PA — Since the start of the most recent school year, the Penn State Nittany Lions have been on quite the hot streak. To kick things off — from September through January — the Penn State football team made an impressive run. Since then, the Lions have seen a great deal of success across many other sports as well, including some men's basketball, hockey, Penn State wrestling, and more.
Penn State football kicks off incredible run for PSU athletics
At the beginning of the 2022-23 calendar, the Penn State football team came into the season unranked for the first time since the Nittany Lions' incredible Big Ten title run in 2016. In Week 1, Penn State took down the eventual Big Ten West Champs (Purdue) on the road before destroying the eventual MAC East champs (Ohio) in Week 2, and Auburn in Week 3.
The Nittany Lions' season started hot, and despite some road bumps along the way (losses at Michigan and vs. Ohio State), Penn State came away with an incredible season to say the least. All said and done, James Franklin and his team finished 11-2, won the Rose Bowl, snapped Penn State's top 10 losing streak, and finished ranked in the top 10 for the fourth time in the past six full seasons.
Penn State wrestling wins national title
On Saturday, the Penn State wrestling team — led by legendary head coach Cael Sanderson — won its 10th national title in the past 12 tournaments. Sanderson, who took over the program before the 2009-10 season, has turned the Nittany Lions into the greatest college sports dynast of our time, and doesn't appear to be finished yet. Two weeks ago, Penn State claimed its 7th-ever Big Ten tournament title not long after bringing home the regular season title with a 16-0 overall record and an 8-0 Big Ten record.
During the NCAA tournament, Penn State wrestling tied the program record for All-Americans (8) before winning the 11th national championship in program history just minutes into the first session on Saturday. The Nittany Lions also claimed two individual national titles.
Men's basketball makes impressive run
Heading into the 2022-23 season, the Penn State basketball program did not appear to be in very good shape. The Nittany Lions had not been to the NCAA tournament in over ten years (2011), and had not won a tournament game in over 20 years (2001). Under second-year head coach Micah Shrewsberry, the Nittany Lions defied all odds and performed well above expectations. Additionally, Penn State basketball broke a few records (such as the Penn State and Big Ten record for most 3-pointers made in a single season), and even appeared in the conference title game against Purdue.
On Saturday night, Penn State basketball was narrowly eliminated from the NCAA tournament by the 2-seed Texas Longhorns; however, this is only the beginning for Nittany Lion hoops. Now, it's time for AD Pat Kraft and the administration to give Micah Shrewsberry whatever he wants to keep him in State College for the long haul.
Hockey (M) will have a shot at the national title
On Sunday night, the Nittany Lions earned the elusive bid to the NCAA tournament and will compete for the national championship. Seeing as the Penn State hockey team (men's) is currently ranked No. 10 in the coaches poll and No. 8 in the pairwise, the Nittany Lions will undoubtedly get their bid to the 16-team NCAA tournament. It has been a historic season in Hockey Valley — the Lions have pulled off numerous massive upsets over multiple No. 1 teams and more — though as of late, Penn State has slowly declined a bit.
After dropping in round one of the Big Ten tournament to the Ohio State Buckeyes, the Nittany Lions will look to bounce-back and make a run at the national championship this spring.
Hockey (W) wins first-ever conference title
For the first time in program history, the Penn State hockey team (women's) won a conference title last month. Goalie Josie Bothun was named CHA Tournament MVP en route to a 2-1 win over Mercyhurst in the CHA tournament championship game — the Lions made the NCAA tournament as well, though fell short to Quinnipiac in round one.
Many spring sports off to a hot start
Thus far, during the 2023 spring/summer athletic schedule, the Penn State Nittany Lions are doing quite well. The Penn State men's lacrosse team is currently ranked in the top-5 with a 5-2 record, and are heading into a massive game against Maryland next weekend.
The Penn State men's volleyball team is currently ranked No. 2 in the land with an 18-2 record — the men's team just upset No. 1 Hawaii in a massive road showdown and will host Ohio State at Rec Hall on Tuesday.
The Penn State baseball team is not ranked, though does boast an impressive 11-5 record on the season. The Nittany Lions opened their home schedule with a 6-1 win over Georgetown on Saturday and followed it up with a 7-2 win on Sunday.
The Penn State softball team is also off to a great start, boasting an outstanding 17-4 record to star the year. The ladies will host Pitt in State College on Tuesday.
---
---
Thank you for reading Basic Blues Nation. Please follow us on Facebook and Twitter for the latest news and insights on your favorite Penn State athletics.
For feedback, questions, concerns, or to apply for a writing position, please email us at basicbluesnation@gmail.com or direct message us on our social media. It's due to your support that we can become one of the market's fastest-growing Penn State sports outlets!