WATCH: 3 plays that have me excited for the Drew Allar era
In 2023, we will finally get our first look at Drew Allar as Penn State's starting quarterback. Here are three plays that have me excited for what Allar brings to the table.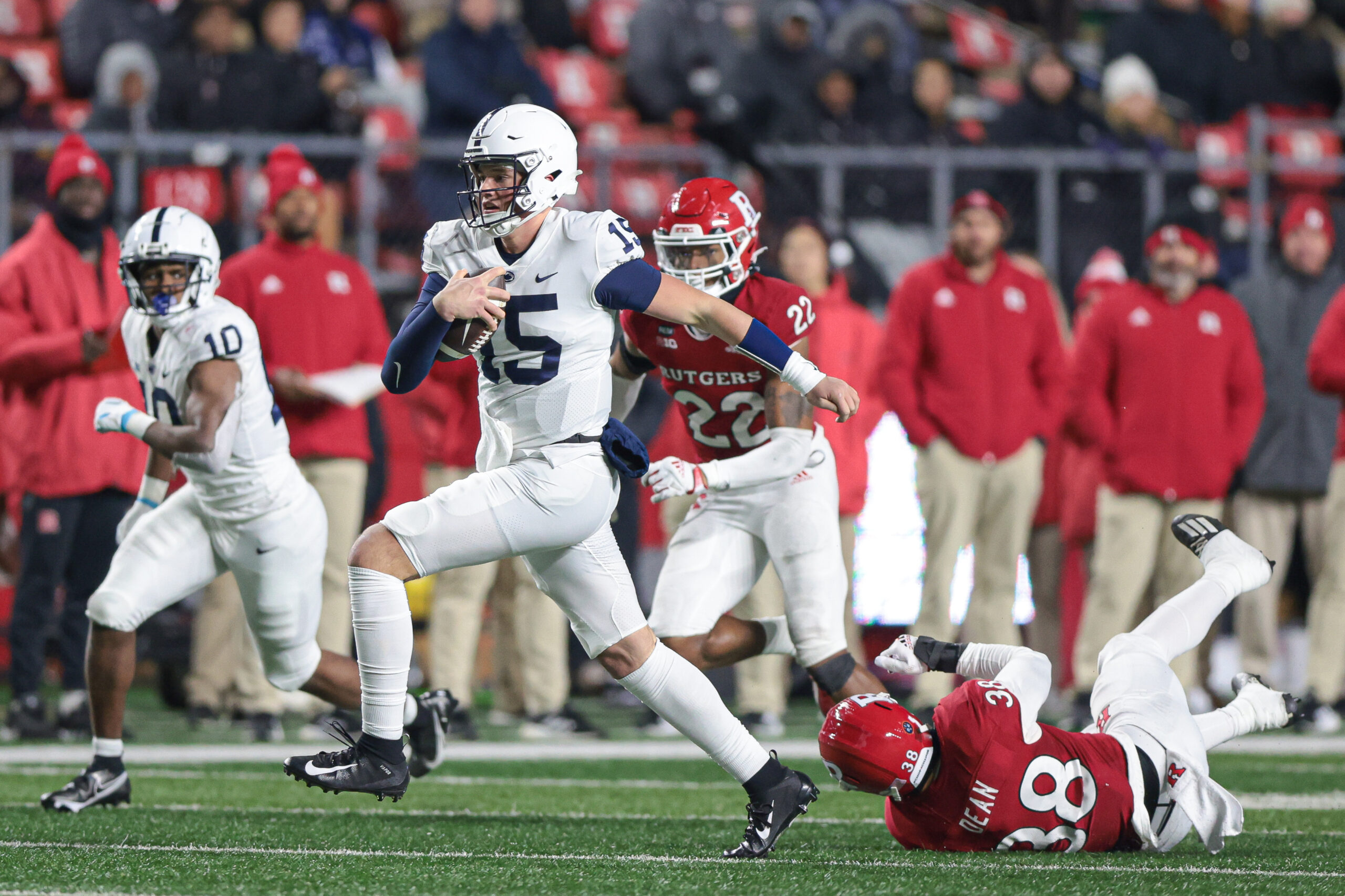 Despite being Penn State's backup quarterback as a freshman in 2022, rising sophomore Drew Allar will have his chance as the Nittany Lions' starter this fall. From what we have seen thus far, Allar brings a brand new skillset to the table and could propel Penn State football through its glass ceiling in the coming seasons.
After looking back at the 2022 college football season, I found three Drew Allar plays that excited me for this fall.
3. Drew Allar comes in against Purdue
I know that this pass was dropped and, therefore, incomplete, but the zip and placement on this pass were impeccable. Considering Penn State's road trip against Purdue during Week 1 was Allar's first game in the Blue and White, this is one of his most impressive throws.
this ball placement from Drew Allar ?

the 5-star freshman only threw 4 passes, but he might've had the throw of the game here! pic.twitter.com/1bMZaPA5ll

— Anthony Treash (@PFF_Anthony) September 2, 2022
Soon after this pass, Penn State's starter — Sean Clifford — relieved Drew Allar of his duties and resumed his role as QB1. While Clifford was the one that orchestrated the Nittany Lions' game-winning drive against the eventual Big Ten West Champions, Allar's pass had State College clamoring for days.
2. Drew Allar makes it look easy against Ohio
After Penn State escaped Ross-Ade Stadium with a 35-31 win in Week 1, the Nittany Lions returned home to host the Ohio Bobcats. Ohio went on to win the MAC East division title, yet Penn State football had its way with them first.
As Penn State football built up a sizeable first-half lead, the Nittany Lions allowed their freshman star much playing time. Our first look at a Drew Allar's deep ball came on this magnificent touchdown pass; Allar makes it look too easy.
Watching Drew Allar vs. Ohio and this throw by the freshman QB couldn't look more effortless if he tried.

Perfect throw to Omari Evans for the score. pic.twitter.com/G8E0JOHDTC

— Andrew Harbaugh (@AndrewHarbaugh_) October 10, 2022
1. Allar escapes the pocket, flicks the ball to the endzone against Ohio
Later in Penn State's contest against Ohio, Drew Allar threw what could be the best touchdown pass of the Nittany Lions' 2022 season. Allar avoided the blitz perfectly, stepped up in the pocket, and delivered a gorgeous touchdown pass to give Penn State a 46-7 lead — PSU went on to claim a 46-10 victory over Ohio.
Drew Allar making it look easy for Penn State 46-7 against Ohio U in the 4th pic.twitter.com/fcwJLzBY6u

— John Kosich (@KosichJohn) September 10, 2022
Considering that all three of these plays came in Allar's first two games at Penn State, we could be in store for some huge plays this fall. Allar will be Penn State's first starting quarterback not named Sean Clifford since the 2018 season when Trace McSorley was under center for the Nittany Lions.