James Franklin is Building a Championship Culture at Penn State
James Franklin, the Nittany Lions' head coach, is building a championship culture at Penn State football.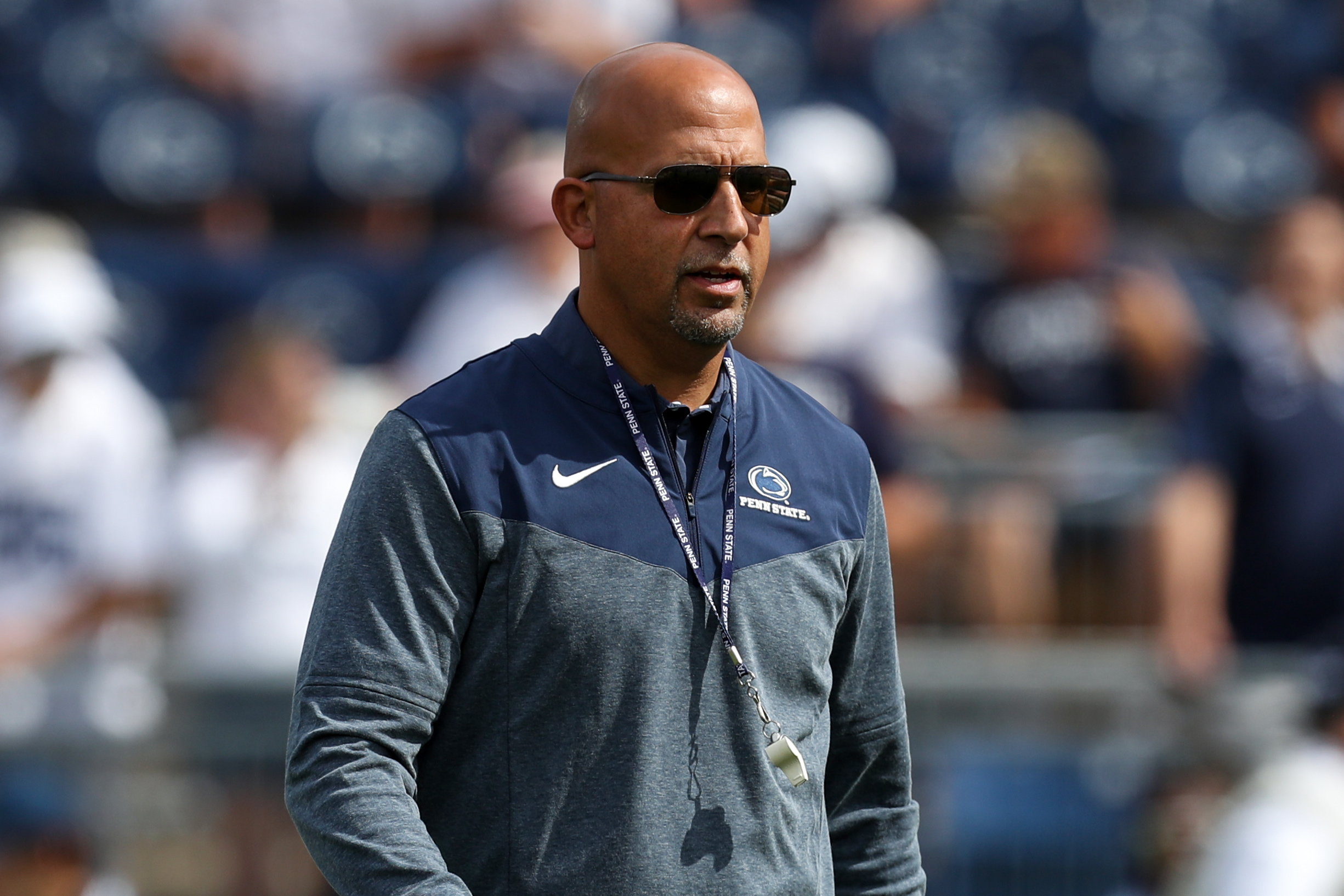 Success in college football is hard. At times, it seems even harder to measure.
Yes, success can be quantified in wins, NFL Draft picks, and stat lines. But it also extends beyond the sidelines on fall Saturdays. There must be organizational buy-in from the nutritional, training, medical, equipment, and support staffs, many of whom work in complete obscurity to most of us.
In today's landscape, the buzzword "alignment" must exist within the athletic department, the university, and the community. It certainly puts a new twist on the phrase "it takes a village."
The coordination needed to pull off this level of success is difficult to attain. But even without metrics, it can be easy to spot. We know it when we see it – championship culture. It separates those at the pinnacle of our sport from everyone else. 
And James Franklin and Penn State football are building a championship culture of their own.
One size fits all?
It may be easy to think there is but one path to building a championship culture. But the reality is it's unique to every program.
The most prominent example is, of course, Alabama. Nick Saban has made a legacy of turning football players into trained assassins. For the Crimson Tide, the pursuit of excellence seems more important than the excellence itself. At times, it can make you wonder if they even enjoy winning.
At the complete opposite end of the spectrum, there's Dabo Swinney and Clemson. Over the last decade, Dabo has built a "bring your own guts" championship culture that feels equal parts family and football program. Even at their worst, the Tigers still have run roughshod over the ACC.
The new kids on the block are the Georgia Bulldogs. Kirby Smart has quickly built an "us against the world" mentality in Athens. I mean, really, did anyone think that Georgia was going to only win seven games this year? At any rate, it worked. The Bulldogs are the first team to win back-to-back national championships since Saban and the Tide accomplished this a decade ago.
But, regardless of the variety, there are core tenants that all these cultures have in common.
Championship cultures can overcome adversity – not just from game to game, but over time. A championship culture doesn't fall apart after one or two "unsuccessful" seasons. In fact, they redefine what the word "success" means entirely.
Championship cultures are unselfish. Individual accomplishments still matter but are often a side effect of the success of the collective unit. It's the ultimate "we over me" mentality.
Championship cultures exhibit extreme organizational commitment. These programs attract and retain talent because people want to be a part of something bigger. This applies to talent both on and off the field. As a result, the culture breeds a peak level of competition.
Where is Penn State?
Penn State is closer to attaining a championship culture than the program has ever been under James Franklin. If it wasn't clear before, the 2022 season showed just how close the Nittany Lions are to taking that next step.
Overcoming adversity
In 2022, Penn State overcame adversity. At the macro level, the program bounced back from a bottoming out in 2020 and 2021. Keep in mind this program went from winning 11 games in 2019 to 11 games overall in the last two seasons.
The Nittany Lions overcame in-season adversity as well. We don't need to relive the Michigan and Ohio State matchups other than to say the losses were crushing. But Penn State teams in the past have let outcomes like that linger, losing more games as a result.
In 2022, Penn State responded to two devastating defeats in October by finishing the season on a five-game winning streak where it outscored its opponents 200-61. Penn State played teams it should beat and did beat them – handily. That's what dominant programs do. The Nittany Lions also rose to the challenge against PAC-12 Champion Utah in the Rose Bowl, securing James Franklin's first top-ten win since 2016.
Unselfishness
Penn State played unselfish football in 2022. There are numerous instances I could cite here. Still, the best example comes from two of the newest additions to the program.
True freshmen Nicholas Singleton and Kaytron Allen took the Penn State running back room by storm this fall. They dominated much of the Big Ten as well.
Singleton and Allen finished 5th and 11th, respectively, for total rushing yards among Big Ten running backs this season. But Penn State's backs accomplished this on significantly fewer snaps. On average, Singleton and Allen had roughly 70 fewer carries than the average of the other top ten leading rushers in the Big Ten.
Both Singleton and Allen could be premiere backs at practically any program in the country, let alone the Big Ten. Either tailback would have been a top-five rusher in the Big Ten this season if they received the same workload as the conference's other leaders.
But, to the outside world, Singleton and Allen seemed fine sharing the workload. The winter transfer portal season came and went, but both running backs are still Nittany Lions. The competition drives both to be better, but not at the expense of each other or the team. As a result, Penn State's running game became the offense's focal point by the season's end. 
Organizational commitment
Penn State's budding championship culture is most evident from its top to bottom organizational commitment.
The Nittany Lions retained a remarkable amount of talent from the 2022 roster. Yes, the program did lose some top-tier talent to the NFL Draft, such as Parker Washington and Joey Porter, Jr. Honestly, those departures were expected. But Penn State kept several players that would have been solid middle-round draft picks this spring. That same thing could not have been said this time last year.
Let's add to this, shall we?
Since this tweet, these players have been added/returned

WR Malik McClain

TE Theo Johnson
WR KeAndre Lambert-Smith
OG Saleem Wormley
CB Johnny Dixon

SHEESH. 👀 https://t.co/zy9ZcG00XZ

— PSU Dylan (@PSU_Dylan) January 18, 2023
Penn State also retained several impact playmakers projected to be early-round draft picks, including Olu Fashanu, Curtis Jacobs, and Adisa Isaac. In almost all these decisions, a motivating factor was the opportunity to accomplish more as a collective unit. 
And if that wasn't enough, James Franklin added key transfer portal additions like Storm Duck, Dante Cephas, and Malik McClain.
In particular, McClain's addition highlights a critical shift outside the Lasch Building. Malik McClain committed to the program and started classes after Penn State's add/drop deadline for the Spring 2023 semester. This might not be a big deal on most campuses, but it marks a significant change at Penn State. To put it bluntly, I don't think this scenario happens a year ago.
This is the most recent example of Penn State's new leadership and its commitment to a championship culture. From Old Main and beyond, it finally feels like everyone is pulling in the same direction in Happy Valley. Franklin has acknowledged on several occasions that the newfound buy-in has allowed him to spend more time on football and less time advocating for the program.
In 2022, the results spoke for themselves.
What's left for James Franklin?
Now, I've said many things here. But there are a few that I'm not saying.
I'm not saying that Penn State is currently on the level of Alabama, Georgia, or Clemson. It likely never will be, as each championship culture takes a shape of its own.
I'm also not saying that the Nittany Lions are destined to make the College Football Playoff in the near future. Success is hard and doesn't happen in a vacuum. Penn State may be on the rise, but other contenders are as well.
And I'm not saying James Franklin has nothing left to prove. Far from it. If Penn State is to take the next step, then James Franklin will have to accomplish feats that he has not done in almost a decade with the Nittany Lions. The road ahead is clear, and it runs through Columbus and Ann Arbor.
But now, more than at any other point in the James Franklin era, Penn State has the opportunity and ability to do something special. We all can see it. But unlike in the past, where expectations have felt like the metaphorical albatross, they now seem to fuel the program's ascendance. 
And that's what championship cultures do.
Penn State opens the season at No. 5 in preseason poll
The Nittany Lions are ranked at No. 5 in a major preseason poll.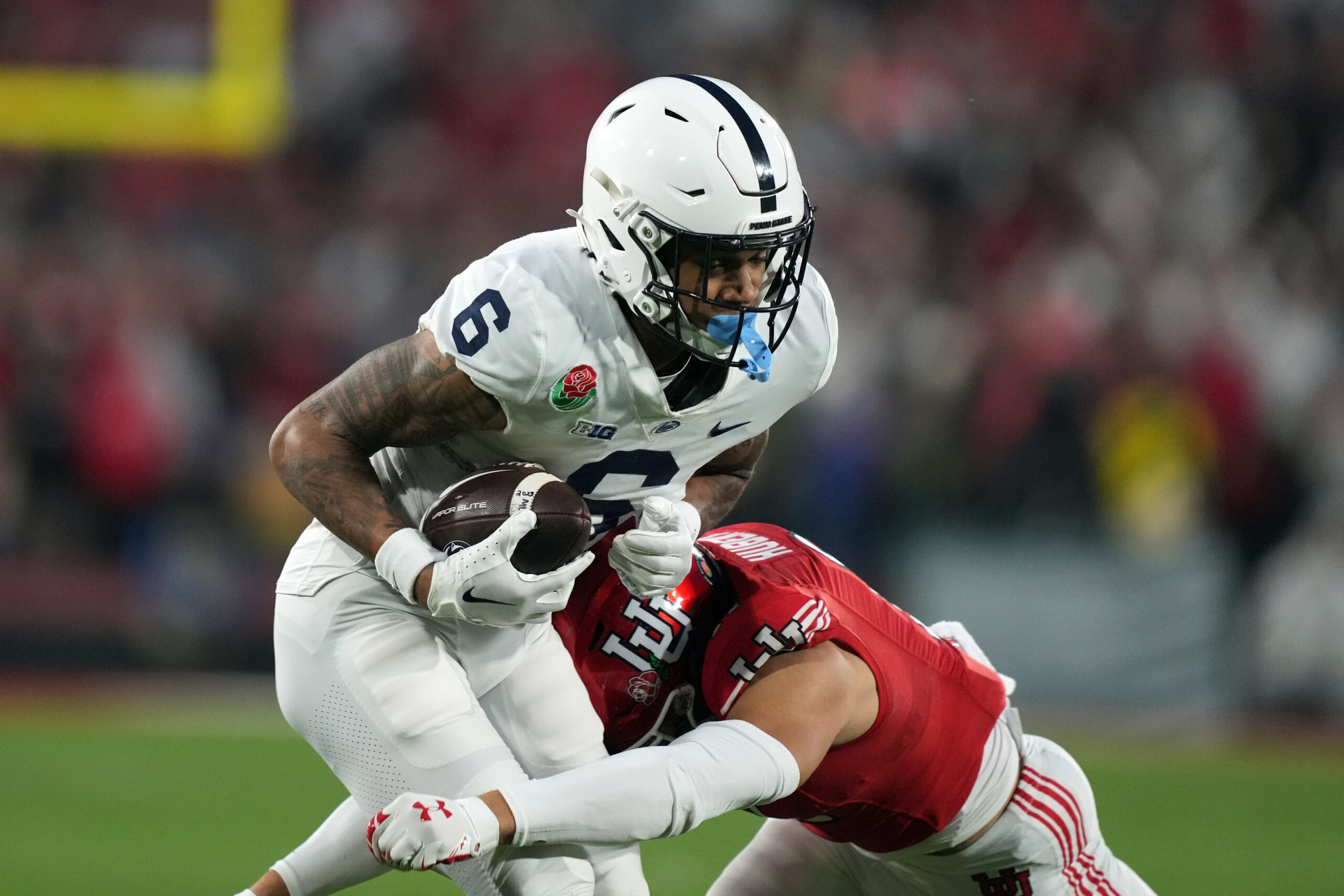 STATE COLLEGE, PA — On Tuesday, 247 Sports released its 2023 college football preseason top 25 poll. 247 lists three Big Ten programs in the top-5 and four Big Ten programs in the top 25. Among the top teams in the nation is Penn State football, who checked in at No. 5 on 247's preseason poll.
Penn State football ranked at No. 5 in major 2023 preseason poll
The Penn State football team had an incredible season in 2022, going 11-2 overall, finishing the year at No. 7, and winning the Rose Bowl game against No. 8 Utah. If that was not enough, the Nittany Lions return a ton of talent, including some old faces like Chop Robinson, Nick Singleton, Kaytron Allen, Abdul Carter, and more. On the other hand, Penn State will also have some new faces starting, such as rising sophomore Drew Allar, who will be taking over as Penn State's starting quarterback for the first time this fall.
Heading into the new season, Penn State's win total is set at 9.5 — the only two Big Ten teams listed above Penn State are the Michigan Wolverines (10.5) and Ohio State Buckeyes (10.5) — these two are both ranked ahead of Penn State football in the 247 preseason poll as well.
Here are the four Big Ten teams ranked in 247's preseason poll and where they rank:
What does 247 say about the Nittany Lions in their preseason poll?
247's ranking system is based off of cumulative points, of which Penn State football has 114. The team ahead of the Nittany Lions — the Alabama Crimson Tide — has 131. In comparison to Michigan (141) and Ohio State (137), there seems to be some work to be done in order to catch up. Here is what 247 had to say about Penn State ahead of the 2023 season:
"Ranked as high as No. 5 by 247 Sports and as low as No. 9 (The Sporting News), there's a bit of a preseason variance associated with the Nittany Lions, who welcome back a pair of standout freshmen ballcarriers and former five-star quarterback Drew Allar, who assumes the starting title. Getting through Michigan and Ohio State is the primary task at hand for Penn State, who won 11 games last season but failed to conquer the Wolverines or the Buckeyes."
---
---
Thank you for reading Basic Blues Nation. Please follow us on Facebook and Twitter for the latest news and insights on your favorite Penn State athletics.
For feedback, questions, concerns, or to apply for a writing position, please email our Managing Editor at cjmangum29@gmail.com. It's due to your support that we can become one of the market's fastest-growing Penn State sports outlets!
Penn State is dominating the 2022-23 athletic calendar
Few athletic departments, if any, are seeing levels of success like Penn State right now.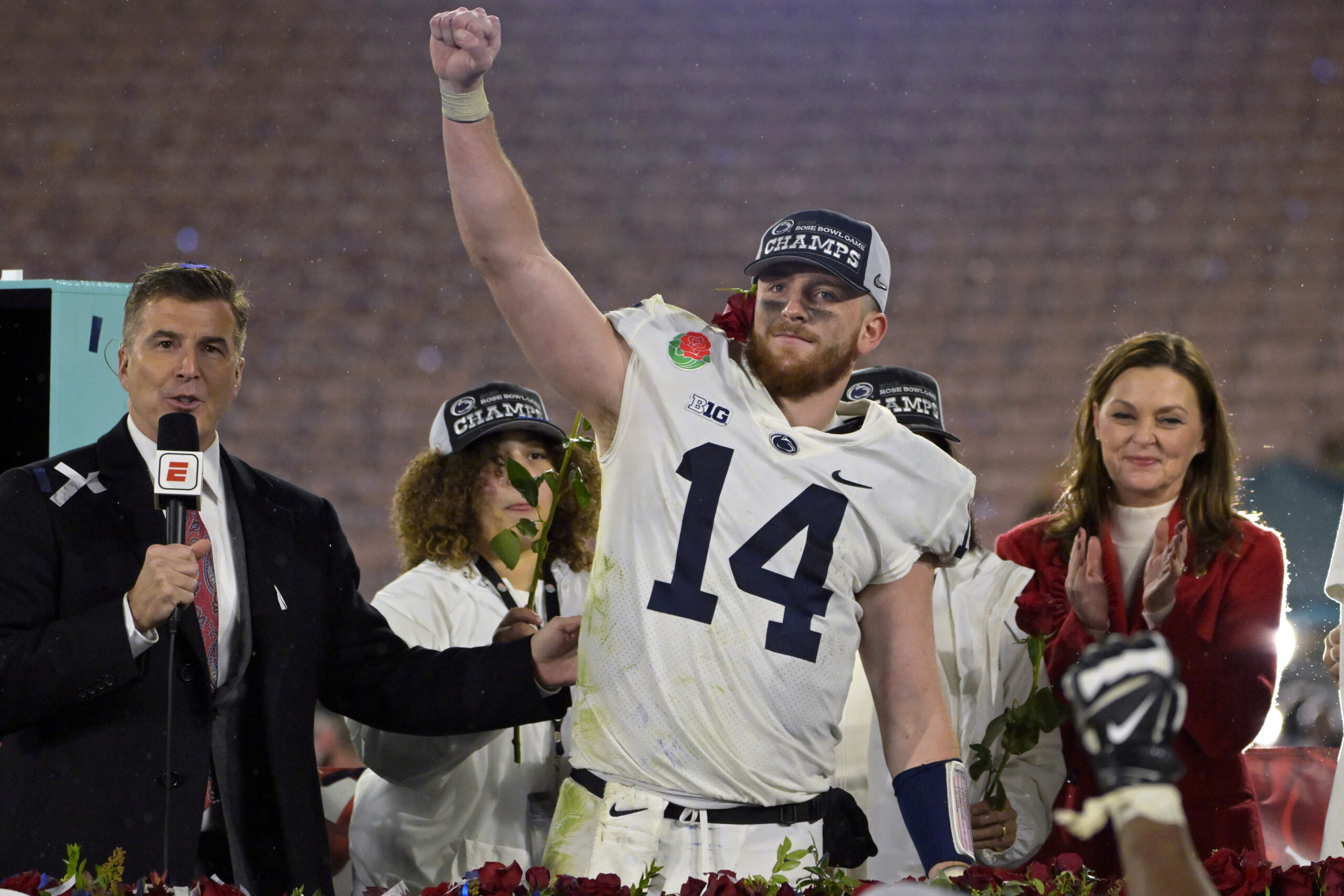 STATE COLLEGE, PA — Since the start of the most recent school year, the Penn State Nittany Lions have been on quite the hot streak. To kick things off — from September through January — the Penn State football team made an impressive run. Since then, the Lions have seen a great deal of success across many other sports as well, including some men's basketball, hockey, Penn State wrestling, and more.
Penn State football kicks off incredible run for PSU athletics
At the beginning of the 2022-23 calendar, the Penn State football team came into the season unranked for the first time since the Nittany Lions' incredible Big Ten title run in 2016. In Week 1, Penn State took down the eventual Big Ten West Champs (Purdue) on the road before destroying the eventual MAC East champs (Ohio) in Week 2, and Auburn in Week 3.
The Nittany Lions' season started hot, and despite some road bumps along the way (losses at Michigan and vs. Ohio State), Penn State came away with an incredible season to say the least. All said and done, James Franklin and his team finished 11-2, won the Rose Bowl, snapped Penn State's top 10 losing streak, and finished ranked in the top 10 for the fourth time in the past six full seasons.
Penn State wrestling wins national title
On Saturday, the Penn State wrestling team — led by legendary head coach Cael Sanderson — won its 10th national title in the past 12 tournaments. Sanderson, who took over the program before the 2009-10 season, has turned the Nittany Lions into the greatest college sports dynast of our time, and doesn't appear to be finished yet. Two weeks ago, Penn State claimed its 7th-ever Big Ten tournament title not long after bringing home the regular season title with a 16-0 overall record and an 8-0 Big Ten record.
During the NCAA tournament, Penn State wrestling tied the program record for All-Americans (8) before winning the 11th national championship in program history just minutes into the first session on Saturday. The Nittany Lions also claimed two individual national titles.
Men's basketball makes impressive run
Heading into the 2022-23 season, the Penn State basketball program did not appear to be in very good shape. The Nittany Lions had not been to the NCAA tournament in over ten years (2011), and had not won a tournament game in over 20 years (2001). Under second-year head coach Micah Shrewsberry, the Nittany Lions defied all odds and performed well above expectations. Additionally, Penn State basketball broke a few records (such as the Penn State and Big Ten record for most 3-pointers made in a single season), and even appeared in the conference title game against Purdue.
On Saturday night, Penn State basketball was narrowly eliminated from the NCAA tournament by the 2-seed Texas Longhorns; however, this is only the beginning for Nittany Lion hoops. Now, it's time for AD Pat Kraft and the administration to give Micah Shrewsberry whatever he wants to keep him in State College for the long haul.
Hockey (M) will have a shot at the national title
On Sunday night, the Nittany Lions earned the elusive bid to the NCAA tournament and will compete for the national championship. Seeing as the Penn State hockey team (men's) is currently ranked No. 10 in the coaches poll and No. 8 in the pairwise, the Nittany Lions will undoubtedly get their bid to the 16-team NCAA tournament. It has been a historic season in Hockey Valley — the Lions have pulled off numerous massive upsets over multiple No. 1 teams and more — though as of late, Penn State has slowly declined a bit.
After dropping in round one of the Big Ten tournament to the Ohio State Buckeyes, the Nittany Lions will look to bounce-back and make a run at the national championship this spring.
Hockey (W) wins first-ever conference title
For the first time in program history, the Penn State hockey team (women's) won a conference title last month. Goalie Josie Bothun was named CHA Tournament MVP en route to a 2-1 win over Mercyhurst in the CHA tournament championship game — the Lions made the NCAA tournament as well, though fell short to Quinnipiac in round one.
Many spring sports off to a hot start
Thus far, during the 2023 spring/summer athletic schedule, the Penn State Nittany Lions are doing quite well. The Penn State men's lacrosse team is currently ranked in the top-5 with a 5-2 record, and are heading into a massive game against Maryland next weekend.
The Penn State men's volleyball team is currently ranked No. 2 in the land with an 18-2 record — the men's team just upset No. 1 Hawaii in a massive road showdown and will host Ohio State at Rec Hall on Tuesday.
The Penn State baseball team is not ranked, though does boast an impressive 11-5 record on the season. The Nittany Lions opened their home schedule with a 6-1 win over Georgetown on Saturday and followed it up with a 7-2 win on Sunday.
The Penn State softball team is also off to a great start, boasting an outstanding 17-4 record to star the year. The ladies will host Pitt in State College on Tuesday.
---
---
Thank you for reading Basic Blues Nation. Please follow us on Facebook and Twitter for the latest news and insights on your favorite Penn State athletics.
For feedback, questions, concerns, or to apply for a writing position, please email us at basicbluesnation@gmail.com or direct message us on our social media. It's due to your support that we can become one of the market's fastest-growing Penn State sports outlets!
Urban Meyer says the pressure is on for Penn State football in 2023
Does former Ohio State coach Urban Meyer have a point about James Franklin and Penn State?
STATE COLLEGE, PA — Recently, former Florida and Ohio State football coach Urban Meyer had some words on the Penn State Nittany Lions. According to the former Buckeye coach — who won a national title and more during his time in Columbus — there is a lot of pressure for James Franklin and his Penn State football team to meet the Nittany Lions' high expectations this fall.
Penn State football heads into the 2023 season with huge expectations
The past few years have been full of ups and downs for the Penn State football program. After winning the Big Ten in 2016 — the team's first year back from the sanctions set in 2012 — the Nittany Lions had a solid four-year stretch. From 2016-2019, Penn State football had three 11-win seasons, one 9-win season, won a Big Ten title, and two New Year's Six bowls. Additionally, the Lions finished ranked in all four seasons, and finished top 10 in three of those seasons.
After going 11-2 and winning the Cotton Bowl in 2019, Penn State slipped into a hole that it took years to climb out of. In Week 1 of the 2020 season, the Nittany Lions fell on the road to Indiana; Penn State's first loss of 2020 was just one of many disappointing moments that season, which ended up being the Lions' first losing season under head coach James Franklin.
In 2020, Penn State football started off 5-0 and climbed its way into the top-4 before many key injuries seemingly forced the Lions into a 2-6 finish. Penn State's 24-10 loss to Arkansas in the Outback Bowl, which dropped the team's record to 7-6 on the season, was just salt in the wound for many fans. Despite a stellar four-year stretch from 2019-2019, Penn State started the new decade with an 11-11 record though two seasons. That being said, with a young, healthy team in 2022, the Nittany Lions bounced-back against all odds.
In Penn State's most recent season, James Franklin and his squad came into the year unranked for the first time since 2016. Early-on, it was clear that the 2022 team was special; however, Penn State hit a few road bumps at Michigan and against Ohio State. Despite these two losses — both to CFP teams — Penn State managed to win out and finish 10-2 with an incredibly young roster. The 10-2 record was good enough to send the Lions to the Rose Bowl against No. 8 Utah — Penn State football defeated the Utes 35-21 to snap its top 10 losing streak, bring home another NY6 bowl, and win the program's second-ever Rose Bowl game to close out the 2022 season.
While this was all great for the program, it also has set some incredibly high expectations heading into 2023.
Urban Meyer claims the pressure is on for the Nittany Lions in 2023
Recently, on The Hard Count (On3), former Ohio State head coach Urban Meyer had some praise, and some added pressure for the Penn State football team heading into a new season this fall. While the Lions may be young, Penn State is experienced, has a veteran coaching staff, and is arguably more talented than just about anyone in the nation with star players like Drew Allar on offense and Abdul Carter on defense.
Here is what Meyer had to say about the Penn State Nittany Lions:
"I think it's an enormous amount of pressure," Meyer said on The Hard Count. "… In '16, they had a great year. They beat us. They have to beat the Wolverines, they have to beat the Buckeyes. I'll tell you what, they're loaded. They have two running backs that are elite.
"That quarterback that's going to take over is tremendous. We got to do several of his games. James Franklin has done a really good job. But he's got to close the deal and, unfortunately, they've got to go to The Horseshoe this year. It's a tough place to play."
To Meyer's point: yes, Franklin has done a great job with turning the Penn State football program back into a winner. That being said, the Nittany Lions need to keep climbing the ladder and get from NY6 status to CFP status eventually, and 2023 is looking like a perfect opportunity. Both Michigan and Ohio State are looking stacked this year; but then again, so are the Nittany Lions.
Like Urban Meyer, many Penn State fans are tired of looking to next year for greater success — it's time that Penn State football finally breaks through its glass ceiling and reaches the next level.
---
---
Thank you for reading Basic Blues Nation. Please follow us on Facebook and Twitter for the latest news and insights on your favorite Penn State athletics.
For feedback, questions, concerns, or to apply for a writing position, please email us at basicbluesnation@gmail.com or direct message us on our social media. It's due to your support that we can become one of the market's fastest-growing Penn State sports outlets!