Beau Pribula may see a unique role on Penn State's offense this year
Beau Pribula might see the field more than you'd think in 2023.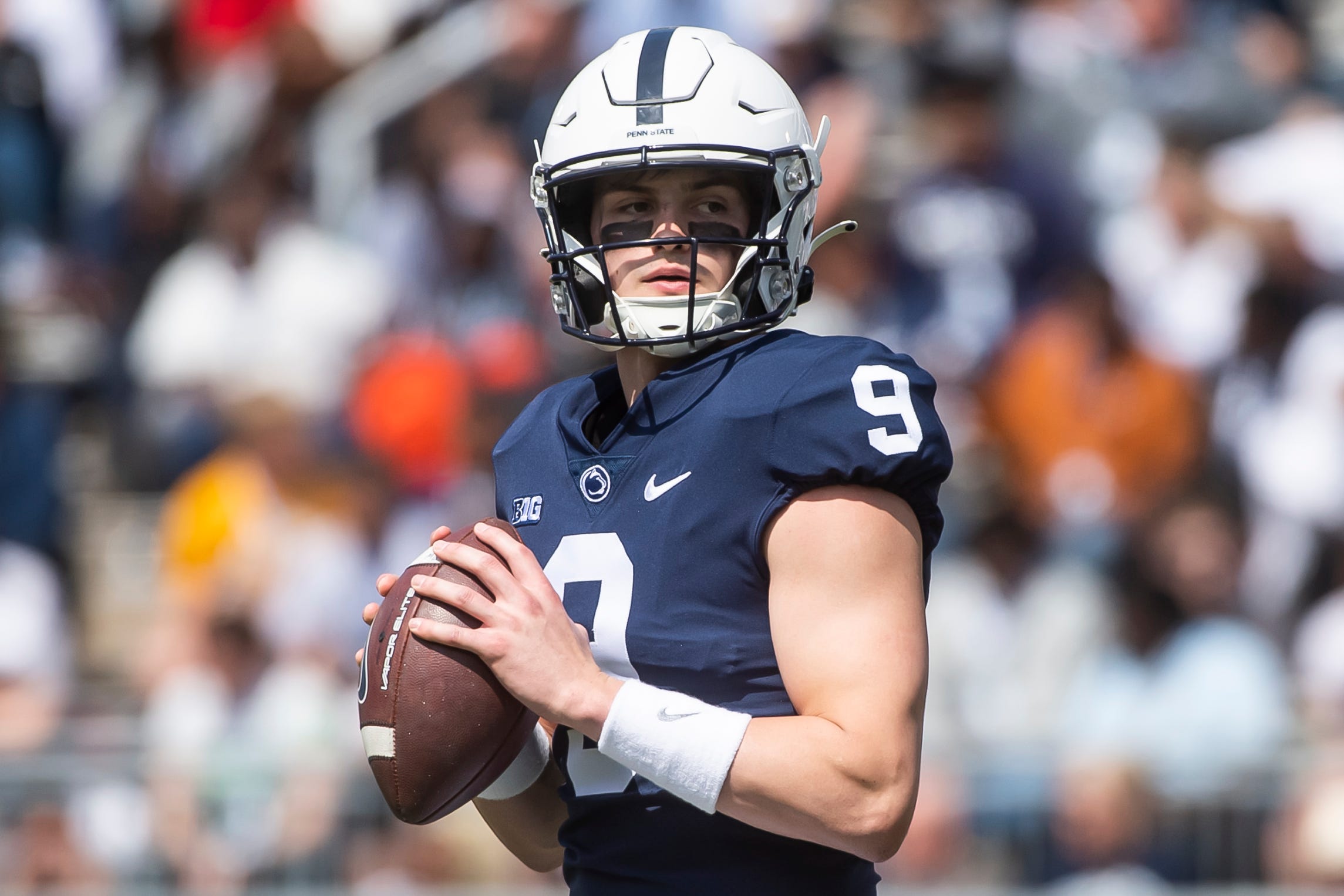 STATE COLLEGE, PA — On Tuesday, Penn State head coach James Franklin took to the podium for the first time this spring to address many questions from the media. There, he told media members that Beau Pribula is getting equal reps with Drew Allar — the projected starter. Franklin added that, in some cases, Beau gets more practice reps than Allar due to his unique skillset.
What does this mean for the Penn State Nittany Lions in 2023? To us, this means that we should expect to see more of No. 9 on the field this fall.
Could Beau Pribula see a new role on Penn State's sideline this year?
While the incredibly talented Drew Allar is Penn State's projected starter (and has been since the end of the 2022 season), Beau Pribula brings something new to the table: his athleticism. Yes, Allar is likely the better passer, though Pribula can run — this is dangerous in the modern landscape of college football.
"This year is a little bit different [than last year]," Penn State head coach James Franklin said on Tuesday. "We're back to having a true competition again … Beau has got some athletic traits that are desirable and maybe make sense for us to use if they give us the best chance to win. But before practice has even started it's hard to say that, so we'll see how it plays out … I do think there's a little bit different of a dynamic based on — I would say Sean [Clifford] and Drew's skillsets were probably more similar. They were different, but probably more similar [than Beau and Drew] where I think maybe the differences between Drew and Beau may be a little bit more dramatic in terms of their skillsets."
James Franklin added that both Pribula and Drew Allar are getting the same number of reps during spring ball; in fact, in some cases, Pribula is getting more reps than the Nittany Lions' projected starter.
"There could be some situations where Beau actually gets more reps [than Drew Allar] by the end of spring because I think there's some things that we may want to do with Beau to take advantage of his skillset," Franklin said. "Maybe create an opportunity for him to get more experience, not only during spring ball, but in games next [season] as well, so we'll see how that all plays out."
While Drew Allar will likely be Penn State's starting quarterback this year, Beau Pribula may have a larger role than most anticipate. His unique set of skills makes the Penn State offense even more dangerous, and if used properly, he could find himself a frequent role in many situations and offensive packages this year.
---
---
Thank you for reading Basic Blues Nation. Please follow us on Facebook and Twitter for the latest news and insights on your favorite Penn State athletics.
For feedback, questions, concerns, or to apply for a writing position, please email our Managing Editor at [email protected]. It's due to your support that we can become one of the market's fastest-growing Penn State sports outlets!