Micah Shrewsberry, Pat Kraft address rumors that Shrewsberry wants to leave
Micah Shrewsberry talked about the rumors of him leaving Penn State after the Lions' semifinal win over Indiana.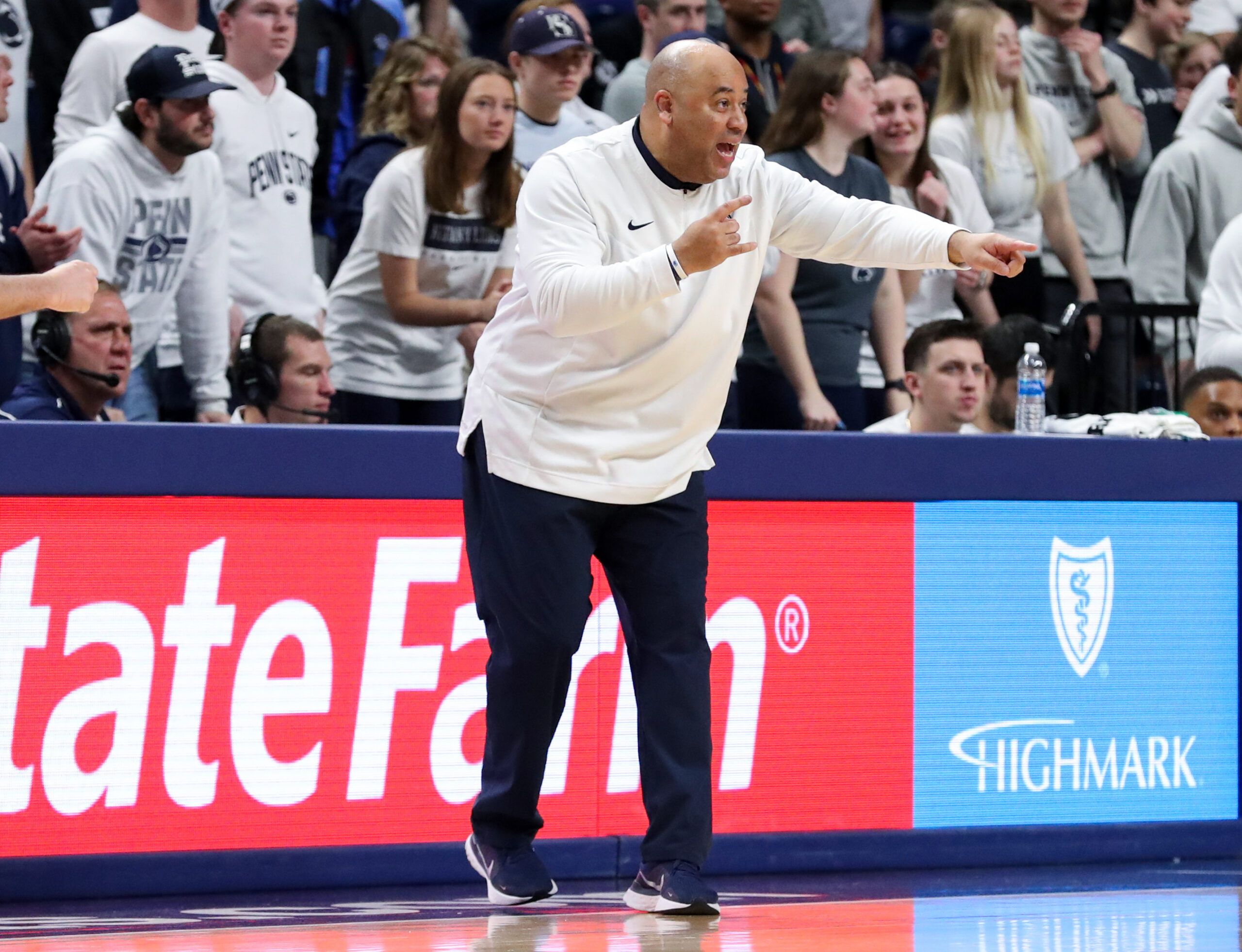 CHICAGO, IL — After Penn State's massive, program-defining victory over the Indiana Hoosiers on Saturday, the Nittany Lions' head coach was asked about the rumors of him leaving PSU for another college coaching job. With Sunday's Big Ten title game looming, Penn State head coach Micah Shrewsberry says he loves coaching in State College and is locked in on winning the Nittany Lions' first-ever Big Ten Championship.
Micah Shrewsberry loves coaching Penn State basketball
The Penn State Nittany Lions, led by second-year head coach Micah Shrewsberry, are on a huge five-game winning streak that stretches throughout all of March. Over the past three days, Penn State has picked up three major Big Ten tournament wins over Illinois, Northwestern, and Indiana; on Sunday, Penn State hoops will face Purdue in the Big Ten title game.
Still, this great month of Nittany Lion hoops has been overshadowed with rumors that Micah Shrewsberry will be leaving Penn State for a job with Georgetown or Notre Dame after the season. Here is what Shrewsberry had to say when asked after his team's Big Ten semifinal win over Indiana:
"You know me: [When] basketball season's going, I'm completely tunnelvision on our team and State High basketball, right," Shrewsberry said postgame. "But that's all I'm focused on. I'm happy to be here, right. Nobody wanted me a few years ago. I'm happy to be here. I love our guys. We're gonna prepare to play for a championship tomorrow."
Penn State needs to keep Shrewsberry at the helm
In just two seasons, Micah Shrewsberry has his Penn State Nittany Lions recruiting and playing at an extremly high level. After pulling the two best classes in Penn State history, Shrewsberry now has the Nittany Lions in the Big Ten title game — later this month, he will break the Lions' long NCAA tournament drought, which stretches back to 2011.
Here is what Penn State athletic director Pat Kraft had to say about his intentions with Micah Shrewsberry after the game:
"Yes. Absolutely, my man," Kraft said. "Yep, absolutely. I'm committed to keeping — Micah is a great coach. Micah is a really, really, really good coach. Now, here's what I will tell you, and I said it before when I got up here. It's not just about paying the coach."
"The great coaches know that. It's about keeping the staff, being able to hire staff that if you lose staff, which is part of the process. It's also about putting the infrastructure behind them to be successful. Where can I recruit? How do I recruit? How do I feed my athletes? How do I keep my athletes healthy?"
"That infrastructure, which I think has lacked for a lot of our sports, is where I think we have to invest in now. We started already doing that. So paying the coach is great, but the great coaches understand it's all the other stuff that helps you eventually win a national championship."
Kraft, who was hired ahead of the 2022 college football season, will be facing his first real test as Penn State's athletic director. Now, it's time to hand Shrewsberry a blank check and promise him whatever resources he could possibly want in order to build a winning basketball program at Penn State Unviersity.
---
---
Thank you for reading Basic Blues Nation. Please follow us on Facebook and Twitter for the latest news and insights on your favorite Penn State athletics.
For feedback, questions, concerns, or to apply for a writing position, please email our Managing Editor at [email protected]. It's due to your support that we can become one of the market's fastest-growing Penn State sports outlets!