Coach James Franklin breaks down his new defensive line coaching hire
The Nittany Lions' head coach broke down his newest coaching hire on Tuesday during his first spring presser.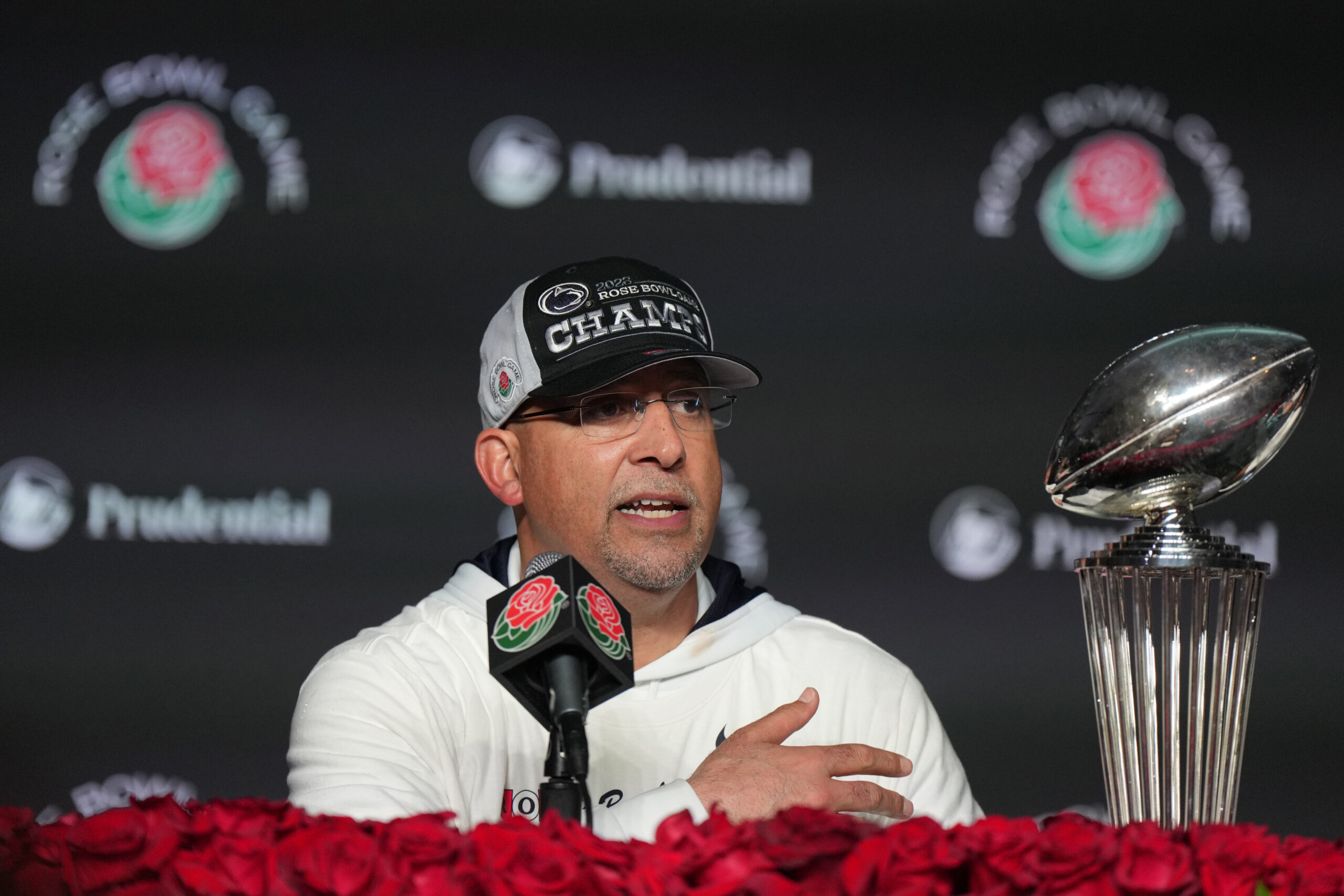 STATE COLLEGE, PA — On Tuesday, Penn State's head football coach took to the podium for the first time this spring. There, coach James Franklin broke down what new DL coach Deion Barnes brings to the table for Nittany Lion football moving forward.
What strengths does Deion Barnes bring to the table for Penn State football?
Deion Barnes — a former standout Nittany Lion turned coach — has been on Franklin's staff for a number of years now. Barnes was one of Franklin's first recruits during his time in State College, and now, will serve as a major position coach on Franklin's 2023 coaching staff. Here is what Penn State's head man had to say about his new defensive line coach:
"Deion's got his collegiate experience here at Penn State and one of the things that I probably wasn't as aware of," head coach James Franklin said. "He's done a really good job of taking everything in and being very intentional about it. I take time to meet with the GA's and analysts and give them my perspective on things that they should be doing. That's going to be important for their development, it's going to be important for the interview process. It's interesting we kind of went back and talked about, I remember I used to have interviews I remember with Joe Brady, either coming in early or staying late and doing kind of interview process with those guys and giving them feedback. We had a ton of guys that we did that with."
from 2012-2014, Deion Barnes compiled 99 tackles (48 solo), 26.5 tackles for loss, and 14.0 sacks. Additionally, Barnes recorded four pass deflections and forced five fumbles in the Blue and White. Barnes knows what it takes to be a great Penn State defensive lineman, and will be able to enforce "the standard" as the new D-Line coach in State College.
"Deion was actually doing a really good job of everything we talked about," Franklin said. "Taking very serious notes and being intentional, and adding things to his game. I think also, his background, he's played for really good D-line coaches, he's coached for very good D-line coaches, his time with Brent Pry I think was valuable, his time with Manny Diaz was valuable. And then I think the other thing, that kind of goes into this as well, is his time of being a trainer. When Deion was coaching in high school, he was training a lot of the high-profile defensive linemen in that region, whether they were from Philadelphia or New Jersey — and I'm talking, when I'm talking about high profile, I'm talking about guys in the NFL, he was training all those guys.
"I think what I watched with him over the last couple years is he's made the transition from being a trainer to being a coach. And there are aspects and similarities of those two jobs that are similar, but there's a lot of other aspects that go into it as well."
Penn State football has some massive expectations this year after finishing 11-2 overall with a Rose Bowl win a season ago. According to Franklin, having a PSU former player turned coach will help Penn State's players relate to Barnes and improve their development.
"I also think his ability to relate to the players and recruits is going to be a strength of his," Franklin said of Barnes. "He has the ability to be hard and demanding on them in a way that they respect and can relate to, which a lot of times younger coaches, they have a hard time with that. I think, obviously, his ability to relate to the coaches, his understanding and fundamentals and techniques of the position. Then one of the things I was impressed with during the interview process is his understanding of the big picture, not only defensively, schematically. But then also in terms of all the other things. In terms of managing the room, in terms of setting standards and expectations of the room, in terms of academics and his role on being the head coach at his position.
"I think the fact that he's literally a paper away from finishing his Master's Degree, I think that sends a message. I'm not saying a Master's Degree in college coaching is a must, but I do think it sends the right message and it illustrates the right message. So there's a lot of things that we feel really good about Deion."
Head coach James Franklin has installed an elite football culture at Penn State — something the program needed after a rough patch from 2011-2013. Now, as the Nittany Lions head into the 10th season of the James Franklin era, Penn State's culture will be a driving factor behind the team's success.
"I think, you know, whenever you can promote from within, which is what I would typically prefer to do across the board, he understands our culture already, he understands the defensive scheme.," Franklin said. "So when you go out and hire maybe a more experienced coach from the outside, you get that, but then that guy's got to spend time learning the defense and understanding the culture. So you could make arguments both ways. But I was very impressed with Deion and how he interviewed.
"The last thing I'll say, I know this is a long answer, but I think the other thing that really jumped out to me that I thought he did a good job in the interview process is you felt — not only did you hear it, but you felt his passion for coaching D-line, you felt his passion for Penn State, and you felt his passion for this specific group of defensive linemen that he has a relationship with. So it was kind of all of that. It was all of that."
---
---
Thank you for reading Basic Blues Nation. Please follow us on Facebook and Twitter for the latest news and insights on your favorite Penn State athletics.
For feedback, questions, concerns, or to apply for a writing position, please email our Managing Editor at [email protected]. It's due to your support that we can become one of the market's fastest-growing Penn State sports outlets!