The Penn State Football Backfield is a 3-Headed Monster: Meet the Dominant Trio
The 2023 Penn State football backfield may be the best in the entire country.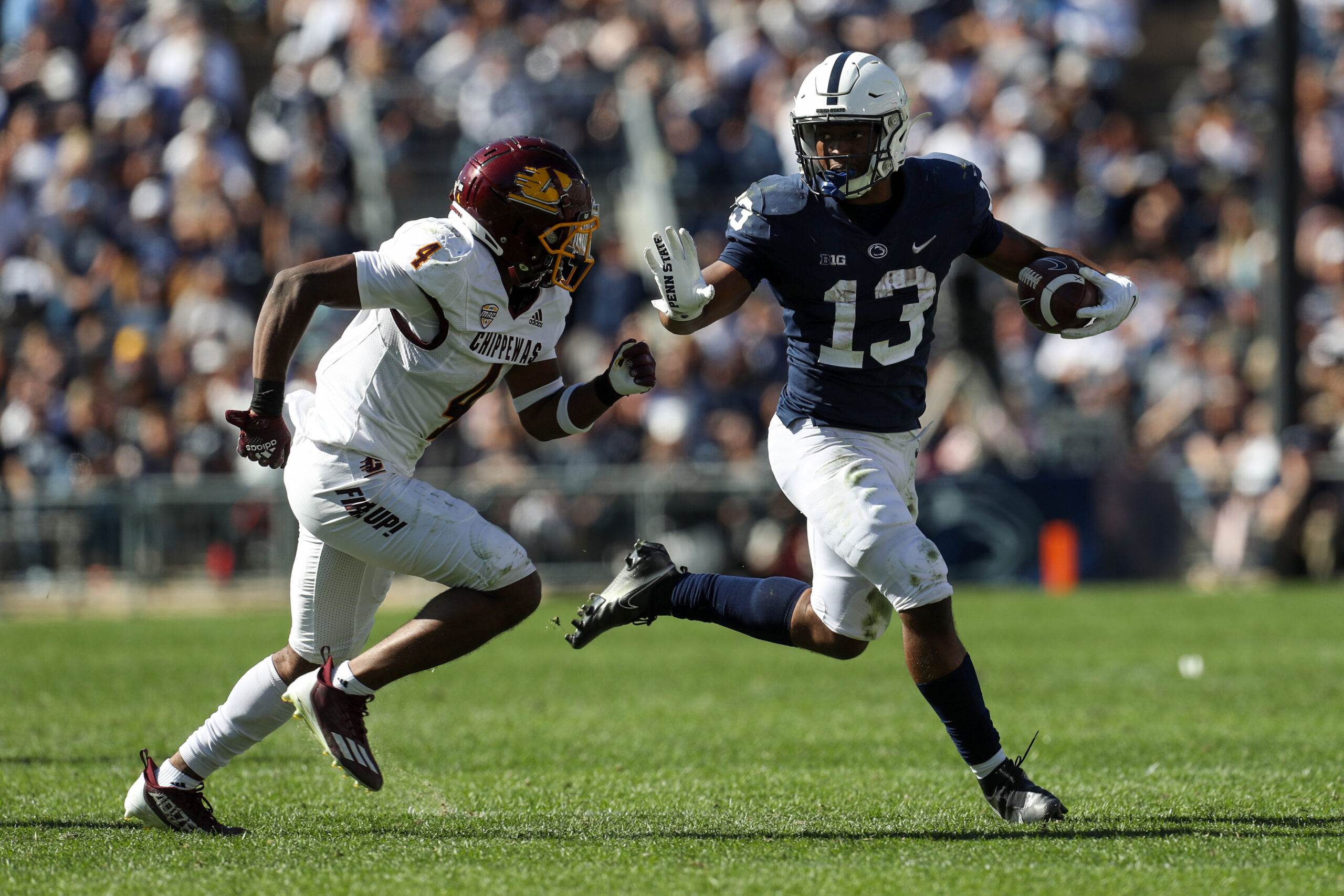 James Franklin and the Penn State Nittany Lions head into the upcoming fall season with minimal uncertainties. However, one of the significant storylines during spring training revolved around the competition for the RB3 position. The team successfully addressed this need by securing Trey Potts, a seasoned Big Ten running back, through the transfer portal. Potts' addition not only fulfills the critical requirement for depth and experience at the running back position but also strengthens the team's standing within the conference. Consequently, the Penn State football backfield now presents a formidable 3-headed monster, featuring exceptional talents in Nick Singleton, Kaytron Allen, and newly acquired transfer Trey Potts.
Penn State football backfield shaping up to be a scary 3-headed monster
During the 2020 and 2021 seasons, the Nittany Lions' offense suffered from a significant deficiency: a lack of a formidable ground game. In fact, throughout those two seasons, a Penn State running back managed to surpass the 100-yard mark only once, when Keyvone Lee accomplished the feat against the Michigan Wolverines in 2020; Penn State emerged victorious in that game, securing a 27-17 win.
Furthermore, prior to last season, Miles Sanders stood as the sole Penn State back to surpass 1,000 rushing yards in a single season, achieving the milestone in 2018, until Nick Singleton replicated the feat in 2022.
A year ago, the remarkable true freshman duo of Nick Singleton and Kaytron Allen burst onto the scene, capturing the attention of fans nationwide and revitalizing the Lions' offense. Bolstered by this newfound rushing attack emanating from the formidable Penn State football backfield, the Nittany Lions' offense progressed significantly, culminating in an impressive 11-2 record and a triumph in the Rose Bowl game.
As the 2023 season approaches, both Allen and Singleton have undergone significant physical development, exhibiting increased size, speed, and strength compared to their true freshman year. Moreover, the Lions have bolstered their backfield by adding a seasoned Big Ten veteran, ensuring depth and experience. Overall, the running back room has harmoniously come together, setting the stage for an exciting season ahead.
Nick Singleton: The flash
A year ago, Penn State football fans were left in awe just a couple of weeks into the season, witnessing the incredible speed and flash of Nick Singleton. In numerous instances, if you were to compare clips of Saquon Barkley and Nick Singleton side by side, it would take a moment to discern between the two.
Singleton's remarkable ability to elude tackles, evade defenders, and exploit running lanes outside the tackle box establishes him as one of the most lethal running backs in the entire country. As repeatedly demonstrated in 2022, when Nick Singleton finds even a sliver of open space, no defense in the nation can impede his progress.
nick singleton. dark horse heisman candidate.

reminds me of maurice clarett. pic.twitter.com/GmEdNa6Sde

— Kyron Samuels (@kyronsamuels) May 8, 2023
Kaytron Allen: The grit
One of the underappreciated components of last year's Penn State offense was Kaytron Allen. Like Singleton, Allen was a true freshman in the previous season, and despite not initially garnering the same level of hype or flash as Singleton, his contributions were equally crucial. The reason for his relatively lower visibility is straightforward: Kaytron embraced the unglamorous tasks for the Nittany Lions' offense.
On the goal line? Give it to Kaytron. Need to gain 4-5 yards against a heavily fortified defense? Give it to Kaytron. Want to wear down the opposing defense? Give it to Kaytron. Do you see where I'm heading with this?
Kaytron Allen displayed an apparent indomitability in short-yardage and goal-line situations. Even after initial contact, it consistently required multiple tacklers to slow down the determined true freshman. As the 2023 season approaches, the young running back has grown in both size and strength compared to last year — an aspect that should genuinely concern the entire Big Ten conference.
Loved seeing this from @kaytron_allen pic.twitter.com/h7sqIFCCK9

— Kyle Steven (@MrVengeance25) October 23, 2022
Trey Potts: A new face with old ties
The latest addition to the 2023 Penn State football backfield is Trey Potts, a seasoned Big Ten running back from the Minnesota Golden Gophers. While Potts may be a fresh face on Penn State's sideline, he is far from unfamiliar with the Big Ten or the state of Pennsylvania, as he hails from PA and has been a lifelong fan of the Nittany Lions. With four seasons of Big Ten experience under his belt, including a victory over Penn State in 2019 and a 45-17 loss to them in 2022, Potts brings a valuable veteran presence to the team.
Although Potts may not receive extensive playing time in each game this fall, his presence as RB3 will be instrumental in the Nittany Lions' long-term success, especially considering the challenging schedule they face in the competitive Big Ten conference.
Trey Potts could provide some versatility this Minnesota offense really needs. Will spell Mo well pic.twitter.com/2oN8eQtdvM

— Hardcore Penn State Football (@HardcorePSUFB) July 31, 2022
---
---
Thank you for reading Basic Blues Nation. Please follow us on Facebook and Twitter for the latest news and insights on your favorite Penn State athletics. For feedback, questions, concerns, or to apply for a writing position, please email us at [email protected] or direct message us on our social media. It's due to your support that we can become one of the market's fastest-growing Penn State sports outlets!