Former Penn State RB visits SEC program
Could Keyvone Lee make a transfer portal move down south?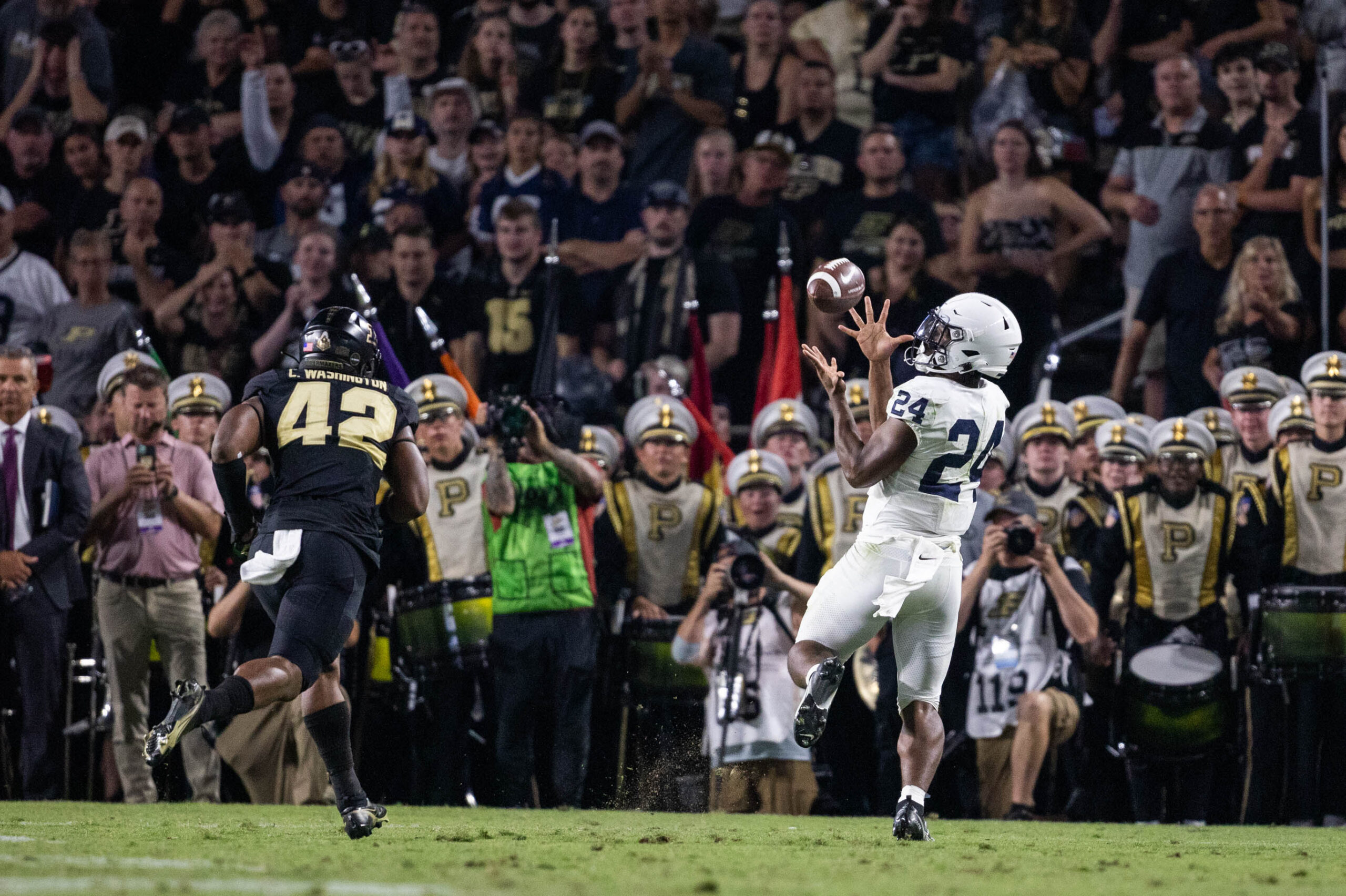 Like most college football programs, Penn State has not been immune to roster turnover in recent years. However, the transfer portal hit the Nittany Lions' running back room particularly hard last year. Following the 2021 season, Noah Cain returned to his native Louisiana and joined the LSU program. Shortly into fall camp, Caziah Holmes made a similar move by transferring to Florida State. By the end of the season, the roster churn was almost nearly complete, as Keyvone Lee — the opening day starter for Penn State — announced his intention to transfer. With the transfer portal reopening on Saturday, the former Penn State RB popped up down south when he visited an SEC program. 
Keyvone Lee carried Penn State's running game through dark years
Last year, Penn State's running game was defined by two freshmen, Nick Singleton and Kaytron Allen. The duo has received a lot of praise for a good reason. Penn State did not have a 1,000-yard rusher in three years before last season. Singleton finished with 1,061 yards, while Allen had 867. The duo combined for over 2,000 all-purpose yards. But despite this success, Penn State lost a veteran running back who carried the Nittany Lions' running game in previous seasons.
Keyvone Lee entered the transfer portal early in January. In years when Penn State struggled running the football, Lee was the top back. In eight games in his freshman season in 2020, Lee ran for 438 yards with 4 TDs. During his sophomore season, Lee ran for 530 yards and 2 TDs. Coming into his junior year, we expected to see more of the same from Lee. But those plans changed with the emergence of Singleton and Allen. Hampered by injury, Lee only played in five games in 2022 and ran for a mere 94 yards. 
But Keyvone Lee still impacted Penn State's 2022 Rose Bowl run. Lee's game-winning touchdown catch against Purdue in the 2022 opener will be remembered by the Nittany Lion faithful for years to come.
Keyvone Lee appreciation tweet ??

— No Names All Game (@nonamesallgame) January 13, 2023
Lee was a veteran running back for Penn State. Veteran leadership is one of the most critical factors of an elite football team. Singleton and Allen undoubtedly benefitted from having someone to look up to. Losing Lee will hurt Penn State. But Lee should get a lot more playing time and the ability to show his talent at another program.
Former Penn State RB visits SEC program
Keyvone Lee has yet to decide where he will play next season and has been relatively quiet with his plans thus far. But he has posted some things on Twitter that may suggest his potential landing spots.
Lee has posted about Colorado after Deion Sanders was hired as head coach. When Cadillac Willaims was named Associate Head Coach (and kept his RB coach title) at Auburn, Lee tweeted a couple of eagle emojis. In addition, Lee confirmed he was still in the transfer portal when somebody tweeted about Lee joining his former teammate Ta'Quan Roberson at UConn. While none of this is an exact science, Lee posting about these teams shows that he is at least some interest in them.
Already tuned in https://t.co/InU6eT7yfY

— keyvone lee (@KeyvoneL) January 14, 2023
The most definitive sign we have seen from Lee was a tweet on April 12. Lee retweeted a post from Mississippi State (and added a map pin emoji) about the Bulldogs' spring game, which took place on Saturday. Multiple outlets later confirmed that there is mutual interest between the Bulldogs and Lee. 
— keyvone lee (@KeyvoneL) April 12, 2023
While we have yet to see any additional comment from Lee regarding the visit with this SEC program last weekend, this is the most significant development in his transfer portal recruitment by far. With the portal open for the next several weeks, we should expect additional movement from the former Penn State running back. It should only be a matter of time before Keyvone Lee finds his next program.
---
---
Thank you for reading Basic Blues Nation. Please follow us on Facebook and Twitter for the latest news and insights on your favorite Penn State athletics. For feedback, questions, concerns, or to apply for a writing position, please email us at [email protected] or direct message us on our social media. It's due to your support that we can become one of the market's fastest-growing Penn State sports outlets!