'A ton of work to be done': James Franklin talks next steps for Penn State football post-spring
Following Saturday's Blue-White Game, James Franklin discussed in detail how Penn State football will navigate the next few months.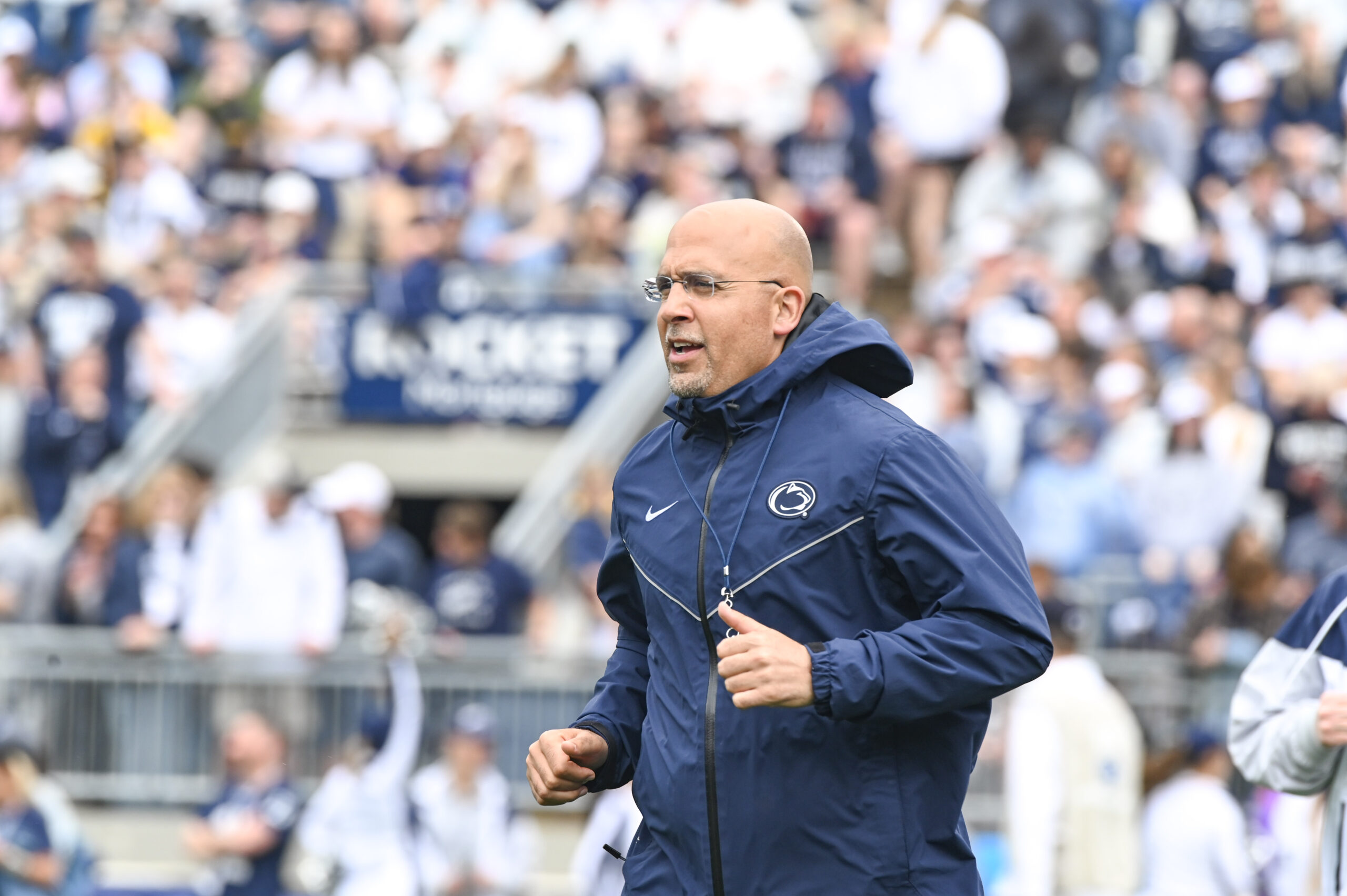 STATE COLLEGE, Pa. — College football in 2023 never stops. From recruiting, roster development and retention, monitoring the transfer portal, and game prep, being a college football coach is a 24/7, 365-day-a-year profession. It's enough to make your head spin. Like any major corporation, running a Power Five football program takes tremendous planning, organization, and intention. Following Saturday's Blue-White Game, James Franklin discussed how the Penn State football program will navigate the next few months. Franklin's answer, equal parts CEO and football coach, offered extremely valuable insight into the operational structure of Penn State football.
James Franklin discusses roster development and feedback following spring practice
Developing and maintaining a college football roster doesn't stop because spring football is complete. In many ways, the post-spring evaluation process is just as taxing for coaches as the spring practice window. During media availability after the Blue-White Game Saturday, James Franklin discussed Penn State football's player evaluation process following spring ball.
"Monday and Tuesday all day, the players will be meeting with their position coaches," Franklin said. "They will get feedback from their position coaches. The coaches will get feedback from the players. We have them [the players] fill out a document beforehand to come in and answer some questions. There are some questions for the position coach to discuss with them; so they get really good feedback from their position coach."
All the players will then go through a similar process with the Nittany Lions' strength and conditioning coaches, as well as other members of the staff. Following these sessions, all of the information from each player's development plan is rolled up, and Franklin starts his evaluation process. According to Franklin, this is an insightful but arduous exercise.
"…one of my favorite things to do — and one of the things that I disliked to do — is I have to meet with every single player on the team. There's a ton of value in it, but it's a grind," Franklin said Saturday. "… I'll meet with every single one of those players, review the document from the strength staff, review a document from the academic staff, the training staff, their position coach, so they understand kind of holistically where they're at. And then I give them specific feedback as well."
Franklin's evaluations offer insight into the Penn State football staff as well
In addition to evaluating each player, Franklin also evaluates the Penn State football staff following spring. Once again, this process will start this upcoming week with player interviews.
"…I also get feedback [from the players] on the staff," Franklin noted." What do they think about their position coach? What do they think about the coordinator? What do they think about the strength staff?…that feedback is important and I kind of tally it all up. You know, who's your favorite staff member and why?"
All told, this is a massive undertaking. But when approached correctly, Franklin believes this process sets Penn State football up for success later.
"… there's a ton of information that we're able to get that is a part of my evaluation process, not just for the players, but for the staff. So that'll be a grind," Franklin said. "But I think that's what we're gonna have to do. We just have to be very intentional as coaches, as players, as individual positions, as a side of the ball, and grind on this stuff."
Penn State football shifts its focus to the fall
There are 140 days between the Blue-White Game and Penn State's season opener against West Virginia. For the Nittany Lion faithful, this can feel like an eternity. But inside the Lasch Building, there isn't a moment to spare. "We have to be very intentional about what we do between now and West Virginia," Franklin stated on Saturday.
Obviously, preparation for the 2023 season starts with a debrief from the spring. According to Franklin, this is where the identity of the 2023 Penn State football team takes shape. "We're gonna go through the tape from spring. Make all the cut-ups, so we get off the road from spring recruiting, we'll go through the cut-ups from spring ball," he said. "We'll start to come up with what is our identity going to be now on offense, defense, and special teams, based on what we did well this spring."
But even as the post-spring evaluation is in full gear, the coaching staff will begin to look toward the schedule. Franklin noted that on Monday, the program's analysts and graduate assistants will start breaking down film on Penn State's first four opponents. This preparation can't begin soon enough. September could be a make-or-break month for this Penn State football team. Beyond the season opener with the Mountaineers, the Lions also have three cross-divisional Big Ten matchups against Illinois, Iowa, and Northwestern. Stumble out of the gates, and Penn State's college football playoff hopes could be over before the leaves are off the trees.
There will be no touchdowns, sacks, or stat sheet stuffers in the next four and a half months. No games will be won or lost. There won't be filled Beaver Stadium crowds or national TV audiences to watch. But out of the public's eye, the 2023 Penn State football team will start to form. Running a college football program takes immense effort, and for James Franklin and his staff, it's time to go to work.
---
---
Thank you for reading Basic Blues Nation. Please follow us on Facebook and Twitter for the latest news and insights on your favorite Penn State athletics. For feedback, questions, concerns, or to apply for a writing position, please email us at [email protected] or direct message us on our social media. It's due to your support that we can become one of the market's fastest-growing Penn State sports outlets!