True freshman linebacker emerges as a potential star during the Blue/White game
Throughout spring camp and the Blue/White game, the Nittany Lions may have found the team's next great linebacker.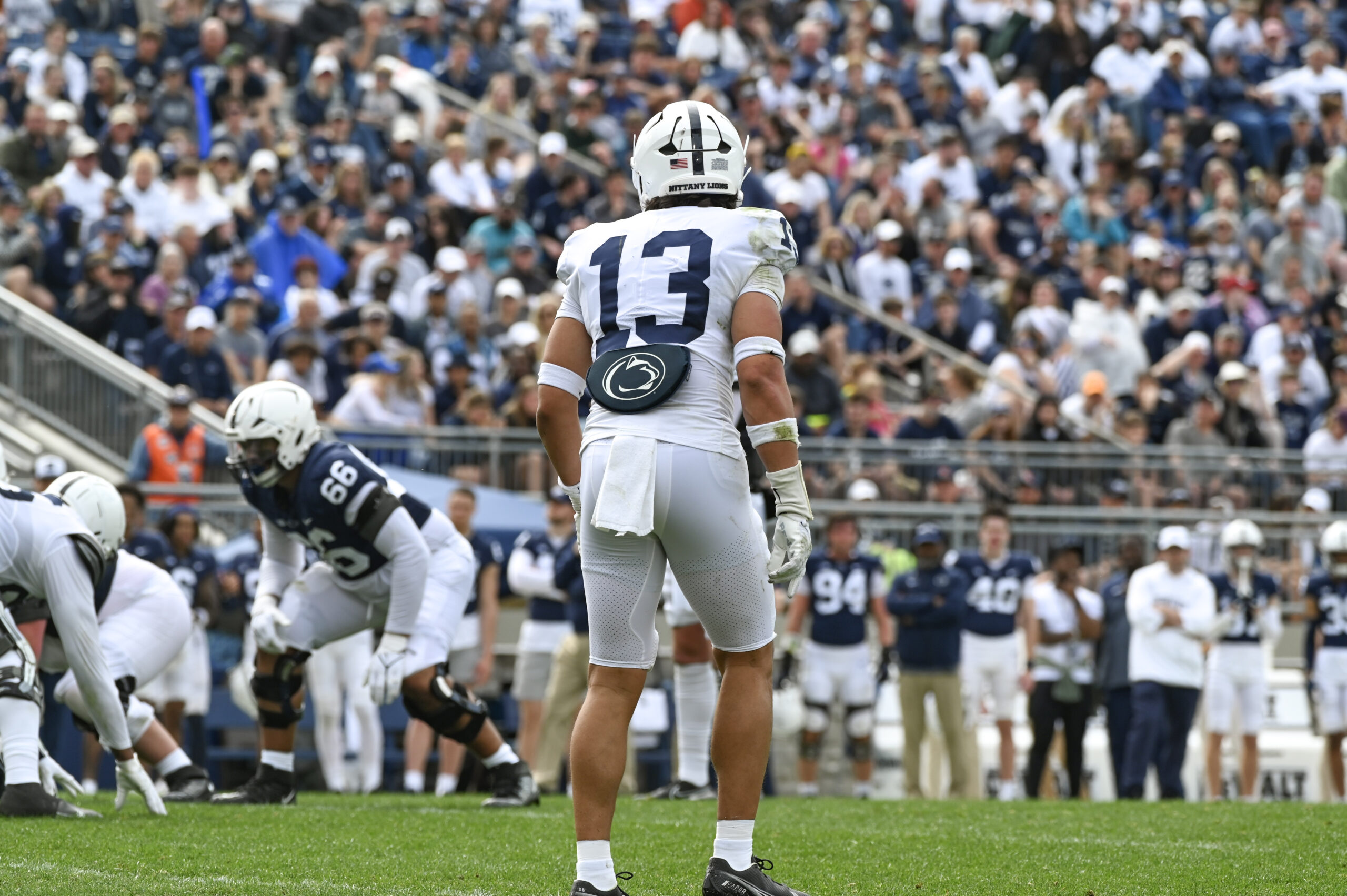 STATE COLLEGE, Pa. — Yesterday, the Nittany Lions took the field for the first time since their victory in the Rose Bowl game back in January. During Saturday's Penn State football Blue/White game, freshman linebacker Tony Rojas shinned as he led the game in tackles. Seeing as Rojas has been praised endlessly throughout spring practice by his coaches and teammates, his standout performance this weekend could be a sign of things to come during his time in the Blue and White.
Penn State football freshman linebacker Tony Rojas is standing out this spring
On Saturday, the Nittany Lions took a massive step in the progression of the 2023 season: the spring game. There, fans and coaches got to see how new and old players performed in a full-speed game format; freshman linebacker Tony Rojas used this opportunity to live up to his spring ball hype. Even before his standout performance in yesterday's spring game, James Franklin was already high on his true freshman linebacker.
"Them being here now I think is really valuable," James Franklin said about true freshman linebackers Ta'Mere Robinson and Tony Rojas being present for spring ball. "[Tony Rojas] is gaining more and more confidence every single day, he has put on 29 pounds since he's been here, and it's good weight. I don't know how that is necessarily possible, but he has put on 29 pounds.
"Every time I go to the nutrition bar he is sitting there eating — after practice he is getting an extra pump in, and he is playing fast and carrying the weight really well. There is a lot of excitement about those two guys"
One of the top defenders on Penn State's 2023 defense had a lot to say about the Nittany Lions' true freshman standout as well.
"When he came [to Penn State], he was a good size," Kalen King said during spring practice. "But now you can really see the difference; his muscles are a little bigger — his presence is a little bigger now … I feel like he didn't lose a step — I feel he gained good weight because he is still out there making plays on the ball. He's still out there, you know, making good open-field tackles, so I feel like that weight only benefitted him."
Rojas impresses during spring game
During yesterday's Blue/White game at Beaver Stadium, Penn State football saw a new standout performance from Tony Rojas. Throughout the game, the Nittany Lions' true freshman was spotted flying around the field making plays — as many have pointed out, the fact that Rojas looks as quick and explosive as he does is incredible, given that he added nearly 30 pounds of "good weight" since getting on campus.
All said and done, Tony Rojas recorded nine tackles, one pass breakup, and 0.5 tackles for loss during his first "game" in the Blue and White. For a true freshman who is fresh out of his first spring camp, these numbers are impressive, to say the least. Keep an eye on No. 13 on the Nittany Lions' defense this fall.
---
---
Thank you for reading Basic Blues Nation. Please follow us on Facebook and Twitter for the latest news and insights on your favorite Penn State athletics. For feedback, questions, concerns, or to apply for a writing position, please email us at [email protected] or direct message us on our social media. It's due to your support that we can become one of the market's fastest-growing Penn State sports outlets!