Storylines from the Penn State Football Max Out Day
Several Nittany Lions stood out to us during media availabilty to close winter workouts.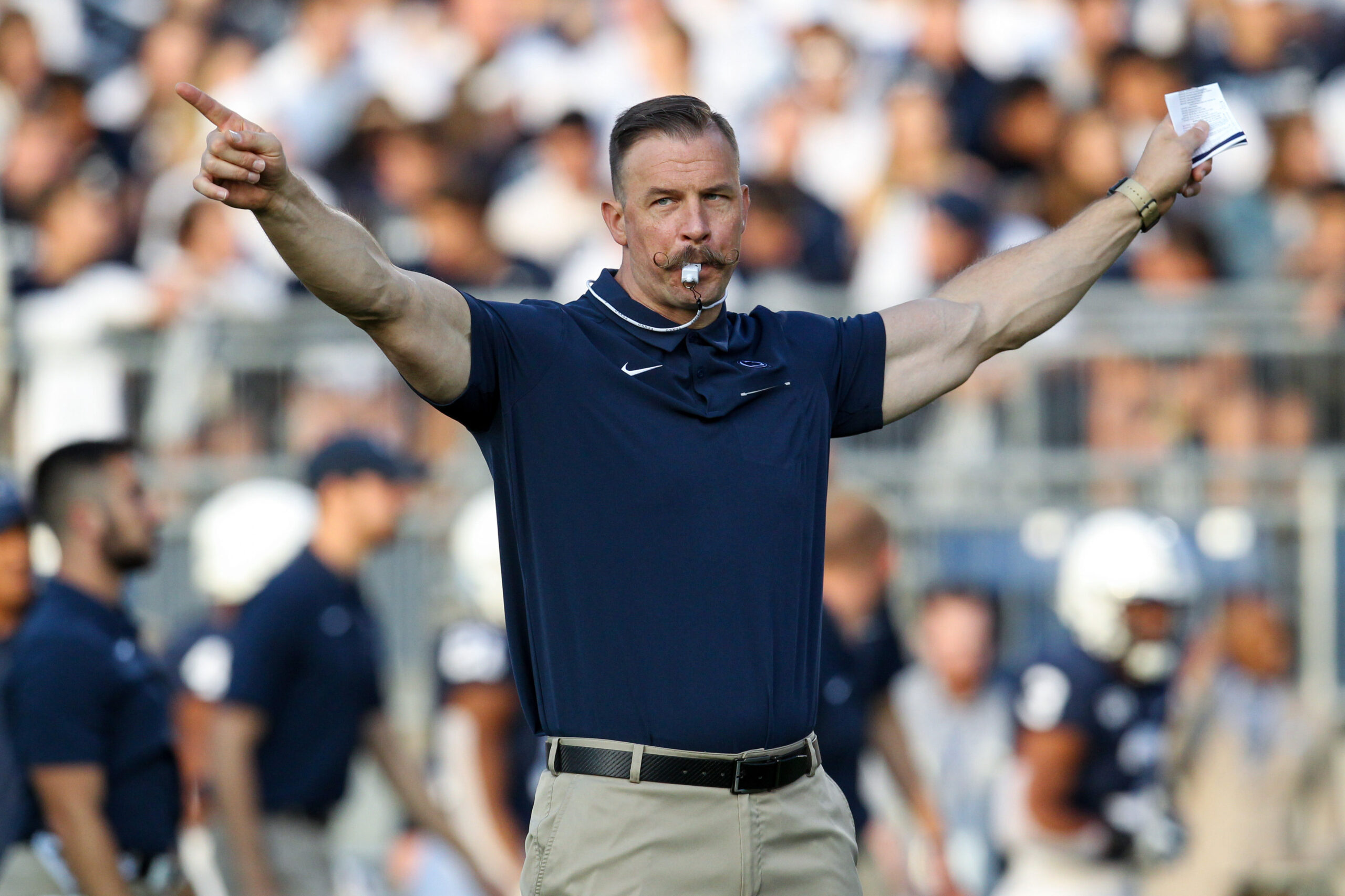 Penn State football has officially finished its seven-week period of winter workouts. Each positional coach has posted the "Competitor of the Day" during winter workouts for their respective position. Early mornings and late hours have defined the grind these student-athletes have gone through. As the Penn State football team gets a much-needed spring break, let's look at what we learned from media availability at Max Out Day. 
What is the Penn State Football Max Out Day Anyway?
Each year in the Lasch Building, Penn State football holds a media availability day during winter workouts. During this time, players lift the maximum amount of weight they can in front of this large crowd. Winter workouts include a lot of lifting, and this is a time to show everyone the work that has been put in the weight room. Fortunately, Basic Blues Nation was credentialed for this year's Max Out Day, where the media got to talk to Penn State's assistant athletic director for performance enhancement Chuck Losey.
Who Did Not Participate?
Most of the team participated in this year's lifts. But there were some notable names absent from lifting. It is unclear why some players didn't lift. But it didn't appear to be injury related for most of those who didn't participate. 
One of the best offensive linemen in college football did not lift. Olu Fashanu, a projected top-ten pick in the 2023 draft, decided to come back to State College for one more season. Olu got injured against Ohio State and never returned during the season. Assuming it's for further recovery, he did not lift.
Another player who did not lift was Drew Allar. The five-star QB will take the reins this season as one of the most anticipated Penn State quarterbacks ever. Also absent from the workouts were big names like Kaytron Allen, Nick Singleton, KeAndre Lambert-Smith, Malik McClain, Landon Tengwall, Kalen King, and many others.
What Kind of Lifting Was Done?
The only type of lifting done was squatting. Squats are obviously a great test to see the power of someone's legs, which are the most important body part for a football player. This was a good choice as the media got to see the highest weight-bearing workouts. 
Our First Look at Storm Duck
Somebody who we got to see for the first time was transfer cornerback, Storm Duck. Duck was a three-star in the class of 2019 out of South Carolina. The six-foot, 195-pound corner looked every part of his size. 
First look ? at Storm Duck for @BasicBlues pic.twitter.com/ATB19BuASB

— Colin Crissey (@ColinPat3) March 2, 2023
Chuck Losey praised Storm Duck and his impact in the weight room. "Storm has been phenomenal," Losey said. "He's the perfect example of how you should conduct your business when you show up on campus as a grad transfer. He's just put his head down. He's worked. He's one of the most consistent guys in the program day in and day out. Been really, really happy with that."
Drew Allar Was Not in a Boot
Rumors surfaced that students saw Drew Allar walking around campus with a boot on his foot. All that Penn State football fans could wonder was whether or not their potential QB1 was healthy or not. Fear that the highest-rated QB in Penn State history would miss time during the season swirled.
Fortunately, those claims didn't come to fruition at Max Out Day. Penn State posted a workout video featuring Allar running. Then when the media arrived at the Lasch Building, we got to see Allar walking into the building with no boot. It is safe to say that Drew Allar looks healthy and ready to go despite not participating in the workout.
Drew Allar just walked into Lasch and of course he's not wearing a boot

— Colin Crissey (@ColinPat3) March 2, 2023
Penn State Football Players Impressed Us the Most?
One player who impressed us was Abdul Carter. The sensational linebacker is going into his second season donning the coveted #11 at Penn State. Carter was able to do five reps at 465 pounds. 
St1x C1ty pic.twitter.com/ULCoZTwdAu

— Colin Crissey (@ColinPat3) March 3, 2023
Another player who impressed us was breakout defensive end, Chop Robinson. The Maryland transfer is also coming into his second season at Penn State. Chop did six reps at 435 pounds. 
Chuck Losey: "Chop's phenomenal. I mean, Chop, he's freaky in nature. He's thrived in our system. His twitch, his suddenness, his ability to change directions the way that he does, he's phenomenal. So he's been great. I love Chop Robinson." pic.twitter.com/ZqQWpvBN7p

— Daniel Gallen (@danieljtgallen) March 3, 2023
An unexpected performance came from South African defensive tackle Jordan van den Berg. van den Berg squatted 565 pounds four times, and he finished his set by screaming and being swarmed by his teammates.
Redshirt-sophomore defensive tackle Jordan van den Berg put on an impressive display of strength today. pic.twitter.com/y1yrzNyS6m

— Justin Ciavolella (@jciavolella76) March 3, 2023
One King brother is talked about a lot at Penn State. While Kalen King is going to continue to dominate opposing wide receivers, his brother, Kobe, impressed us as Max Out Day. Kobe did 4 reps at 470 pounds and is poised for an even bigger 2023. 
Redshirt freshman QB Beau Pribula also impressed at 415 pounds. 
QB2? pic.twitter.com/kKtiqVtQTv

— Colin Crissey (@ColinPat3) March 2, 2023
Others like Curtis Jacobs, Dani Dennis-Sutton, Zuriah Fisher, Drew Shelton, Anthony Donkoh, and Keon Wylie caught my eye at workouts. 
There were obviously more players that impressed at workouts, but these were just the ones I was able to catch. There were multiple players lifting at once, and media and players were everywhere, making it hard to see. This made it difficult to get the weights right and to get to see every player. 
What did Chuck Losey Say?
There were a lot of questions thrown Losey's way during his interview period. Losey talked about players who have stepped up as leaders in the weight room. Losey mentioned the loss of Ji'Ayir ("Tig") Brown to the NFL as a notable subtraction. But Losey mentioned how Keaton Ellis and Olu Fashanu have stepped up in his place.
Losey also mentioned how Drew Allar has put on 20-25 pounds since coming to Penn State. This, he said, will help with Allar's durability. Losey said, "he was probably behind from a strength and power standpoint, and speed when he got here. But, I'll tell you what, he's closed the gap." With Allar, Losey also said that he has "pushed himself to be uncomfortable" in order to grow vocally. 
Losey also said that the incoming freshmen have adjusted well and that he has put them into a "developmental program". 
Losey continued by praising players like Zane Durant, Dani Dennis-Sutton, Abdul Carter, Davon Townley Jr., Chop Robinson, and Kaden Saunders.
---
---
 Thank you for reading Basic Blues Nation. Please follow us on Facebook and Twitter for the latest news and insights on your favorite Penn State athletics.
For feedback, questions, concerns, or to apply for a writing position, please email our Managing Editor at [email protected]. It's due to your support that we can become one of the market's fastest-growing Penn State sports outlets!