Regardless of the outcome, Penn State needs to go down swinging for Shrewsberry
The Nittany Lions need to prove that the school is ready to take hoops seriously.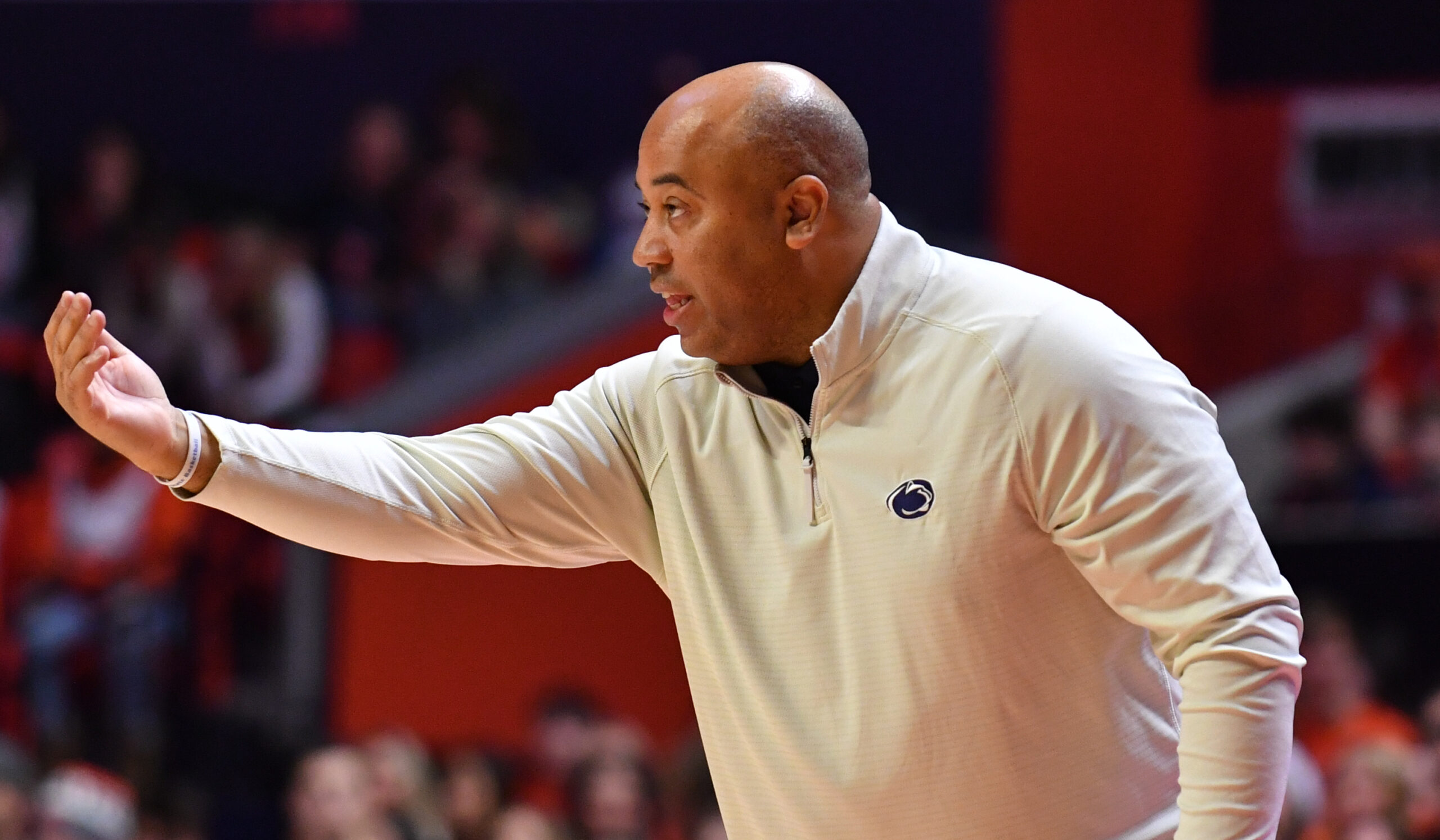 STATE COLLEGE, PA — Yesterday, we reported that Penn State's head basketball coach is currently in talks with Notre Dame for their coaching vacancy. This is bad news for Nittany Lion basketball fans; however, regardless of the outcome, Penn State University needs to fight to keep Micah Shrewsberry in town. If nothing else, the school needs to show fans, players, and its potential next head coach that they are ready to take Penn State basketball seriously.
Penn State basketball sees a marvelous turnaround in just two seasons
Since 2001, the Penn State basketball team had appeared in the NCAA tournament twice (2001, 2011) and won a tournament game once (2001). That all changed when Micah Shrewsberry was introduced as Penn State's new basketball coach. In just two seasons at the helm in State College, Shrewsberry took Penn State from a doormat program to the Big Ten title game, an NCAA tournament berth, and even a tournament win over Texas A&M.
On top of Shrewsberry's on-court success, he also managed to pull two of the best recruiting classes that Penn State basketball had ever seen, and used the transfer portal to bring in some of the team's best players (such as Andrew Funk). If the 2022-23 season proved anything, it is that the Nittany Lions should be ready to go all out to keep Micah Shrewsberry in town.
Notre Dame might be an offer that Micah Shrewsberry cannot refuse
Micah Shrewsberry has spent the majority of his life in Indiana — many of his coaching jobs have been in IN as well. While State College is still in the midwestern area, it is not truly home for Shrewsberry, which is something that has been cited as possibly being a reason that he eventually leaves for a school in Indiana. Notre Dame is also willing to spend good money on basketball and has very nice facilities to work with; if you want to build a winner, the Notre Dame job likely looks more appealing than Penn State does right now — for basketball, that is.
If Notre Dame puts a solid offer on the table for Shrewsberry, offers him enough to pay his staff well, and gives him a chance to coach in a place that he calls home, there might not be much that Penn State basketball can do. Still, Penn State needs to go down swinging even if this is the case.
Penn State University needs to go down swinging
Pat Kraft is a fantastic athletic director, and right now, he is facing his biggest test to date. Even if Micah Shrewsberry decides to leave, Kraft and the administration need to go all out in keeping him around — if nothing else, it sends the right message for whoever is next.
If the Penn State basketball program ever wants to be successful, they need to find someone that is willing to put the work into building a winner — if the school goes down swinging trying to keep Micah in town, it shows the fans, recruits, and even the next head coach that Penn State is ready to become a contender. PSU has the money to put into hoops, now its time to find a coach that wants to build something special in State College. If that person is Micah Shrewsberry, that is great news; however, even if it's not, it is time that Penn State takes the program seriously.
---
---
Thank you for reading Basic Blues Nation. Please follow us on Facebook and Twitter for the latest news and insights on your favorite Penn State athletics.
For feedback, questions, concerns, or to apply for a writing position, please email us at [email protected] or direct message us on our social media. It's due to your support that we can become one of the market's fastest-growing Penn State sports outlets!