Rapid Reaction: Lions' NCAA Tournament Run Ends
The Nittany Lions didn't have enough magic left to keep the run going.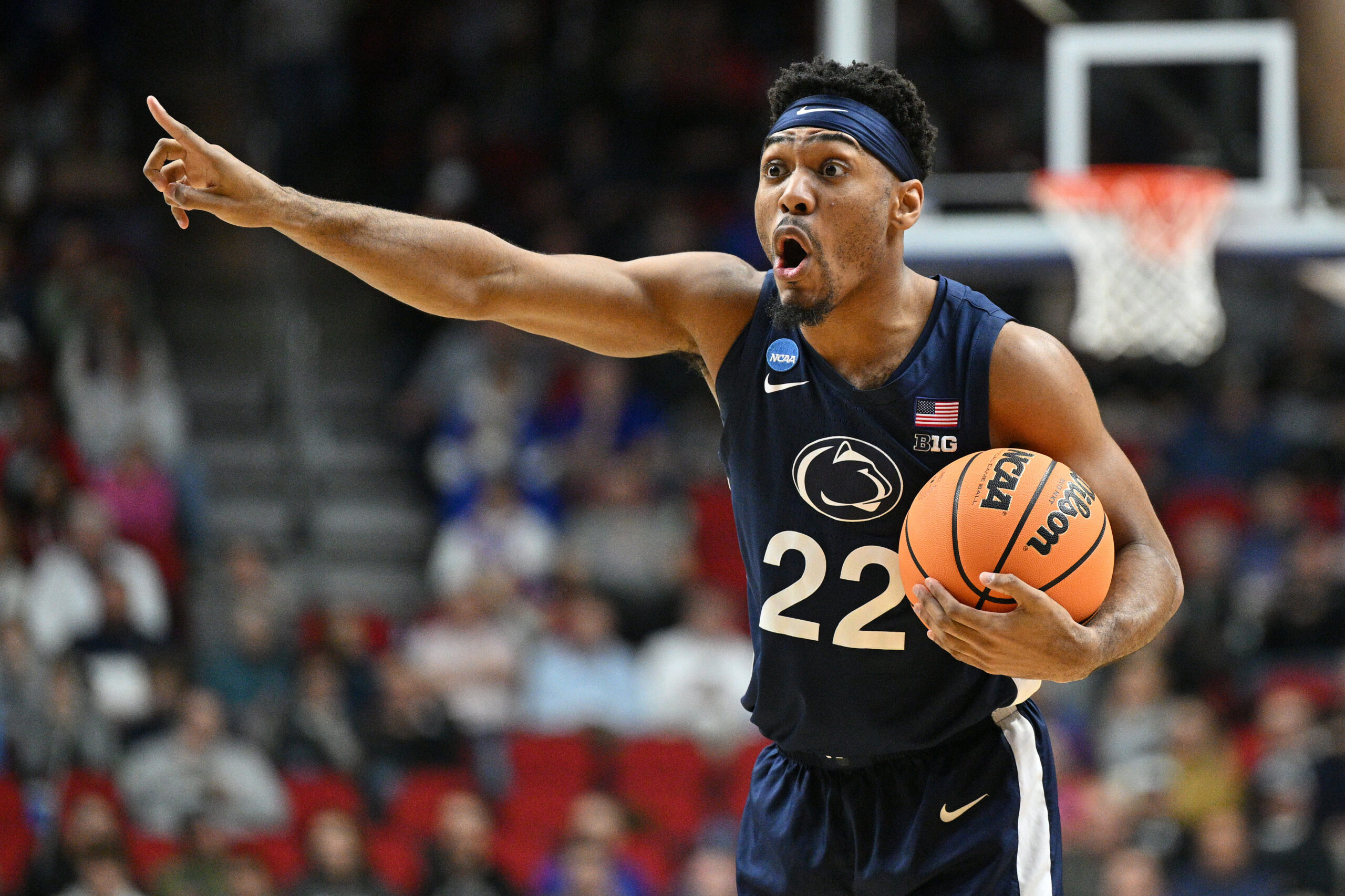 DES MOINES, IA — Penn State basketball's magical run ended Saturday, as the Nittany Lions fell 71-66 to Texas. It's been an unbelievable month of basketball for Penn State, but the 2023 season concludes in the NCAA Tournament Round of 32 for Micah Shrewsberry's squad.
Longhorns' Length Frustrates Lions
It's no secret that Penn State has faced a size disadvantage all season. The Lions have figured out how to effectively rotate and defend big men, which has been a critical aspect of their run over the last month. But Texas's length and athleticism gave Penn State fits all night.
Penn State played well on defense for long stretches of this game. But at times, the Lions looked lost and allowed easy back cuts for wide-open looks at the basket. Texas also took advantage and established a good position in the post, leading to 40 points in the paint for the game. The Lions struggled to stop Dylan Disu, who had a season-high 28 points, including 10 points in the game's final six minutes.  
The Longhorns gave Penn State all it could handle on the offensive end. Texas defenders forced Jalen Pickett to earn every inch of space on the floor. The Longhorns fought through screens hard and used their length and quick hands to disrupt passing lanes. They also effectively used double teams to stifle Penn State's pick-and-roll game. The Lions turned the ball over nine times, seven of which came from Pickett. But even when it didn't result in turnovers, Texas forced Penn State to be out of rhythm on offense most of the night. 
Streaky Shooting Sinks Penn State's NCAA Tournament Hopes
Obviously, the Nittany Lions didn't hit enough shots to win the game. Few would have expected them to come out as white-hot as they did against Texas A&M Thursday. The Longhorns put the pressure on early and forced the Lions into what felt like rushed shots and wasted possessions. As a result, Penn State shot 42% from the floor, including 29% from deep. 
Penn State seemed to find just enough offense to overcome poor shooting performances over the last month. And it looked like it may happen again on Saturday. The Lions used a 10-0 run to take a 58-55 lead with 4:50 remaining. But ultimately, streaky shooting did Penn State in. The Lions wouldn't score again for over four minutes of game time, while Texas responded with a 10-point run of its own to close out the game. 
Wild Ride Ends
I now find myself writing a similar phrase in every basketball article, but it bears repeating. Penn State's play over the last month has been nothing short of remarkable. The Lions have won 9 of 12 games, including ranked victories over Maryland (then-No.21), Indiana (then-No.19), and Texas A&M (No.17). Penn State's losses in that span were to two top-5 teams – Purdue and Texas – and Rutgers (which okay, was a bad loss).
It was only 35 days ago that Penn State had lost its fourth consecutive game, and its chances of making the NCAA Tournament looked bleak. But even more than the on-court accomplishments, the greatest success of the last month was bringing the needs of the basketball program to the forefront. The discussion around Penn State hoops isn't going away in the offseason, and that's a good thing.
And topic No.1 with a bullet for offseason discussion? Keep Micah Shrewsberry in Happy Valley by any means necessary.
---
---
Thank you for reading Basic Blues Nation. Please follow us on Facebook and Twitter for the latest news and insights on your favorite Penn State athletics.
For feedback, questions, concerns, or to apply for a writing position, please email us at [email protected] or direct message us on our social media. It's due to your support that we can become one of the market's fastest-growing Penn State sports outlets!