Takeaways from Penn State's first tournament win in over two decades
The Nittany Lions are getting hot at the right time.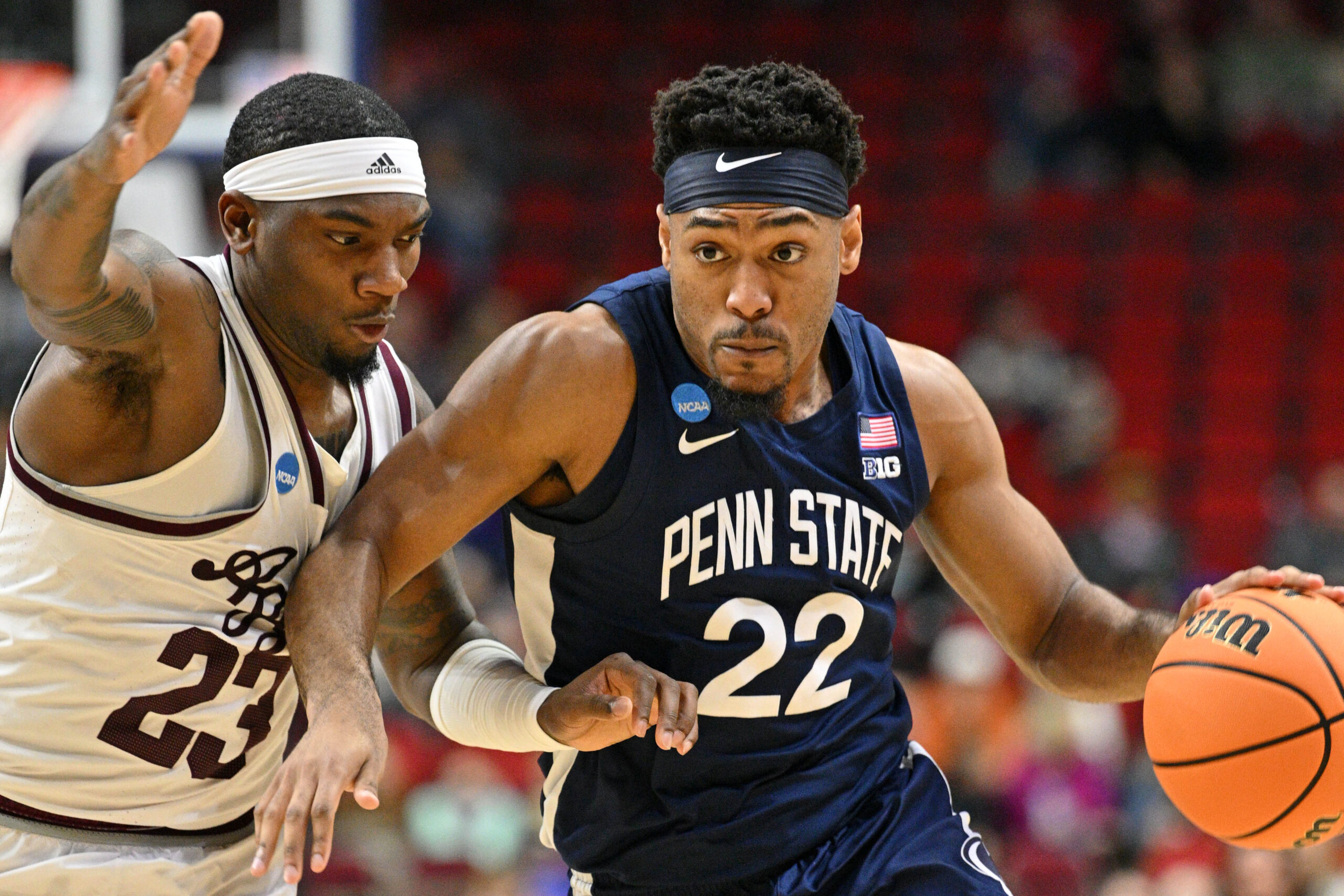 DES MOINES, IA — On Thursday night, the Penn State Nittany Lions' basketball team won their first NCAA tournament game in over two decades. The last time Penn State basketball made the NCAA tournament was in 2011, when the Lions fell just short against Temple. The last time Penn State won a tournament game was ten years before that in 2001 — just two years into his tenure at Penn State University, head coach Micah Shrewsberry has accomplished more in State College than any coach has in decades.
Here are our takeaways from Penn State's program-changing win.
3. Penn State basketball needs to get Funk hot
One thing became very clear last night: when transfer sharpshooter Andrew Funk gets hot from deep, there isn't much that anyone can do. The Nittany Lions hit from deep consistently, going 13-22 from 3-point range, though Penn State's star shooter went 8-10 on his own and ended the night with 27 points all said and done. Additionally, Funk went 3-3 from the line, grabbed four rebounds, one assist, and one steal.
While the Nittany Lions' stars, such as All-American Jalen Pickett, need to play their best game to make a deep run, Penn State needs more massive performances from its other starters. If Andrew Funk is 'on' one night, Penn State basketball is going to win. It's as simple as that.
2. This team is special
For the first time in my lifetime, the Penn State basketball team has won an NCAA tournament game. Before Thursday's win over a solid Texas A&M program, the last time the Nittany Lions appeared in the Round of 32 was in 2001 — the year before I was born.
This year's Penn State basketball team is not the biggest team, they aren't the fastest, they aren't a great rebounding team, and frankly, they aren't the best defensive team either. Still, the Nittany Lions continue to find ways to win games. After the Rutgers loss, head coach Micah Shrewsberry took 100% of the blame and was committed to never letting himself get out-coached again. Now, just a few weeks later, his team has gone on an incredible run and will face Texas for a shot at making the Sweet 16.
Sure, on paper Penn State basketball is nothing all that amazing; but on the court, this team is special.
1. Penn State basketball needs to pay Micah Shrewsberry anything
For years, the men's basketball program at Penn State has been an after thought. The team has seen very little success over the past few decades, and frankly, the university has never shown signs of taking basketball seriously until Shrewsberry showed up. In just two seasons, Shrewsberry has gotten Penn State basketball to a Big Ten title game, broken the NCAA tournament streak, won a tournament game, and has the Nittany Lions playing the best ball we have seen in a long time.
All focus right now should be on beating Texas, but after the season comes to an end (ideally in April), Pat Kraft and Micah Shrewsberry need to have a long talk of what it will take to keep him in State College. If the Nittany Lions ever want a solid basketball program, they need to show a top notch coach like Shrewsberry that you can turn Penn State into a winning basketball program, and that the university will give him the resources necessary to do so.
---
---
Thank you for reading Basic Blues Nation. Please follow us on Facebook and Twitter for the latest news and insights on your favorite Penn State athletics.
For feedback, questions, concerns, or to apply for a writing position, please email us at [email protected] or direct message us on our social media. It's due to your support that we can become one of the market's fastest-growing Penn State sports outlets!