Micah Shrewsberry has an uncertain future, though is all-in on Penn State right now
No one is sure what Shrewsberry's future holds, but for now, he is all-in for Penn State basketball.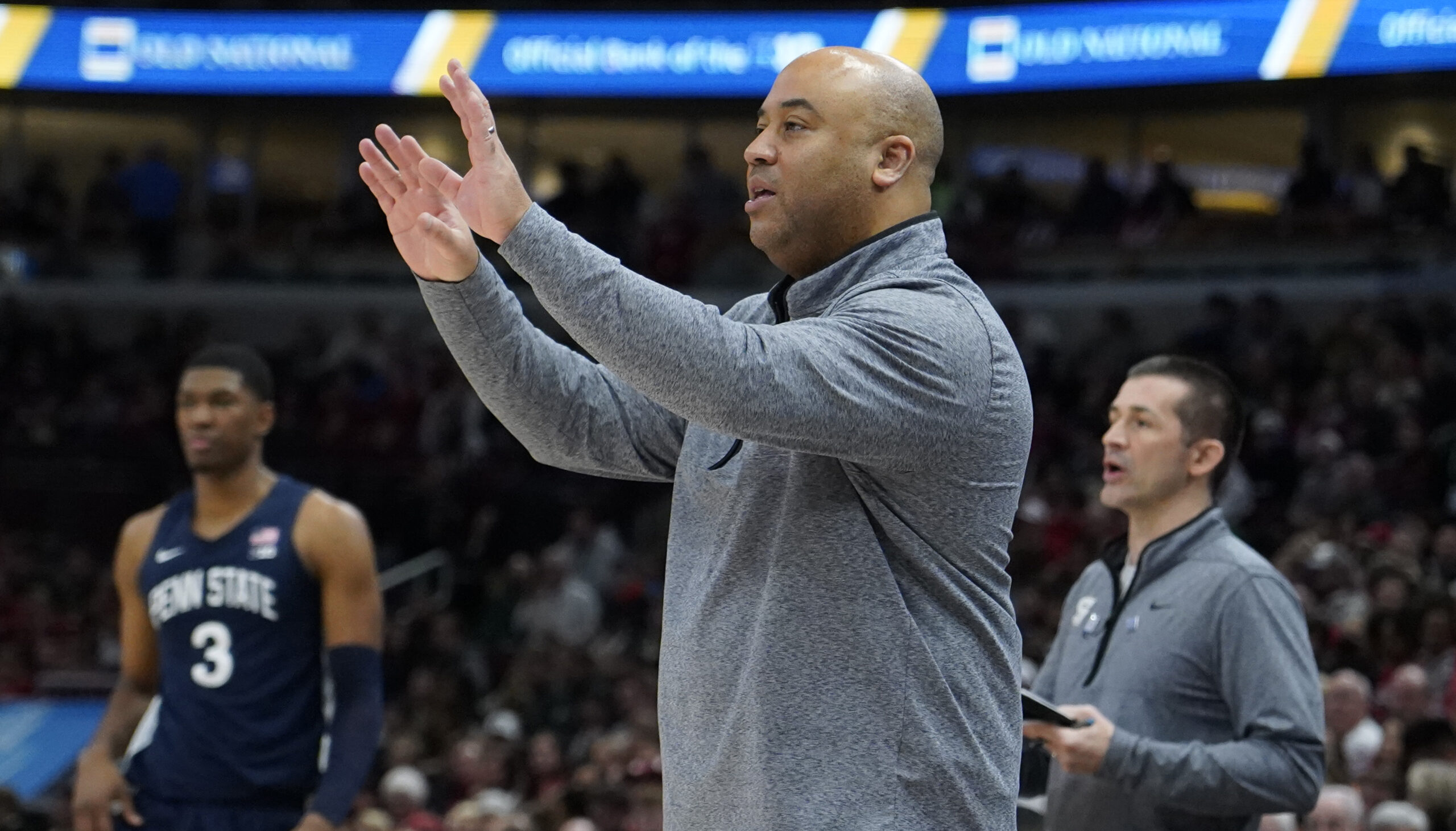 DES MOINES, IA — On Wednesday, Penn State basketball fans got an important answer to an important question, though it was one that many did not want to hear. When Micah Shrewsberry was asked if he will be Penn State's head basketball coach next season, Shrewsberry responded with "It's an 'I don't know' question."
Still, whether or not Shrewsberry is staying or leaving makes little difference for the Penn State Nittany Lions this month — PSU is in its first NCAA tournament since 2011, and looks to make a deep run starting with its bout against Texas A&M this evening. While Micah Shrewsberry may be unsure of what his future holds, he remains steadfast on one major point: his heart, mind, and soul are all-in on Penn State basketball making a deep run in the tournament.
Micah Shrewsberry has an uncertain future, though he is all-in on Penn State basketball right now
Yesterday, Micah Shrewsberry opened his presser with excitement and brought up some talk of Penn State's first-round opponent, the Texas A&M Aggies.
"I'm excited to be here, first of all and excited to represent Penn State here," Micah Shrewsberry told the media during his press conference on Wednesday. "Texas A&M is a really, really good opponent. Just getting a chance now to go through their tape for a few days and prepare for them — just a talented team."
When asked about the fans' support for Penn State basketball, Shrewsberry could not say enough about Penn State University and its fans.
"It's been great," Micah Shrewsberry said. "Just seeing everybody really rally around this team. Once I got here, my main goal was to just put a team together than Penn State would be proud of. And I think what this group does in the classroom, in the community, and on the court — I hope all Penn Staters are proud of this group. Because it is a group that is easy to root for and rally behind.
"I don't know what to expect tomorrow, and that'll be a surprise for us all. But the one thing about Penn Staters is they're everywhere — so I'm sure there is a good group here that has come to support us and we need it. Can't wait to hear every bit of support."
Shrewsberry is asked about his future at Penn State
After praising Penn State's fans and alumni, Shrewsberry was asked if he will be Penn State's head coach next year — he is not sure, though that will not get in the way of leading his team as far into March as he possibly can.
"That's a great question," Micah Shrewsberry said. "There's been a lot of those — I got that question last week at the Big Ten Tournament. I told our guys after the Rutgers game that I felt like I had let them down as a coach and I didn't feel like I did my best. I told them that would never happen again — that's all I am focused on is being that person for them … I am getting [my first] opportunity as a head coach to be in an NCAA tournament game. I don't have time to focus on anything else but just being the best version [of himself] for these guys, and that's all I'm focused on."
When pressed for a more definite answer, Shrewsberry replied, "It's an 'I don't know' question."
Despite uncertainty, Shrewsberry says Penn State feels like home
While the Nittany Lions' head coach is not sure that he will be in State College next season, Penn State University still feels like home to Micah Shrewsberry.
"[Penn State] fit a lot of what I was looking for. It had like a great opportunity in the Midwest … I come into State College, it felt like being home. Felt like a huge part of that, and the places where I've been, were all pretty similar. Coaching in the Big Ten is a big deal — I grew up in the Big Ten and coaching in that is a big deal.
"But then, it's people. People is the biggest thing for me — I am a people person, and you get a feel for that. Penn State, as large of a school as it is, it fits what I look for from my Division III background — somewhere where you can get a great education, somewhere where there are great people around you, and somewhere where you can have success. And [Penn State] fit the box for every single one of those places. And that's why I was thrilled to have this opportunity."
Shrewsberry continued, "I love the relationship I have with the other coaches, right? … Coach Franklin was over at the gym as we were leaving … All the coaches have reached out and texted [me] …  That's a family and that's huge for me — I am big on family as well."
Micah Shrewsberry will take Penn State as far as he can this March
Whether or not Micah Shrewsberry is staying at Penn State past this season is a debate for a later time; in fact, we doubt that Shrewsberry himself knows what's next for his career. For the time being, the Penn State basketball program is about to play in its first NCAA tournament in over a decade, and the Nittany Lions' head coach is ready to help his team get as far as they possibly can.
Penn State basketball (10) is set to face Texas A&M (7) tonight at 9:55 PM (EST) in round one of the NCAA tournament.
---
---
Thank you for reading Basic Blues Nation. Please follow us on Facebook and Twitter for the latest news and insights on your favorite Penn State athletics.
For feedback, questions, concerns, or to apply for a writing position, please email our Managing Editor at [email protected]. It's due to your support that we can become one of the market's fastest-growing Penn State sports outlets!