Penn State Basketball: History Cannot Repeat Itself
It's time for Penn State basketball to break the cycle of disappointment.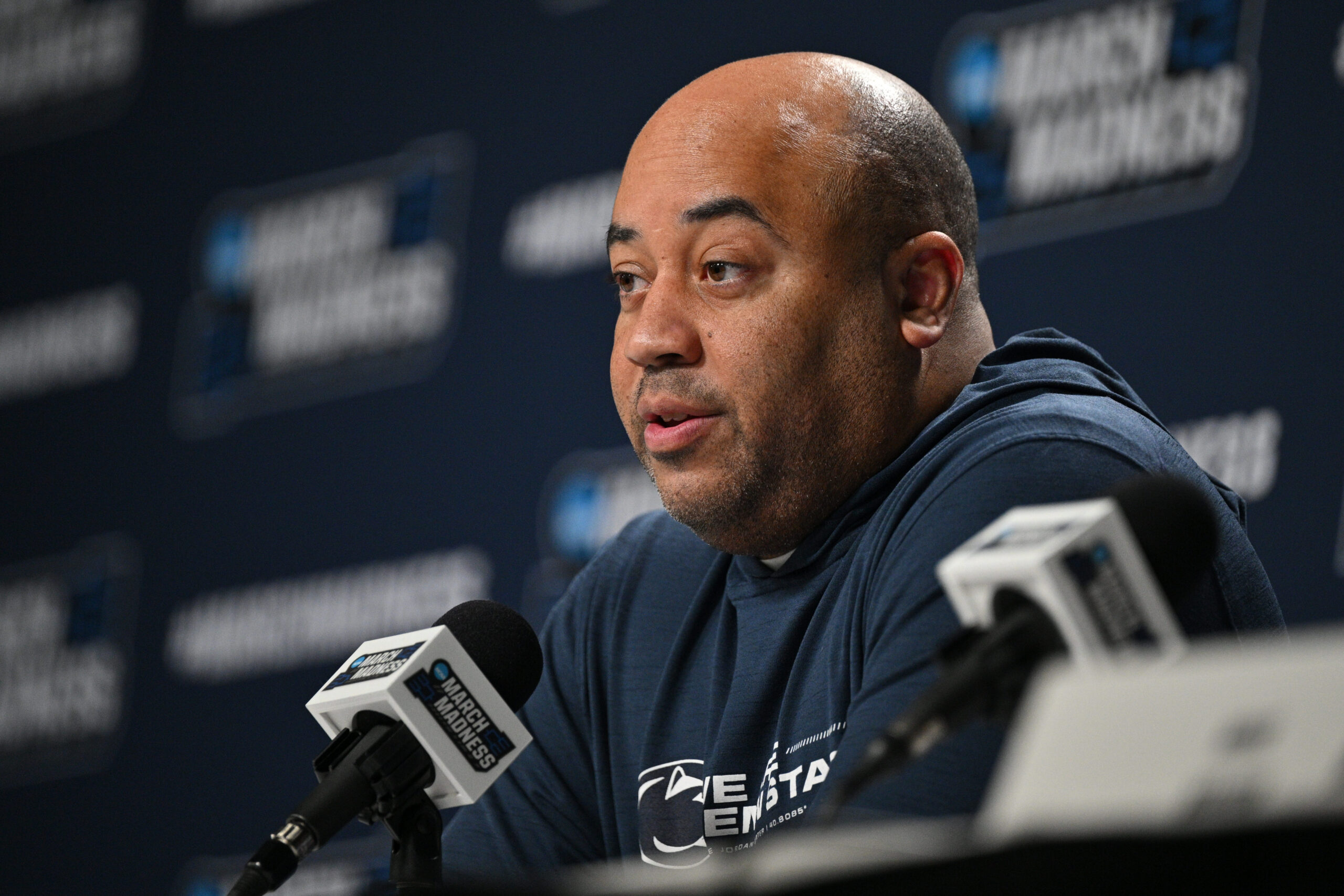 The last few weeks have been memorable for Penn State basketball and its fans. 
It seemed as if any NCAA tournament hopes were dashed after blowing a 19-point lead at home to Rutgers. However, five consecutive heart-stopping wins sent the Nittany Lions to the Big Ten Tournament championship game. While they ultimately fell narrowly to Purdue in the title game, the recent run of play was one of the more impressive in the program's much-maligned history. That run of play culminated in the Nittany Lions hearing their name called on Selection Sunday for the first time since 2011.
In the excitement of the team's first NCAA berth in a decade, Penn State has a unique opportunity to prevent history from repeating itself. Each time the program has made the NCAA tournament, the team seemingly implodes the following season, leading to a long rebuild and lengthy tournament droughts.
Let's take a deep dive into Penn State basketball's infamous history. 
1991: High Hopes Come Crashing Down
The modern era of the NCAA men's basketball tournament is widely considered to have begun in 1985 when the tournament field expanded to its current size of 64 teams. 
In the modern era of the big dance, Penn State has only made four appearances, not including this year and 2020's would-be appearance that was wiped out by the coronavirus. This ranks among the bottom of high-major basketball teams, rivaling historically weak programs such as Boston College, DePaul, and Northwestern. The team has never made back-to-back tournament appearances in the modern era and has never had a gap shorter than five years between appearances. 
In 1991, Penn State made its first tournament appearance of the modern era. That snapped a 26-year drought from the team's previous appearance in 1965. Penn State, then in the Atlantic-10 conference, won their conference tournament under the leadership of coach Bruce Parkhill and was given a No. 13 seed in the tournament. The Lions sprung an upset over UCLA before falling to fellow underdog Eastern Michigan in the second round. 
The program seemed poised for a run of success at this point, considering the 1990-1991 team only had three seniors. Penn State's leading scorer, DeRon Hayes, was only a sophomore. 
However, that run never came. Penn State lost in the first round of the NIT in 1992 and had losing seasons the next two years. The 1991 appearance would be Penn State's only under Parkhill.
A Pattern Emerges
Excitement was reaching an all-time high around the program before the 1995-1996 season. The team was coming off a deep NIT run and was set to open a shiny new arena, the Bryce Jordan Center. However, just two months before the season, Parkhill shockingly resigned. This is the start of a troubling trend for the program.
The 1995-1996 season would live up to the hype under first-year head coach Jerry Dunn. The team opened the Bryce Jordan Center with a 13-0 record and a program-record No. 9 AP Poll ranking. They earned a No. 5 seed in the NCAA tournament but were upset by Arkansas in the first round. 
Again, the team seemed primed for a run of success going into the offseason. Leading scorer Pete Lisicky was a sophomore, and future NBA draft pick Calvin Booth was only a freshman. However, things again fell apart. The team stumbled to a 10-17 record, including a 3-15 tailspin in Big Ten play. 
A few years later, more talent was added in the form of future NBA player Joe Crispin. It didn't help, at least initially. Penn State finished again with a losing record in 1998-1999. 
A Historic Run Still Comes Up Empty
The 2000-2001 season saw things finally come together. The Lions returned to the NCAA tournament for the first time since the 1996 season. They advanced to the Sweet Sixteen, their best finish in the modern era. Penn State even upset national powerhouse North Carolina along the way. But again, the Lions were unable to capitalize on this success. The team combined for just 14 wins over the following two seasons. Then, Dunn resigned.
The cupboard was left bare due to transfers for the next head coach, Ed DeChellis. It took DeChellis six years to have a winning season, which came in 2008-2009 when Penn State won the NIT. This marked the first time the program won a postseason title outside of conference tournaments. 
Again, things looked bright for Penn State. Star guard Talor Battle was just a freshman, and Penn State looked set to follow up their NIT title with an NCAA appearance. Penn State had a dismal season in 2009-2010 that saw them finish 11-20, falling far short of expectations.
After finishing the 2010-2011 regular season 16-13, it seemed as if Penn State would be headed back to the NIT. Instead, the team went on a deep run in the Big Ten Tournament, strikingly similar to one the 2022-2023 team just went on last week. They got to the finals before falling, but it was enough for the program's first NCAA berth in a decade. As a No. 10 seed, they were eliminated by the same team that ended their 2001 run: Temple. 
Instead of being able to capitalize on this success, a familiar thing happened – Ed DeChellis resigned. He left for a far inferior and lower-paying job at Navy. DeChellis cited that Penn State didn't care about basketball as the reason for his odd departure. The basketball team was famously forced to practice in the Intramural Building on campus, prioritizing intramural basketball games, while the team was chasing down an at-large bid in 2011. 
That left the cupboard bare yet again for Pat Chambers. He was named head coach in the summer of 2011, very late in the recruiting cycle due to the timing of DeChellis's move. He had minimal success in his first six years at the helm, years that were often filled with embarrassing moments for the program. One of the low points was losing to Siena in the CBI, a tournament usually reserved for low-major teams. Bids awarded to high-majors, like Penn State, are often declined. 
Chambers, COVID, and More Changes
Year seven finally saw some success for Chambers. High-caliber recruits like Tony Carr, Lamar Stevens, and Mike Watkins led Penn State to their first 20-win season since 2008. However, a down year across the Big Ten led to a poor strength of schedule and sent the team to the NIT. But the Nittany Lions would prevail, winning the NIT that year. 
The program found itself again on the precipice of success. Penn State was recruiting better than it ever had. It finally seemed like Penn State was about to make the jump it had missed many times. 
However, the following season was a disaster for Penn State, with the team losing their first 10 Big Ten games and ending with a losing record. 
The following year, the collection of talent that Chambers had assembled finally paid dividends. The team jumped out to a 20-5 start and was ranked as high as No. 9 in the AP Poll. The Lions were assuredly headed to the NCAA tournament. 
But like much of the world, Penn State's plans were wiped out due to the pandemic. The future remained bright, and it seemed as if Penn State was headed towards a decade where they could be consistently successful.
Unfortunately, history continued to repeat itself for Penn State basketball. Just a few weeks before the pandemic-delayed 2020-2021 season, Pat Chambers resigned amid allegations of player treatment concerns. The timing of the announcement was another torpedo launched at the already damaged program. 
Shrewsberry Works His Magic
Just like his predecessors, current head coach Micah Shrewsberry inherited a mess. Eight players, many of whom were at the core of the team's 2020 success, transferred elsewhere upon his hiring. The program's outlook had taken a familiar ride: from bright to dark.
But unlike his predecessors, Micah Shrewsberry was able to find success very quickly. He was able to find a star in Jalen Pickett and keep him in an era of constant transfers. He has recruited better than anyone has before, bringing in Penn State's two highest recruiting classes ever in his first two years at the helm. 
Penn State Basketball: Here We Go Again?
So now, Penn State basketball finds themselves in a spot eerily similar to the one they've been in many times since 1991. The future is bright, and Penn State is ready to transition from one of the dregs of high-major basketball to one that can be consistently successful.
This time cannot end like the others. Penn State's administration cannot allow history to repeat itself. They cannot allow Micah Shrewsberry to leave the program, just as all his predecessors did. They must prove they care about basketball.
The nation knows how tough of a job it is coaching at Penn State. Many athletic directors have taken notice of Shrewsberry's quickly-earned accomplishments. He has already been linked to multiple coaching vacancies this offseason. Shrewsberry addressed questions about coaching elsewhere.
"It is an 'I don't know' question," he said when asked if he will be Penn State's head coach next season.
The administration must do whatever it takes to keep Shrewsberry as head coach of the Nittany Lions. He appears to be one of the best basketball minds to ever stand courtside with the Penn State basketball program. The trend of Penn State coaches resigning ahead of a seemingly successful period must be put to bed. Shrewsberry himself said it best.
"As you're growing a program, you can't take steps backwards," the coach said earlier this week.
Yet another step backwards would be a fatal blow to the hopes and dreams of Penn State, finally making the jump that has been so tantalizingly close so many times before. Penn State basketball cannot allow history to repeat itself. Otherwise, they will fall off a cliff as a program yet again. If Penn State can hang on to Shrewsberry, it might be time to start believing that the cycle of mediocrity is broken, and Penn State can become a contender for years to come. 
---
---
Thank you for reading Basic Blues Nation. Please follow us on Facebook and Twitter for the latest news and insights on your favorite Penn State athletics.
For feedback, questions, concerns, or to apply for a writing position, please email our Managing Editor at [email protected]. It's due to your support that we can become one of the market's fastest-growing Penn State sports outlets!