Penn State Basketball: History Cannot Repeat Itself
It's time for Penn State basketball to break the cycle of disappointment.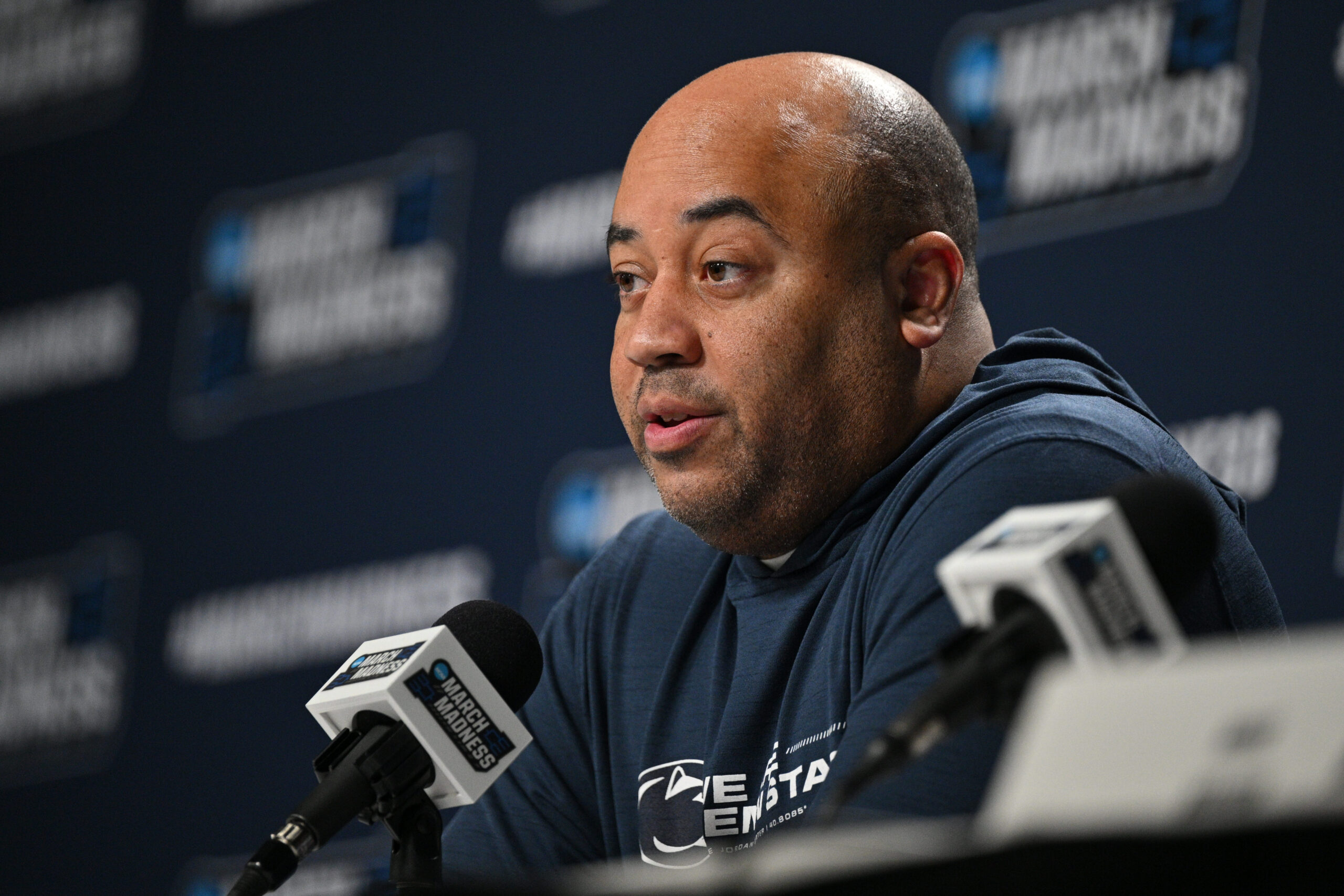 The last few weeks have been memorable for Penn State basketball and its fans. 
It seemed as if any NCAA tournament hopes were dashed after blowing a 19-point lead at home to Rutgers. However, five consecutive heart-stopping wins sent the Nittany Lions to the Big Ten Tournament championship game. While they ultimately fell narrowly to Purdue in the title game, the recent run of play was one of the more impressive in the program's much-maligned history. That run of play culminated in the Nittany Lions hearing their name called on Selection Sunday for the first time since 2011.
In the excitement of the team's first NCAA berth in a decade, Penn State has a unique opportunity to prevent history from repeating itself. Each time the program has made the NCAA tournament, the team seemingly implodes the following season, leading to a long rebuild and lengthy tournament droughts.
Let's take a deep dive into Penn State basketball's infamous history. 
1991: High Hopes Come Crashing Down
The modern era of the NCAA men's basketball tournament is widely considered to have begun in 1985 when the tournament field expanded to its current size of 64 teams. 
In the modern era of the big dance, Penn State has only made four appearances, not including this year and 2020's would-be appearance that was wiped out by the coronavirus. This ranks among the bottom of high-major basketball teams, rivaling historically weak programs such as Boston College, DePaul, and Northwestern. The team has never made back-to-back tournament appearances in the modern era and has never had a gap shorter than five years between appearances. 
In 1991, Penn State made its first tournament appearance of the modern era. That snapped a 26-year drought from the team's previous appearance in 1965. Penn State, then in the Atlantic-10 conference, won their conference tournament under the leadership of coach Bruce Parkhill and was given a No. 13 seed in the tournament. The Lions sprung an upset over UCLA before falling to fellow underdog Eastern Michigan in the second round. 
The program seemed poised for a run of success at this point, considering the 1990-1991 team only had three seniors. Penn State's leading scorer, DeRon Hayes, was only a sophomore. 
However, that run never came. Penn State lost in the first round of the NIT in 1992 and had losing seasons the next two years. The 1991 appearance would be Penn State's only under Parkhill.
A Pattern Emerges
Excitement was reaching an all-time high around the program before the 1995-1996 season. The team was coming off a deep NIT run and was set to open a shiny new arena, the Bryce Jordan Center. However, just two months before the season, Parkhill shockingly resigned. This is the start of a troubling trend for the program.
The 1995-1996 season would live up to the hype under first-year head coach Jerry Dunn. The team opened the Bryce Jordan Center with a 13-0 record and a program-record No. 9 AP Poll ranking. They earned a No. 5 seed in the NCAA tournament but were upset by Arkansas in the first round. 
Again, the team seemed primed for a run of success going into the offseason. Leading scorer Pete Lisicky was a sophomore, and future NBA draft pick Calvin Booth was only a freshman. However, things again fell apart. The team stumbled to a 10-17 record, including a 3-15 tailspin in Big Ten play. 
A few years later, more talent was added in the form of future NBA player Joe Crispin. It didn't help, at least initially. Penn State finished again with a losing record in 1998-1999. 
A Historic Run Still Comes Up Empty
The 2000-2001 season saw things finally come together. The Lions returned to the NCAA tournament for the first time since the 1996 season. They advanced to the Sweet Sixteen, their best finish in the modern era. Penn State even upset national powerhouse North Carolina along the way. But again, the Lions were unable to capitalize on this success. The team combined for just 14 wins over the following two seasons. Then, Dunn resigned.
The cupboard was left bare due to transfers for the next head coach, Ed DeChellis. It took DeChellis six years to have a winning season, which came in 2008-2009 when Penn State won the NIT. This marked the first time the program won a postseason title outside of conference tournaments. 
Again, things looked bright for Penn State. Star guard Talor Battle was just a freshman, and Penn State looked set to follow up their NIT title with an NCAA appearance. Penn State had a dismal season in 2009-2010 that saw them finish 11-20, falling far short of expectations.
After finishing the 2010-2011 regular season 16-13, it seemed as if Penn State would be headed back to the NIT. Instead, the team went on a deep run in the Big Ten Tournament, strikingly similar to one the 2022-2023 team just went on last week. They got to the finals before falling, but it was enough for the program's first NCAA berth in a decade. As a No. 10 seed, they were eliminated by the same team that ended their 2001 run: Temple. 
Instead of being able to capitalize on this success, a familiar thing happened – Ed DeChellis resigned. He left for a far inferior and lower-paying job at Navy. DeChellis cited that Penn State didn't care about basketball as the reason for his odd departure. The basketball team was famously forced to practice in the Intramural Building on campus, prioritizing intramural basketball games, while the team was chasing down an at-large bid in 2011. 
That left the cupboard bare yet again for Pat Chambers. He was named head coach in the summer of 2011, very late in the recruiting cycle due to the timing of DeChellis's move. He had minimal success in his first six years at the helm, years that were often filled with embarrassing moments for the program. One of the low points was losing to Siena in the CBI, a tournament usually reserved for low-major teams. Bids awarded to high-majors, like Penn State, are often declined. 
Chambers, COVID, and More Changes
Year seven finally saw some success for Chambers. High-caliber recruits like Tony Carr, Lamar Stevens, and Mike Watkins led Penn State to their first 20-win season since 2008. However, a down year across the Big Ten led to a poor strength of schedule and sent the team to the NIT. But the Nittany Lions would prevail, winning the NIT that year. 
The program found itself again on the precipice of success. Penn State was recruiting better than it ever had. It finally seemed like Penn State was about to make the jump it had missed many times. 
However, the following season was a disaster for Penn State, with the team losing their first 10 Big Ten games and ending with a losing record. 
The following year, the collection of talent that Chambers had assembled finally paid dividends. The team jumped out to a 20-5 start and was ranked as high as No. 9 in the AP Poll. The Lions were assuredly headed to the NCAA tournament. 
But like much of the world, Penn State's plans were wiped out due to the pandemic. The future remained bright, and it seemed as if Penn State was headed towards a decade where they could be consistently successful.
Unfortunately, history continued to repeat itself for Penn State basketball. Just a few weeks before the pandemic-delayed 2020-2021 season, Pat Chambers resigned amid allegations of player treatment concerns. The timing of the announcement was another torpedo launched at the already damaged program. 
Shrewsberry Works His Magic
Just like his predecessors, current head coach Micah Shrewsberry inherited a mess. Eight players, many of whom were at the core of the team's 2020 success, transferred elsewhere upon his hiring. The program's outlook had taken a familiar ride: from bright to dark.
But unlike his predecessors, Micah Shrewsberry was able to find success very quickly. He was able to find a star in Jalen Pickett and keep him in an era of constant transfers. He has recruited better than anyone has before, bringing in Penn State's two highest recruiting classes ever in his first two years at the helm. 
Penn State Basketball: Here We Go Again?
So now, Penn State basketball finds themselves in a spot eerily similar to the one they've been in many times since 1991. The future is bright, and Penn State is ready to transition from one of the dregs of high-major basketball to one that can be consistently successful.
This time cannot end like the others. Penn State's administration cannot allow history to repeat itself. They cannot allow Micah Shrewsberry to leave the program, just as all his predecessors did. They must prove they care about basketball.
The nation knows how tough of a job it is coaching at Penn State. Many athletic directors have taken notice of Shrewsberry's quickly-earned accomplishments. He has already been linked to multiple coaching vacancies this offseason. Shrewsberry addressed questions about coaching elsewhere.
"It is an 'I don't know' question," he said when asked if he will be Penn State's head coach next season.
The administration must do whatever it takes to keep Shrewsberry as head coach of the Nittany Lions. He appears to be one of the best basketball minds to ever stand courtside with the Penn State basketball program. The trend of Penn State coaches resigning ahead of a seemingly successful period must be put to bed. Shrewsberry himself said it best.
"As you're growing a program, you can't take steps backwards," the coach said earlier this week.
Yet another step backwards would be a fatal blow to the hopes and dreams of Penn State, finally making the jump that has been so tantalizingly close so many times before. Penn State basketball cannot allow history to repeat itself. Otherwise, they will fall off a cliff as a program yet again. If Penn State can hang on to Shrewsberry, it might be time to start believing that the cycle of mediocrity is broken, and Penn State can become a contender for years to come. 
---
---
Thank you for reading Basic Blues Nation. Please follow us on Facebook and Twitter for the latest news and insights on your favorite Penn State athletics.
For feedback, questions, concerns, or to apply for a writing position, please email our Managing Editor at cjmangum29@gmail.com. It's due to your support that we can become one of the market's fastest-growing Penn State sports outlets!
Penn State basketball: New transfer portal addition is reason for excitement
Mike Rhoades is killing it in the transfer portal so far.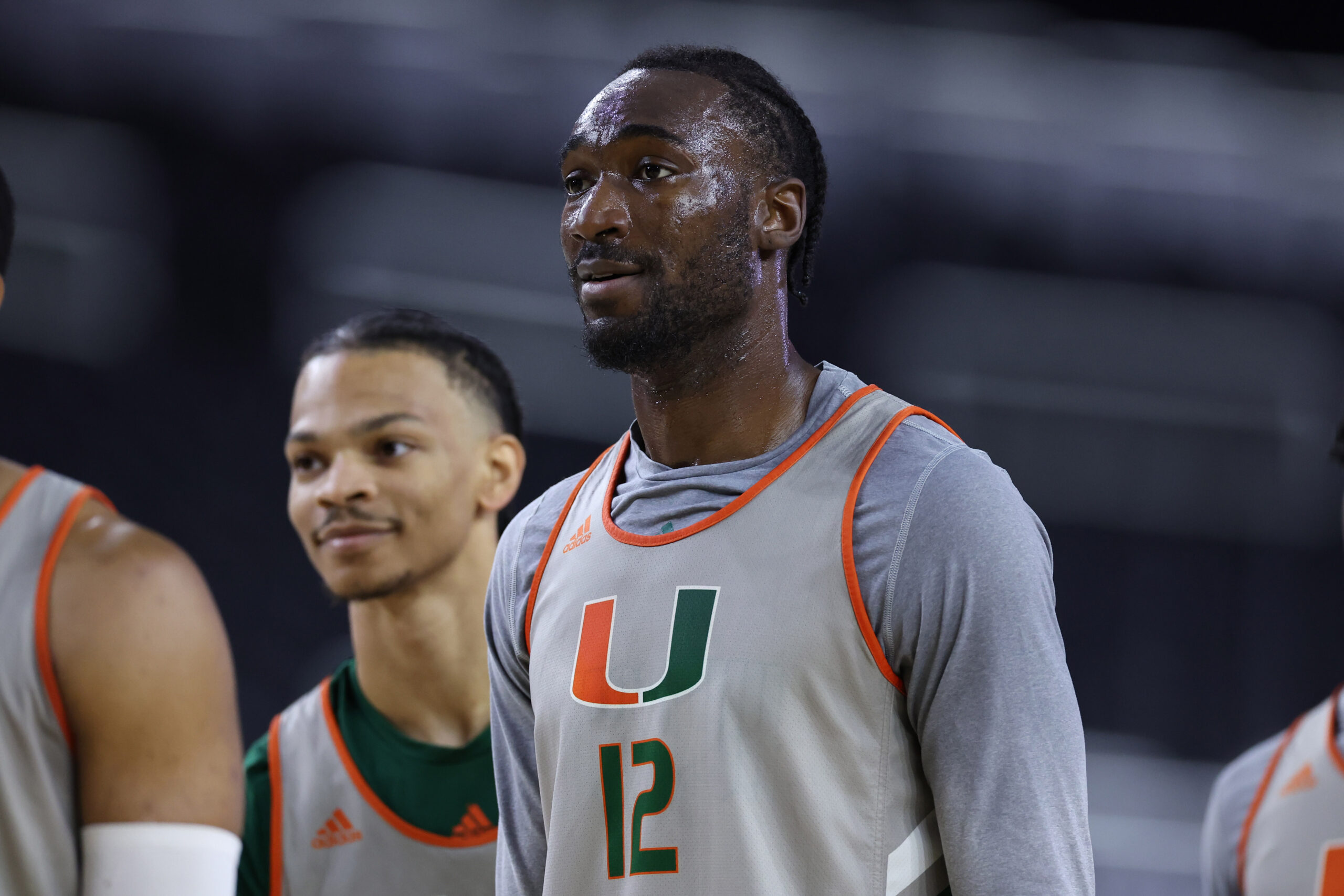 Yesterday, newly appointed head coach Mike Rhoades continued to bolster his revamped Penn State basketball team by adding another player from the transfer portal. The addition of Favour Aire, a former four-star recruit, has sparked significant excitement among Nittany Lion hoops fans as they eagerly anticipate the upcoming 2023-24 season.
Mike Rhoades adding size, length and athleticism out of the transfer portal for Penn State with a commitment from 6-foot-11 center Favour Aire

A former 4-star prospect who played his freshman season at Miami (FL) in 2022-23, Aire adds depth to the center spot behind Qudus Wahab pic.twitter.com/WdmtslPu95

— Tyler Millen (@Tmillen15) May 22, 2023
Penn State basketball adds another transfer portal addition
After a remarkable season that saw Penn State basketball achieve one of its best records in history at 22-14 and reach the Round of 32 in the NCAA tournament, former head coach Micah Shrewsberry decided to leave the program for Notre Dame. Following Shrewsberry's departure, the Nittany Lions made an excellent choice in hiring Mike Rhoades, the former head coach of the VCU Rams. Rhoades, a Pennsylvania native, played a significant role in elevating the VCU program to prominence within the A-10 conference, even capturing a conference title in the 2022-23 season.
When Mike Rhoades assumed the coaching position at Penn State, the team had only two scholarship players on the roster. While the rebuild is not yet complete, it is certainly progressing in a positive direction. The latest addition to Penn State's upcoming roster is Favour Aire, a former four-star center from Miami, standing at an impressive 6-foot-10 and hailing from Maryland.
Favour Aire is headed to Happy Valley
A season ago, Penn State basketball lacked a true big man in the paint; instead, the Nittany Lions relied on their small guards and star players like All-American Jalen Pickett. However, when the offense struggled, the defense was often ineffective against larger teams. Fortunately, Mike Rhoades has addressed this issue by acquiring a new center.
Favour Aire (#12) is a 6'11 big transferring to Penn State from Miami. He averaged only 2.7 minutes a game his freshman season. Aire was the #144 ranked player in the 2022 class pic.twitter.com/Ld2GhPqQtX

— Joe Jackson (@Joe_Jackson2210) May 22, 2023
Penn State basketball is currently undergoing significant identity changes. Micah Shrewsberry's fast-paced offensive strategies are about to transition into Mike Rhoades' defensive schemes, which may not be the smoothest transition. Nevertheless, Rhoades seems to be benefiting from the opportunity to shape the team according to his vision.
According to the ON3 rankings, the newest addition to the Penn State basketball transfer portal is a former four-star recruit. Initially ranked as the No. 112 recruit in the class of 2022, he was also regarded as the No. 20 center in the nation and the No. 4 recruit in the state of Maryland.
Some fans may raise concerns about his limited playing time during his season in Miami. However, it's important to consider that the Hurricanes were incredibly successful last season, and he was playing behind an All-ACC-caliber center, which made it challenging for him to secure playing time.
For the rebuilding Penn State basketball program, this significant addition brings much excitement as they enter year one of the Mike Rhoades era in State College.
---
---
Thank you for reading Basic Blues Nation. Please follow us on Facebook and Twitter for the latest news and insights on your favorite Penn State athletics. For feedback, questions, concerns, or to apply for a writing position, please email us at basicbluesnation@gmail.com or direct message us on our social media. It's due to your support that we can become one of the market's fastest-growing Penn State sports outlets!
Penn State guard joins former coach on staff of in-state rival
The former Penn State guard will be joining his old coach in Philadelphia.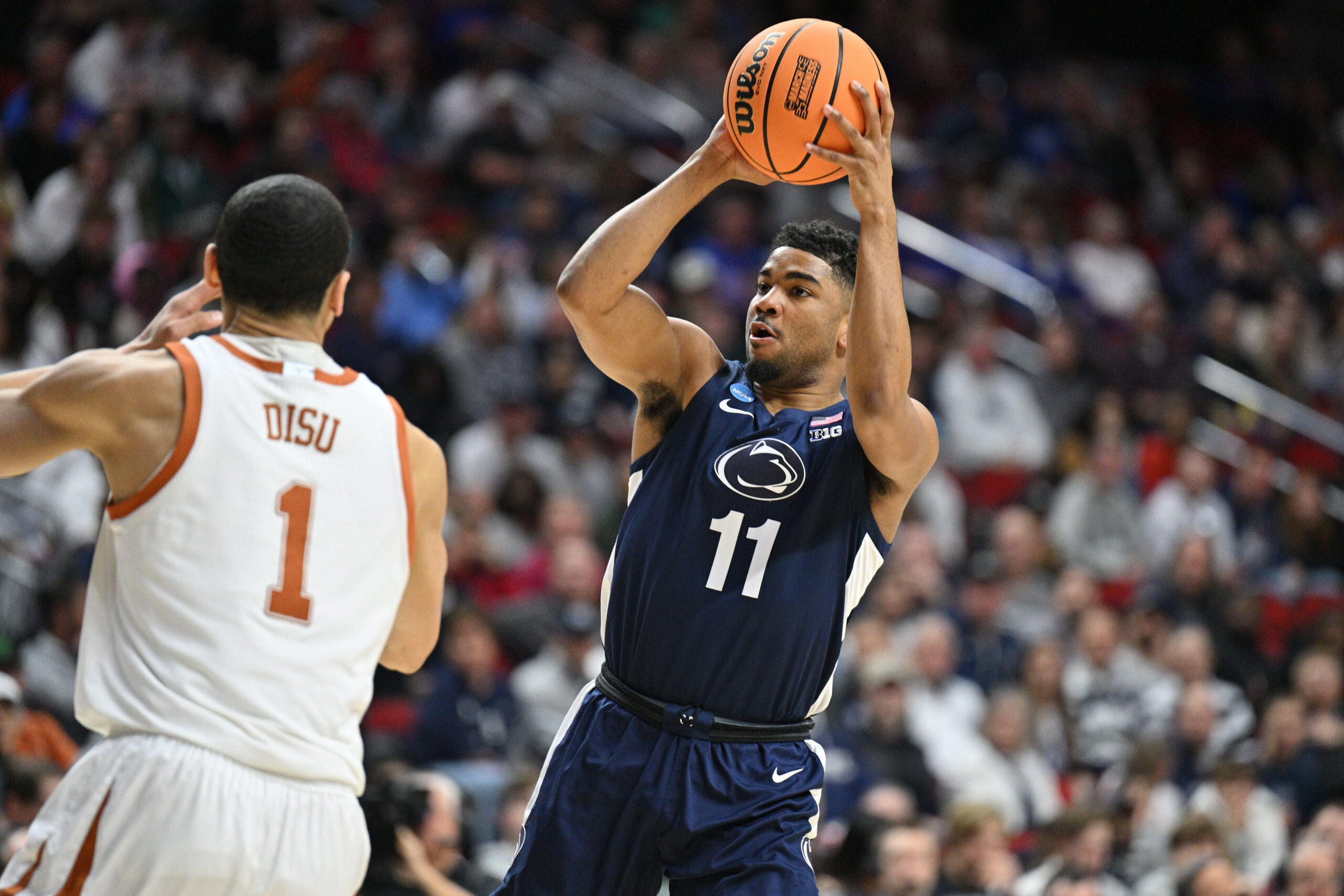 The coaching carousel in college basketball has now slowed considerably in May. Many schools, like Penn State, have made their head coaching decisions, and the necessary staff pieces have followed in recent weeks. However, some moves are still being made that impact the Penn State world. This week, Penn State guard Cam Wynter, who just finished his playing career, decided to join his former coach Adam Fisher on the Temple basketball staff.
Turbulent times in Happy Valley
There has been much turnover on the Penn State basketball coaching staff over the past few years. First, in 2020, Pat Chambers resigned after allegations of inappropriate conduct after a steady nine years at the helm. Replacing Chambers was interim head coach Jim Ferry, who was not retained by Penn State. Ferry went on to become UMBC's head coach. 
Penn State thought it found stability with the hire of Micah Shrewsberry. Quite frankly, Shrewsberry took Penn State's program to heights that were not thought of as possible. Impact transfers like Jalen Pickett, Andrew Funk, and Cam Wynter all transferred to Penn State with Shrewsberry as head coach. This past season, Penn State finished as runner-up in the Big Ten Tournament and made it to the Round of 32 in March Madness. But shortly after the season, Shrewsberry left Penn State to return to his home state of Indiana to coach for Notre Dame. Penn State was once again searching for head coach answers. 
Penn State finds its next head coach
After Shrewsberry left, Penn State prioritized finding someone with Pennsylvania ties who could keep Penn State as an NCAA Tournament-caliber team. Penn State fans jokingly clamored for Jay Wright, who had won two national championships at Villanova. But Wright was obviously not going to leave the CBS TV studio to come to Happy Valley. Colgate Head Coach Matt Langel's name was mentioned by many media outlets. FAU Head Coach Dusty May was also a top candidate. Neither guy ended up with the Penn State job. 
Much attention was also given to Shrewsberry's assistant head coach, Adam Fisher. Fisher was a Penn State alum with years of coaching experience at Penn State. Many Penn State players vouched for him, including Jalen Pickett, Myles Dread, Andrew Funk, and Camren Wynter, who all tweeted that Penn State should promote Fisher. 
But Penn State athletic director Pat Kraft decided to go another way. Kraft brought in Mike Rhoades from VCU, who took the Rams to three NCAA tournaments in the last four years. Rhoades has immediately brought impact transfers to Happy Valley.
Adam Fisher gets his shot with Temple basketball
Ultimately Adam Fisher did get a head coaching job in Pennsylvania, just not with the program people expected. Fisher was named the next head coach of Temple. The choice made sense for the Owls, as Fisher has obvious Pennsylvania ties and has taken a team to the NCAA Tournament. 
Welcome to Temple @Coach_Afish!

— Temple Men's Basketball (@TUMBBHoops) March 29, 2023
Former Penn State guard Cam Wynter follows Fisher to Philadelphia
On Tuesday, it was announced that former Penn State guard Cam Wynter was joining Adam Fisher's staff at Temple. Wynter played at Drexel for four years before transferring to Penn State for the 2022-2023 season. Wynter became a fan-favorite for his late-game heroics during Penn State's push to the NCAA Tournament, hitting game-winning buzzer-beaters against Northwestern and Maryland in the regular season. 
Camren Wynter, has been named Special Assistant to Temple Men's Basketball Head Coach Adam Fisherhttps://t.co/yFKRAeSK03

— Temple Men's Basketball (@TUMBBHoops) May 16, 2023
Wynter was one of nine Division I athletes in the last 30 years to finish their career with at least 1,900 points, 600 assists, and 600 rebounds. After advocating for Fisher to get the Penn State job, Wynter will now follow his former coach to Philadelphia to begin his own coaching career.
---
---
Thank you for reading Basic Blues Nation. Please follow us on Facebook and Twitter for the latest news and insights on your favorite Penn State athletics. For feedback, questions, concerns, or to apply for a writing position, please email us at basicbluesnation@gmail.com or direct message us on our social media. It's due to your support that we can become one of the market's fastest-growing Penn State sports outlets!
Penn State basketball: Nittany Lions make history with NBA Combine invite
Former Nittany Lions Jalen Pickett and Seth Lundy continue to make history for the Penn State basketball program.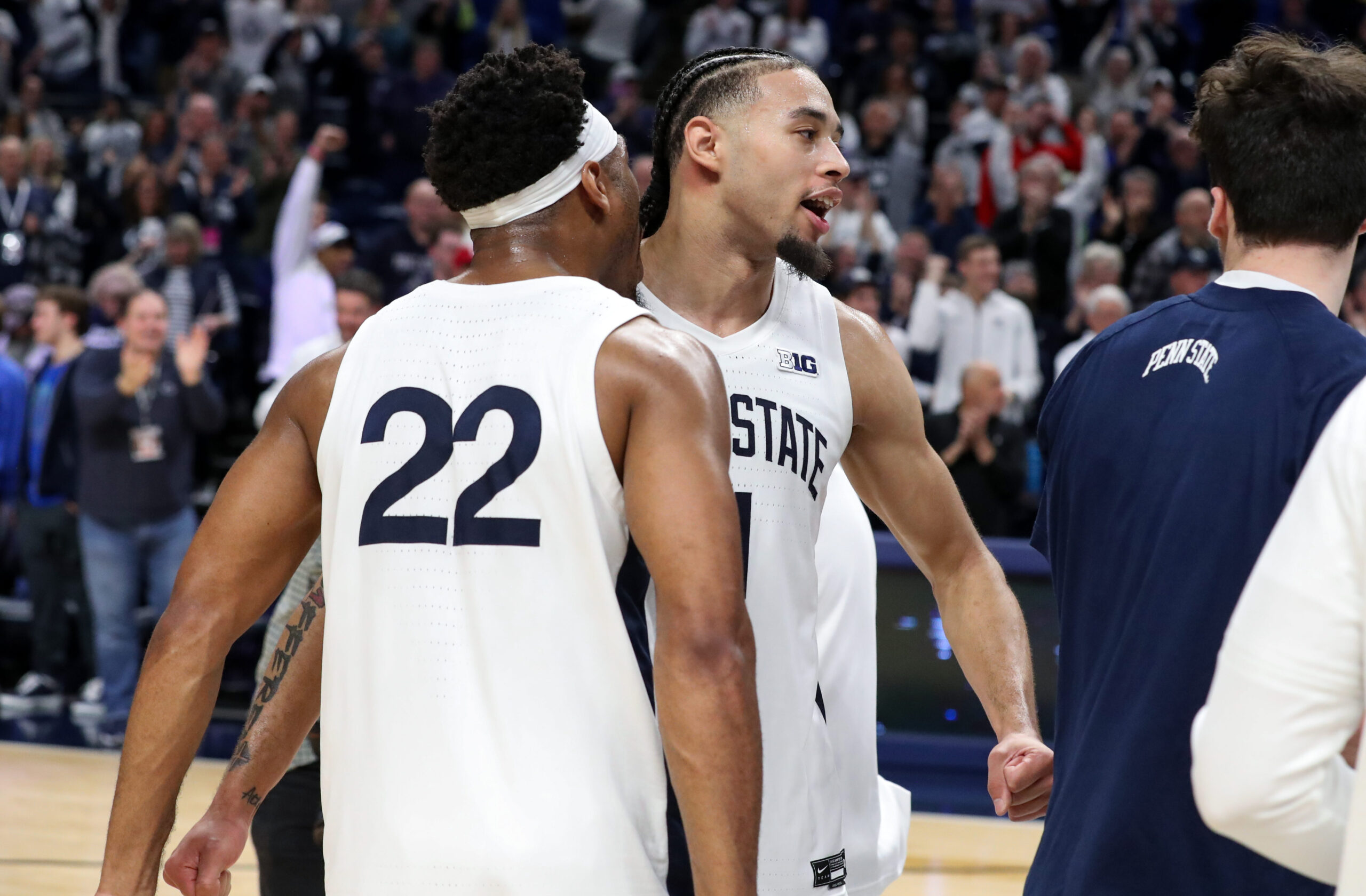 Although it was overshadowed by the coaching change and roster turmoil that followed, last year was a historic season for the Penn State basketball program. The Nittany Lions played in the Big Ten Tournament Championship for the second time ever, made their first NCAA Tournament appearance since 2011, and won their first tournament game since 2001. In a season of firsts, Jalen Pickett became the program's first All-American since Jesse Arnelle nearly 70 years ago. And the 2022-23 Penn State basketball team made history once again Tuesday, as Pickett and fellow former Nittany Lion Seth Lundy were announced as participants in the upcoming NBA Combine.
Lundy and Pickett make history with NBA Combine invite
On Tuesday night, Penn State announced that Jalen Pickett and Seth Lundy had been officially invited to the NBA Combine, which begins on May 15 in Chicago, Illinois. The news marks the first time that Penn State basketball has had two players invited to the NBA Combine in the same year. Pickett and Lundy become only the fourth and fifth Nittany Lions to ever earn NBA Combine invitations, preceded by Jarrett Stephens (2001), Tony Carr (2018), and Lamar Stevens (2020).
Happy Valley → #NBA Combine@JalenPickett7 & @llseth23 have officially been invited to next week's NBA Draft Combine in Chicago: https://t.co/BfWIcf90CC#WeAre pic.twitter.com/5PwlkdWUQ1

— Penn State Men's Basketball (@PennStateMBB) May 10, 2023
Pickett put together one of the best seasons in NCAA history last winter. He became the first Division I men's player since 1993 to average at least 17 points, seven rebounds, and six assists per game while shooting over 50% from the field for an entire year. The season was a capstone of a historic collegiate career for Pickett. Pickett is the first player since 1986 to tally over 2,000 points, 700 rebounds, and 800 assists over his college tenure.
An All-Big Ten Honor Mention, Lundy averaged over 14 points and six rebounds per game in 2022-23, his most impressive season at Penn State. Lundy's 1,283 points and 229 three-pointers made rank 20th and sixth in program history, respectively. In March, Lundy announced his intention to enter the NBA Draft after his senior season in Happy Valley.
Penn State basketball's dynamic duo look to make history once again
Two of the most successful players ever at Penn State, Pickett and Lundy will try to make history once again in next month's NBA Draft. The duo aims to become the first Lions drafted since Tony Carr was selected by the New Orleans Pelicans in the second round of the 2018 NBA Draft. Carr is the only Nittany Lion taken in the NBA Draft this millennium. If both Lundy and Pickett are selected, it will be the first time Penn State has ever had multiple draft picks in the same year. Given their track record on the court, the pair has a great chance to check one final box for the Penn State basketball program. 
---
---
Thank you for reading Basic Blues Nation. Please follow us on Facebook and Twitter for the latest news and insights on your favorite Penn State athletics. For feedback, questions, concerns, or to apply for a writing position, please email us at basicbluesnation@gmail.com or direct message us on our social media. It's due to your support that we can become one of the market's fastest-growing Penn State sports outlets!