Penn State football: James Franklin grades Drew Allar in first career start against West Virginia
James Franklin had some high praise for sophomore QB Drew Allar after his first career start at Penn State last night.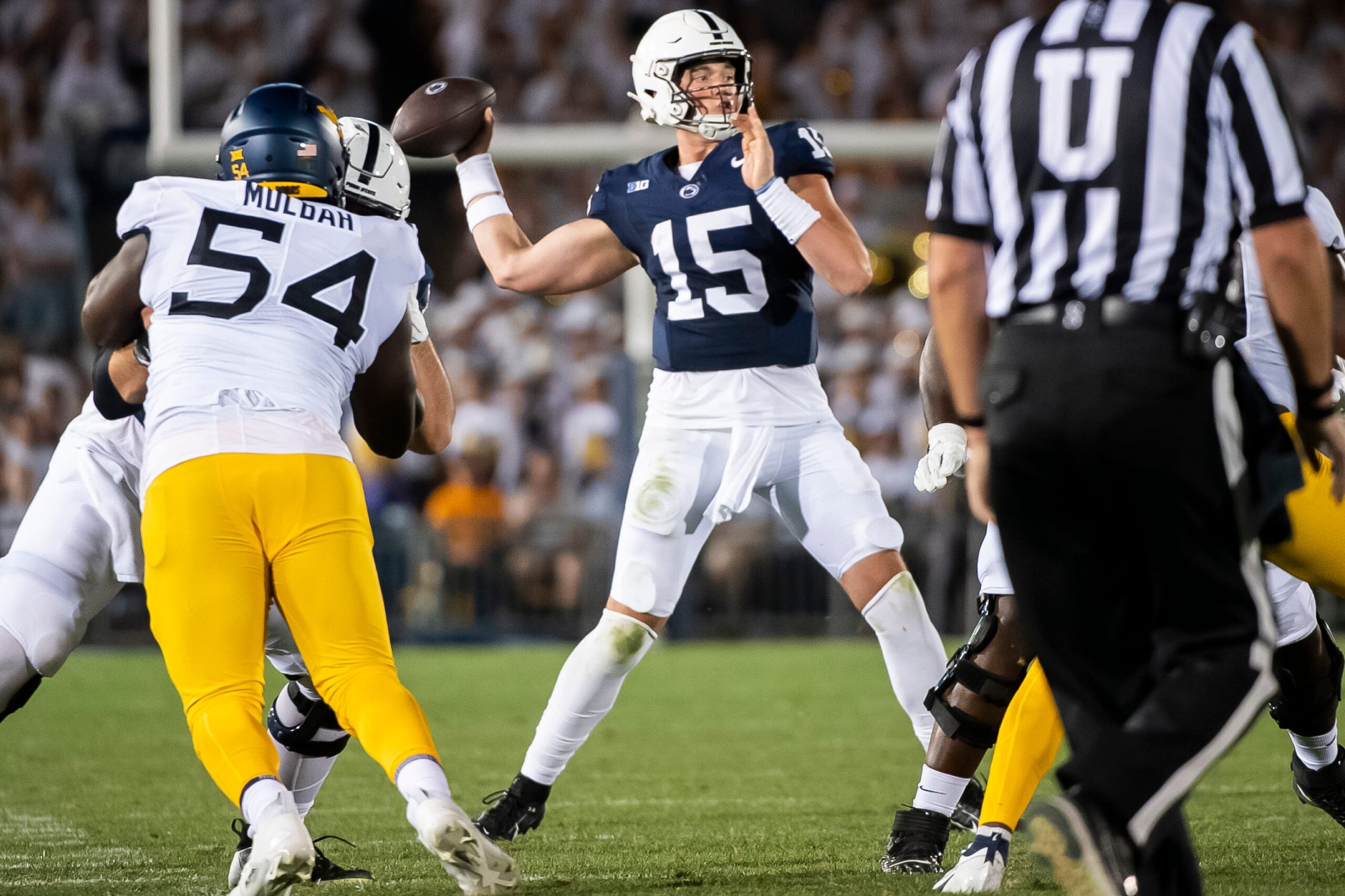 Drew Allar shattered expectations last night in his first career start for the Penn State football team. Many believed that Allar would have success at Penn State, but I'm not sure if anyone thought he would be this productive so early on. It goes to show how important last season was for Allar's development. To be able to go throw for over 300 yards and to make no major mistakes was great to see. But what did James Franklin think about Allar's performance last night against West Virginia?
James Franklin grades Drew Allar in first career start against West Virginia
After Penn State defeated West Virginia 38-15 last night, James Franklin spoke to the media about Drew Allar's first career start.
Franklin said, "…the statistics are right here. Drew (Allar) was 21 of 29 for 325 yards and three touchdowns. Obviously, something really good to build on and no turnovers."
One of the more impressive things about Allar is he has yet to throw an interception during his college career. According to Coach Franklin, it took Drew 13 or 14 practices to throw his first interception. But that doesn't mean he's always perfect, he had one pass last night that should've been intercepted, which Franklin took note of.
Franklin continued, "You know, I thought the one ball should have been a turnover. So, just like I was talking to you about practice, we'll grade that as an interception decision or interception throw. So, we're fortunate, you know, to me, you got to make that throw in the red zone. You want to put it up high where our guys going to catch it in the back of the endzone or nobody does. But, besides that, I thought he did a really good job of managing the game from a decision-making standpoint."
Although that one bad throw was made in the red zone, it's something that Allar can correct very quickly. If that's the only mistake he made in his first career start, Penn State football fans have a lot to be excited about moving forward.
It's Drew Allar's IQ in the pocket that continues to standout
There's something about the way Allar handled his first game action against Purdue last season, and again last night against West Virginia. He has a way of reading the chaos around him in the pocket while also keeping his eyes downfield. That is something that quarterbacks, especially young quarterbacks, typically struggle with. James Franklin took notice as well.
"You know that's the Drew we saw in preseason camp," Franklin said. "I think that's, to be honest with you, that's the Drew we saw in limited reps last year in terms of when he got into the game. He did some really good things. He just feels very poised and confident."
The Nittany Lions are hopeful that Allar can continue to build off this confidence. But what a start to the Drew Allar era.
---
---
Thank you for reading Basic Blues Nation. Please follow us on Facebook and Twitter for the latest news and insights on your favorite Penn State athletics. For feedback, questions, concerns, or to apply for a writing position, please email us at [email protected] or direct message us on our social media. Also, be sure to check out our new site shop. It's due to your support that we can become one of the market's fastest-growing Penn State sports outlets!