James Franklin responds to poor academic standing of Penn State football program
Tuesday, James Franklin addressed questions regarding the lowest academic progress report for Penn State football in the last decade. But was the report a move to undermine the program? One former Nittany Lion letterman believes so.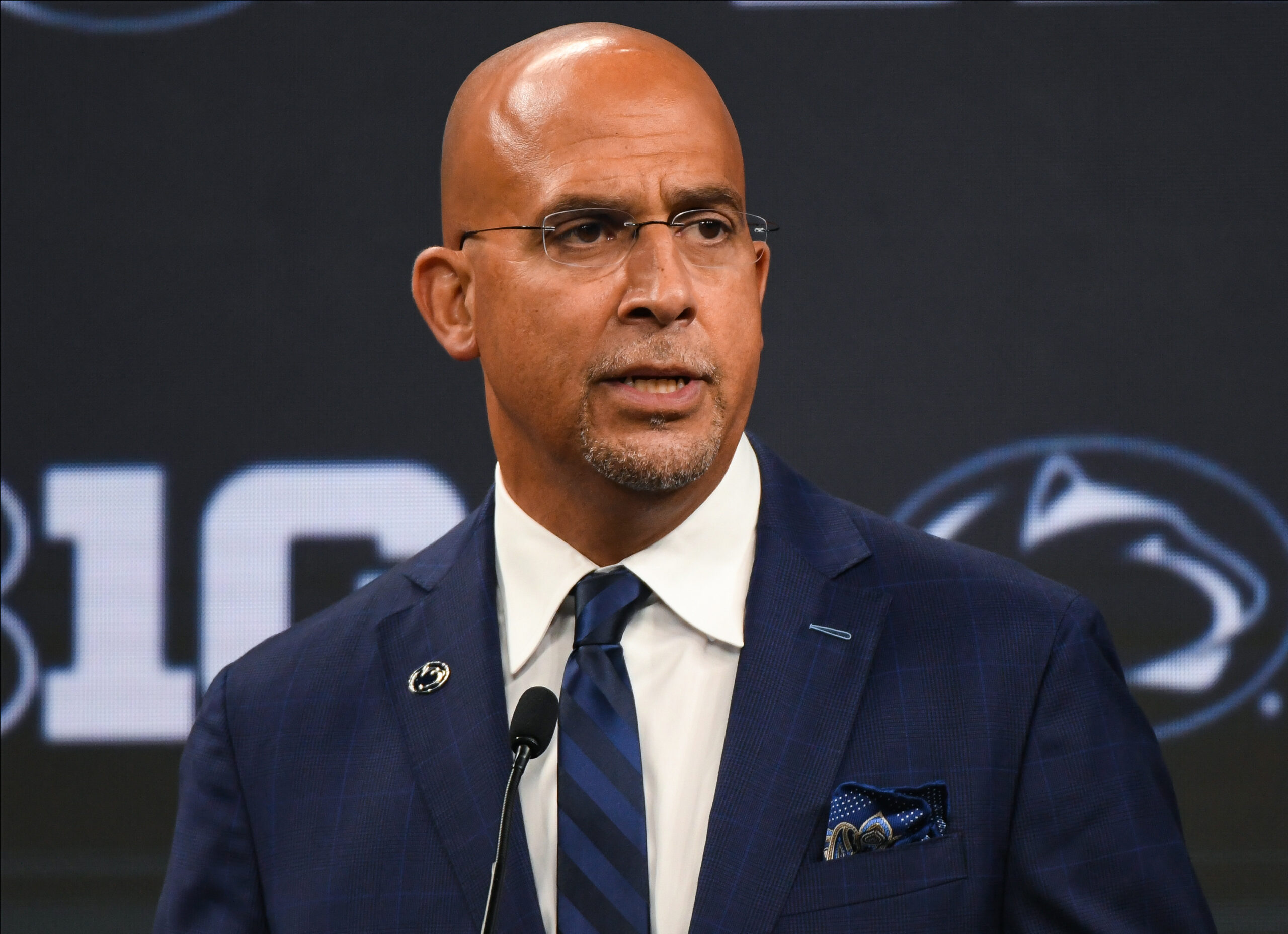 Penn State football has long been built on the mantra of "Success with Honor." Since the days of Joe Paterno's Grand Experiment, the program has prided itself just as much on success in the classroom as success on the field. Even after Paterno's passing, this legacy has remained in Happy Valley. But in light of reporting that Penn State football's academic status is at the lowest point in the last decade, James Franklin reaffirmed his program's commitment to the classroom during his weekly press conference Tuesday.
Penn State football academic progress report reaches 10-year low
Last week, Wyatt Massey of Spotlight PA reported that academic progress reports (APR) from the NCAA showed a severe decline in the academic standing of the Penn State football program.
Calculated on enrollment status and academic eligibility, Penn State scored 914 out of 1,000 possible points for the 2021-22 school year. This is the lowest score for the football program in over a decade, and places Penn State last among its Big Ten peers for last year.
After attaining a perfect score in 2018-19, the rolling four-year average for the football team is now 958. This ranks as the second-lowest score among Big Ten programs for that timespan. If the program's four-year average falls below 930, it could face disciplinary action from the NCAA.
James Franklin responds to program's poor academic progress report
In addition to the ongoing QB competition, depth chart questions, and Week 1 game prep, James Franklin was asked about the APR during his weekly press conference Tuesday afternoon. Franklin used the opportunity to reaffirm his program's commitment to academics.
"Everybody knows how important academics are to Penn State…When I'm saying that, I'm talking about obviously in the athletic department, then with our football program, both present day and from a historical perspective," Franklin told the media. "I think the year before COVID, we had a perfect 1,000 APR…Obviously, we're going to spend a lot of energy and resources on getting it back where we want it to be."
While noting that the graduation rate for the Penn State football program has remained high, Franklin noted the university-wide effort to correct the issue. "Pat [Kraft] is aligned on that. I'm aligned on that. So is our staff. We take a lot of pride in it, and we'll get it right," he said.
Undermining the program?
In light of this week's news, several members of the Penn State community have come out in support of the football program. Board of Trustees member and former Penn State football letterman Brandon Short, explained why the program's score was below the historical average in a statement this week:
The news story focused on academic progress to create a negative narrative for the story. The NCAA is currently reviewing whether to continue utilizing the academic progress metric in the future, as many factors can bring down a program's score that do not relate to academic performance. For example, Penn State lost 13 points on this year's academic progress due to:
– Players who already earned their undergraduate degrees were using an additional year of eligibility available to them due to COVID and all went on to pursue NFL careers.
– Players who transferred out of the program following the season and are not known to continue their education elsewhere.
– A player who had a medical condition and did not meet eligibility requirements after learning of this condition.
If these points had been included, Penn State's score would have been in line with our historical average. The NCAA allows programs to appeal lost points given that many factors do not reflect academic performance. And Penn State is currently appealing these lost points through the NCAA.
Short then proceeded to call out the suspected intentions of those who released this story leading up to the start of the season:
"You may not be aware, but there is a small group of people at Penn State actively working to undermine our football program," he wrote. "The information in this news story has been available to the public for close to a year. However, the story was published one week before the start of a new season. It's sad to say, but it feels like this story was promoted, then written, at this time to intentionally undermine football ahead of a season when there is so much excitement around the program."
Penn State kicks off the 2023 football season Saturday night against West Virginia.
---
---
Thank you for reading Basic Blues Nation. Please follow us on Facebook and Twitter for the latest news and insights on your favorite Penn State athletics. For feedback, questions, concerns, or to apply for a writing position, please email us at [email protected] or direct message us on our social media. Also, be sure to check out our new site shop. It's due to your support that we can become one of the market's fastest-growing Penn State sports outlets!