EXCLUSIVE: Drew Allar details his standout players from fall camp
In our exclusive interview, Drew Allar praises two Penn State rising stars on the defensive side of the ball.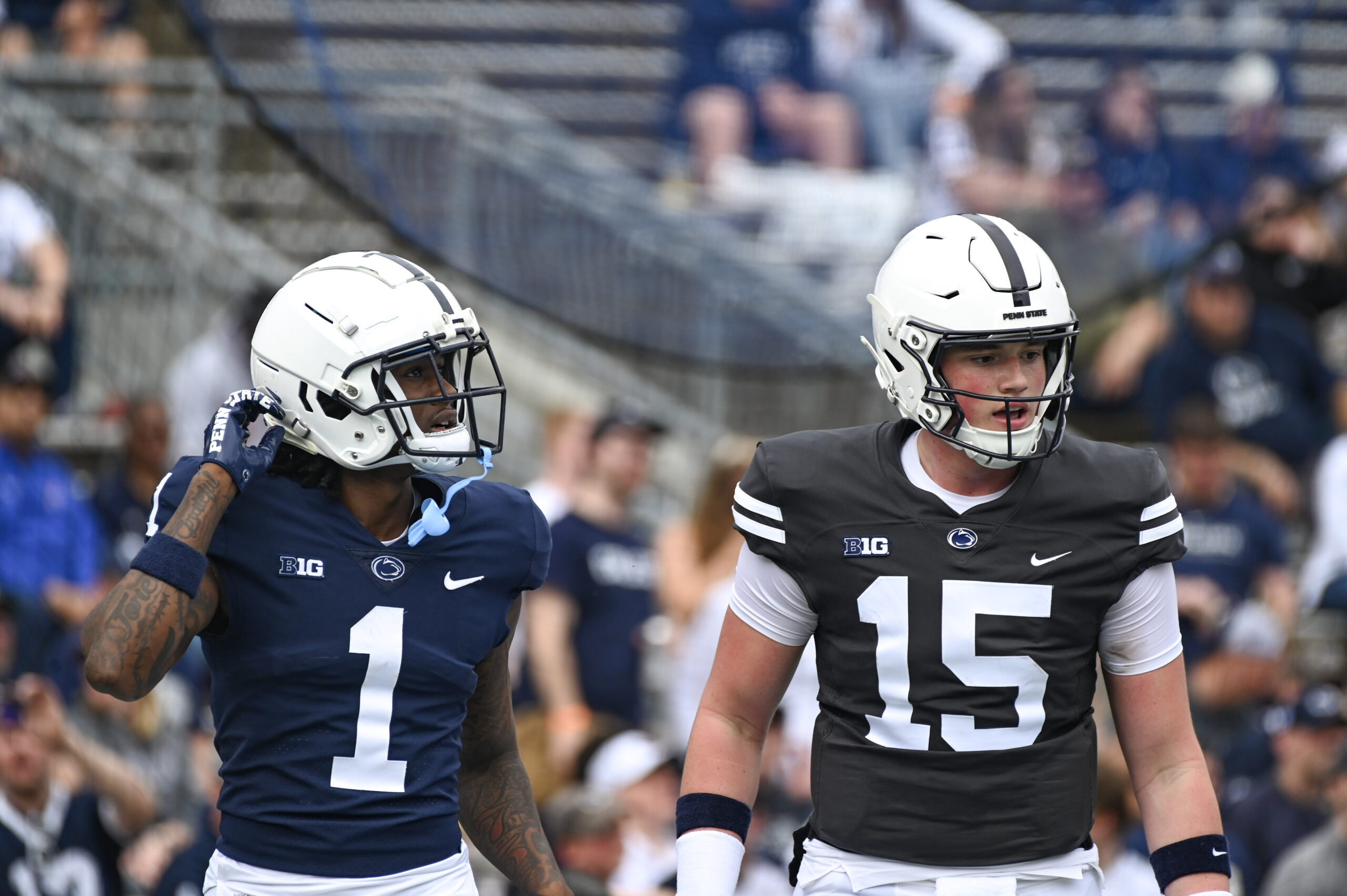 As the quarterback for the Penn State football team, Drew Allar has proven time and again that he is unselfish. In interviews, he often goes out of his way to speak about his teammates and the progress they have made. As the leader of the Penn State offense, Allar brings a different perspective to the table when evaluating the Nittany Lion defense on the practice field. In our exclusive interview with the Penn State signal caller, Allar went to the defensive side of the ball, calling out KJ Winston and Dani Dennis-Sutton as two of the Nittany Lion defenders who have stood out to him throughout fall camp.
Drew Allar says KJ Winston and Dani Dennis-Sutton stood out to him during fall camp
As part of our brand-new partnership between Happy Valley United, LaVar Arrington, and Up on Game, we sat down with Drew Allar for an exclusive interview ahead of the much anticipated 2023 season. We spoke to the Penn State football quarterback about a host of issues, including recruitment to Penn State, gameday routine, and favorite Creamery ice cream (mint chocolate chip, if you were wondering), all of which can be found on the newly launched HVU On-Demand.
When we turned our focus to fall camp, Allar had some interesting comments about the Nittany Lions who have impressed him this summer.
"There's a lot of guys that are highly talented already, but some of the guys that aren't getting enough recognition are [players] like KJ Winston," Allar told us. "I think he's done a phenomenal job throughout camp. He can play sideline to sideline at safety, he's not afraid to come down and hit you."
Moving to the defensive line, Allar called out several Penn State pass rushers who will haunt Big Ten quarterbacks all season. However, Allar says one specifically is flying under the radar for the fall. "Defensive line-wise, obviously, we got Adisa [Isaac] and Chop [Robinson], but we also have Dani Dennis-Sutton, who's been a workhorse ever since he stepped on campus. I have a tremendous amount of respect for him, and he's going to do big things for us this year," he said.
It's interesting that the players that Allar has called out as deserving more recognition are primarily from his recruiting class. That same class brought in Nick Singleton, Kaytron Allen, Abdul Carter, Drew Shelton, and several other Penn State stars, who will lead the youth movement for the Nittany Lions this fall. As Drew Allar continues to grow from a leadership perspective, I'm sure we'll hear plenty of more great things that he has to say about his teammates.
Exclusive player insights, presented by HVU On-Demand
If you enjoyed this sit-down interview with Drew Allar, stay tuned for more exclusive player insights throughout the 2023 season as part of the newly launched HVU On-Demand platform. Our brand-new partnership between Happy Valley United and College Football Hall of Famer LaVar Arrington's media company, Up on Game, will unlock original video content, authentic podcasts, exclusive news, and more to all members of the collective. In addition, portions of this exclusive content will be made available free to you right here on Basic Blues Nation.
This initiative aims to promote NIL opportunities for the over 800 Penn State student-athletes represented by Happy Valley United and provide you with exclusive behind-the-scenes insights from your favorite Nittany Lions.
To learn more and donate, please visit Happy Valley United's website. We Are!
---
---
Thank you for reading Basic Blues Nation. Please follow us on Facebook and Twitter for the latest news and insights on your favorite Penn State athletics. For feedback, questions, concerns, or to apply for a writing position, please email us at [email protected] or direct message us on our social media. Also, be sure to check out our new site shop. It's due to your support that we can become one of the market's fastest-growing Penn State sports outlets!