EXCLUSIVE: What is Drew Allar's pregame routine?
our exclusive interview with Drew Allar, the likely starting QB explained what his pregame routine looks like before the West Virginia game tonight.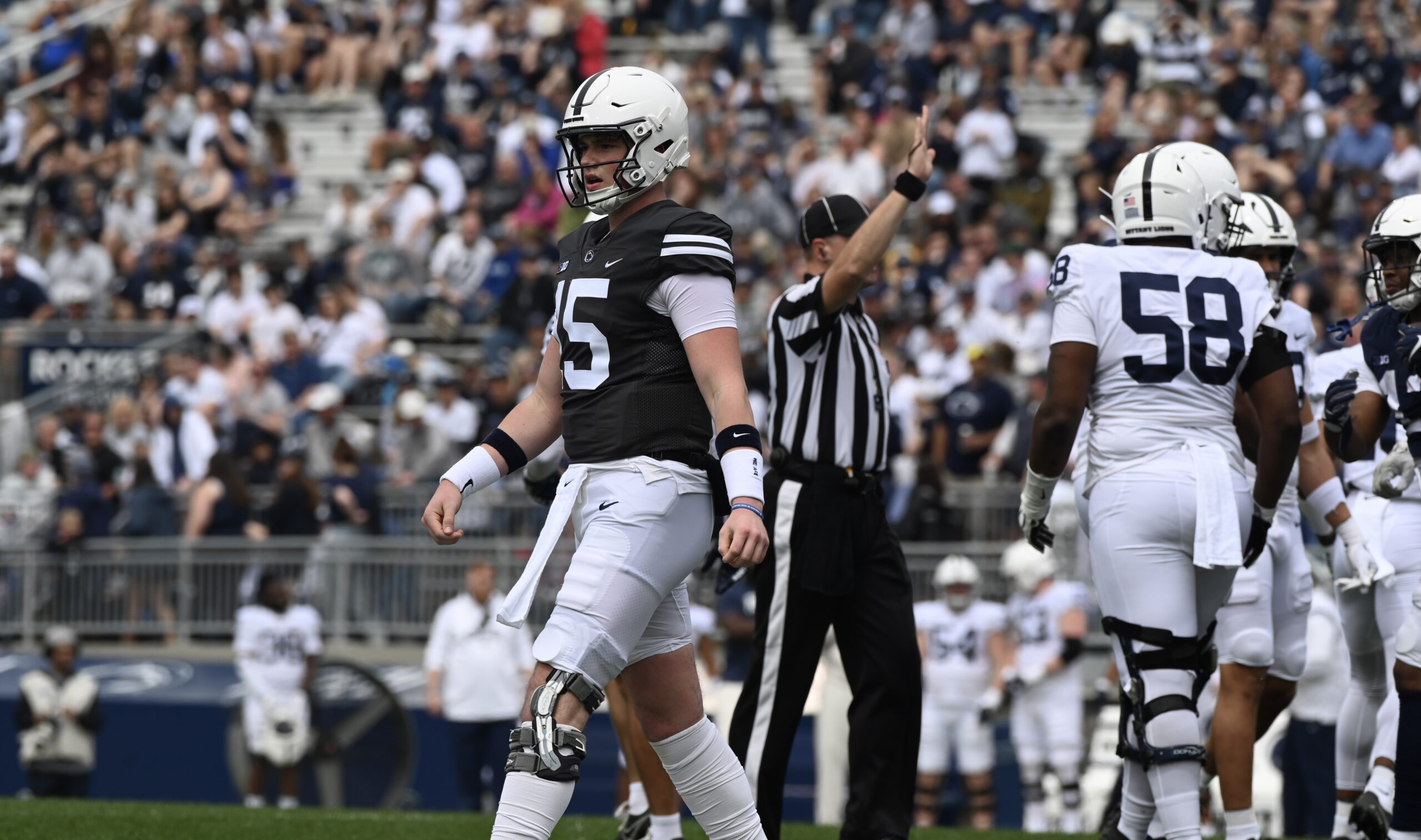 Today is the first home game of the 2023 season for the Penn State football team. The Nittany Lions have to wait until 7:30 PM to rush onto the field and take on the West Virginia Mountaineers. But before the game begins, what does pregame look like for Penn State players? In our exclusive interview as part of the new HVU On-Demand series, star quarterback Drew Allar explained what his pregame routine looks like and precisely what he will go through before kickoff against West Virginia.
What is Drew Allar's pregame routine?
Drew Allar will likely be announced as the starting quarterback during the starting lineups tonight. But during the hours leading up to the game itself, Allar will go through the below routine. Something he was able to develop last season with the Nittany Lions.
It starts with Allar getting into the right mindset with his favorite gameday music. In our exclusive interview Allar said "Music, I'm a big music guy. I listen to pretty much just rap on gamedays. My favorite artist is Drake by far, I've grown up listening to Drake for pretty much my whole life. He's the rapper that got me into rap in the first place."
Then, once he hits the field it shifts into making sure that he is loose and ready to go through pregame warmups with his teammates. Allar continued "And then, as far as drills go, I have specific drills warmups that I do with my quarterback trainer back home that I'm able to do during the warmups. That really gets me ready to go, just fine-tuning some things and getting me ready for the game."
There is comfort in developing a consistent routine, especially for a college football player. But, if this is Allar's first career start tonight, then his routine will be more important than ever. He will be asked to lead the Penn State offense to potentially new heights.
What do other Penn State football players go through pregame?
It wasn't just Drew Allar that opened up about his pregame routine. We were also to check in with several stars on the defensive side of the ball for Penn State football.
Abdul Carter likes to keep it simple before he locks in for a game. Carter stated, "Just get ready for the game. I stretch, you know put my pads on, and go out there and play."
But for star defensive end Chop Robinson, it's all about family and having a peaceful mindset.
Robinson told us, "My pregame ritual is just to meditate and just I would say talk to my dad before the game. Just hear what he has to say because he always has something motivational to say."
It was interesting to hear what each player goes through on a typical game day. This allows us to understand that each player has a different way of getting into the zone before each game. But each routine clearly works as all of these players have proven to be able to produce at a high level.
Exclusive player insights, presented by HVU On-Demand
If you enjoyed this sit-down interview with Olu Fashanu, stay tuned for more exclusive player insights throughout the 2023 season as part of the newly launched HVU On-Demand platform. Our brand-new partnership between Happy Valley United and College Football Hall of Famer LaVar Arrington's media company, Up on Game, will unlock original video content, authentic podcasts, exclusive news, and more to all members of the collective. In addition, portions of this exclusive content will be made available free to you right here on Basic Blues Nation.
This initiative aims to promote NIL opportunities for the over 800 Penn State student-athletes represented by Happy Valley United and provide you with exclusive behind-the-scenes insights from your favorite Nittany Lions.
To learn more and donate, please visit Happy Valley United's website. We Are!
---
---
Thank you for reading Basic Blues Nation. Please follow us on Facebook and Twitter for the latest news and insights on your favorite Penn State athletics. For feedback, questions, concerns, or to apply for a writing position, please email us at [email protected] or direct message us on our social media. Also, be sure to check out our new site shop. It's due to your support that we can become one of the market's fastest-growing Penn State sports outlets!