EXCLUSIVE: Olu Fashanu believes Penn State is ready physically dominate West Virginia
In our exclusive interview with Olu Fashanu, the star tackle explained why Penn State football can win in the trenches on Saturday night.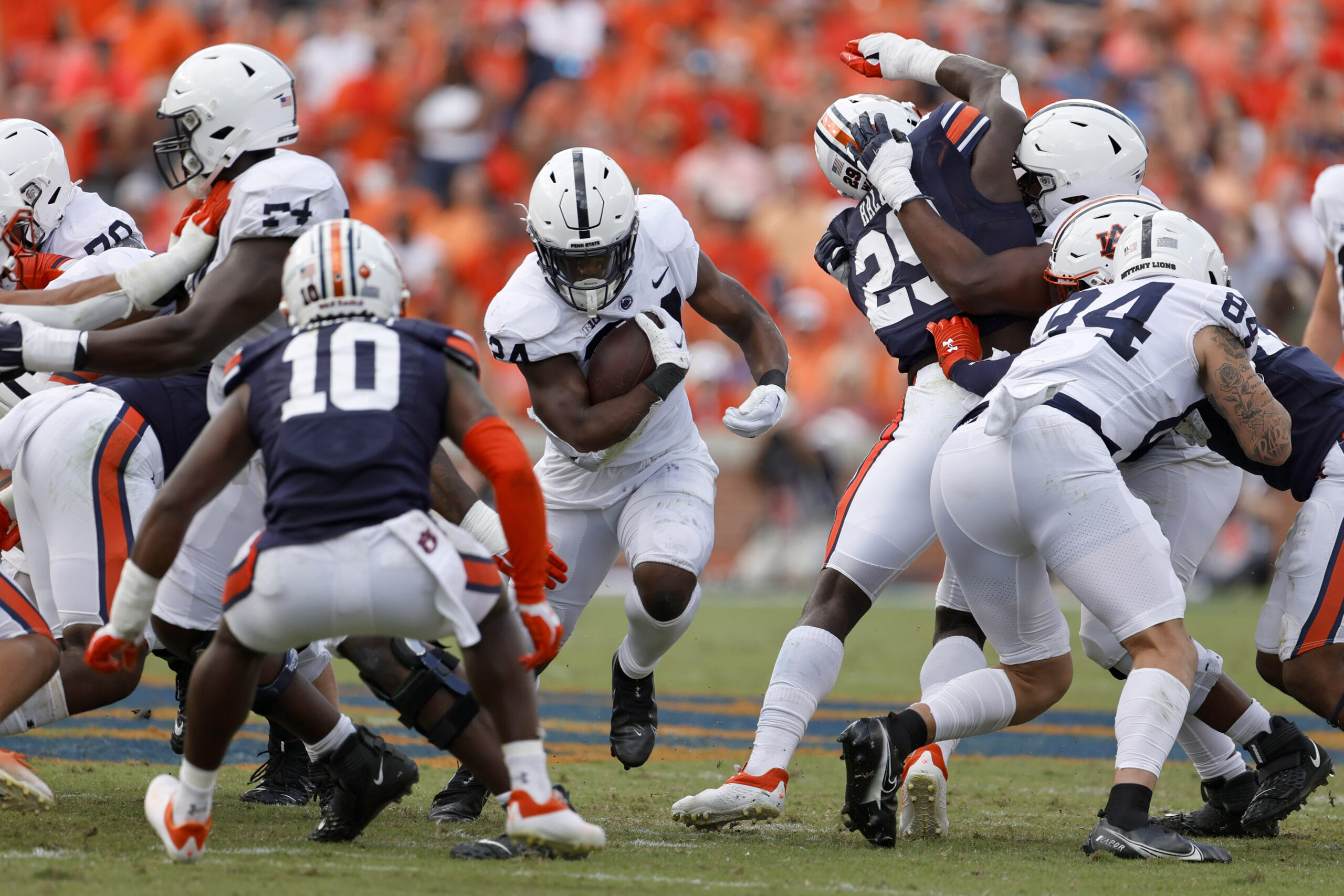 Tomorrow, Penn State football kicks off the 2023 season under the lights in Beaver Stadium against the West Virginia Mountaineers. The Nittany Lions have high expectations this season, and a primetime matchup against a Power Five opponent is a tremendous opportunity to prove to the college football world that those expectations are justified. Even coming into tomorrow night's matchup as heavy favorites, the Penn State players aren't taking their opponent lightly. In our exclusive interview as part of the new HVU On-Demand series, star left tackle Olu Fashanu explained why a "hungry" Penn State football team is ready to physically dominate the Mountaineers in Week 1.
Olu Fashanu: "Hungry" Penn State team is ready to go against West Virginia
Coming into the 2023 season, the offensive line is expected to be one of the strengths of this Penn State football team. Despite significant losses, the Nittany Lions return several key players, including star left tackle and expected first-round NFL Draft pick Olu Fashanu. The anchor of the unit, many expect Fashanu to lead the Lions' line to great success this fall.
As part of our brand-new partnership between Happy Valley United, LaVar Arrington, and Up on Game, we spoke with Fashanu last week about the expectations for the West Virginia game and the season overall. The star left tackle expressed that fall camp was extremely physical up front and that he thinks this will allow Penn State to dominate on Saturday night.
"I'd say that this entire team, myself included, we're just hungry," Fashanu told us. "We're hungry to get out there. We've been working really hard this entire offseason with the way our winter workouts went. Leading up to spring ball, summer workouts, and with us just wrapping up training camp right now, the entire team's hungry. We've been beating up on each other for the last three and a half weeks, and now we're ready to go and do that to West Virginia."
Despite expectations, Nittany Lions are "focused" on Saturday night
Time and again, the Penn State players haven't backed away from the expectations around this team in 2023. The Nittany Lions understand what they have a chance to do this season.
But we've also heard how those expectations have helped the team dial in on the task in front of them. Fashanu echoed this sentiment heading into West Virginia.
"There's definitely a hungry vibe, but also a very focused vibe," he said. "Going into this year, we know we have a lot of expectations on our back, but at the end of the day, no one has bigger expectations for the season than ourselves. So, we know that, with how talented we are, with all the position groups we have, again, a lot of expectations are coming. But for us, it's all about staying focused on the opponent ahead, which right now is West Virginia."
The sky is the limit for Penn State football in 2023. And in less than 24 hours, we'll begin to see just how high the Nittany Lions can fly.
Exclusive player insights, presented by HVU On-Demand
If you enjoyed this sit-down interview with Olu Fashanu, stay tuned for more exclusive player insights throughout the 2023 season as part of the newly launched HVU On-Demand platform. Our brand-new partnership between Happy Valley United and College Football Hall of Famer LaVar Arrington's media company, Up on Game, will unlock original video content, authentic podcasts, exclusive news, and more to all members of the collective. In addition, portions of this exclusive content will be made available free to you right here on Basic Blues Nation.
This initiative aims to promote NIL opportunities for the over 800 Penn State student-athletes represented by Happy Valley United and provide you with exclusive behind-the-scenes insights from your favorite Nittany Lions.
To learn more and donate, please visit Happy Valley United's website. We Are!
---
---
Thank you for reading Basic Blues Nation. Please follow us on Facebook and Twitter for the latest news and insights on your favorite Penn State athletics. For feedback, questions, concerns, or to apply for a writing position, please email us at [email protected] or direct message us on our social media. Also, be sure to check out our new site shop. It's due to your support that we can become one of the market's fastest-growing Penn State sports outlets!