3 & Out Rapid Reaction: Penn State football defeats West Virginia 38-15
What did we learn about the 2023 Penn State football team this evening?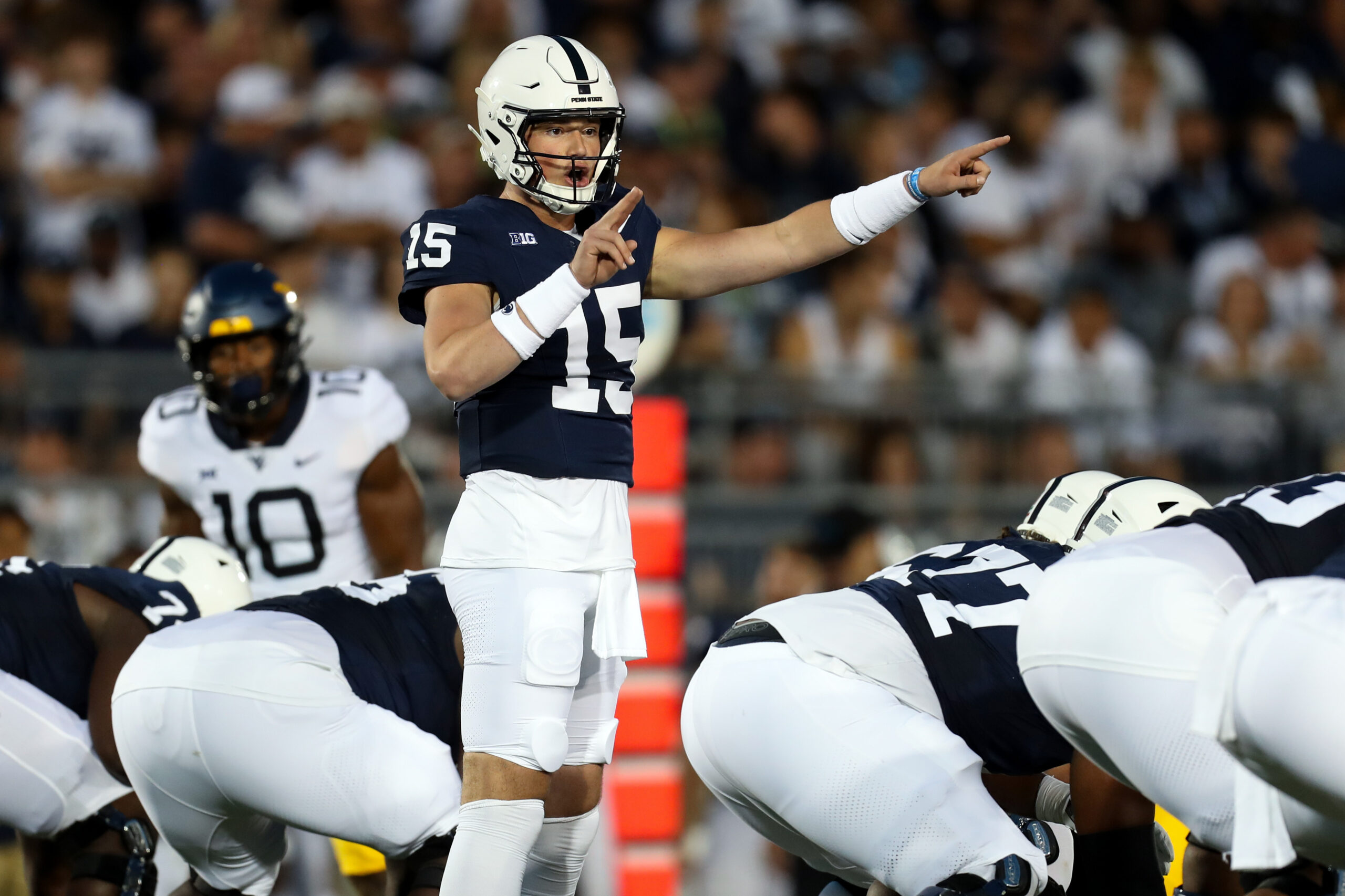 UNIVERSITY PARK, Pa. — Penn State football (1-0, 0-0) got its 2023 season off on the right foot, defeating the West Virginia Mountaineers (0-1, 0-0) 38-15 inside Beaver Stadium Saturday night. While it wasn't always pretty, the primetime victory will serve as a statement win as the No. 7 Nittany Lions look to make a run at a Big Ten title and College Football Playoff berth this season.
We will have plenty of detailed analysis and commentary of this win on Basic Blues Nation in the days to come. But for now, here is a "3 & out" of quick reactions from tonight's game as you wrap up your evening.
Allar era begins
The moment that Nittany Lions fans had been anxiously awaiting since the end of last year finally came true: Drew Allar got his first start as the Penn State QB. The Allar era started with a bang, as he hit KeAndre Lambert-Smith for a 72-yard bomb on Penn State's fourth offensive play of the game.
Allar showed nice pocket presence for a 19-year-old first-time starter. Several times in the game, he was able to evade pressure, elevate in the pocket, and hit a receiver on the run. Allar finished the night with an impressive stat line: 21-29, 325 yards, and 3 touchdowns.
The Penn State offense looked explosive at times tonight, with 13 big plays (runs of 10+, passes of 15+ yards) for 284 yards in the game. Much of that was due to Allar's ability to extend plays in the passing game. The new starter showed his five-star pedigree at times. His second touchdown to Lambert-Smith (who had a game in his own right) in the back corner of the end zone was a thing of beauty.
But other times, Allar looked like a first-time starter. The sophomore could have (and should have) had several picks in the game. He showed great poise to lead Penn State down the field at the end of the first half, only to take a sack to essentially erase the Nittany Lions' hopes of ending the drive with six. Penn State left too many points on the scoreboard tonight. The Nittany Lions won't be able to get away with that in its bigger contests.
Emerging concern: Issues on the line of scrimmage?
Coming into this game, the feeling around both lines of scrimmage was pretty good for Penn State. The Nittany Lions returned a veteran offensive line. And even though there were questions about the size of the defensive front, the early signs out of fall camp were positive.
However, early on, both sides of the ball looked to struggle some. Allar did a nice job extending plays, but that was because the pass blocking left something to be desired. There also seemed to be some issues with new center Hunter Nourzad and Drew Allar in the shotgun, with several snaps that looked too high for comfort. The line was able to open up lanes in the running game at several critical junctions, however.
Early on, Penn State's worst fears on the defensive front looked like they were going to be realized early. West Virginia gashed the Lions defense for nearly 60 yards on the ground in the first quarter.
But Penn State responded well after that, only allowing 79 yards throughout the remainder of the game. The offensive line of West Virginia was a good test, and Penn State did improve as time went on. Still, this is something to keep an eye on.
Penn State special teams woes return again
Penn State football broke in new specialists across the board tonight. The early returns were not great.
The Nittany Lions had two drives in the first half stall in West Virginia territory, but were still in manageable field goal range. However, missed kicks of 38 and 34 yards from new placekicker Sander Sahaydak left Penn State without points. James Franklin even felt the need to switch to Alex Felkins in the third quarter, who was good from 25 yards out.
Add in that new punter Riley Thompson averaged 37.5 yards on his kicks tonight, and the feelings coming out of the game for Penn State in the special teams department can't be good. Again, if Penn State wants to realize its goals of being College Football Playoff contenders this fall, the Nittany Lions can't be leaving points on the board like this every game.
---
---
Thank you for reading Basic Blues Nation. Please follow us on Facebook and Twitter for the latest news and insights on your favorite Penn State athletics. For feedback, questions, concerns, or to apply for a writing position, please email us at [email protected] or direct message us on our social media. Also, be sure to check out our new site shop. It's due to your support that we can become one of the market's fastest-growing Penn State sports outlets!