Penn State football: Beau Pribula turning heads with new look
Penn State football quarterback Beau Pribula is still turning heads nationally.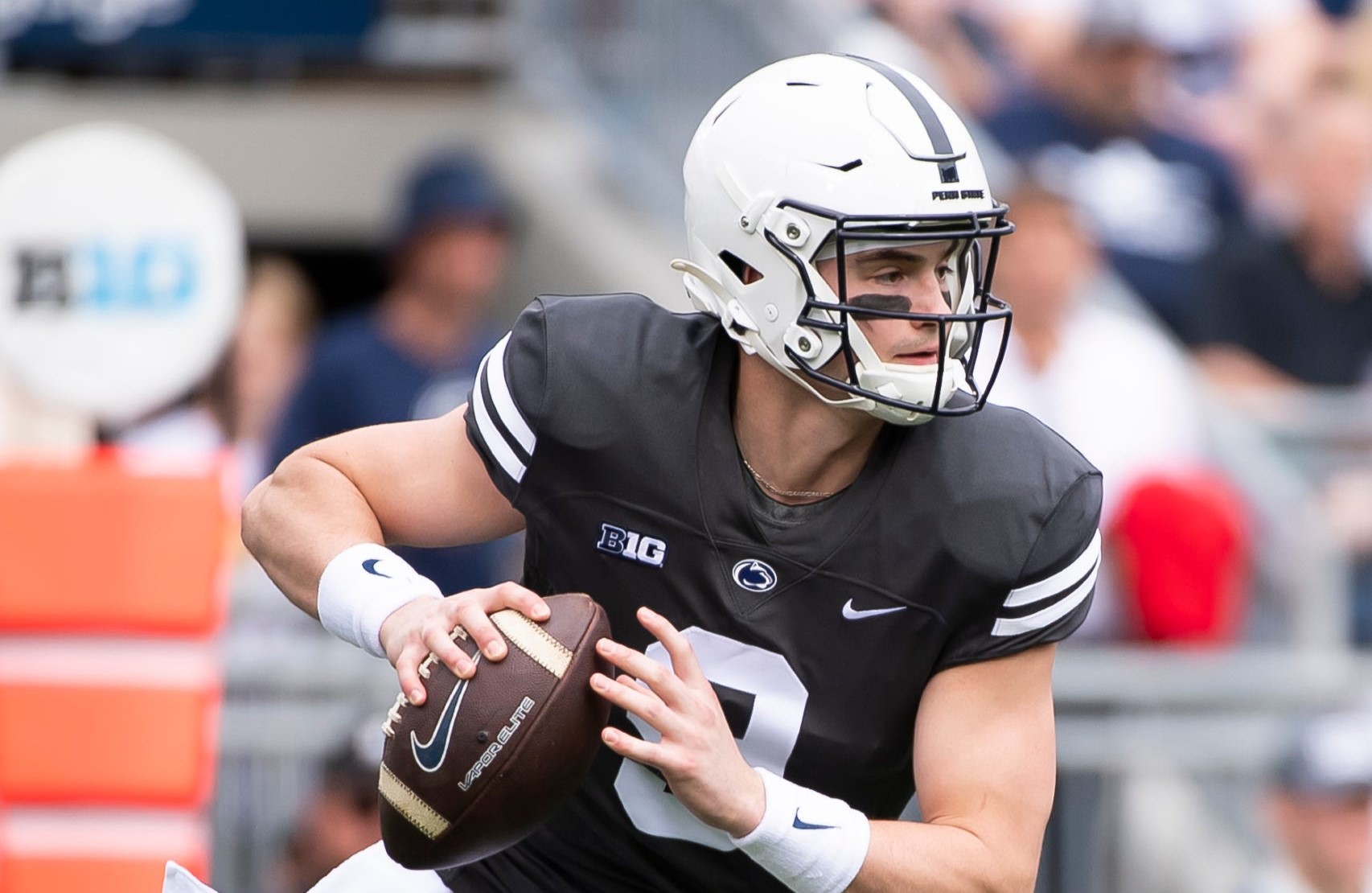 STATE COLLEGE, Pa. — Much of the 2023 Penn State football offseason has revolved around the quarterback battle between Drew Allar and Beau Pribula; both rising sophomores were highly-rated recruits. Allar was a five-star, while Pribula was a four-star, and they bring unique skillsets to the Nittany Lions this fall. It's not a matter of whether both will see the field, as they undoubtedly will, but rather who will start in Week 1 against West Virginia.
Currently, Drew Allar appears to be the frontrunner, but Beau Pribula has been turning heads in State College. Since joining Penn State University last spring, Pribula has gained considerable weight, but he's also become stronger, faster, and smarter. While it may seem unlikely that Pribula will beat Allar for the QB1 role, his continued development and improvement could make him a valuable asset for the explosive Penn State football offense.
2023 Penn State football offseason QB battle is seemingly slowing down, though Pribula is still turning heads
Since the end of spring ball on April 15th, the 2023 Penn State football offseason seems to have slowed down significantly. The team has yet to announce who will start at quarterback, but most believe that Drew Allar will be the starter on September 2nd. However, yesterday, new video footage emerged of Beau Pribula in the weight room effortlessly cleaning 335 pounds. While this doesn't have a direct impact on the QB battle, it has generated quite a buzz among fans, coaches, and players alike.
Beau Pribula vs 335lb Clean@beauprib sets the tone EVERY day. pic.twitter.com/8MP6pj8Z7P

— Chuck Losey (@CoachCLosey) April 28, 2023
Beau Pribula brings a unique presence to the Penn State offense
During the spring, we had the opportunity to speak with Head Coach James Franklin and his two quarterbacks on multiple occasions. According to just about everyone in the locker room, both quarterbacks are impressive in their own right. In fact, Beau Pribula is looking better than ever before, as several players and coaches have noted.
"This year is a little bit different [than last year]," Penn State head coach James Franklin said this spring. "We're back to having a true competition again … Beau has got some athletic traits that are desirable and maybe make sense for us to use if they give us the best chance to win. But before practice has even started it's hard to say that, so we'll see how it plays out … I do think there's a little bit different of a dynamic based on — I would say Sean [Clifford] and Drew's skillsets were probably more similar. They were different, but probably more similar [than Beau and Drew] where I think maybe the differences between Drew and Beau may be a little bit more dramatic in terms of their skillsets."
"I feel really good," Pribula explained during spring ball. "[This is] the heaviest I have ever been really, and I feel really fast. I feel like [I am in the] best shape of my life, and it's all thanks to the strength staff. [They have] done a really good job with me — just working hard year-round has really helped too, not taking my foot off the gas, and I feel really good right now."
Despite the quarterback battle, Beau Pribula says that him and Allar are making one another better — regardless of who starts, Penn State football will have a top-tier quarterback under center.
"I think, really — now having two camps under my belt, last year's spring ball and fall camp — [I] really just know the offense," Pribula told reporters on Tuesday when asked about how his skillset has developed so far. "Also, the season helps so much, just knowing the offense … it's not really just learning, it's understanding what the play is attacking, and now I can focus more on the defense; really just exploiting defenses has become a lot easier."
Beau Pribula left a lasting impression on fans during the spring game with a series of solid throws and impressive scrambles, not to mention his new look (being heavier, faster, and stronger). Regardless of who starts for Penn State football this fall, it's evident that both quarterbacks will get playing time. The Nittany Lions appear to be in good hands with either of these talented players at the helm.
---
---
Thank you for reading Basic Blues Nation. Please follow us on Facebook and Twitter for the latest news and insights on your favorite Penn State athletics. For feedback, questions, concerns, or to apply for a writing position, please email us at [email protected] or direct message us on our social media. It's due to your support that we can become one of the market's fastest-growing Penn State sports outlets!