Beau Pribula is stronger, faster, and smarter in year 2 at Penn State
For Penn State quarterback Beau Pribula, his offseason work and spring practices are paying off heading into his second season.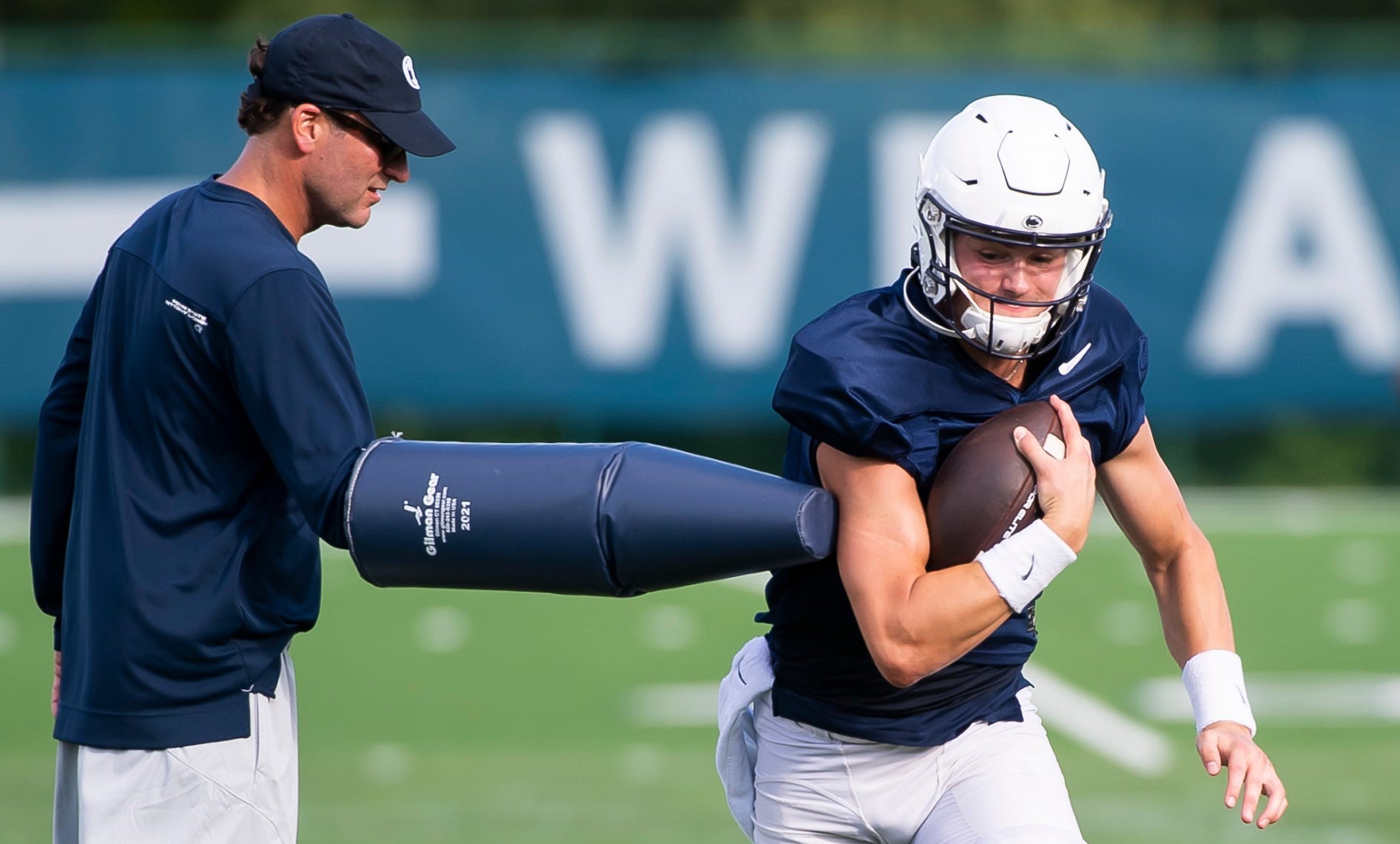 STATE COLLEGE, Pa. — The Penn State Nittany Lions are starting to wrap up their 2023 spring ball practices as we shift focus to the Blue-White game next weekend. For Penn State QB Beau Pribula — one of two rising sophomore quarterbacks battling for Penn State's starting role this fall — being able to play with Drew Allar this spring is making him a better football player and visa versa. On Tuesday, Pribula spoke with the media about how he has become a better player heading into year two in State College.
Penn State's quarterback battle is making Beau Pribula and Drew Allar better football players
When asked how he and Allar are competing in practice, Beau Pribula stated that the relationship between the two quarterbacks makes them better football players.
"It's definitely an 'iron sharpens iron' type thing," Penn State QB Beau Pribula explained. "Really, last year it was Sean [Clifford] who started the culture of the quarterback room, and it's been really good. You know, we talk about things a lot, like 'what did you see on this play?' and 'I did this because of that,' it's really just making each other better and it has been really good."
Pribula is an asset for Penn State regardless of who starts this fall
Throughout spring practice, Penn State football head coach James Franklin has emphasized time and time again that Drew Allar and Beau Pribula bring their own unique play styles to the table for the Nittany Lions' offense. Regardless of who starts this fall, there is a good chance that we will see both QBs throughout the season, depending on the down and distance.
Since last season, Beau Pribula says his skillset has become even better heading into 2023.
"I think, really — now having two camps under my belt, last year's spring ball and fall camp — [I] really just know the offense," Pribula told reporters on Tuesday when asked about how his skillset has developed so far. "Also, the season helps so much, just knowing the offense … it's not really just learning, it's understanding what the play is attacking, and now I can focus more on the defense; really just exploiting defenses has become a lot easier."
Physically, Pribula is reaching peak performance this spring
Like many young rising Nittany Lions, Penn State QB Beau Pribula is physically at his best this spring — he has gotten heavier. However, he has yet to lose his impressive athleticism heading into a new season.
"I feel really good," Pribula explained. "[This is] the heaviest I have ever been really, and I feel really fast. I feel like [I am in the] best shape of my life, and it's all thanks to the strength staff. [They have] done a really good job with me — just working hard year-round has really helped too, not taking my foot off the gas, and I feel really good right now.
"I am at 208 [pounds]," Pribula explained. He also explained that he feels very fast despite his notable weight gain since last season.
Heading into a season full of massive expectations for the Penn State Nittany Lions and their young quarterbacks, rising sophomore Beau Pribula is stronger, faster, and smarter than ever before.
---
---
Thank you for reading Basic Blues Nation. Please follow us on Facebook and Twitter for the latest news and insights on your favorite Penn State athletics. For feedback, questions, concerns, or to apply for a writing position, please email us at [email protected] or direct message us on our social media. It's due to your support that we can become one of the market's fastest-growing Penn State sports outlets!