Penn State Hockey Drops B1G Quarterfinals to Ohio State 
The Nittany Lions could not repeat history and were eliminated in the opening round of the B1G Tournament for the first time since 2015.
Penn State hockey (21-15-1, 10-13-1 Big Ten) entered the postseason in a familiar position: with their backs against the wall. 
They also found themselves in a familiar building against a familiar opponent: Ohio State (20-14-3, 11-11-2 Big Ten) at Value City Arena. Penn State knocked out Ohio State on home ice in the Big Ten semifinals in 2019 and famously became the first team to win a quarterfinal series on the road last year. 
Road games were not kind to Penn State in the second half of the season. They went 1-4-1 in games away from Pegula Ice Arena since January 1st. The Lions' shocking loss to Wisconsin last week put them in a position where they needed to double that win total in a single weekend to keep their Big Ten title hopes alive. 
Game 1: A Woeful Performance
If a single game could encapsulate all of Penn State hockey's second-half woes, Friday night would be it. The Nittany Lions lost 5-1 in a game they seemingly never had any hope in. 
Just four minutes into the game, Ohio State netted their first goal of the night. Penn State headed into the locker room after the first period leading in shots and only trailing by a single goal. 
Then the wheels came off shortly into the second period. Matching penalties set up a four-on-four where Ohio State scored twice quickly. They would add another goal later in the period on a power play. 
One positive emerged in the third period when center Ture Linden scored a power play goal for Penn State. Penn State's special teams have been much maligned all season, coming into the game with the 47th-ranked power play and 52nd-ranked penalty kill. 
Ohio State came into the game with the nation's best penalty kill. It was encouraging to see Penn State find the net against the best penalty kill unit, even if the goal was ultimately meaningless to the result. Penn State finding consistency on special teams will need to be a huge boost if they want to succeed in the postseason. 
Liam Souliere had a decent game, despite allowing five goals. Defensive lapses caused him to see 39 Buckeyes shots. He made 34 saves. In a string of recent poor performances, this was not one of Souliere's worst nights.
Game 2: Lions Rally in a Thriller
Trailing 1-0 in the series, Penn State needed a win to keep their Big Ten title hopes alive. 
Even in the high-event sport of hockey, this one lacked a lot of action, at least at first. Penn State was content to lock down on defense, while Ohio State played a conservative game in order not to let Penn State back into the series. A couple of penalties were scattered around the first two periods, but neither power play units could connect. Defenseman Jimmy Dowd, Jr. even got called for a rare five-minute slashing major, which the Lions were able to kill off. 
Things did not get interesting until late in the third period. With under four minutes left, center Xander Lamppa found left wing Ryan Kirwan, who got lost behind the Ohio State defense. Kirwan made no mistake and gave Penn State their first lead of the series. This was the talented sophomore's first goal since November 23rd against Alaska. The Nittany Lions desperately needed his offensive presence, which was sorely missed when he was out with an injury since December. 
Ohio State was not going to go away without a fight, however. They pulled their goalie in the dying minutes and peppered the Penn State net. One of those shots found its way through a screen and past Liam Souliere to tie the game with just over a minute remaining. 
The teams would trade chances in the final minute, but the game would head to overtime.
After a full intermission, the teams took the ice for a sudden death five-on-five 20-minute overtime. There were some good early chances for both teams, including an Ohio State breakaway that was denied by Souliere. About halfway through the first overtime, the teams took matching penalties. Shortly into the four-on-four, left wing Connor MacEachern found right wing Kevin Wall streaking through the middle of the ice. Wall fired it home and gave Penn State hockey the thrilling 2-1 overtime victory. 
SEE. YOU. SUNDAY. 😉 pic.twitter.com/kCNYe52vzB

— Penn State Men's Hockey (@PennStateMHKY) March 5, 2023
Liam Souliere stood on his head during this game like no Penn State goalie has ever done. He made 55 saves on 56 shots, which set the program record for most saves in a single game by a goalie. Matthew Skoff set the previous record of 52 in 2014 against Michigan State. And Penn State needed every last one of those saves to keep their season alive.
Game 3: History Doesn't Always Repeat
Coach Guy Gadowsky said earlier in the week that he wasn't interested in discussing the similarities between last year's playoff and this year's. Even with that disinterest, it was hard to ignore how similar they were. 
Last year, Penn State took a bad loss in the first game, only to come back and win the next two and the series. It had played out exactly like that up to Sunday night. But it wouldn't end the same way.
Things could have gone downhill for Penn State around midway through the first. After Penn State dominated the run of play, Ohio State seemingly scored on only their third shot of the night. However, Gadowsky decided to challenge, and it was determined that there was goaltender interference, negating the goal. 
Despite no goals to show for it, the first was dominated by Penn State. Shots were 12-5 in favor of the Nittany Lions.
The Nittany Lions continued their strong run of play, and it finally paid off. Just over six minutes into the seconds, Penn State got an odd-man rush, and Kevin Wall got a clean shot off. The shot was initially stopped but had enough momentum to barely cross the goal line and give the Nittany Lions the lead. 
Ohio State would tie it just a few minutes later on the power play. After that goal, the ice started to tilt more in favor of the Buckeyes. A three-on-one allowed them to take a 2-1 late in the second period. The shots narrowed to 20-18 Penn State in a period dominated by Ohio State, despite the Nittany Lions' goal.
Penn State started the third in a dire spot. They needed at least a goal to keep their Big Ten title hopes alive while containing the surging Buckeyes. But the task was too tall. A period of back and forth didn't see Penn State find the equalizer. Penn State pulled the goaltender, allowing Ohio State to add on an empty netter to ice the game with a final score of 3-1.
This is the second time in the history of Penn State hockey that they failed to win a round in the Big Ten tournament. The only other time came in the program's infancy during the 2014-2015 season. Despite the success, the team has not won a Big Ten title since the 2016-2017 season.
Penn State Hockey Heads to Allentown
Even with the series loss, Penn State's spot in the NCAA is still locked in. They will be headed to the Allentown Regional bracket of the tournament and will play in Allentown, PA, on March 24th. 
Information about the opponent and timing will be released on Selection Sunday in two weeks.
PSU Hockey NCAA Tournament Preview: Michigan Tech
The Nittany Lions are vying for their first Frozen Four berth in program history.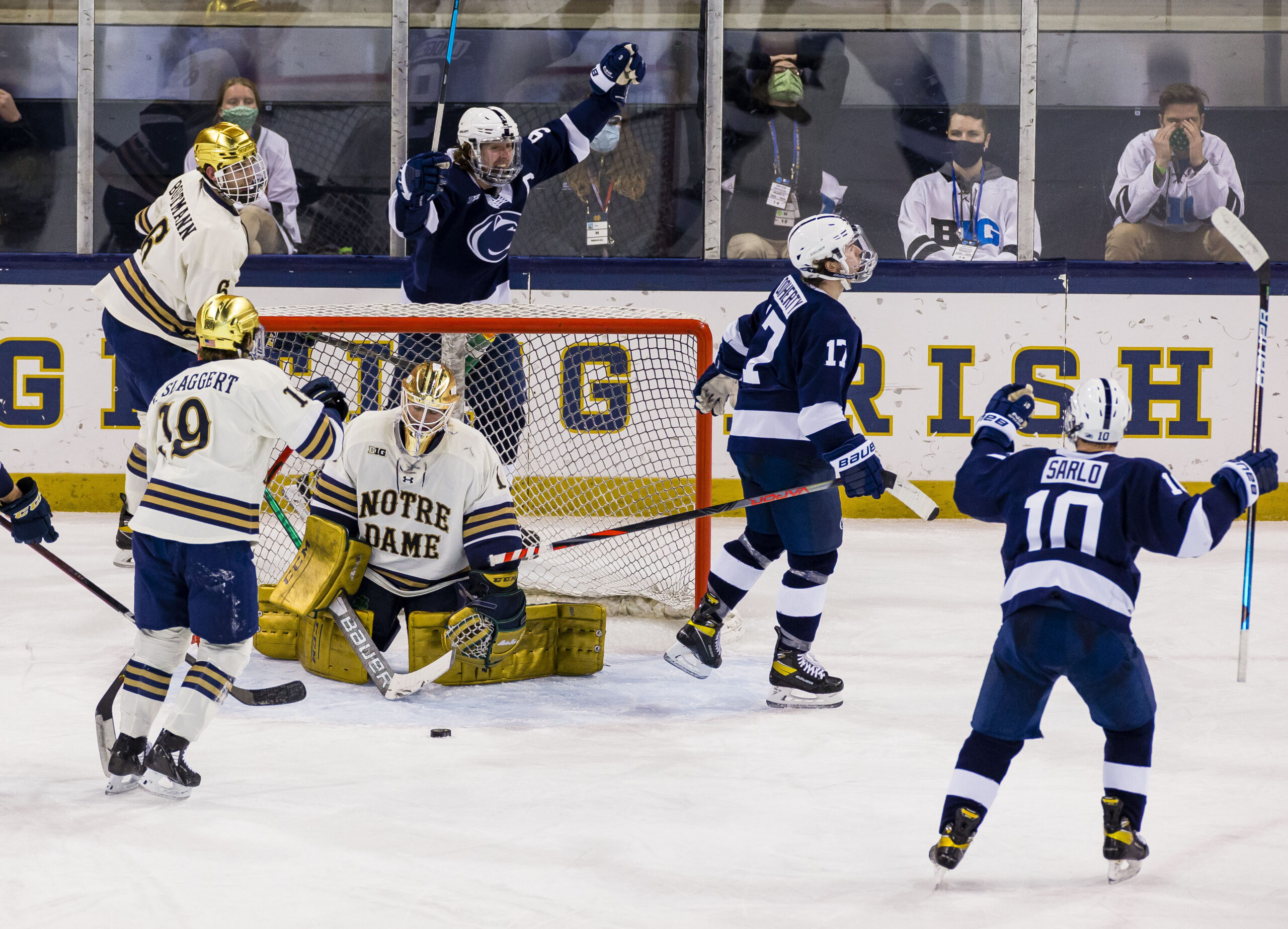 State College, PA — Basketball isn't the only sport with March Madness. Penn State hockey is dancing! For the first time since 2018 and the third time in program history, the Nittany Lions (21-15-1, 10-13-1 B1G) have qualified for the NCAA Men's Hockey Tournament. Penn State earned a No. 2 seed in the recent bracket selections, the highest in school history. 
The Nittany Lions' previous trips to the NCAA tournament in 2017 and 2018 ended at the hands of Denver University. The good news for Penn State is that it finally avoided the Pioneers in its region. 
The bad news is that the Lions still got a tough draw. They will open the tournament against the Michigan Tech Huskies at 5:00 p.m. on Friday at the PPL Center in Allentown, PA. 
Michigan Tech University Snapshot
Name: Michigan Technological University
Location: Houghton, MI
Enrollment: 7,009
Acceptance Rate: 86%
Conference: Central Collegiate Hockey Association (CCHA)
Men's Hockey National Titles: 3 (1962, 1965, 1972)
Mascot: Blizzard T. Husky
About the Huskies
If you don't follow college hockey regularly, you probably haven't heard of Michigan Tech. A small school tucked away in the rural Upper Peninsula of Michigan, hockey is their only Division I sport. The rest of its athletic programs compete at the Division II level. 
Michigan Tech's hockey team has had considerable success, claiming three national titles, numerous conference championships, and NCAA tournament appearances. The team appeared in last year's tournament and bowed out to Minnesota Duluth in the first round. 
Led by CCHA Coach of the Year Joe Shawhan, the Huskies (24-10-4, 15-7-4 CCHA) are a team built on the back of its netminder. Michigan Tech's goaltender Blake Pietila may be the best in the country. He was named a finalist for the Richter Award, given to the best goaltender in the country. He was also named the CCHA Player of the Year. His play has been so strong that he is even a finalist for the Hobey Baker Award, college hockey's Heisman. This season, he posted a 0.929 save percentage, allowing just 1.98 goals per game. He leads the nation with 10 shutouts this season. 
Michigan Tech can also light the lamp on the other end. The Huskies offensive attack is led by CCHA Rookie of the Year Kyle Kukkonen, who scored 18 goals this season. He is complimented by All-CCHA First Team forward Ryland Mosley, who has 31 points this year. 
The Huskies have some impressive wins this year. They swept Alaska on the road and picked up a win over a very good Boston University team. This is a particularly poor draw for Penn State hockey, given the Nittany Lion's style of play. Michigan Tech is built similarly to a typical Notre Dame team that Penn State is used to facing. They have elite goaltending and a first line with talented scorers. 
Will Penn State Hockey Advance in the NCAA Tournament?
Penn State hockey has an advantage in this one, given that they are playing just about 150 miles from campus in Allentown, PA. Not far from Philadelphia, the area has a large alumni base. There should be a large crowd on hand for Friday evening's showdown. 
However, the crowd only goes so far. Michigan Tech has shown they can handle challenging road environments, going 12-5-1 away from home this season. 
Penn State's recent run of play has been mediocre at best, going 4-10-1 in their final 15 games. When you combine that with the fact that Michigan Tech's style of play is almost tailor-made to handle Penn State's offensive attack, it is tough to envision Penn State hockey coming away with its second-ever tournament win on Friday. I'll go with Michigan Tech, as Penn State will need help to solve Blake Pietila. 
Michigan Tech-3, Penn State-1
The winner of this game will go on to face the winner of the Michigan and Colgate game also on Friday. The winners of the two opening-round games will play at the PPL Center at 6:30 p.m. on Sunday for a right to go to the Frozen Four.
---
---
Thank you for reading Basic Blues Nation. Please follow us on Facebook and Twitter for the latest news and insights on your favorite Penn State athletics.
For feedback, questions, concerns, or to apply for a writing position, please email our Managing Editor at cjmangum29@gmail.com. It's due to your support that we can become one of the market's fastest-growing Penn State sports outlets!
Penn State is New No. 1 Team in the Nation
It's the Nittany Lions first No. 1 ranking since 2009.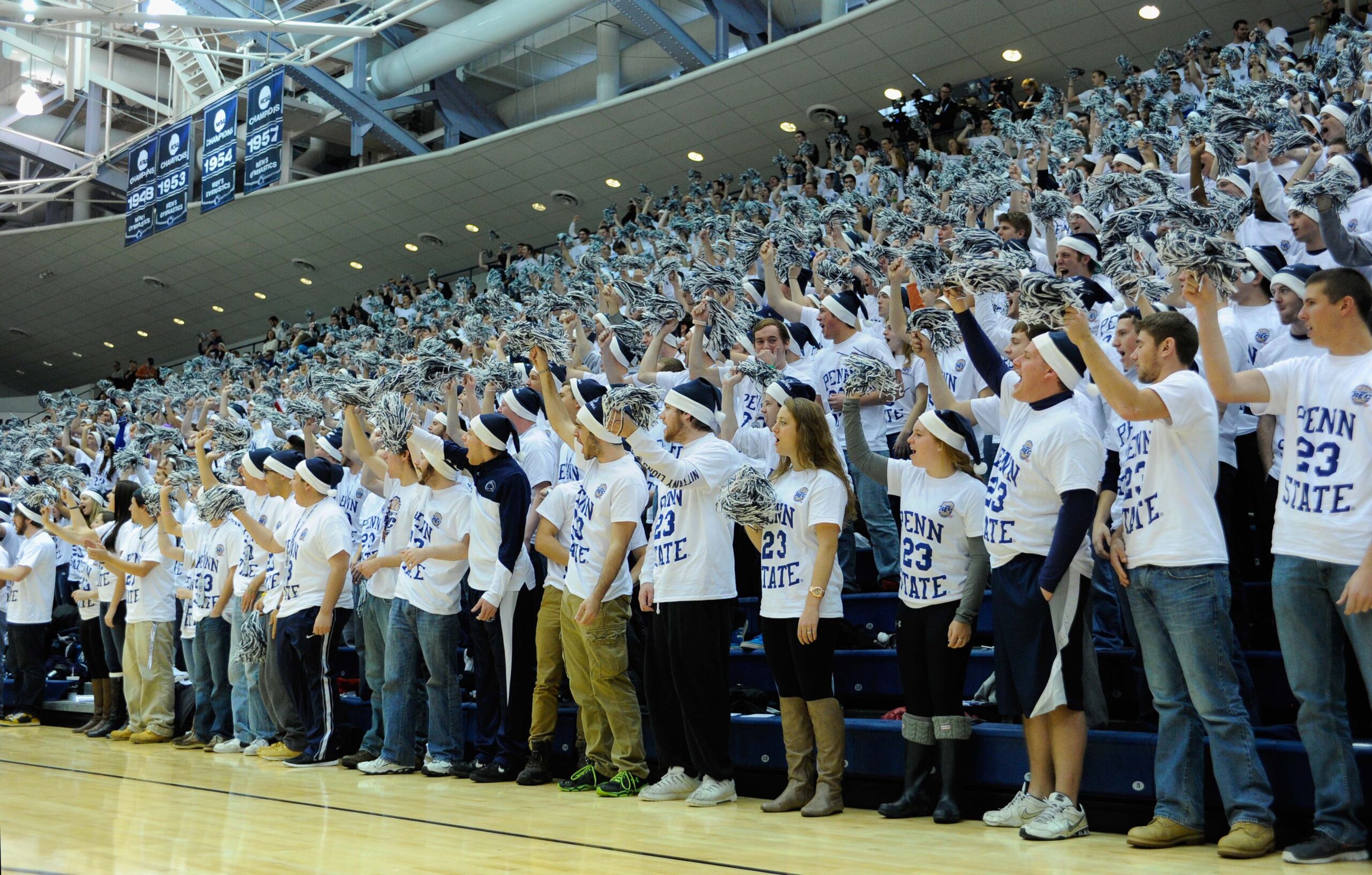 State College – Men's volleyball has a new top team, and it resides in Happy Valley. Penn State men's volleyball is the new No. 1 team in the nation, up one spot from the week prior.
Penn State Men's Volleyball is Now the No.1 Team in the Nation
The Penn State men's volleyball team has been on a tear lately. The Nittany Lions are 18-2 on the season, including a shutout of Saint Francis on Saturday.
And when the new American Volleyball Coaches Association (AVCA) poll was released Monday, the Lions found themselves in the top spot. The bump up marks the first time that Penn State men's volleyball has been ranked No. 1 since 2009.
For the first time since 2009!

No. 1 in the @AVCAVolleyball Poll#WeAre pic.twitter.com/tt6wSHeTnX

— Penn State Men's Volleyball (@PennStateMVBALL) March 20, 2023
Penn State replaced Hawai'i, who was previously the No. 1 team. The Nittany Lions ended the Rainbow Warriors' 25-match win streak in a 3-1 victory during the Outrigger Challenge earlier this month. Hawai'i lost to Long Beach State on Friday night, which allowed Penn State to take the top spot.
The Nittany Lions' first match as the No. 1 team in the nation will be in Rec Hall Tuesday when they take on Ohio State. The match begins at 7 PM and will air on B1G+. Penn State then has road series against Harvard and George Mason over the next two weeks and will finish the regular season at home with Charleston (WV) on April 14-15.
What a Time to be a Lion 
Penn State men's volleyball's new ranking was just the latest in a string of positives for Nittany Lion athletics.
On Saturday, Penn State wrestling capped off an undefeated regular season by winning the program's 10th national title in 12 years. The men's basketball team recently played for the Big Ten title and won its first NCAA Tournament game in over 20 years. In addition, men's and women's ice hockey made the NCAA Tournament in their respective sports.
On the diamond, the Penn State softball team has won at least seven games in a row twice already this season. Across campus, the baseball team swept its home opener to improve to 10-5 on the year.
And, of course, who could forget about Penn State football. The Nittany Lions are one week into spring practice for the anticipated 2023 season. James Franklin will undoubtedly have his work cut out for him, but the Lions are already dark horse candidates to make the College Football Playoff this fall. 
For Penn State fans, there certainly is no time like the present.
---
---
Thank you for reading Basic Blues Nation. Please follow us on Facebook and Twitter for the latest news and insights on your favorite Penn State athletics.
For feedback, questions, concerns, or to apply for a writing position, please email us at basicbluesnation@gmail.com or direct message us on our social media. It's due to your support that we can become one of the market's fastest-growing Penn State sports outlets!
Penn State Baseball Sweeps Georgetown
The Nittany Lions' bats made quick work of the Hoyas on Sunday.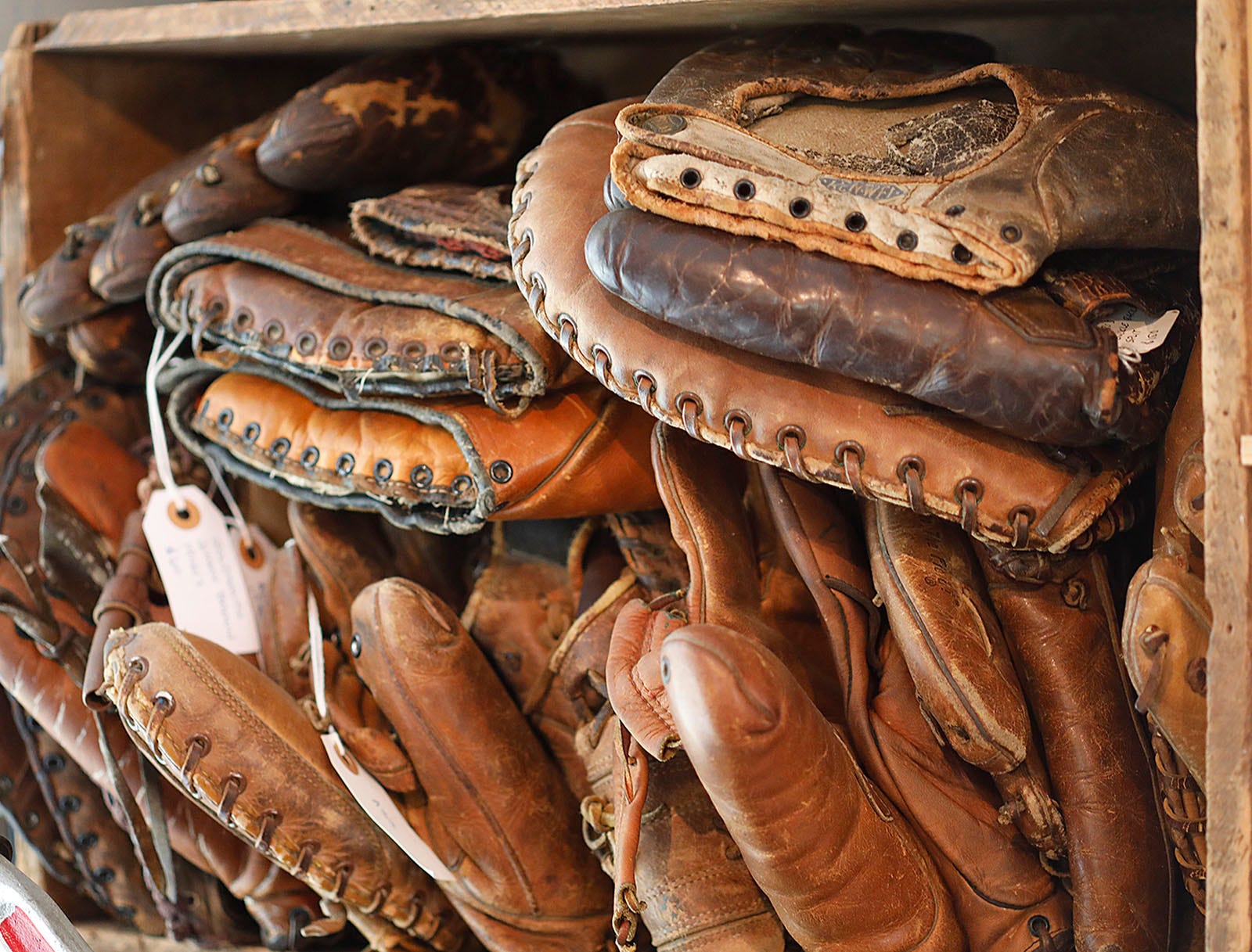 State College — After winning their home opener Saturday, the Penn State Nittany Lions made quick work of Georgetown Sunday. The 7-2 victory gave Penn State baseball a clean sweep of the Hoyas for the weekend.
Penn State Baseball Sweeps Georgetown
Penn State struck first when third baseman Ben Kaliher singled and scored Anthony Steele. They took the lead 1-0.  
The scoring continued in the second inning for the Nittany Lions. Another single, this time by Thomas Bramley, scored Tayven Kelley and increased the lead to 2-0.  
A Jay Harry double then broke the game open for the Lions, as a double by him scored Bramley and Kaliher and increased the margin to four runs.
Penn State added another run in the fourth inning after another Jay Harry hit, this time a single, scored Tayven Kelley and increased the score in the Lions' favor to 5-0.  
Georgetown would get on the board in the sixth inning when a fielding error allowed a runner to score. But Penn State responded in the eighth inning. A wild pitch allowed Ben Kaliher to score. Another fielding error increased the lead to 7-1.
Georgetown would add another run in the ninth inning, but it would not suffice in their favor. The Nittany Lions won with a final score of 7-2 to sweep their first home series against Georgetown.  
Jordan Morales, who picked up the win, pitched a solid game. Morales allowed three hits and two walks and recorded two strikeouts. Most importantly, he allowed no earned runs.  
With the win, the Nittany Lions improve to 11-5 on the season.
Nittany Lions Win!!! Penn State sweeps the two-game series against Georgetown!

Harry 2H, 2B, 3 RBI
Kailher 2H, 2B, 2R, RBI@ITSJMO18 3IP, 0R, 2K, W
Miller 3IP, 1R, 3K
Henline 3IP, 1R, 5K, SV#WeAre pic.twitter.com/vCFZPBKKXM

— Penn State Baseball (@PennStateBASE) March 19, 2023
Penn State baseball continues play at Medlar Field at Lubrano Park Tuesday against Binghamton. The Nittany Lions then head into conference play by going on the road to Ann Arbor to face the Michigan Wolverines.  
---
---
Thank you for reading Basic Blues Nation. Please follow us on Facebook and Twitter for the latest news and insights on your favorite Penn State athletics.
For feedback, questions, concerns, or to apply for a writing position, please email us at basicbluesnation@gmail.com or direct message us on our social media. It's due to your support that we can become one of the market's fastest-growing Penn State sports outlets!