Penn State Hockey Drops B1G Quarterfinals to Ohio State 
The Nittany Lions could not repeat history and were eliminated in the opening round of the B1G Tournament for the first time since 2015.
Penn State hockey (21-15-1, 10-13-1 Big Ten) entered the postseason in a familiar position: with their backs against the wall. 
They also found themselves in a familiar building against a familiar opponent: Ohio State (20-14-3, 11-11-2 Big Ten) at Value City Arena. Penn State knocked out Ohio State on home ice in the Big Ten semifinals in 2019 and famously became the first team to win a quarterfinal series on the road last year. 
Road games were not kind to Penn State in the second half of the season. They went 1-4-1 in games away from Pegula Ice Arena since January 1st. The Lions' shocking loss to Wisconsin last week put them in a position where they needed to double that win total in a single weekend to keep their Big Ten title hopes alive. 
Game 1: A Woeful Performance
If a single game could encapsulate all of Penn State hockey's second-half woes, Friday night would be it. The Nittany Lions lost 5-1 in a game they seemingly never had any hope in. 
Just four minutes into the game, Ohio State netted their first goal of the night. Penn State headed into the locker room after the first period leading in shots and only trailing by a single goal. 
Then the wheels came off shortly into the second period. Matching penalties set up a four-on-four where Ohio State scored twice quickly. They would add another goal later in the period on a power play. 
One positive emerged in the third period when center Ture Linden scored a power play goal for Penn State. Penn State's special teams have been much maligned all season, coming into the game with the 47th-ranked power play and 52nd-ranked penalty kill. 
Ohio State came into the game with the nation's best penalty kill. It was encouraging to see Penn State find the net against the best penalty kill unit, even if the goal was ultimately meaningless to the result. Penn State finding consistency on special teams will need to be a huge boost if they want to succeed in the postseason. 
Liam Souliere had a decent game, despite allowing five goals. Defensive lapses caused him to see 39 Buckeyes shots. He made 34 saves. In a string of recent poor performances, this was not one of Souliere's worst nights.
Game 2: Lions Rally in a Thriller
Trailing 1-0 in the series, Penn State needed a win to keep their Big Ten title hopes alive. 
Even in the high-event sport of hockey, this one lacked a lot of action, at least at first. Penn State was content to lock down on defense, while Ohio State played a conservative game in order not to let Penn State back into the series. A couple of penalties were scattered around the first two periods, but neither power play units could connect. Defenseman Jimmy Dowd, Jr. even got called for a rare five-minute slashing major, which the Lions were able to kill off. 
Things did not get interesting until late in the third period. With under four minutes left, center Xander Lamppa found left wing Ryan Kirwan, who got lost behind the Ohio State defense. Kirwan made no mistake and gave Penn State their first lead of the series. This was the talented sophomore's first goal since November 23rd against Alaska. The Nittany Lions desperately needed his offensive presence, which was sorely missed when he was out with an injury since December. 
Ohio State was not going to go away without a fight, however. They pulled their goalie in the dying minutes and peppered the Penn State net. One of those shots found its way through a screen and past Liam Souliere to tie the game with just over a minute remaining. 
The teams would trade chances in the final minute, but the game would head to overtime.
After a full intermission, the teams took the ice for a sudden death five-on-five 20-minute overtime. There were some good early chances for both teams, including an Ohio State breakaway that was denied by Souliere. About halfway through the first overtime, the teams took matching penalties. Shortly into the four-on-four, left wing Connor MacEachern found right wing Kevin Wall streaking through the middle of the ice. Wall fired it home and gave Penn State hockey the thrilling 2-1 overtime victory. 
SEE. YOU. SUNDAY. ? pic.twitter.com/kCNYe52vzB

— Penn State Men's Hockey (@PennStateMHKY) March 5, 2023
Liam Souliere stood on his head during this game like no Penn State goalie has ever done. He made 55 saves on 56 shots, which set the program record for most saves in a single game by a goalie. Matthew Skoff set the previous record of 52 in 2014 against Michigan State. And Penn State needed every last one of those saves to keep their season alive.
Game 3: History Doesn't Always Repeat
Coach Guy Gadowsky said earlier in the week that he wasn't interested in discussing the similarities between last year's playoff and this year's. Even with that disinterest, it was hard to ignore how similar they were. 
Last year, Penn State took a bad loss in the first game, only to come back and win the next two and the series. It had played out exactly like that up to Sunday night. But it wouldn't end the same way.
Things could have gone downhill for Penn State around midway through the first. After Penn State dominated the run of play, Ohio State seemingly scored on only their third shot of the night. However, Gadowsky decided to challenge, and it was determined that there was goaltender interference, negating the goal. 
Despite no goals to show for it, the first was dominated by Penn State. Shots were 12-5 in favor of the Nittany Lions.
The Nittany Lions continued their strong run of play, and it finally paid off. Just over six minutes into the seconds, Penn State got an odd-man rush, and Kevin Wall got a clean shot off. The shot was initially stopped but had enough momentum to barely cross the goal line and give the Nittany Lions the lead. 
Ohio State would tie it just a few minutes later on the power play. After that goal, the ice started to tilt more in favor of the Buckeyes. A three-on-one allowed them to take a 2-1 late in the second period. The shots narrowed to 20-18 Penn State in a period dominated by Ohio State, despite the Nittany Lions' goal.
Penn State started the third in a dire spot. They needed at least a goal to keep their Big Ten title hopes alive while containing the surging Buckeyes. But the task was too tall. A period of back and forth didn't see Penn State find the equalizer. Penn State pulled the goaltender, allowing Ohio State to add on an empty netter to ice the game with a final score of 3-1.
This is the second time in the history of Penn State hockey that they failed to win a round in the Big Ten tournament. The only other time came in the program's infancy during the 2014-2015 season. Despite the success, the team has not won a Big Ten title since the 2016-2017 season.
Penn State Hockey Heads to Allentown
Even with the series loss, Penn State's spot in the NCAA is still locked in. They will be headed to the Allentown Regional bracket of the tournament and will play in Allentown, PA, on March 24th. 
Information about the opponent and timing will be released on Selection Sunday in two weeks.
ICYMI: Penn State lands No. 1 recruit in the nation for 2025
Penn State just landed the No. 1 recruit in the nation for the 2025 cycle. What does this mean for the Nittany Lions' dominance moving forward?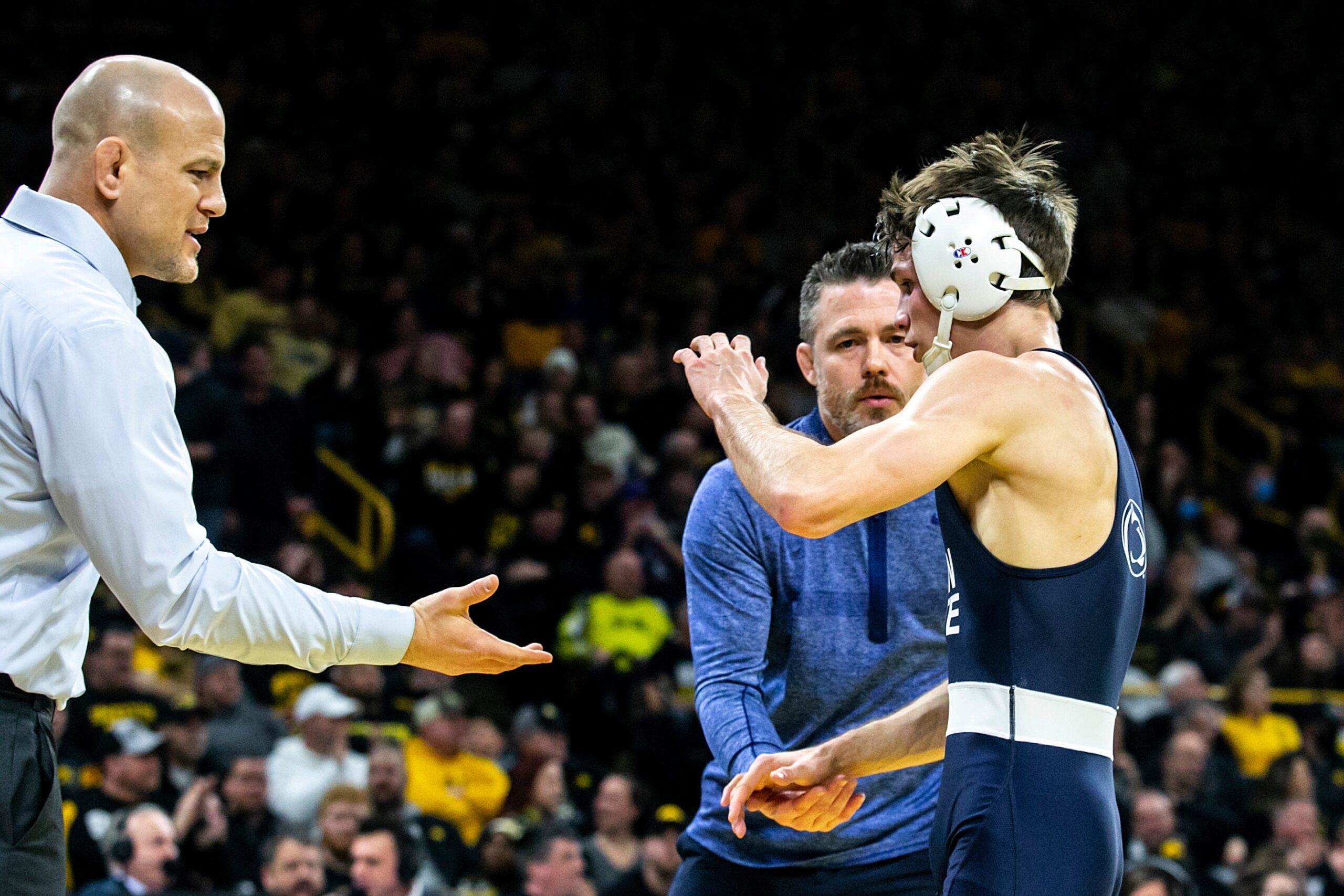 The Penn State Wrestling dynasty continues to roll along, as Cael Sanderson picked up another major commitment last night. The Nittany Lions landed PJ Duke, the No. 1 recruit in the nation for the 2025 cycle. What does the commitment mean for the program, and what are the expectations moving forward for Penn State wrestling?
No. 1 recruit in the nation PJ Duke picks Penn State wrestling
PJ Duke, the No. 1 recruit in the nation for the 2025 class, has decided to take his talents to State College. Duke currently wrestles at 150 pounds and projects to wrestle at 157 when he arrives in Happy Valley.
Penn State currently has Levi Haines at 157, who was an NCAA finalist last season as a true freshman. There also is 2024 No. 6 overall recruit Joe Sealey, who could wrestle at 157. There will be plenty of teammates to train with as Penn State wrestling continues to solidify the middle of its lineup. PJ Duke, who currently wrestles at powerhouse Minisink Valley High School (NY), will join former teammate Zack Ryder, a member of the 2024 Penn State recruiting class.
Recruiting Dominance
Duke's commitment marks back-to-back classes where Penn State wrestling has landed the No. 1 recruit in the nation. This commitment builds off an already stacked 2024 class, that is already the best in the country.
The Nittany Lions currently have the No. 1 (Luke Lilledahl), No. 5 (Zack Ryder), No. 6 (Joseph Sealey), No. 10 (Connor Mirasola), No. 13 (Mason Gibson), and No. 21(Cole Mirasola) nationally ranked wrestlers across all weight classes committed for 2024. The Penn State wrestling program has a lot of momentum on the recruiting trail, including stacking wrestlers at similar weight classes.
Quest for a 3-peat for Penn State
Penn State wrestling enters the 2024 season as a heavy favorite to win a third straight national championship. If accomplished, it would be the 12th 3-peat in NCAA wrestling history and the 3rd in Penn State history. The other two occurrences were 4-peats under Cael Sanderson between 2011-2014 and 2016-2019.
The Nittany Lions have a wrestler ranked in the top 20 in all 10 weight classes entering the season. Eight of those 10 wrestlers rank in the top 3 of their respective weight classes. Penn State will have 4 wrestlers ranked No. 1 to enter the season: Levi Haines (157), Carter Starocci (174), Aaron Brooks (197), and Greg Kerkvliet (HWT).
The Nittany Lions will have an opportunity this season for multiple individual national champions, all while putting up a monster team score at the NCAA Tournament in March.
---
---
Thank you for reading Basic Blues Nation. Please follow us on Facebook and Twitter for the latest news and insights on your favorite Penn State athletics. For feedback, questions, concerns, or to apply for a writing position, please email us at [email protected] or direct message us on our social media. Also, be sure to check out our new site shop. It's due to your support that we can become one of the market's fastest-growing Penn State sports outlets!
ICYMI: Penn State hockey announces non-conference schedule
The first portion of the Penn State hockey schedule was released this week.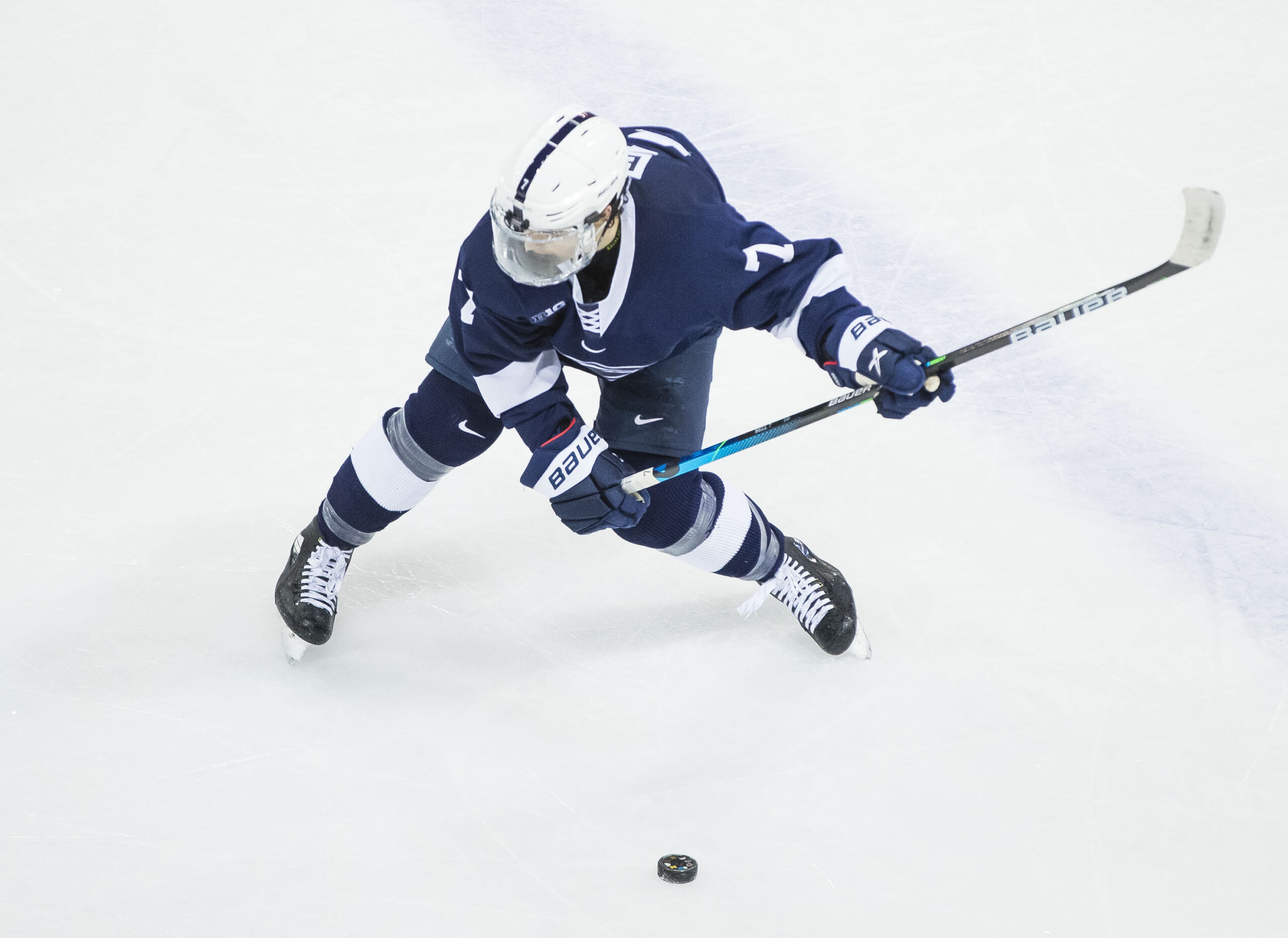 With football just days away and the summer heat still present, not many people are thinking about hockey right now. That is, except for the administrators working on scheduling the upcoming 2023-2024 Penn State hockey campaign.
There is still a lot of work to be done, as the whole Big Ten schedule has yet to be announced, but the first pieces of the Penn State schedule were released this week. It is a typical Penn State hockey non-conference schedule, full of cupcake opponents and lacking a marquee matchup. Let's break it down.
October 7th @ Long Island
Penn State will travel to Long Island to play one of Division I hockey's newest foes. Long Island University started its hockey program in the 2020-2021 shortened season and has yet to make much noise. Long Island played two games at Pegula Ice Arena in 2021, both of which were Penn State wins. This is an odd trip for a program like Penn State to make, as the Nittany Lions will play in a community ice rink with almost no seating capacity. Long Island is almost guaranteed a bottom-20 finish, so this is a must-win for Penn State.
October 13/14 @ Clarkson/St. Lawrence
Penn State will continue on the road with a two-game Upstate New York ECAC road trip against Clarkson and St. Lawrence. The Nittany Lions made the same trip in 2017 to open the season, splitting the two games. Clarkson looks to be a contender in the ECAC this year, while St. Lawrence will likely slot in its typical spot near the bottom of the conference. A road win against Clarkson could look very nice on Penn State's resume come March.
October 20/21 vs. AIC
Continuing the rerun of the 2017 schedule, Penn State will open the home portion of its schedule against AIC. The only time these two teams met was an October 2017 series, in which the teams split. Since then, AIC has been a consistent contender in the Atlantic Hockey Conference and even notched a few NCAA Tournament wins. Still, this is a series Penn State will want to sweep.
October 26/27 vs. Alaska-Anchorage 
This Thursday/Friday series will see Alaska-Anchorage travel to Pegula for the first time since 2016, in which it was swept by the Nittany Lions. Alaska-Anchorage is another perennial bottom-dweller, and a loss could damage Penn State's postseason hopes. 
November 24/25 vs. Lindenwood
Even though the schedule looks like Penn State will have a month off, the Nittany Lions won't. Big Ten play will kick off the first weekend of November and fill the gap between non-conference series. Lindenwood played its first Division I season last year, and this will be the first meeting between the two schools. Again, this is another must-win for Penn State.
January 6 vs. Army
The final non-conference game of the regular season will be against Army on January 6th at Pegula. This will mark the first time Army has come to Pegula since the building's opening night in October 2013. Army has never been much of a threat on the ice, and there is no reason to see that changing this year, likely with another bottom-20 finish.
---
---
Thank you for reading Basic Blues Nation. Please follow us on Facebook and Twitter for the latest news and insights on your favorite Penn State athletics. For feedback, questions, concerns, or to apply for a writing position, please email us at [email protected] or direct message us on our social media. Also, be sure to check out our new site shop. It's due to your support that we can become one of the market's fastest-growing Penn State sports outlets!
ICYMI: Happy Valley United joins national NIL collective group, aims at revenue-sharing model for athletes
The association's founding could lead to a profound change in the college athletics structure.
This week, Penn State's new primary collective, Happy Valley United, joined six other organizations nationwide to form a national NIL collective group known as The Collective Association (TCA). One of the main objectives of TCA will be creating a revenue-sharing model for college athletics that does not require the athletes to become university employees. The move, which could profoundly impact Penn State athletics and beyond, comes as new national guidelines from the NCAA and the federal government could affect the operation of NIL collectives moving forward.
Penn State collective is one of seven founding members of The Collective Association
Wednesday, Pete Nakos of On3 reported that Happy Valley United was one of the seven founding members of the new national NIL collective group, TCA. The collective group, spearheaded by Spyre Sports Group of Tennessee, has three guiding principles according to Nakos: become a voice for athletes and their interests, create a forum for collectives to share NIL best practices, and provide a unified voice for collectives across the country. The seven founding members and institutions are as follows:
Florida State – The Battle's End

Georgia – Classic City Collective

Michigan – Champions Circle

Mississippi – The Grove Collective

Penn State

 – Happy Valley United

Tennessee – Spyre Sports Group

USC – House of Victory
One of TCA's first objectives will be to open a dialogue between collectives and the NCAA. Specifically of interest here is the memo released by the NCAA in June that essentially directs universities to adhere to NCAA guidelines when they conflict with state law regarding NIL and athlete compensation. TCA also plans to advise collectives on new federal guidelines from the IRS that would strip the tax-exempt status of many collectives nationwide.
However, one of the most important steps that TCA plans to take is to release a revenue-sharing model framework allowing college athletes to be paid for their services. Under this model, which is expected to be released in the coming weeks, athletes could receive compensation without becoming university employees.
Happy Valley United provides a unified voice for Nittany Lions athletics
The formation of TCA is just the latest in a series of headlines made by Happy Valley United in recent weeks. In June, Happy Valley United was created through a merger of Penn State's two most prominent NIL collectives, Success with Honor and Lions Legacy Club. The group now provides a cohesive message and a unified path forward for Penn State in NIL, which was previously lacking.
✅Arts Fest

Thanks to everyone who stopped by to meet our Penn State student-athletes, support their NIL efforts and the Still Strong Foundation!🫶#WeAre | #HappyValleyUnited #NIL pic.twitter.com/DsD8ZrtGU0

— Happy Valley United (@HappyValleyUtd) July 14, 2023
Happy Valley United has been extremely active in organizing events across the region in the last month. Some of the more noteworthy events include meet-and-greets with student-athletes at Arts Fest in State College this weekend and the "We Are! At the Shore" event, featuring several Penn State football players in Avalon, New Jersey, later this month.
Join @PennStateFball student-athletes and legends for a night of food and fun, all supporting the team's NIL! See you there!

Tickets >>> https://t.co/qlGZIWFT23 #WeAre | #HappyValleyUnited #NIL pic.twitter.com/uLt9wk8SAF

— Happy Valley United (@HappyValleyUtd) July 10, 2023
The Penn State community has seemingly rallied behind the unified voice of Happy Valley United in the weeks following its formation. Recently, the group was mentioned in a call to action by Penn State football coach James Franklin in one of his boldest messages regarding NIL to date. "Every game week, we call for our #107kstrong. Together we are locked in, committed and show the tremendous power of the Penn State Community. We need everyone locked in on being 1-0 in the NIL race," Franklin said in part. 
Now, Happy Valley United is extending its reach beyond Penn State, looking to become one of the more influential NIL collectives in the country.
---
---
Thank you for reading Basic Blues Nation. Please follow us on Facebook and Twitter for the latest news and insights on your favorite Penn State athletics. For feedback, questions, concerns, or to apply for a writing position, please email us at [email protected] or direct message us on our social media. Also, be sure to check out our new site shop. It's due to your support that we can become one of the market's fastest-growing Penn State sports outlets!