Disastrous Weekend Raises Questions for Penn State Hockey
Penn State's back-to-back losses at Michigan were devastating, and raise questions going forward.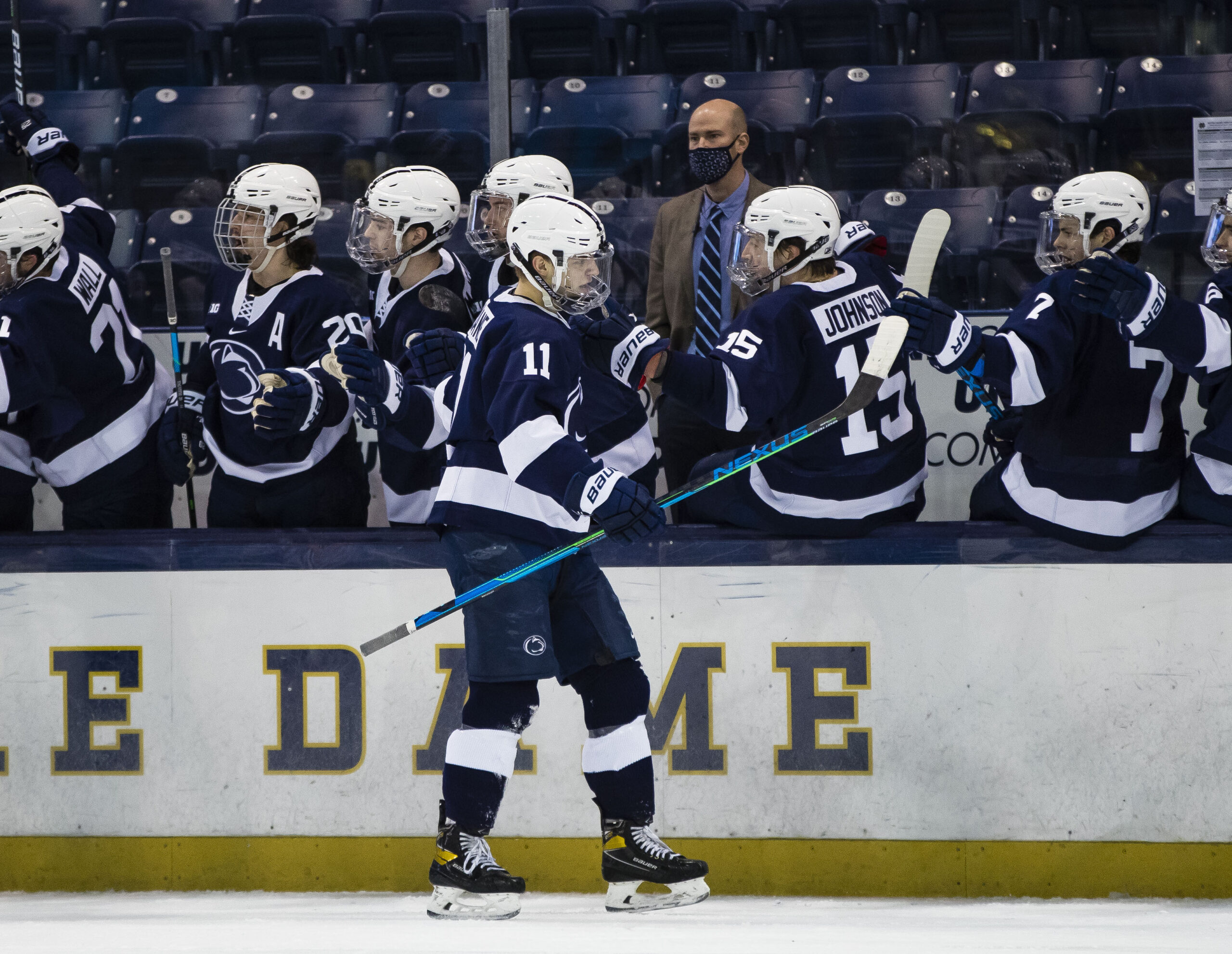 Since the weekend of February 18-19 of last year, Penn State hockey had recorded at least a single point in the standings in every series they played. That streak of 14 series came to an end at Yost Ice Arena in Ann Arbor, MI this past weekend. While the results are not entirely shocking — Penn State has only 3 wins at Yost ever, just 1 since 2014–the manner in which the Nittany Lions lost these games raises some red flags as the season quickly approaches its final weekends.
Recap
Penn State hockey lost 7-3 on Friday, however, one looking at the scoresheet alone would have thought the score would have been flipped. Penn State recorded 54 shots to Michigan's 28. They also won the faceoff battle, the special teams battle, yet lost by 4 goals.
An old problem reared its ugly head Friday–goaltending. Liam Souliere is in the midst of one of the best season's a Penn State hockey goaltender has ever had. But Friday saw him make only 10 saves on 14 shots before being pulled in favor of backup Noah Grannon.
This marks only the second time all year that Souliere has been pulled. It was an ugly night, but Penn State's offensive domination and puck control against a top-10 team was a silver lining.
That offensive firepower paid dividends early Saturday night. On the first two shots of the game, both within the first minute, Penn State scored two goals. In the 2nd period, Penn State was able to score another goal as a result of a major penalty and ensuing 5 minute power play. It seemed Penn State finally got their scoring touch back and Souliere had returned to his typical self. Things started to go downhill quickly, however.
Luke Hughes, the #4 overall pick in the 2021 NHL Draft, scored with around 5 minutes left in the 2nd to break up the shutout. Hughes added another goal with just a minute left in the period to make it a one goal game. A game the Lions were in firm control of 5 minutes prior was all of the sudden a contest again. Penn State was able to get some insurance 3 minutes into 3rd when Ture Linden scored on a 2-on-1 rush.
But just 2 minutes later, Luke Hughes answered again–his 3rd of the night–to make it a one goal game again. Just 1:52 later, someone other than Luke Hughes, Dylan Duke, found the back of the net to tie the game for Michigan. And just another 1:17 later, Luke Hughes did it again, netting his 4th of the game to give Michigan a lead they would never relinquish.
It was yet again a game where Penn State won the shots battle, faceoff battle, and special teams battle but lost on the scoreboard. Another poor night for Souliere, only 22 saves on 27 shots was a major contributing factor. 
National Impact
Penn State has had some shaky weekends to start 2023, including a loss and tie at Michigan State and a home split with Notre Dame. However, none of these prior weekends cost Penn State hockey any ground in the national standings, known as the Pairwise.
This was due to two factors: The first reason is that two of the Nittany Lion's non-conference opponents–Alaska and RIT–are having remarkable seasons, which boosted the team's strength of schedule.
Secondly, other teams in front of them nationally such as Denver, Quinnipiac and St. Cloud State lost to weak opponents, which allowed Penn State to hold their ground in the rankings. This weekend, however, poor play finally caught up with the team. Alaska and RIT both struggled with bottom dwellers, which had a negative impact on the Lions in the Pairwise. Teams at the top also took care of their own business.
Coming into the weekend at #3 in the Pairwise, in position for a #1 seed in the NCAA tournament, the losses dropped the team to #6. Generally, any position within the top-12 of the Pairwise is considered a safe position to be on Selection Sunday. While it is not time to panic just yet, the team is losing its margin for error with just 6 games left in the regular season.
Next Up
The Nittany Lions head to Columbus, OH to take on the Buckeyes of Ohio State. Ohio State is #8 in the Pairwise and represents a great opportunity for Penn State to get back on track. These games will have significant Pairwise impacts.
Ignoring all other results around the country, if Penn State hockey gets swept, they will fall to #8, inching dangerously close to the bubble. A split will hold the the Nittany Lions steady, while a sweep would catapult them back up to #3. It will be a massive weekend at Value City Arena, with puck drop at 6:30pm on both Friday and Saturday.
Penn State baseball loses season finale against No. 20 Maryland
The Nittany Lions will look to pick up the pieces and rebuild for 2024.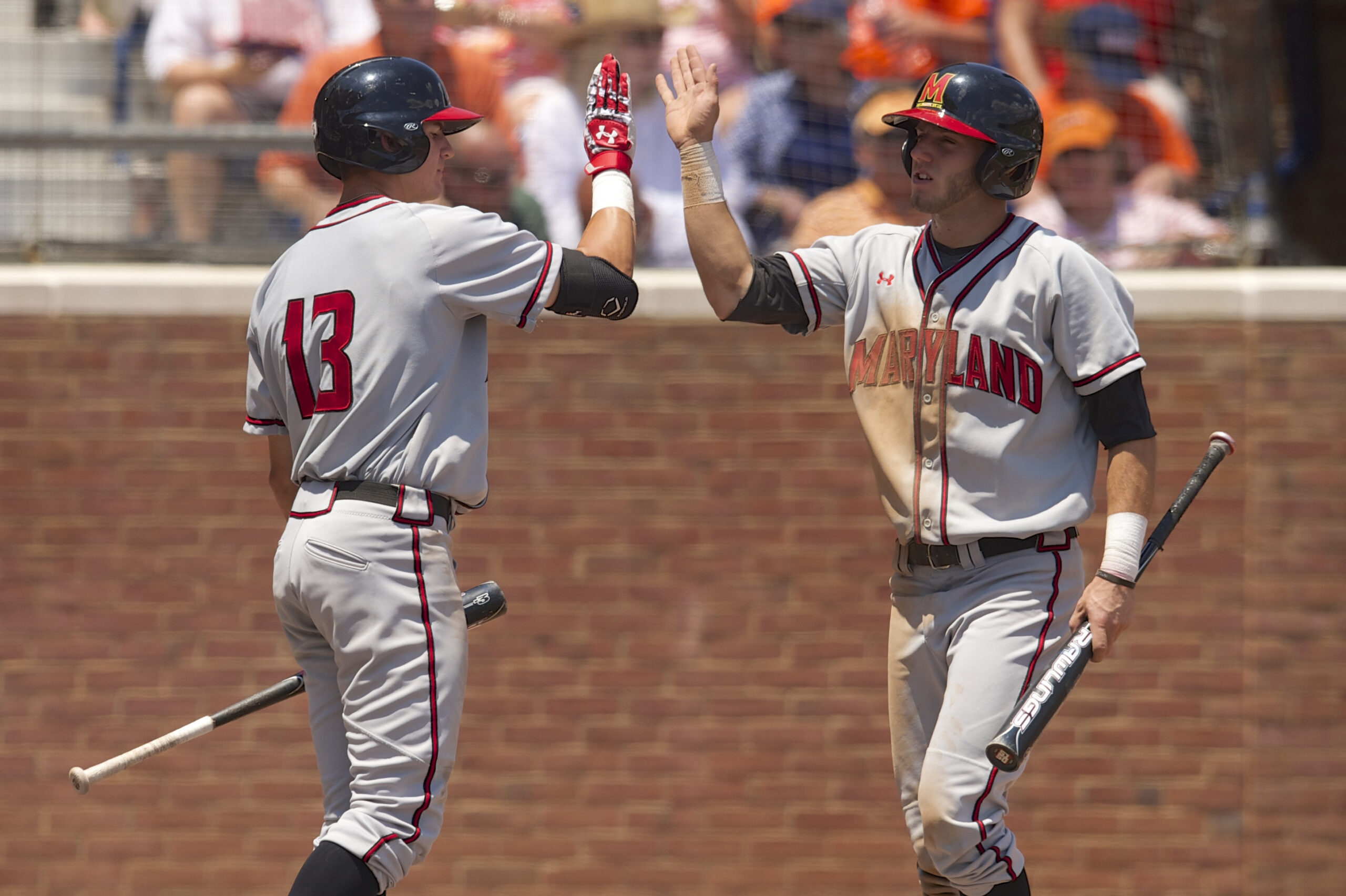 In a series that was also the source of significant news for the program, Penn State baseball returned home for a season-ending three-game series against the nationally-ranked Maryland Terrapins. The weekend saw a few close efforts and an impressive upset win, but the Nittany Lions ultimately ended the season with another series defeat.
Offensive explosion in game one
On Thursday, game one saw pure offense from both teams. The Terrapins scored three runs in the second inning, but then the Lions responded with seven runs in their half of the inning. Such was the story of the game, with both squads exchanging runs back and forth. 
Maryland scored three runs in the fourth to cut the Penn State lead down to a single run. But Penn State again answered right back by scoring six runs across the fifth and sixth innings. This scoring outburst featured a triple from Grant Norris that scored Johnny Piacentino and Thomas Bramley. After six innings, the score was 13-6 Nittany Lions.
In the seventh, Maryland scored six runs to cut the Penn State lead to a single run. However, after adding two additional runs as a cushion, the Nittany Lions surrendered five runs in the ninth inning to lose 17-15. 
Penn State baseball pulls upset in game two
Mere hours after news broke of head coach Rob Copper's resignation on Friday, Penn State put together an inspired performance that culminated in the upset of the 20th-ranked Terrapins. 
The Nittany Lions took a quick 2-0 lead in the second inning after an RBI double from Thomas Bramley that plated CJ Pittaro and Jay Harry. Maryland finally responded in the fifth, taking a 3-2 lead. But that lead didn't last long, as Penn State quickly reclaimed the lead in the bottom half of the inning following a two-run single from Jay Harry. 
CJ Pittaro added an insurance run in the eighth inning, and the Lions won by a score of 5-3. The win marked Penn State's second victory against a ranked opponent this year, with the first coming against Miami to open the season.
Lions' season ends in disappointment
Despite a valiant effort, Penn State's season finale ended in disappointment. 
The Lions took a 1-0 lead after an RBI triple from CJ Pittaro in the second. However, Maryland answered in the third and fourth innings to take a 2-1 advantage.
After a three-run fourth inning, Penn State retook the lead 4-2. However, the Lions were unable to score any more runs on the day. A home run and a pair of singles gave Maryland a 7-4 victory and, ultimately, the series win. Due to Saturday's win, the Terrapins also won the Big Ten regular season title.
Looking forward to 2024
With this series, the Nittany Lions' 2023 campaign came to a disappointing end. In what was head coach Rob Cooper's last season, Penn State baseball finished at .500, the second time in two seasons it did so. The Lions were not stellar in conference play, finishing at 7-16 and missing the conference tournament as a result. 
With a few changes coming to the program by next season, it will be interesting to see how the Nittany Lions regroup and move ahead in the spring of 2024. 
---
---
Thank you for reading Basic Blues Nation. Please follow us on Facebook and Twitter for the latest news and insights on your favorite Penn State athletics. For feedback, questions, concerns, or to apply for a writing position, please email us at basicbluesnation@gmail.com or direct message us on our social media. It's due to your support that we can become one of the market's fastest-growing Penn State sports outlets!
National search begins after Penn State baseball coach Rob Cooper resigns
Penn State will be looking for a new baseball coach to start the 2024 season.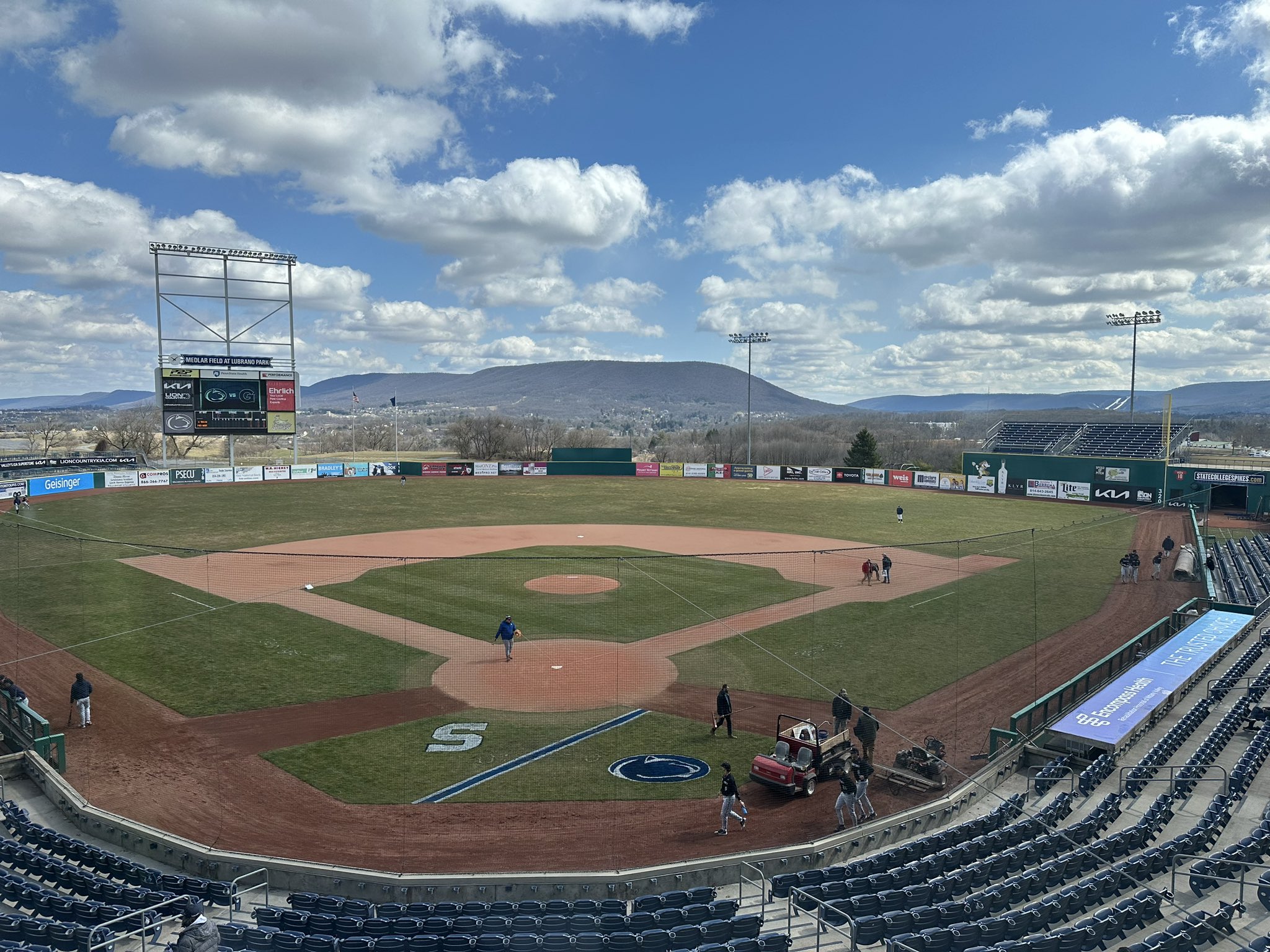 After a disappointing season, Penn State baseball has to find a new path forward. And next year, the program will have to find that path with a new face at the helm. On Friday, Penn State baseball coach Rob Cooper announced that he will not return to the team next season.
Penn State baseball coach Rob Cooper resigns
Hours before Friday's game against Maryland, Penn State released a statement from Cooper announcing his resignation from the program. Cooper's resignation is effective following the Nittany Lions' final game on Saturday.
"I am beyond grateful for my time as the head baseball coach at Penn State. This is a special place, because of the special people who make it up. My family and I love Penn State. While I am disappointed I wasn't able to get the baseball program the success it deserves, I am excited about the vision Dr. [Pat] Kraft has for Penn State Athletics, the student-athletes, and the baseball program," Cooper's statement said in part.
Cooper led the Nittany Lions for a decade, winning 197 games. Despite a disappointing 25-24 record so far this year, Penn State has experienced success recently. In 2022, Cooper led the Lions to the Big Ten Tournament for the first time since 2012. Penn State upset No. 3 Iowa before being eliminated.
In addition, 12 players were drafted during Cooper's tenure, while 13 total players signed professional contracts. The most successful has been Matt Wood, who was the highest-selected pick in program history. He was recently promoted to the High-A level in the Brewers organization.
Congratulations to @Mattwood_59 on his promotion to High-A Wisconsin! 👏👏👏

In 25 games with the Mudcats Wood hit .293/.468/.488 and 20 RBI's❗️ pic.twitter.com/XpAbYYKDeh

— Carolina Mudcats (@CarolinaMudcats) May 15, 2023
A national search begins
In the statement released by Penn State, athletic director Pat Kraft thanked Cooper for his years of service to the university. "We appreciate Rob Cooper for all he has done for the Penn State community these last 10 seasons," Kraft said. "I have a tremendous amount of respect for Rob for not only the commitment he made to our baseball program, but also the way he represented Penn State University with class. I want to thank Rob, and wish him, his wife, Maureen, and his family nothing but the best in the future."
The university's statement ended by saying that Penn State would immediately begin a national search to find Cooper's replacement.
Seeming to rally behind their head coach, the Nittany Lions upset No. 20 Maryland Friday night, 5-3. Cooper's final game as Penn State head coach will be on Saturday, with first pitch coming at noon at Medlar Field.
---
---
Thank you for reading Basic Blues Nation. Please follow us on Facebook and Twitter for the latest news and insights on your favorite Penn State athletics. For feedback, questions, concerns, or to apply for a writing position, please email us at basicbluesnation@gmail.com or direct message us on our social media. It's due to your support that we can become one of the market's fastest-growing Penn State sports outlets!
Penn State releases plans for Medlar Field renovations
The home of Penn State baseball will soon be getting some upgrades.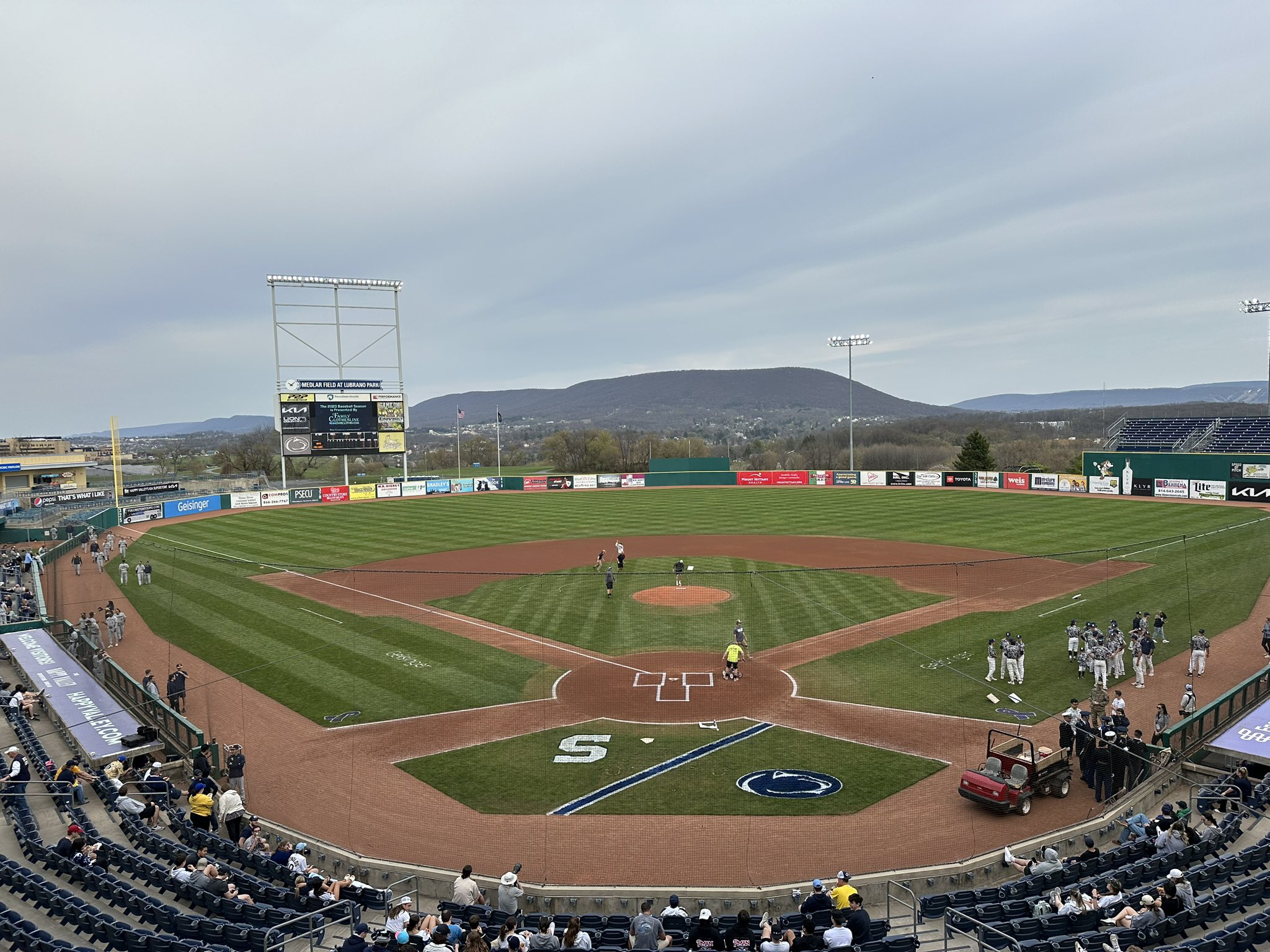 Over the last few years, Penn State has shown its commitment to the university's athletic programs through facility upgrades. The Penn State football program recently finished a significant upgrade to the weight room in the Lasch Building, and the Penn State Board of Trustees recently approved $70 million to begin renovations of Beaver Stadium. Across the street, the Penn State baseball program will also be getting an upgrade, as plans for Medlar Field renovations were also recently released.
Penn State plans Medlar Field renovations
It was recently revealed that Medlar Field at Lubrano Park, the home of Penn State baseball since 2006, is getting renovations after the end of the State College Spikes' season this summer. The upgrades include completely changing the playing field and lighting systems. 
Essentially, through a two-part process, the entire playing field will get an upgrade. The field is currently made of natural grass. While the renovations will not change the surface type, Penn State does play to completely change the grass in Medlar Field. In addition, the university plans to upgrade the field's lights to all LED, which will brighten the area during night events at the field, such as Dollar Dog Night games.  
Will these changes improve the gameday experience for baseball fans?
As someone who covered games from the press box this season, I gained perspective on the fan experience at Medlar Field. Overall, replanting a natural grass field is never harmful. It helps keep it fresh for the players and can prevent injuries that would otherwise be caused by aged grass.  
The lighting seems to be the most meaningful change, as it will significantly improve the lumination level for night events. I think the existing lighting is underwhelming at times, and it has not been bright enough for the night games. This renovation is a welcomed one for me, and will benefit players, fans, and the media alike.  
The Nittany Lion baseball team will close out its season at the 5,400-seat stadium this week when the Nittany Lions take on Maryland in the regular season finale. 
---
---
Thank you for reading Basic Blues Nation. Please follow us on Facebook and Twitter for the latest news and insights on your favorite Penn State athletics. For feedback, questions, concerns, or to apply for a writing position, please email us at basicbluesnation@gmail.com or direct message us on our social media. It's due to your support that we can become one of the market's fastest-growing Penn State sports outlets!