Disastrous Weekend Raises Questions for Penn State Hockey
Penn State's back-to-back losses at Michigan were devastating, and raise questions going forward.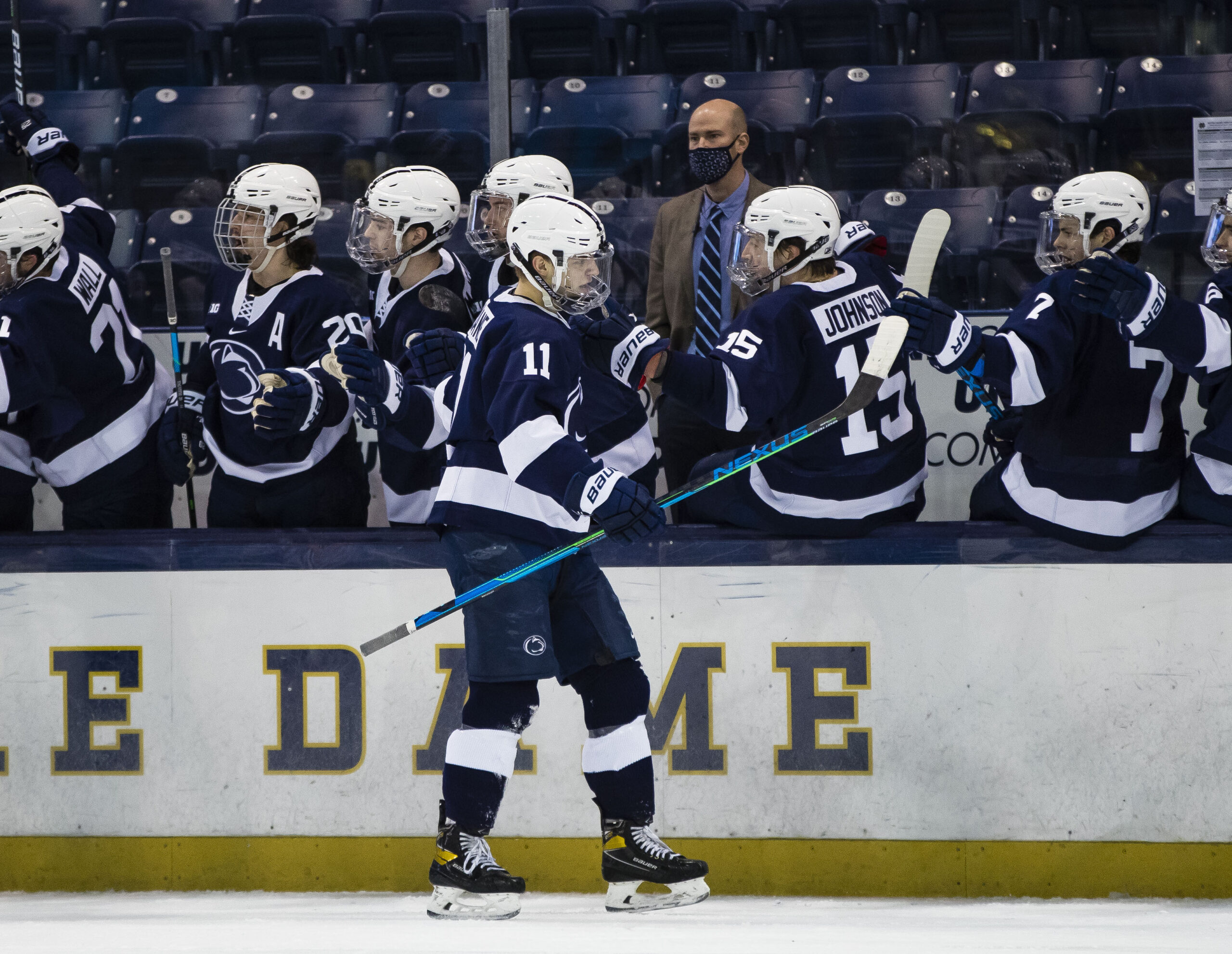 Since the weekend of February 18-19 of last year, Penn State hockey had recorded at least a single point in the standings in every series they played. That streak of 14 series came to an end at Yost Ice Arena in Ann Arbor, MI this past weekend. While the results are not entirely shocking — Penn State has only 3 wins at Yost ever, just 1 since 2014–the manner in which the Nittany Lions lost these games raises some red flags as the season quickly approaches its final weekends.
Recap
Penn State hockey lost 7-3 on Friday, however, one looking at the scoresheet alone would have thought the score would have been flipped. Penn State recorded 54 shots to Michigan's 28. They also won the faceoff battle, the special teams battle, yet lost by 4 goals.
An old problem reared its ugly head Friday–goaltending. Liam Souliere is in the midst of one of the best season's a Penn State hockey goaltender has ever had. But Friday saw him make only 10 saves on 14 shots before being pulled in favor of backup Noah Grannon.
This marks only the second time all year that Souliere has been pulled. It was an ugly night, but Penn State's offensive domination and puck control against a top-10 team was a silver lining.
That offensive firepower paid dividends early Saturday night. On the first two shots of the game, both within the first minute, Penn State scored two goals. In the 2nd period, Penn State was able to score another goal as a result of a major penalty and ensuing 5 minute power play. It seemed Penn State finally got their scoring touch back and Souliere had returned to his typical self. Things started to go downhill quickly, however.
Luke Hughes, the #4 overall pick in the 2021 NHL Draft, scored with around 5 minutes left in the 2nd to break up the shutout. Hughes added another goal with just a minute left in the period to make it a one goal game. A game the Lions were in firm control of 5 minutes prior was all of the sudden a contest again. Penn State was able to get some insurance 3 minutes into 3rd when Ture Linden scored on a 2-on-1 rush.
But just 2 minutes later, Luke Hughes answered again–his 3rd of the night–to make it a one goal game again. Just 1:52 later, someone other than Luke Hughes, Dylan Duke, found the back of the net to tie the game for Michigan. And just another 1:17 later, Luke Hughes did it again, netting his 4th of the game to give Michigan a lead they would never relinquish.
It was yet again a game where Penn State won the shots battle, faceoff battle, and special teams battle but lost on the scoreboard. Another poor night for Souliere, only 22 saves on 27 shots was a major contributing factor. 
National Impact
Penn State has had some shaky weekends to start 2023, including a loss and tie at Michigan State and a home split with Notre Dame. However, none of these prior weekends cost Penn State hockey any ground in the national standings, known as the Pairwise.
This was due to two factors: The first reason is that two of the Nittany Lion's non-conference opponents–Alaska and RIT–are having remarkable seasons, which boosted the team's strength of schedule.
Secondly, other teams in front of them nationally such as Denver, Quinnipiac and St. Cloud State lost to weak opponents, which allowed Penn State to hold their ground in the rankings. This weekend, however, poor play finally caught up with the team. Alaska and RIT both struggled with bottom dwellers, which had a negative impact on the Lions in the Pairwise. Teams at the top also took care of their own business.
Coming into the weekend at #3 in the Pairwise, in position for a #1 seed in the NCAA tournament, the losses dropped the team to #6. Generally, any position within the top-12 of the Pairwise is considered a safe position to be on Selection Sunday. While it is not time to panic just yet, the team is losing its margin for error with just 6 games left in the regular season.
Next Up
The Nittany Lions head to Columbus, OH to take on the Buckeyes of Ohio State. Ohio State is #8 in the Pairwise and represents a great opportunity for Penn State to get back on track. These games will have significant Pairwise impacts.
Ignoring all other results around the country, if Penn State hockey gets swept, they will fall to #8, inching dangerously close to the bubble. A split will hold the the Nittany Lions steady, while a sweep would catapult them back up to #3. It will be a massive weekend at Value City Arena, with puck drop at 6:30pm on both Friday and Saturday.