Penn State Hockey: Season Recap, Stretch Run Preview
Penn State hockey has seen a terrific season thus far.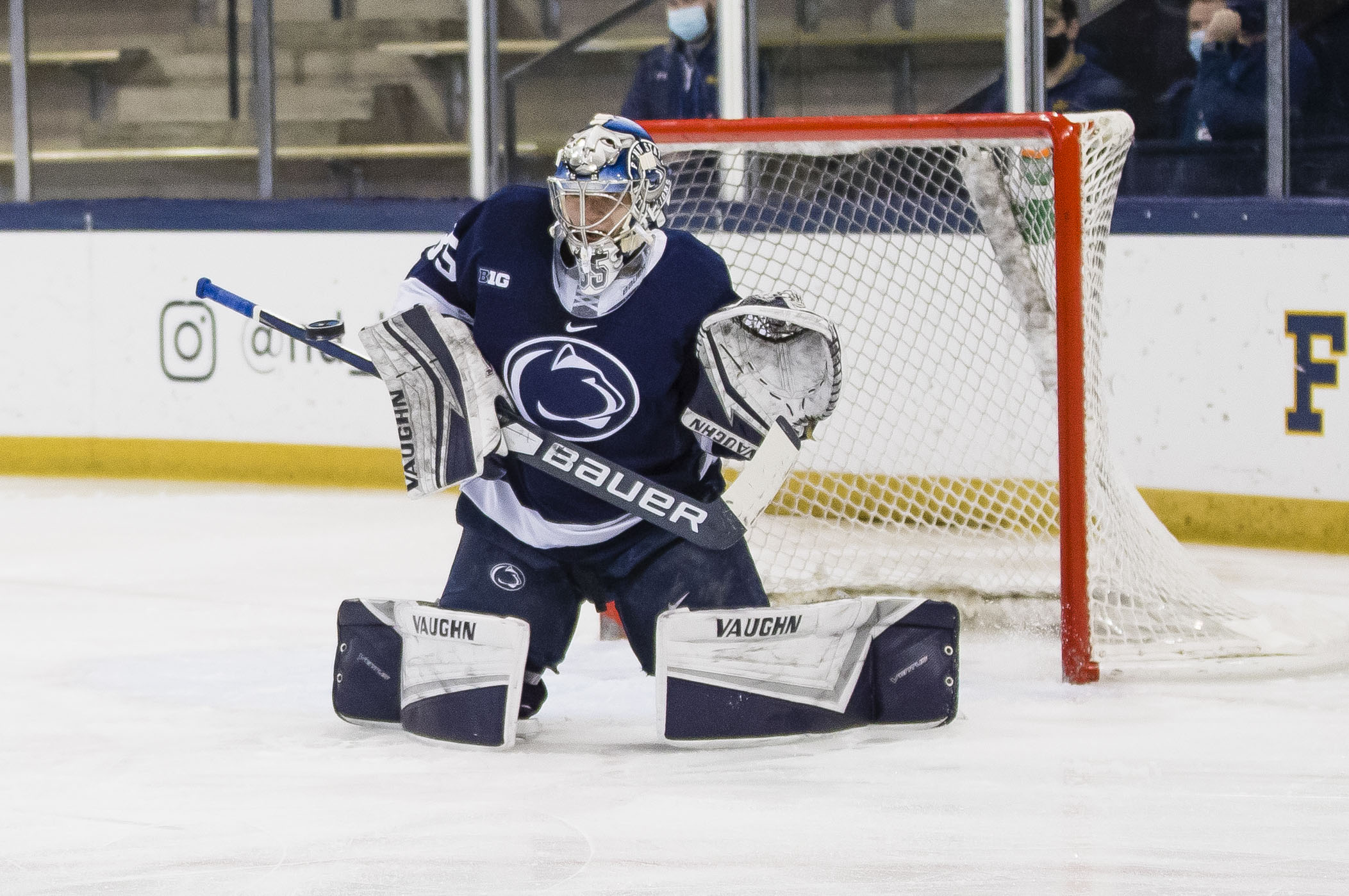 No. 6 Penn State hockey currently boasts an 18-7-1 (8-7-1 Big Ten) record as it heads to Ann Arbor to take on No. 7 Michigan. How did we get here and what's next? Let's take a look.
Penn State hockey season recap (thus far)
This season always had potential for Penn State hockey. Even a casual fan would have been excited at the thought of this year's squad after watching a freshman-laden Nittany Lion team become the first ever road team to win a Best-of-3 series in the Big Ten Tournament last March.
A week later, they nearly stunned Minnesota on their home ice, a team that went on to play in the Frozen Four. Despite that run that filled the fanbase with hope, the team would still have to prove on the ice that they were worthy of returning to the NCAA Tournament for the first time since 2018.
To make things more pressing, this is the last year till 2025 that Penn State is scheduled to "host" the first round of the tournament in Allentown, PA. As the host, if Penn State makes the tournament, they will be placed in the Allentown Regional, regardless of seeding.
Being in Eastern PA, this makes for a very easy trip for students and a very large portion of the alumni base. Penn State played their last tournament game there in 2018 and the coaches of all four teams in the regional agreed it was the best environment they had ever seen for an NCAA Tournament game.
The goal for Penn State is to make the tournament every year, but they really want to make it this year, the last chance for a little bit to play de facto home games in the tournament. 
Penn State has already come a long way from the team that went on that run in the Big Ten Tournament. They started the season with their typical sacrificial non-conference opponents. However, these supposed sacrificial opponents haven't always been such for the Lions in years past.
In 2020, they didn't play a non-conference schedule due to the pandemic but in each year before this one, they have lost to a non-conference team they should have beaten. In 2021, they lost to Canisius. In 2019, they lost to Alaska. In 2018, they lost to Arizona State.
In 2017, they lost to Mercyhurst. That is not to say it was always easy for Penn State this year. They flirted with disaster against St. Thomas and Alaska. But, at the end of the day, they've beaten everyone they were supposed to.
After finishing non-conference play with a sweep of a ranked RIT team on New Year's Eve, Penn State posted a 10-0-0 in the non-conference. It is the first time in program history that they have gone undefeated in this portion of the schedule. 
Where the Lions have really made their money so far has been in conference play.
They started the conference season with a trip to Madison, WI to take on the Badgers. They swept them easily with a goaltending performance from Liam Souliere that saw him play shutout hockey for the better part of those two games. That hot goaltending carried into the next series, one that saw then-#1 Michigan come to town.
It was only the second time a #1 team had come to Pegula. A 17 save performance from Souliere led to a 3-0 shutout of the Wolverines, securing the programs first win over a #1 ranked team ever. They almost did it again the next night, rallying from a 3 goal deficit in the latter half of the 3rd period before ultimately falling in overtime.
They wouldn't have to wait long for their next chance at taking down a #1 ranked team. That would come just 6 days later when the team traveled to Minnesota. They were able to do something no team had ever done, and that was beat a different #1 ranked opponent in back-to-back weeks. They did end up losing the Friday night game, resulting in a split. Still, no shame in a split on the road against the nation's best team at the time.
The first result you could realistically be disappointed in this season came the following weekend. Michigan State, and a rare national ranking for them, came to Pegula. They were able to squeak out a 4-3 win in the Friday night game, but needed a few late goals to steal a game that the Spartans deserved to win. Michigan State left nothing to chance on Saturday when they dominated Penn State 7-3. It was Penn State's worst performance of the season.
A quick turnaround from that series led to the aforementioned near disaster against Alaska, only winning by a goal in both games that could have easily gone the other way. After the Thanksgiving Break, Ohio State came to Pegula.
Penn State was able to win a thriller 2-1 with a late goal in the Friday game, but yet again fell short on Saturday. The last series of the first half came in South Bend against Notre Dame. It was another ranked team, another Friday night win and another Saturday loss. In fact, each weekend since the end of October has played out very similarly for Penn State. They have had a brutal schedule, only facing one unranked opponent (Alaska) since October 29th.
They have won the first game of each of those series, yet lost the second. This isn't entirely uncommon, we saw Penn State follow a similar trend in the 2019-2020, 2018-2019 and 2017-2018 seasons. For two of those years it was enough to secure an NCAA bid (they would have made the canceled tournament in 2020), but it was splitting series that ultimately cost them a berth in 2018-2019. Still it is hard to fault the Lions for much in the first half.
The second half did not start as planned for Penn State. A road trip to Michigan State saw the team fail to find a win all weekend for the first time this year. An overtime loss and a shootout loss saw the Lions pick up some points in the Big Ten standings, but not nearly enough to keep up with Minnesota at the top.
Last weekend started shaky as well with a 2-1 home loss to Notre Dame. After winning the first game of every series all year, Penn State has not dropped two straight series openers. The team rebounded in front of the largest crowd in Pegula Ice Arena history to come from behind twice to beat Notre Dame 3-2. As of now, the team sits at #3 in the Pairwise.
Since the Pairwise is the sole determinant of NCAA Tournament selection and seeding, Penn State would be a #1 seed nationally if the season ended today. 
 Even if expectations were high, this start exceeded the expectations of most. Penn State won 6 conference games during the entirety of the 2021-2022 season and 7 during the entirety of the 2020-2021 season. They have already won 8 and January is not over yet.
In addition, the team has already eclipsed their overall win total from last year. If one were to grade Penn State's season so far, they deserve nothing short of an A.