Penn State football: Sophomore wide receiver Omari Evans is gearing up for a breakout season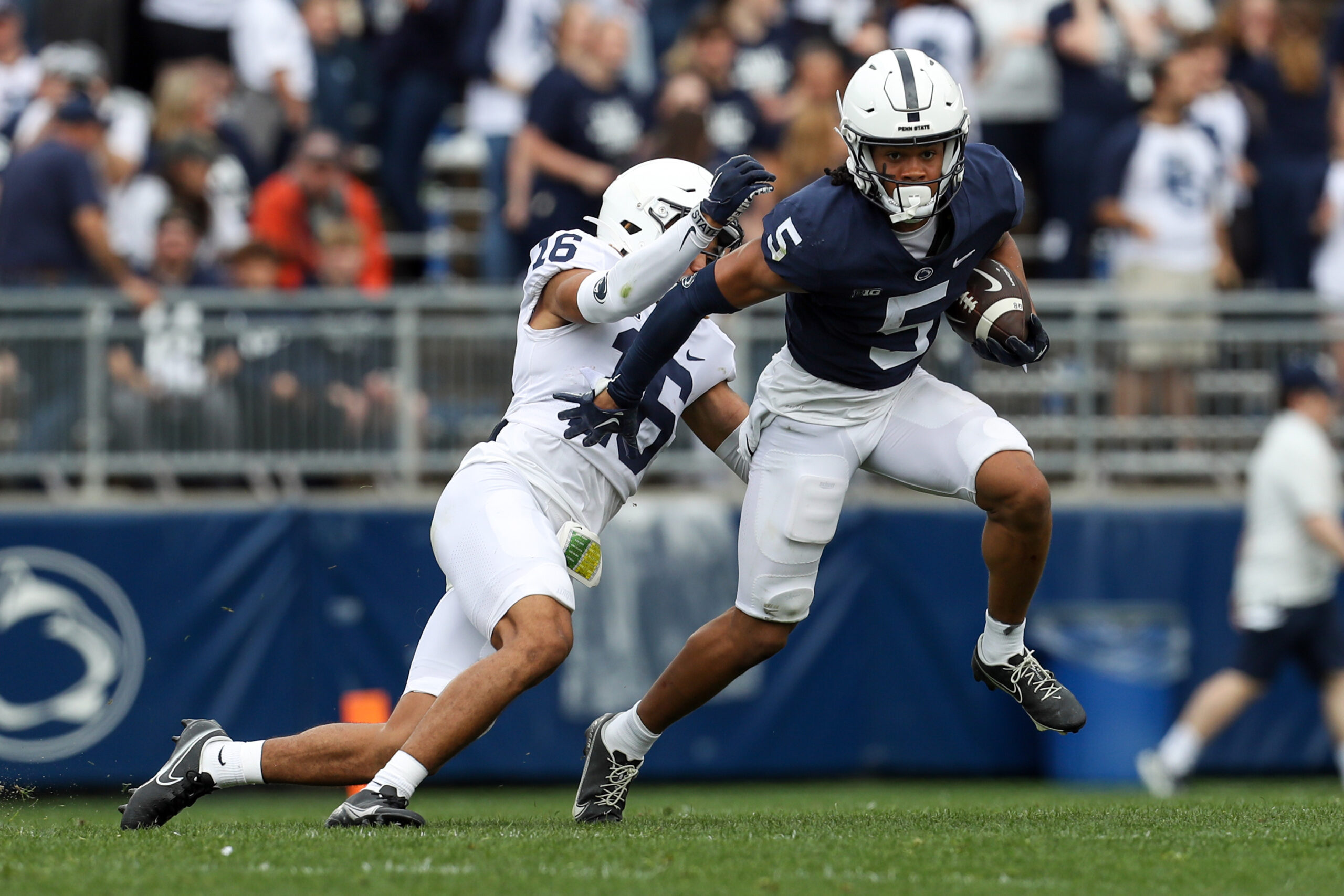 As May arrives, Penn State football fans are eagerly anticipating the 2023 season, set to kick off in a few months. With a new quarterback and a young group of wide receivers, building chemistry and improving the passing game will be a top priority for the Nittany Lions throughout the summer.
During the recent Blue/White spring game, fans caught a glimpse of the team's aerial attack and one player who stood out was sophomore wide receiver Omari Evans. With lightning-fast routes and impressive hands, Evans demonstrated his talent and potential to be a key contributor in the upcoming season. Expect to see more of Evans making big plays for Penn State football this fall.
Sophomore wide receiver Omari Evans looking like a breakout wide receiver for Penn State football
The start of the Drew Allar era in State College has been anticipated by fans for quite some time now. That being said, Penn State has a critical downfall in its offensive transition: three of the team's top pass-catchers are now in the NFL. Wide receivers Parker Washington and Mitchell Tinsley, as well as tight end Brenton Strange, have all moved to the next level, leaving Penn State's rising sophomore QB a brand new receiving corps to work with.
"We need someone to step up in that 3rd wide receiver role," head coach James Franklin said following the Penn State football spring game. "Obviously today was something to build on (for Evans) … He has got all of the tools, we gotta grind through it and continue to get him good at his craft."
The Penn State football team is in need of a standout wide receiver, and during the spring game, Omari Evans emerged as a breakout star. As a rising sophomore, Evans has been garnering a lot of praise during spring camp, and his impressive performance during the Blue/White game turned heads among fans and staff alike.
Evans made his presence known early in the game, catching a 28-yard deep ball from quarterback Drew Allar for the first touchdown pass of the day. This wasn't the first time Allar and Evans have connected for a touchdown — they also hooked up last season in a victory over the Ohio Bobcats. It looks like fans can expect more of the same this fall.
But it wasn't just Allar who found success throwing to Evans. Beau Prubula also hit him with an impressive 22-yard pass that put the Blue team within the 10-yard line. By halftime, Evans had racked up four catches for 61 yards and a touchdown, accounting for almost half of the game's first-half receiving yards. With his incredible talents, Evans is sure to play a key role in Penn State's passing attack this season.
KeAndre Lambert-Smith will be WR1, though there are still depth concerns
If you ask Penn State football's top wide receiver, KeAndre Lambert-Smith, he believes that his fellow wide receivers are up for the challenge of stepping up during the summer. Lambert-Smith expressed this sentiment following the Blue/White game in mid-April.
"We definitely don't look at it as pressure, I feel like we take that challenge head on," Lambert-Smith said when asked about the team's depth concerns at wideout right now. "We've got guys — I feel like myself — improving as a room, as a whole. But like I said, we don't listen to too much outside, we're going to continue to grind, work, push each other, and let the results take care of themselves.
"I just try my best to help the young guys out — I see myself, when I was younger, in them … I see myself in them, some of the stuff they do, and just try to correct them and try to keep them on the right path."
Despite KeAndre Lambert-Smith's confidence in his wide receiver room, head coach James Franklin has hinted at potential depth concerns and the need for a transfer portal addition at the position. This suggests that the current level of competition may not be sufficient.
On a positive note, the emergence of Omari Evans as a standout during the spring game means that he is likely to see more playing time than initially expected in the upcoming season. This includes the highly anticipated season opener against West Virginia on September 2nd, which presents an opportunity for the Nittany Lions to exploit the Mountaineers' weak defensive backfield.
Here is what Franklin had to say about Penn State's depth needs after the spring game:
"I think we're in a good place right now, but I think we need more depth and more competition at D-Tackle," James Franklin said after the Blue/White game. "I think we need more depth and competition at wide receiver. I think we could get by West Virginia — or by game four or game five — I think we could have six guys that we feel good about. But it's not competitive … I want there to be legitimate competition at every position.
"The phones are buzzing," Franklin said about the transfer portal. "It's all over the place right now, it's crazy. I addressed it with our team in the locker room afterward. But those two positions (defensive tackle and wide receiver) specifically [are portal needs], and then a great difference-maker at any position."
---
---
Thank you for reading Basic Blues Nation. Please follow us on Facebook and Twitter for the latest news and insights on your favorite Penn State athletics. For feedback, questions, concerns, or to apply for a writing position, please email us at [email protected] or direct message us on our social media. It's due to your support that we can become one of the market's fastest-growing Penn State sports outlets!