James Franklin shares his thoughts on Penn State's NIL situation
The Nittany Lions' head coach had a lot to say about Penn State and NIL after Tuesday's practice.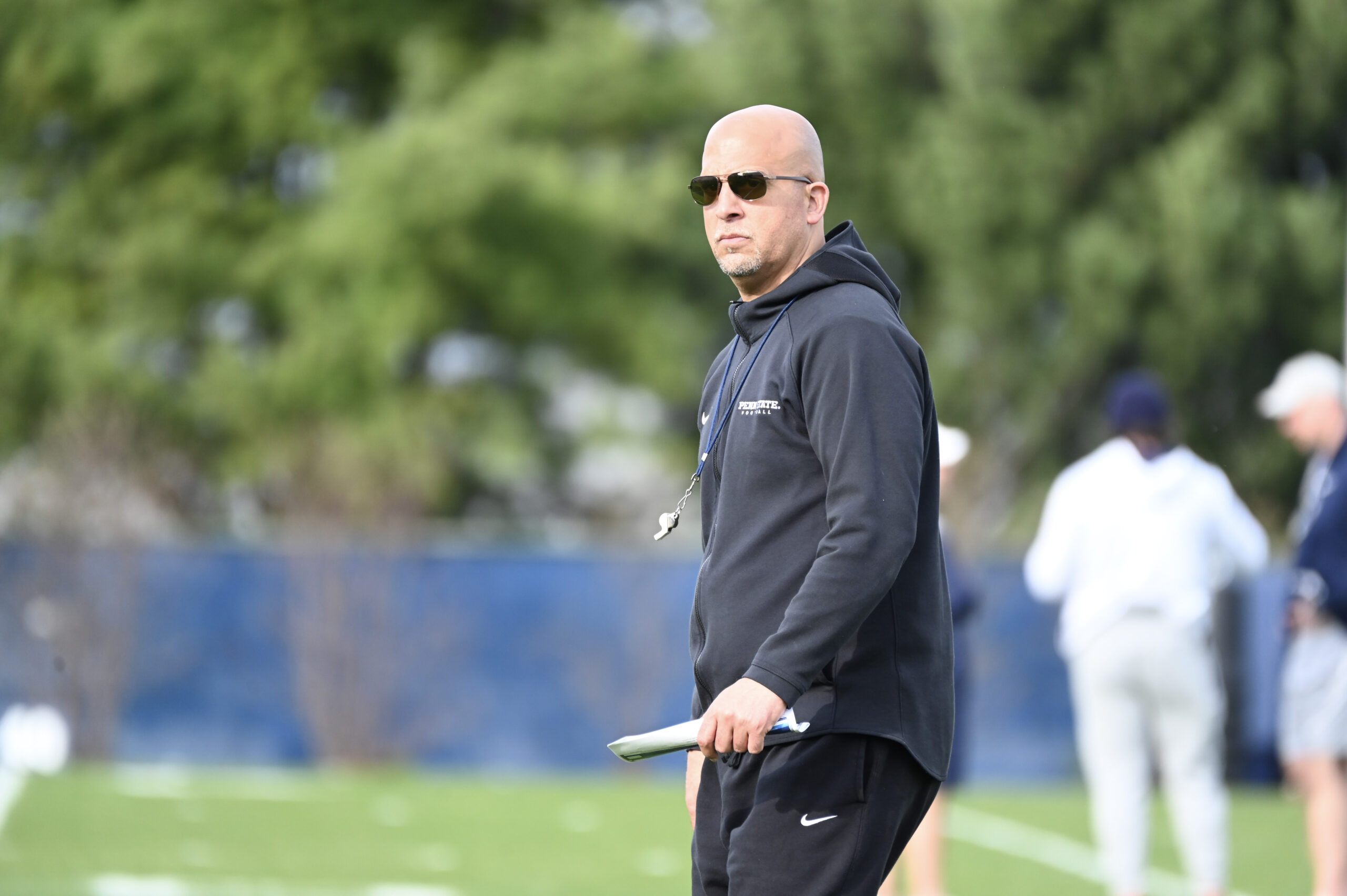 STATE COLLEGE, Pa. — This evening, for the final time leading up to the Blue-White spring game this weekend, Penn State's head football coach had a chance to address the media following the Nittany Lions' spring practice. There, Penn State coach James Franklin was asked about the university's NIL situation, which has been a great hot topic as of late.
To say Franklin's answer was passionate would be an understatement.
Penn State coach James Franklin chimes in on the school's heated NIL debate
When former head basketball coach Micah Shrewsberry left following Penn State's historic 2022-23 season, the university community was forced to address something known for some time: Penn State University is behind in the NIL game. James Franklin has been beating this drum for some time now, though it seemingly took a successful coach (Shrewsberry) leaving for any actual dialogue to be started. With a massive Board of Trustees Election approaching, the NIL debate is starting to get hot; on Tuesday, Penn State football coach James Franklin chimed in.
"I don't think it really should be a discussion — I don't think it really can be a discussion — because, when you're Penn State, and you're in the Big Ten, the reality is that … you can't pick and choose at what you're going to compete in," James Franklin said ahead of the Blue-White game on Saturday. "This discussion is [one] that is very similar to a discussion we had 10 years ago when I was talking about facilities and people were looking at me like I was crazy.
"The reality is that the people that were aggressive on the frontend with facilities, obviously they're able to shift their focus to the new challenge. So, the reality is whether it's facilities, whether it's staff size, whether it's alignment, whether it's NIL, whether it's [any] of these things, if you truly want to compete at the highest level, then you can't say we're going to be competitive in these three areas and not [in others].
"Where we are, as a top 10 program, those areas that you are behind in become glaring, obvious issues to people who really understand and study college football and college athletics."
Nittany Lions' head coach says that there is work to be done
Following his comments about Penn State's relationship with NIL, Penn State coach James Franklin also says that there is plenty of work to be done when it comes to the Nittany Lions' NIL efforts and more.
"We still got a ton of work to do," James Franklin said when asked about where the football program is with NIL right now. "We were two years behind everybody else. I think over the last year we have made significant progress, but if you give somebody a two-year start in a three-year model, it's pretty obvious."
Even though Penn State football is behind in the NIL game, the Nittany Lions are starting to make some progress.
"We have been working to try to solve it as much as we possibly can by going out and educating the fanbase and the donors about what we are truly competing against. As you guys know, I spend a ton of time studying 'best practice.' I think I've got a pretty good pulse and understanding of what is happening [by] talking to ADs, talking to other coaches, talking to [outside hires]."
Amid the heated debate surrounding Penn State University and NIL, James Franklin is seeing progress, but the hope from within the program is that it is not too little too late.
---
---
Thank you for reading Basic Blues Nation; we are proud to be a student and alumni-owned and operated media outlet covering all things Penn State athletics! Please follow us on Facebook and Twitter for the latest news and insights on your favorite Penn State teams. For feedback, questions, concerns, or to apply for a writing position, please email us at [email protected] or direct message us on our social media. It's due to your support that we can become one of the market's fastest-growing Penn State sports outlets!