Former head coach gave a warning about lacking NIL at Penn State
A former Nittany Lion head coach says that Penn State is far behind in the NIL game.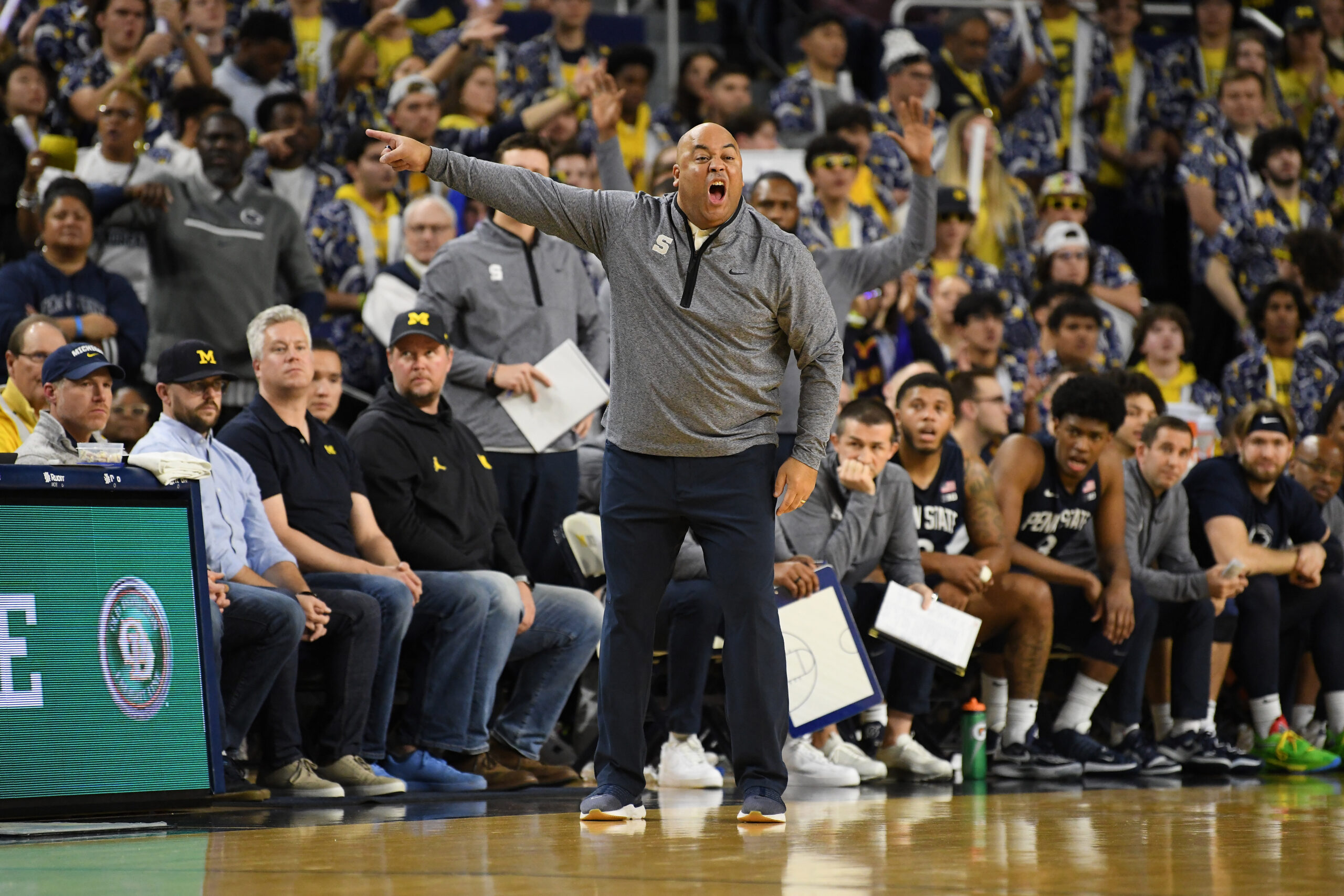 Earlier this week, the Penn State basketball team lost its two-year head coach, Micah Shrewsberry. There were a number of reasons for Shrewsberry's exit — Notre Dame being closer to home was among the biggest — though NIL definitely played a factor. Fans have long-known that funding for NIL at Penn State has been lacking, though Shrewsberry's warning about how far behind the Nittany Lions truly are is concerning.
Former Penn State head coach gives insight into insufficient NIL at Penn State University
Here is what former basketball coach Micah Shrewsberry had to say about NIL at Penn State and how far behind the Nittany Lions truly are.
"Right now, you have to adjust to what's happening in the times," Shrewsberry said on the BWI podcast. "It's something that, it's really big. It's really big in recruiting and it's really big in player retention … We got guys. But we also lost guys," Shrewsberry said. "We're not gonna be like Illinois. Illinois is one of the best in the league right now with what they're doing with NIL. But we have to do something. That's something where we can't fall behind."
Despite having the poor NIL at Penn State, Micah Shrewsberry still managed to sign the two best recruiting classes in Penn State basketball history. Still, Shrewsberry says both classes could have been better.
"It's about what you want as a program and what you're happy with. If we have a little bit more that we're offering to our guys, or that we're doing for our team in NIL, that top 30 class is probably top 15 in the country. Just one or two more guys."
"I can't speak for everybody, but I would say of 14 teams in the Big Ten, we're probably 14. Maybe 13," Shrewsberry said. "So it's just about who we want to be as a program. What are we willing to say is going to be our standard?"
Regardless of Shrewsberry's coaching, you need the "Jimmy and Joes" just as much as the Xs and Os, as the saying goes.
"Because, I can be as good of a coach in the world, but if you don't have as good of players, it doesn't matter. Or, if you do a great job with your development, you find a kid, you develop him, and then somebody comes in and they have something for him, that's kids, that's life right now, and that's what's happening … A lot to nothing is hard to overcome," Shrewsberry said. "A lot to something, and then the relationship starts to kick in and make a little bit of ground up."
It may not keep Shrewsberry around, but someone needs to do something about the lack of funding of NIL at Penn State. There is no reason that a school like PSU should be one of the worst when it comes to raising NIL money, yet here we are.
"I'm never going to complain. We need as much help as we can get. But also, it's your choice. I'm going to keep coaching, I'm going to keep trying to find good kids, I'm going to keep trying to retain the kids that we have, we're going to keep making them better. But I want to build this thing into something really good."
---
---
Thank you for reading Basic Blues Nation. Please follow us on Facebook and Twitter for the latest news and insights on your favorite Penn State athletics.
For feedback, questions, concerns, or to apply for a writing position, please email us at [email protected] or direct message us on our social media. It's due to your support that we can become one of the market's fastest-growing Penn State sports outlets!