Penn State football: What if Drew Allar is one of the best QBs in America in 2023?
What would happen if Drew Allar became one of the best quarterbacks in the country this fall?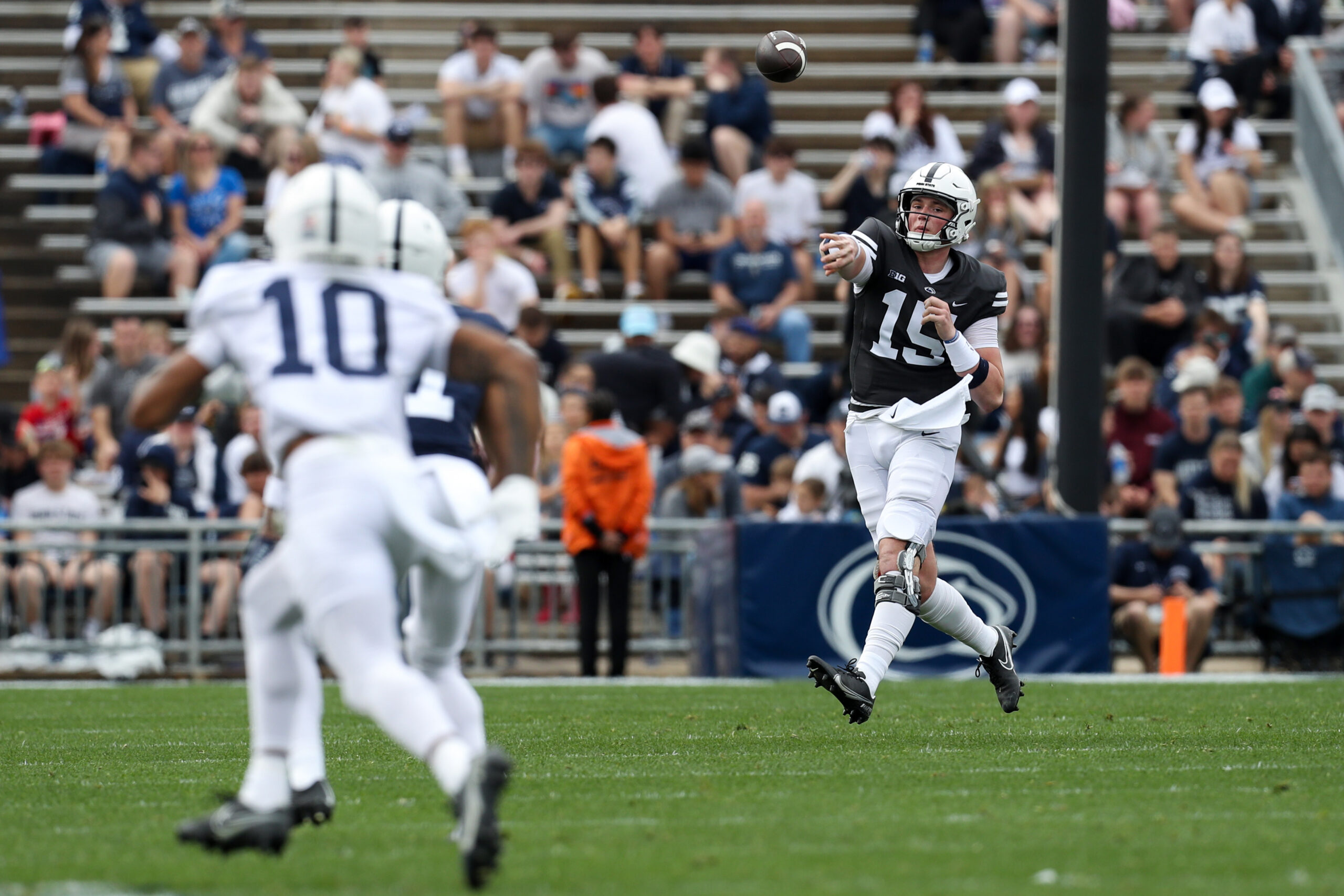 The college football season is still over a month, but the hypothetical question has already been pondered ad nauseam for Nittany Lions fans all offseason. Can Drew Allar be the missing piece to finally get Penn State football over the hump into the College Football Playoff? In this scenario, it usually comes down to identifying the minimum threshold of performance that Allar would have to achieve for Penn State to get out of the Big Ten on top.
But as a former five-star prospect, Allar possesses the ability to be something at quarterback that has rarely been seen in Happy Valley. If and when he can get there, he will be a critical part of Penn State's postseason hopes over the coming years. But what if Allar can achieve that level of play this season? Recently, popular CBS Sports analyst and podcast host Josh Pate explored the possibility of Drew Allar becoming one of the best quarterbacks in the nation in 2023.
What can Penn State football achieve if Drew Allar is one of the best quarterbacks in America?
By now, most Penn State football fans probably know that CBS Sports analyst and podcast host Josh Pate has spoken very highly of the Nittany Lions this offseason. Pate aired a live episode of his podcast, Late Kick, from the balcony off James Franklin's office this spring and continues to articulate the potential of the Penn State football program.
This sentiment came up again on last Sunday's episode of Late Kick during a segment where viewers ask hypothetical questions about the 2023 season. During the show, one viewer asked what would happen this fall if Drew Allar became the best quarterback east of the Mississippi River and, subsequently, one of the best signal callers in America this year.
Pate noted that while he thinks that Drew Allar has the potential to be a very talented player, we have yet to see it on the field. As a result, it's "lofty" to expect Allar to perform better than established quarterbacks like Jayden Daniels (LSU), Jordan Travis (Florida State), Drake Maye (North Carolina), J.J. McCarthy (Michigan), and Sam Hartman (Notre Dame) this season. However, if it does happen, Pate feels there's very little else holding Penn State back.
"They got a really good defense. They got horses in the backfield at running back," Pate said. "I think this would mean that wide receiver worked out okay for them…I got almost zero questions about their offensive line. They're gonna be a Playoff team. I don't know what else to tell you. In fact, Allar doesn't even have to be quite the best. Allar could play just really good football this year, and they could push for a playoff spot. They're gonna be a really good team."
Ultimately, Josh Pate ended up where many Penn State fans have fallen already on this season. With the talent and potential of this 2023 roster, Drew Allar doesn't have to be one of the best quarterbacks in America for Penn State to have a realistic shot at the Playoffs. Without seeing an entire season's worth – or even a game's worth – of play from Allar, it's challenging to predict what the Nittany Lions will get from him this year. But given his potential, I don't think it would necessarily surprise anyone if Allar became one of the best quarterbacks in the country this fall.
---
---
Thank you for reading Basic Blues Nation. Please follow us on Facebook and Twitter for the latest news and insights on your favorite Penn State athletics. For feedback, questions, concerns, or to apply for a writing position, please email us at [email protected] or direct message us on our social media. Also, be sure to check out our new site shop. It's due to your support that we can become one of the market's fastest-growing Penn State sports outlets!