Penn State football: Do the Lions' CFP hopes rest solely on Drew Allar?
Does Drew Allar need to meet or exceed expectations for Penn State football to make the College Football Playoff this season? For one national college football analyst, you can't have one without the other.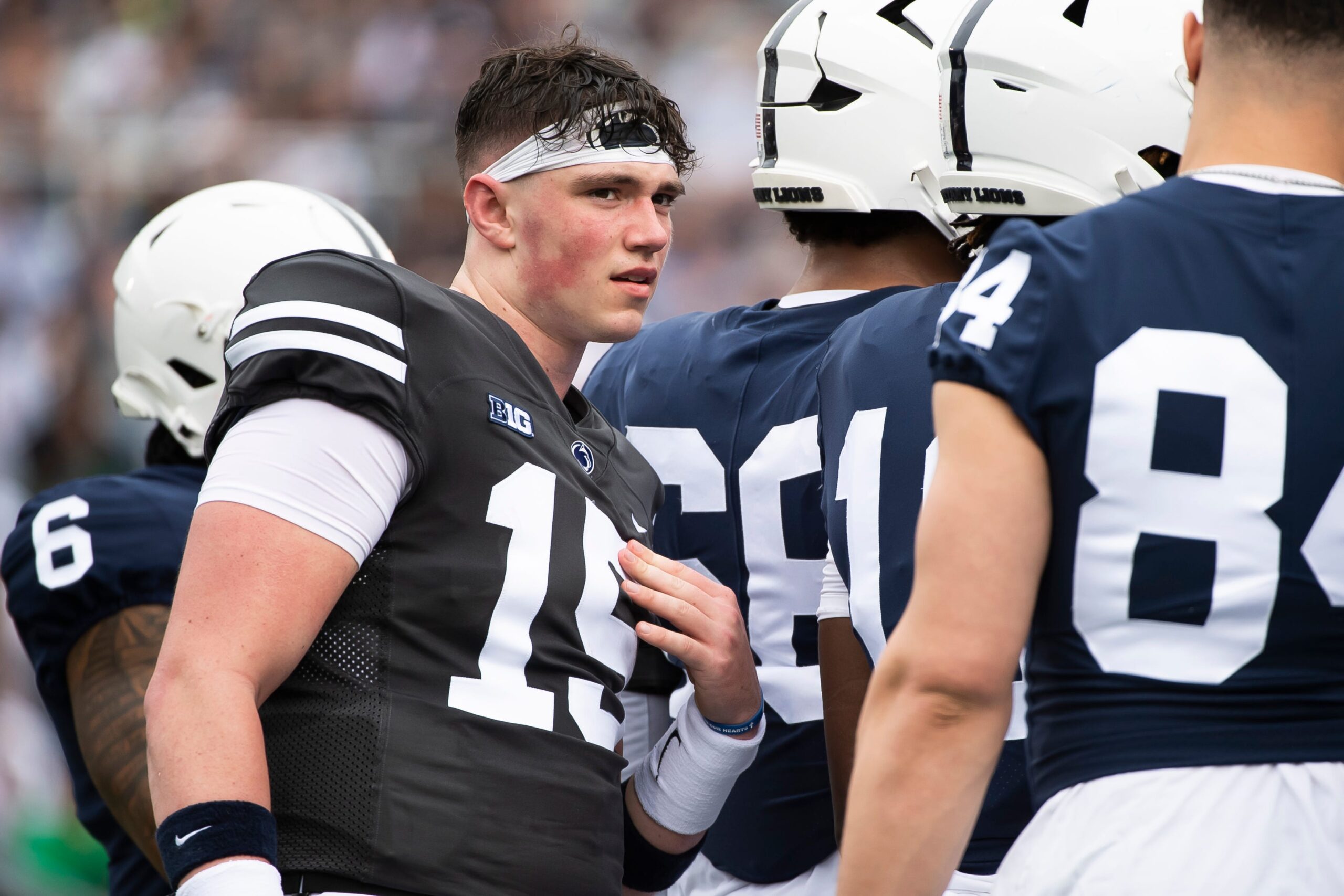 It's hard to think of many players who have come into Happy Valley with higher expectations than Drew Allar. The sophomore quarterback holds not only the expectations for himself as a former five-star but, in many ways, he carries the weight of the entire Penn State football program. Many Nittany Lions fans hope Allar is the long-awaited missing piece to put Penn State over the hump into the College Football Playoff.
But do Penn State's CFP hopes rest solely on Drew Allar? Recently, a national college football analyst took to the internet to break down the congruence between the Nittany Lions' and Drew Allar's ceilings in 2023.
J.D. PicKell discusses the expectations for Drew Allar and Penn State football in 2023
Last week, On3 national college football analyst J. D. PicKell discussed the correlation between Drew Allar's play and Penn State's postseason hopes on his podcast, The Hard Count. According to PicKell, no matter how you feel about Penn State football in 2023, your opinions are most likely dictated by one man — Drew Allar.
"[You think] Drew Allar's great, you think Penn State's gonna be great," PicKell said. "You think Penn State's gonna fall off significantly? You think something about Drew Allar that, I would say, the majority of the public probably doesn't think…But the naysayers and the people shouting for Penn State to be a College Football Playoff team, they're usually standing on the exact same point. They just fall different ways on it."
Penn State's naysayers and believers are standing on the same point. Regardless, Drew Allar has the tools to SLING it

Full video: https://t.co/R7WCaj5iMS | @PennStateOn3 pic.twitter.com/QFUCiWA3g8

— J.D. PicKell (@jdpickell) July 13, 2023
PicKell went on to explain that, personally, he thinks that Allar gives Penn State the ability to achieve much more than the team has previously. "Sean Clifford probably deserves a statue somewhere in State College," PicKell continued. "But as good as he was, and as much as he did for Penn State, there were some limitations that he had throwing the football. There were some limitations your offense had with him at quarterback. You don't have the limitations now with Drew Allar. Dude has a cannon for an arm and gives you the flexibility to be more dynamic."
Do the Nittany Lions' CFP hopes depend solely on Drew Allar?
So, is that as simple as the 2023 season is going to be? If Drew Allar meets or exceeds expectations, then Penn State becomes a CFP contender? If the first-year starting quarterback looks like, well, a first-year starter, then the Nittany Lions postseason hopes come crashing down? For me, this sentiment has a significant degree of truth, but the answer isn't exactly cut and dry.
Obviously, for Penn State to come remotely close to CFP contention, the entire team must play up to its potential. If the defense is giving up 418 yards on the ground as it did against Michigan last year, then that'll put the first-year starter in a difficult spot. I think there also is a path for Penn State to push for an 11-1 season with Allar serving largely as a game manager. After all, the Nittany Lions almost accomplished that last year with Sean Clifford as the quarterback.
But it's possible that Drew Allar does hold the keys to take Penn State football to another level this season. If he can make those two to three throws in a game that previous Penn State quarterbacks couldn't – not through any fault of their own – then that can alleviate the need for the rest of the team to play at a CFP level all the time. That, for me, unlocks the ability for an extremely good team to become a potentially elite one. And if that happens, we could be in for a special year in 2023. 
---
---
Thank you for reading Basic Blues Nation. Please follow us on Facebook and Twitter for the latest news and insights on your favorite Penn State athletics. For feedback, questions, concerns, or to apply for a writing position, please email us at [email protected] or direct message us on our social media. Also, be sure to check out our new site shop. It's due to your support that we can become one of the market's fastest-growing Penn State sports outlets!