Unlike years past, Penn State's offensive line is looking like a strength in 2023
Heading into 2023, Penn State's offensive line is looking better than ever.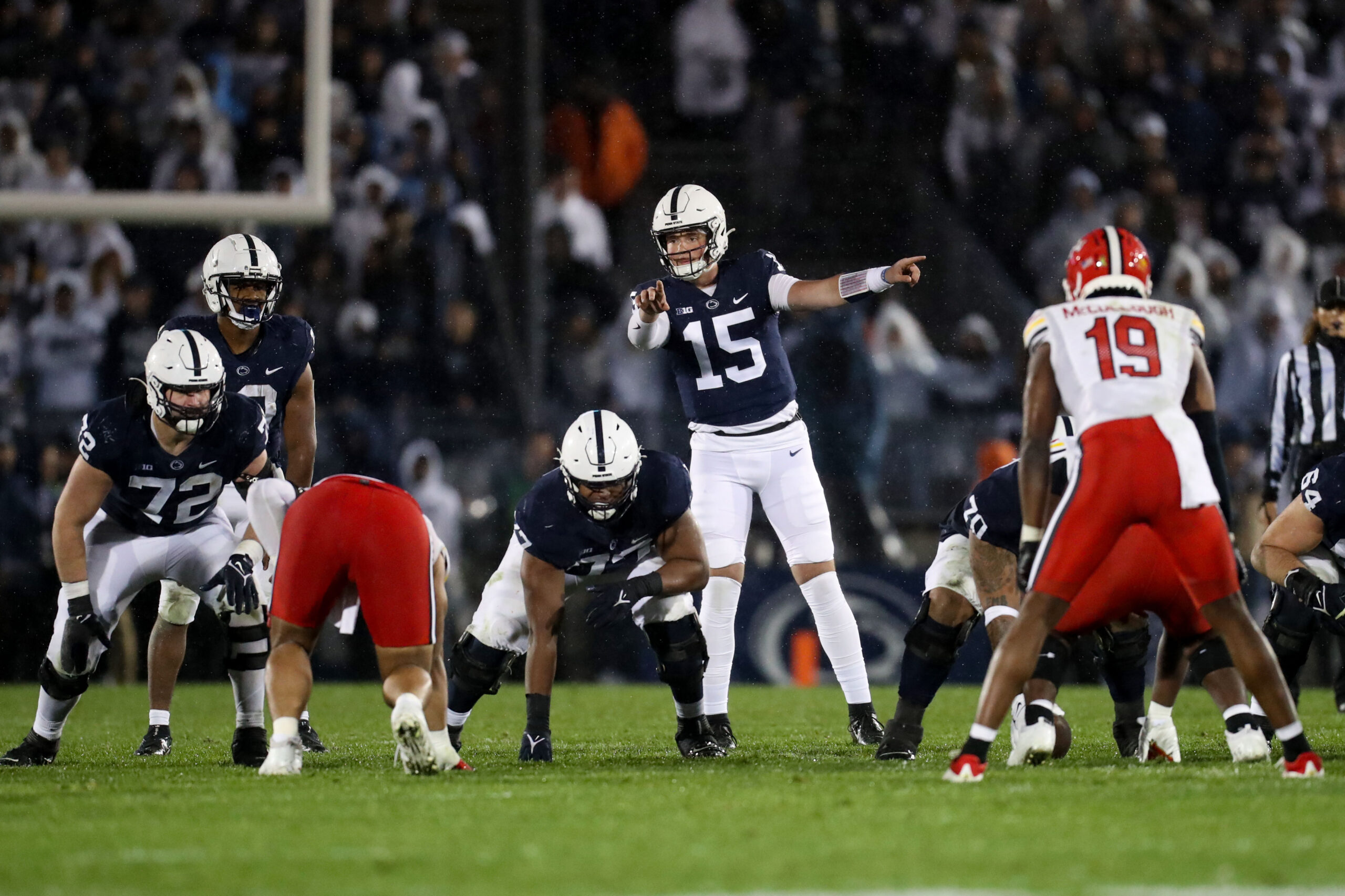 It has been quite some time since the Nittany Lions have seen strong offensive line play — not decent, not serviceable, but a legitimately strong offensive line. Last year, the offensive line took a solid step in the right direction and got back to being 'decent,' which was enough to help Penn State football finish the season 11-2 overall with a Rose Bowl win and a No. 7 final ranking. This year, Penn State's offensive line looks to take another step forward and boost the Nittany Lions to a Big Ten title and more.
Penn State's offensive line looking to take the next step
With a rising star under center and an elite running back duo in the backfield, Penn State's offensive line needs to step up now more than ever. A year ago, the Nittany Lions undoubtedly saw improvement; however, there were a few bumps in the road, such as Penn State's 41-17 loss in Ann Arbor when the offense seemed to crash and burn completely.
With Kaytron Allen and Nick Singleton both looking to improve heading into their second season in the Blue and White, the offensive line will be critical in Penn State's rushing attack; additionally, former five-star quarterback Drew Allar is heading into his first season as a starter, and he too will need time and protection to thrive as a Nittany Lion.
"I think it is going to be exciting to see how our offensive line develops and how we grow as a unit," senior offensive lineman Hunter Nourzad told the media on Tuesday evening. "You know, at [offensive line] it's more about how all five of us perform rather than just one of us, so we like to focus on that.
Development happens off the field, not on the field
Most of the work that Penn State's student-athletes put in goes unrecognized — what you see on the field is only the final result of countless hours of practice and hard work behind closed doors. From an on-field perspective, Penn State football is looking sharp, but the Nittany Lions are also performing well outside of the stadium.
"A big thing that I believe in is the way we act in unit meetings," Nourzad said. "It's interesting to see, I think that everybody is just thinking about plays on a deeper level. We can run a lot of our plays on a different front, we're constantly asking questions about 'when the defense does this, what's our check? What are we doing?' So seeing that, I think that the offensive line is operating at a really cerebral level."
Iron sharpens iron along Penn State's offensive line
One of the best traits that an offensive line can have is its depth. The college football season is long, and it can be brutal on your body in the Big Ten. Still, the Nittany Lions are in good hands regarding depth and competition along the offensive line this season; in fact, it is making the entire O-line room better ahead of the season.
"I think competition drives excellence," Nourzad said when asked about the competition and depth in this year's offensive line room. "I think that the competition in the room is making us all better as a whole, but it's not causing any strife between players. It's a super healthy environment where everybody is trying to help everybody — there is competition but it's good."
Additionally, according to Penn State star running back Kaytron Allen, Penn State's offensive line is the best in the nation.
"It's great having Olu [Fashanu] back," Kaytron Allen told reporters on Tuesday when asked about his offensive line. "Even the whole O-line, like I said, I think we have the best O-line in the country."
---
---
Thank you for reading Basic Blues Nation; we are proud to be a student and alumni-owned and operated media outlet covering all things Penn State athletics! Please follow us on Facebook and Twitter for the latest news and insights on your favorite Penn State teams. For feedback, questions, concerns, or to apply for a writing position, please email us at [email protected] or direct message us on our social media. It's due to your support that we can become one of the market's fastest-growing Penn State sports outlets!