Penn State lacrosse falls to Maryland in top-10 battle
The Nittany Lions rallied late but couldn't complete the upset.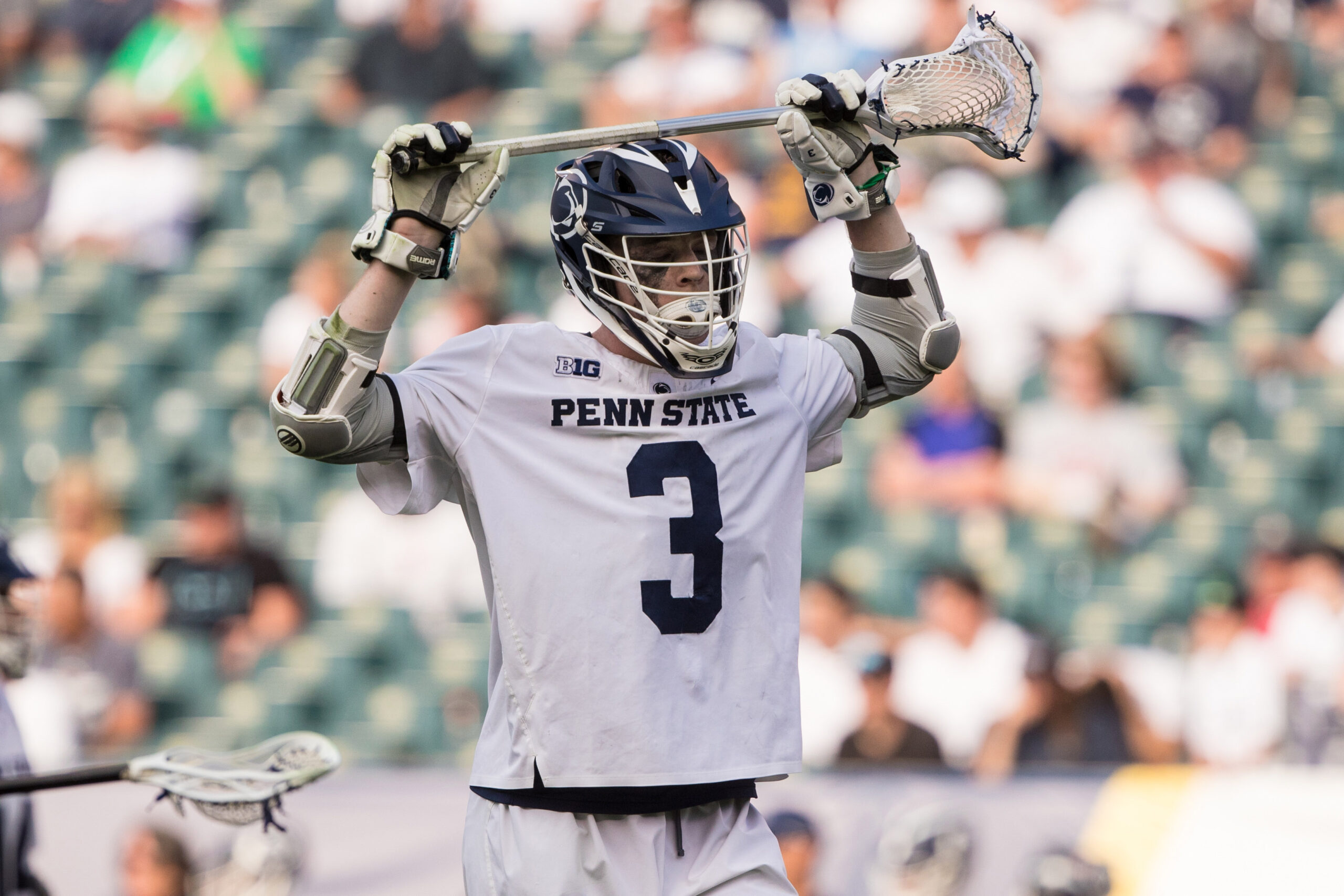 College Park, MD — Rivalries in sports are rarely as one-sided as Penn State and Maryland in men's lacrosse. Really, it depends on which school's records you consult to determine how one-sided the series is. Maryland lacrosse claims Penn State has beaten the Terrapins once. Penn State claims it has been victorious three times. Maryland claims their all-time record is 39-1, while Penn State lacrosse claims it is 43-3. Regardless of who is correct, it isn't pretty for the Nittany Lions. 
Penn State (5-2, 0-0 Big Ten) entered the game with a No. 9 ranking nationally after a three-week span that saw the Nittany Lions pick up three top-10 wins, all against Ivy League schools. They were ranked even higher before being upset by Marquette last weekend. 
Defending national champion Maryland (5-2, 0-0 Big Ten) is consistently one of the best programs in the country, playing in a state where lacrosse is a religion. The Terrapins maintain a No. 2 ranking after a win over No. 1 Virginia last weekend.
In like a Lion, out like a lamb
The top-10 matchup started very quickly for the Nittany Lions. On the first possession, sophomore attacker T.J. Malone fired one into the Maryland net to give Penn State a 1-0 lead. Maryland would get a long period of possession, but three saves from sophomore goaltender Jack Fracyon denied the Terrapins. 
A turnover on the next possession for Penn State would give Maryland their first score of the day, tying the game at one. Penn State couldn't find the net on their next possession, but Maryland could, giving the Terrapins a 2-1 lead. 
When Penn State got the ball back, they drew a penalty on a Maryland defense. This gave the Lions a 30-second man-up advantage, and graduate student attacker Jack Traynor was able to knot the game at two. 
This gave Penn State – and Traynor himself – some momentum. Traynor scored on the next possession to give the lead back to the Lions. Maryland was able to quickly answer to tie the game at three. They would add another quick goal less than 30 seconds later to give the Terps a 4-3 lead. Right before time expired on the quarter, Maryland added another one to obtain its first multi-goal lead of the night at 5-3. 
The Nittany Lions controlled play for the first few minutes, but Maryland's talent started to shine through. The Terps outshot the Nittany Lions 22-5 at the end of the first quarter.
Lions look to rebound
The second quarter picked up where the first left off. Just 12 seconds in, Maryland added another goal. That marked four goals in 68 seconds for Maryland. 
Immediately after, the Nittany Lions took a faceoff violation resulting in a man-up situation for Maryland. They quickly capitalized, making the lead 7-3. Penn State lacrosse coach Jeff Tambroni called a timeout to try and stem the momentum that Maryland had built. 
It didn't work. Right after the timeout, Maryland added another score. At this point, the rout was on for the Terrapins. 
Or so it seemed. The Nittany Lions would put a run of their own together with four unanswered goals to make it a 9-8 Maryland lead late in the first half, forcing the Terps to call a timeout. Maryland would end Penn State's run with under five seconds left in the half with a goal of their own, and the game headed to halftime with a score of 10-8 Maryland lacrosse.
Long scoring drought seals win for Maryland lacrosse
Penn State scored quickly into the second half, cutting the lead back to one. But Maryland soon answered on a delayed penalty, moving the score to 11-9. The remainder of the third quarter was shockingly uneventful for such a high-action sport like lacrosse. The game headed to the fourth quarter with Maryland leading 11-9.
Maryland would break a lengthy scoring drought about five minutes into the fourth quarter, giving them a three-goal cushion. Penn State could not solve the Terrapins' defense, but its own defense kept the game at arm's reach. The Lions even had a man-up opportunity but turned over the ball. 
That turnover resulted in another Maryland score, giving them a 13-9 lead with just over five minutes to play. That goal was the final nail in the coffin for Penn State's comeback hopes. Penn State would add a goal in garbage time, but it was too little and too late. Penn State fell by a final score of 13-10
Up next for Penn State lacrosse
Penn State heads home, where they have yet to lose, to face No. 19 Ohio State on April 2nd. The game will start at noon and will be nationally televised on ESPNU.
---
---
Thank you for reading Basic Blues Nation. Please follow us on Facebook and Twitter for the latest news and insights on your favorite Penn State athletics.
For feedback, questions, concerns, or to apply for a writing position, please email us at [email protected] or direct message us on our social media. It's due to your support that we can become one of the market's fastest-growing Penn State sports outlets!