Penn State hockey trounces Michigan Tech, advances to Regional Final
The Nittany Lions never left a doubt on Friday night.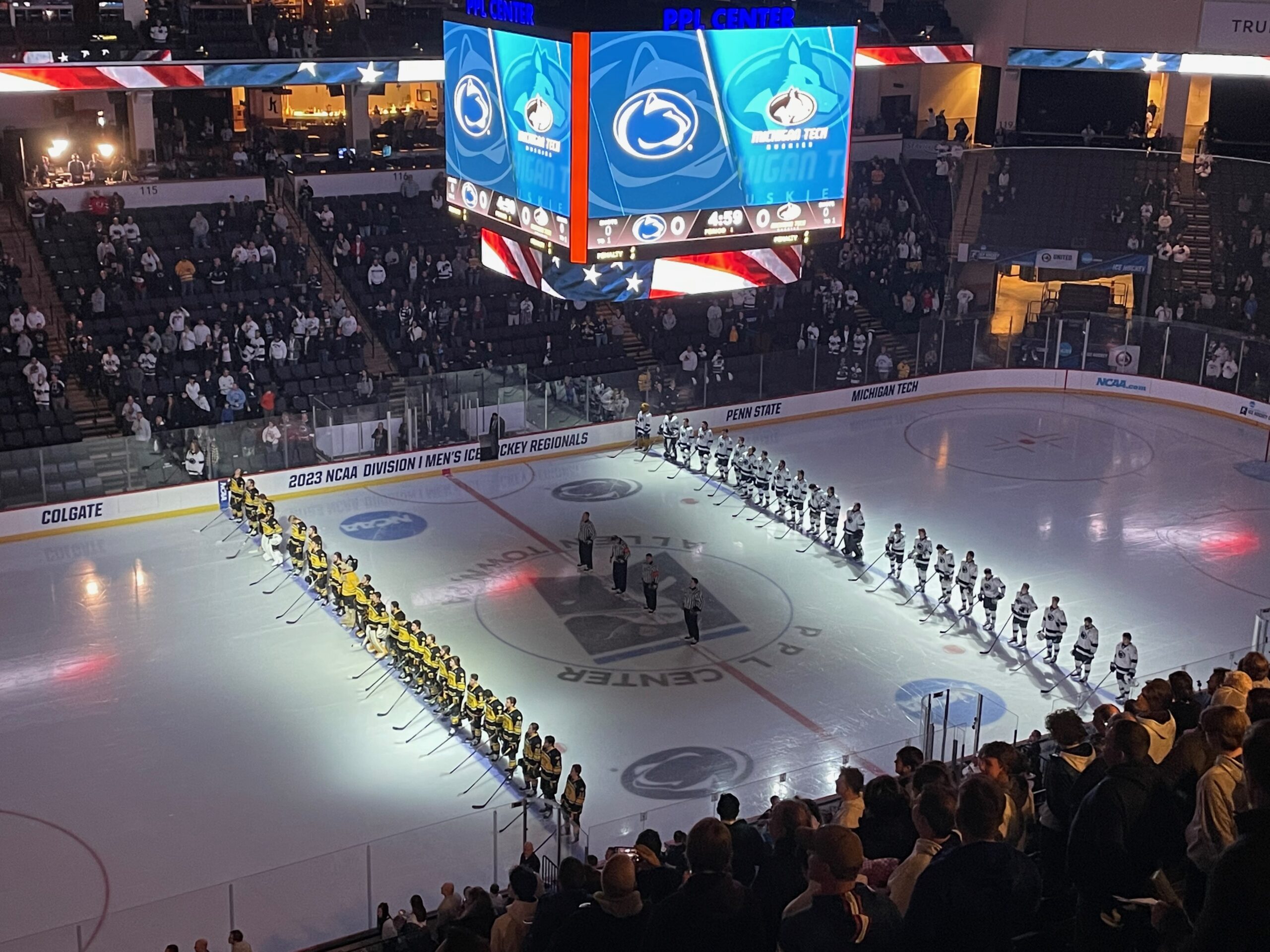 ALLENTOWN, PA — When coach Guy Gadowsky walked into the media room on Thursday for his press conference, he entered with a smile and a simple statement. "Just happy to be here," he said. His brief statement captured the emotion of the entire Penn State hockey fan base. They have been waiting a long time to fill the PPL Center in Allentown, PA. Five years to be exact. 
All clad in white, Penn State hockey fans showed up, even if they arrived late. This is normal for this tournament, which is often plagued by empty seats. Guy Gadowsky, who coached in NCAA tournaments while at Princeton, is still surprised by this support.
"I've been here over a decade now, and I still cannot get over how well Penn State University is loved and supported," he commented when asked about the big crowds. From the start, the crowd was ready to show that love and support to the Nittany Lions (21-15-1, 10-13-1 B1G). 
But so were Michigan Tech fans. In an impressive show of support, nearly 70 students embarked on a 20-hour bus ride from Michigan Tech's campus to Allentown. Their presence, combined with many students from the Roar Zone, Penn State's student section, led to a rowdy environment before the game started.
Lions find spark early
Then the puck dropped, and each fan base was waiting for their team to give them a reason to become unhinged. Penn State provided that reason. Just over two minutes into the game, junior forward Tyler Paquette snuck the puck in on a wrap-around to give the Nittany Lions a 1-0 lead. 
The goal gave the Lions a spark. They dominated the pace of play, recording the game's first seven shots. Michigan Tech (24-10-4, 15-7-4 CCHA) would eventually settle in and had some excellent chances to tie the game late in the period, if not for some heroic saves from junior goaltender Liam Souliere.
Penn State pours it on in the second
The second period started similarly to the first, with a lot of action in the Michigan Tech defensive zone. Penn State capitalized when freshman defenseman Jared Crespo's wrister found the top of the net for only his second collegiate goal, giving the Nittany Lions a 2-0 lead. 
Penn State would then try to pour it on. The Lions had multiple great scoring chances but could not capitalize on them. The Huskies would find their legs again, only to be robbed by Liam Souliere. Against the run of play, senior forward Ashton Calder caught Michigan Tech in a bad change, giving him a breakaway. He got the puck to his backhand and put it into the net for a 3-0 Nittany Lion lead.
And then Penn State tilted the ice again. A beautiful passing display led to a fourth Penn State goal when junior defenseman Christian Berger deposited one into the net. The Nittany Lions were content to take a 4-0 lead into the locker room. 
No mercy for Michigan Tech
Penn State was not content to sit on their lead, however. They came out firing in the third, resulting in senior forward Kevin Wall's goal just about three minutes into the period, allowing the lead to balloon to 5-0. 
Later in the period, junior forward Chase McLane lazily threw one at the net from a sharp angle, and it found its way in for the sixth tally of the night. It was just a night that the shots were falling for the Nittany Lions — against one of the nation's best goaltenders, nonetheless. 
After that, Penn State was just having fun out there. The Nittany Lions added two more goals from senior forward Connor McMenamin and sophomore forward Ryan Kirwan to make it an 8-0 victory. That marks the most goals the Nittany Lions have scored since December 2018, when they beat Notre Dame 9-1. 
Liam Souliere's 24 saves on 24 shots marked the first time a Penn State goalie recorded a shutout in the NCAA tournament. It was also the largest shutout victory in the entire NCAA Tournament history, which has been around since 1948.
Penn State hockey marches on
Friday marked Penn State hockey's first win in the NCAA tournament since 2017, when they beat Union 10-3. It's also only the second win in the tournament in the program's young history. Penn State will look to make history on Sunday as it hopes to advance to the program's first Frozen Four. 
The Lions will face either a red-hot Colgate team, winners of their last six, or a Michigan squad that has already beaten the Nittany Lions three times this year. The winner will head to Tampa the first week of April to compete in the Frozen Four. Puck drop for Sunday's game is at 6:30 p.m. at the PPL Center and will be nationally televised on ESPN2.
---
---
Thank you for reading Basic Blues Nation. Please follow us on Facebook and Twitter for the latest news and insights on your favorite Penn State athletics.
For feedback, questions, concerns, or to apply for a writing position, please email us at [email protected] or direct message us on our social media. It's due to your support that we can become one of the market's fastest-growing Penn State sports outlets!