Penn State football star wideout looking to become one of the Big Ten's best in 2023
Penn State football star KeAndre Lambert-Smith needs to be one of the best in the nation this fall.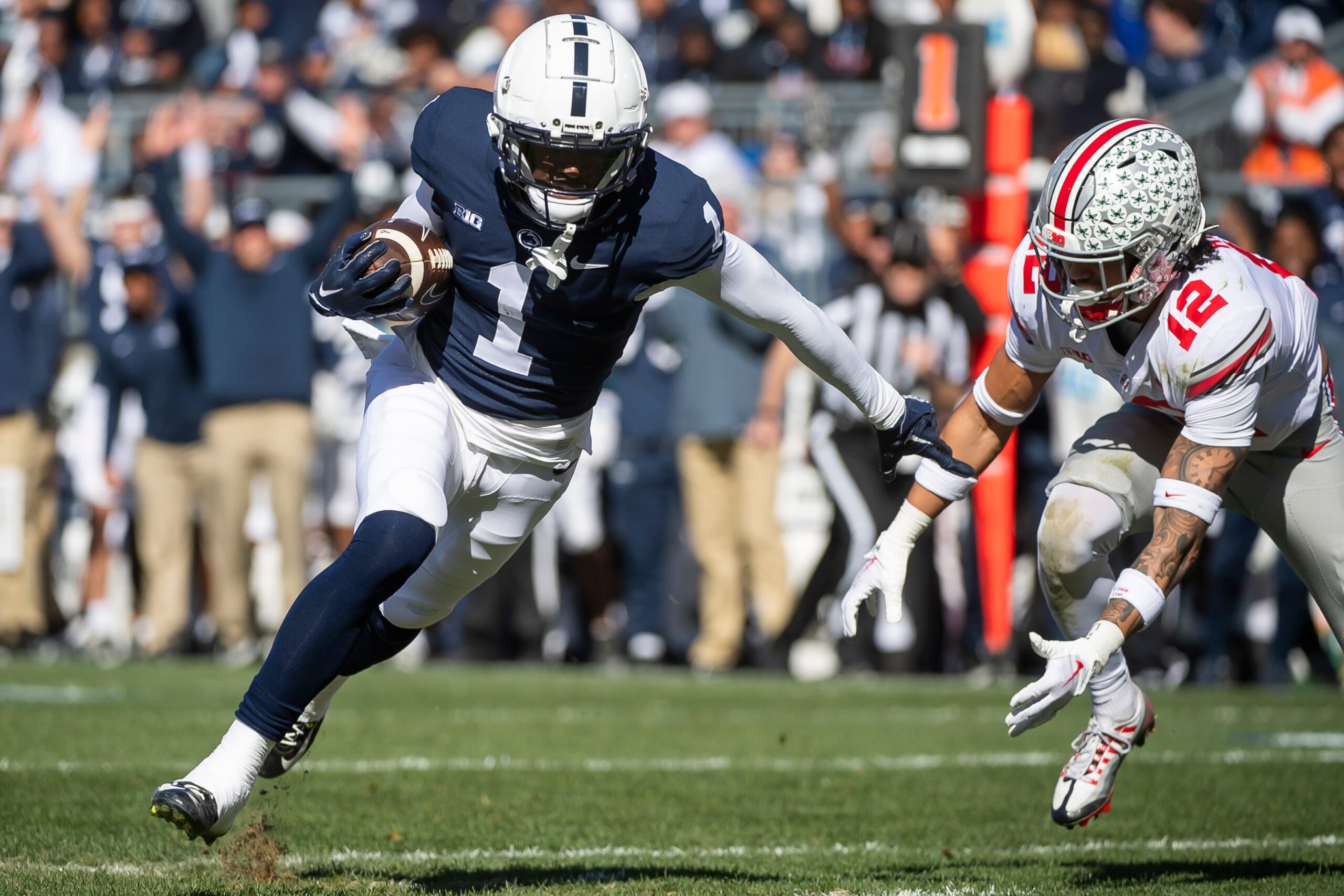 The Nittany Lions' 2023 offense is looking elite right now, with loads of talent from the offensive line to the backfield. Drew Allar, a former five-star quarterback, is thought to be the future of the football program. However, the Lions are losing their top three pass-catchers from last year and must replace that production ahead of the coming season. Penn State football star wideout KeAndre Lambert-Smith is going to need to step up in a big way; Smith needs to not only be WR1 for Penn State but also a top wideout in the Big Ten conference.
Penn State football star wideout needs to be a top receiver in the Big Ten conference
In recent years, standout wide receivers like Parker Washington and Jahan Dotson have established themselves as some of the most impressive natural pass-catchers in the country. Regardless of who was leading the offense, whether it was Sean Clifford, Will Levis, or someone else, the Nittany Lions always boasted elite receiving threats that posed challenges for opposing defenses.
As the upcoming season approaches, the Penn State football wide receivers room has the potential to maintain the same level of excellence as in previous years. However, there is a significant amount of experience and talent that needs to be replaced. Throughout this spring, one constant has been the recognition of the immense talent possessed by KeAndre Lambert-Smith, the star wideout of Penn State football and the team's current WR1.
Nevertheless, according to head coach James Franklin, being the top receiving threat for Penn State is not sufficient. Lambert-Smith must strive to be one of the best wide receivers in the highly competitive Big Ten conference if the Nittany Lions' offense intends to remain a force to be reckoned with.
"He's been really good so far this spring," Franklin said. "We need him to be THE guy, a true number one [receiver], not just at Penn State but really in the [Big Ten] and a guy that people are talking about nationally."
30 days until Penn State Football!

It would be great to see KeAndre Lambert-Smith to make more of these explosive plays in 2022. He has all of the tools to be a great WR, I think he will see plenty of opportunities this season. ? pic.twitter.com/OJnjHVn0UP

— The Basic Blues Podcast (@BasicBluesPod) August 2, 2022
The Nittany Lions' star wideout knows that expectations are high — no one wants to excel more than the players themselves
Last season, Penn State football had one of its most remarkable campaigns in recent history, culminating in an impressive 11-2 record, a top 10 finish, and a victorious New Year's Six bowl appearance. The Nittany Lions secured a triumph over No. 8 Utah, the PAC-12 Champions, in the Rose Bowl, marking their second-ever victory in this prestigious bowl game.
However, despite the tremendous success achieved by Penn State in 2022, star wide receiver KeAndre Lambert-Smith recognizes that there is still untapped potential. Lambert-Smith and his team understand that the expectations for the upcoming fall season are lofty, and rightfully so. They are fully aware of the high bar set for them and are determined to surpass it.
"I feel like we're all pretty confident," Lambert-Smith said. "Not satisfied with the Rose Bowl win last year, you know, there's more in the tank. More that we can accomplish from that — I mean, I feel like that was good to show us where we can get, but, you know, there's more work to be done.
"We got guys in there willing to compete, you know, hard workers coming every day with the same mindset. Once we fully all get onboard, I feel like our [receiver] room can be the best in the country."
Penn State wide receiver KeAndre Lambert-Smith is practicing in uniform pic.twitter.com/pTzhxKB0LK

— Zach (@zachallen0) October 12, 2022
New quarterback? Not a problem for Penn State
Throughout the last four seasons, Sean Clifford has held the role of starting quarterback for the Penn State Nittany Lions. However, this coming fall marks a significant change as the Lions will have a new signal-caller leading the team: Drew Allar, a highly-touted former five-star quarterback. This will be the first time since 2018 that a quarterback with a different last name assumes the starting position.
Despite his status as a rising sophomore, Allar demonstrated immense potential as a true freshman last season, showcasing a remarkably high skill ceiling. While he may lack experience due to his youth, KeAndre Lambert-Smith affirms that Allar exudes confidence and readiness for the challenges ahead.
"I haven't actually had that conversation with him [about the expectations]. But Drew is a pretty calm guy. He doesn't seem like he feels too much pressure," Lambert-Smith said in media availability following the Blue-White Game. "…we have conversations about, like, what the offense needs to do better, or we need to get up here and do this, do that…I feel like we have good dialogue, but there's never a conversation to your point specifically."
In the upcoming season, KeAndre Lambert-Smith, the standout wide receiver of Penn State football, along with the revamped Nittany Lion offense, aims to break through the team's previous limitations. To propel the Lions forward, Lambert-Smith needs to establish himself as one of the premier receivers in the Big Ten, and potentially even among the nation's finest.
.@seancliff14's 88yd touchdown pass to KeAndre Lambert-Smith is the longest pass in @rosebowlgame history pic.twitter.com/M3dOI9pwSu

— Penn State Nittany Lions (@PennStateRivals) January 3, 2023
---
---
Thank you for reading Basic Blues Nation. Please follow us on Facebook and Twitter for the latest news and insights on your favorite Penn State athletics. For feedback, questions, concerns, or to apply for a writing position, please email us at [email protected] or direct message us on our social media. It's due to your support that we can become one of the market's fastest-growing Penn State sports outlets!