Penn State football recruiting: April success leaves Nittany Lions in a desirable spot
The Nittany Lions' class is one of the best in the nation right now.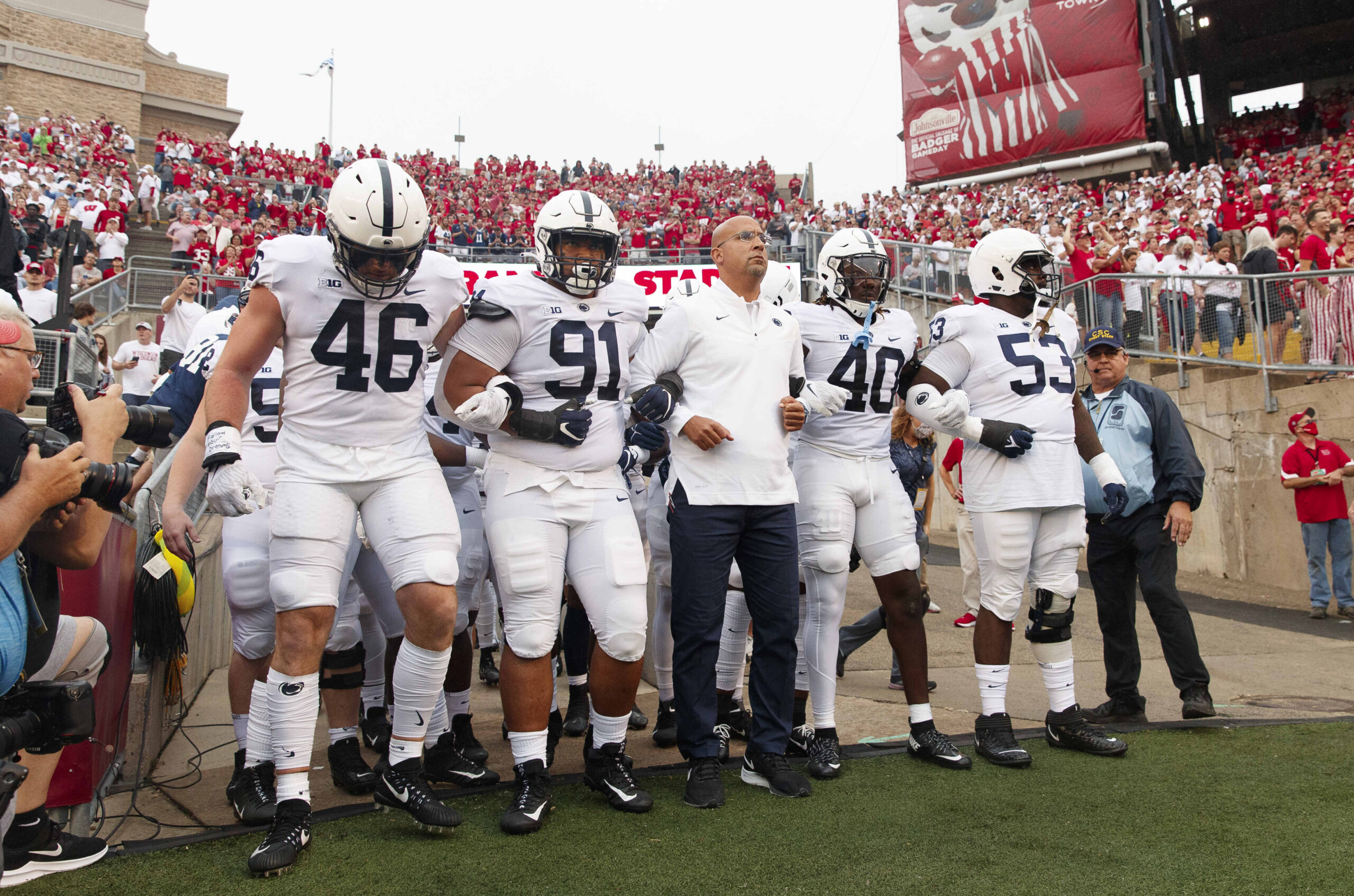 The Penn State football recruiting class for 2024 is off to a strong start. As of May 1st, James Franklin and his staff have secured 13 hard commits, placing the class in the top-5 nationally and top-3 in the Big Ten. The early success is encouraging, but the team must continue to work hard to maintain their position. With a promising group of recruits already committed, the class is well-positioned to defend its ranking and potentially climb even higher.
Penn State football recruiting is taking off in the 2024 recruiting class
Penn State football's 2024 recruiting class is off to an impressive start with 13 hard commits, including eight four-stars and five three-stars. The Nittany Lions are also in the running for several other highly-ranked targets. However, for Penn State, the ultimate goal is to bring home a national title, something they haven't accomplished since 1986. The blue-chip recruits who have committed to Happy Valley are aware of this goal, and from the looks of things, it is a major factor in the Lions' recruiting success.
While May is typically a quieter month for college football recruiting, Penn State is not letting up. They have several high-profile visitors lined up for June, and they are also looking to secure more commitments before then.
Being in the top-5 nationally is a positive sign for Penn State, but the Big Ten competition is fierce, with Michigan and Ohio State currently ranked higher. If the Nittany Lions want to compete within the conference, their focus should be on their Big Ten ranking. Nevertheless, it is still early in the recruiting process, and Penn State has plenty of time to improve their ranking. Currently, they trail only LSU, Georgia, Michigan, and Ohio State, and a strong showing over the summer could help them move up the rankings.
Top commits so far
Penn State football has already secured 13 hard commits in their 2024 recruiting class, with the majority being four-star prospects, including some of the top-ranked recruits in the region. Three of the top-four recruits in the state of Wisconsin have also committed to the Nittany Lions, all of whom are four-stars and expected to make a significant impact on the field.
It's evident that Penn State is prioritizing the ground game in their 2024 recruiting class, with their top commits all being offensive linemen or running backs. Quinton Martin, the No. 1 recruit in Pennsylvania and the No. 34 player nationally, leads the class and has the potential to become a five-star recruit. Offensive guards Donovan Harbour (WI) and Cooper Cousins (PA) and cornerback Jon Mitchell (FL) are also ranked in the top 200 nationally.
The most recent addition to the class, four-star running back Corey Smith (WI), is an exciting prospect who should complement Martin in the backfield. The Nittany Lions' current running back duo of Kaytron Allen and Nick Singleton could also provide a blueprint for Smith and Martin.
Although the 2024 recruiting class is still in its early stages, Penn State football has made an impressive start on the recruiting trail and is currently is a desirable position heading into the month of May.
---
---
Thank you for reading Basic Blues Nation. Please follow us on Facebook and Twitter for the latest news and insights on your favorite Penn State athletics. For feedback, questions, concerns, or to apply for a writing position, please email us at [email protected] or direct message us on our social media. It's due to your support that we can become one of the market's fastest-growing Penn State sports outlets!