Penn State football: Nick Singleton cracks top 20 in current NIL evaluation rankings
Penn State football RB Nick Singleton is on the rise in the newest NIL rankings update.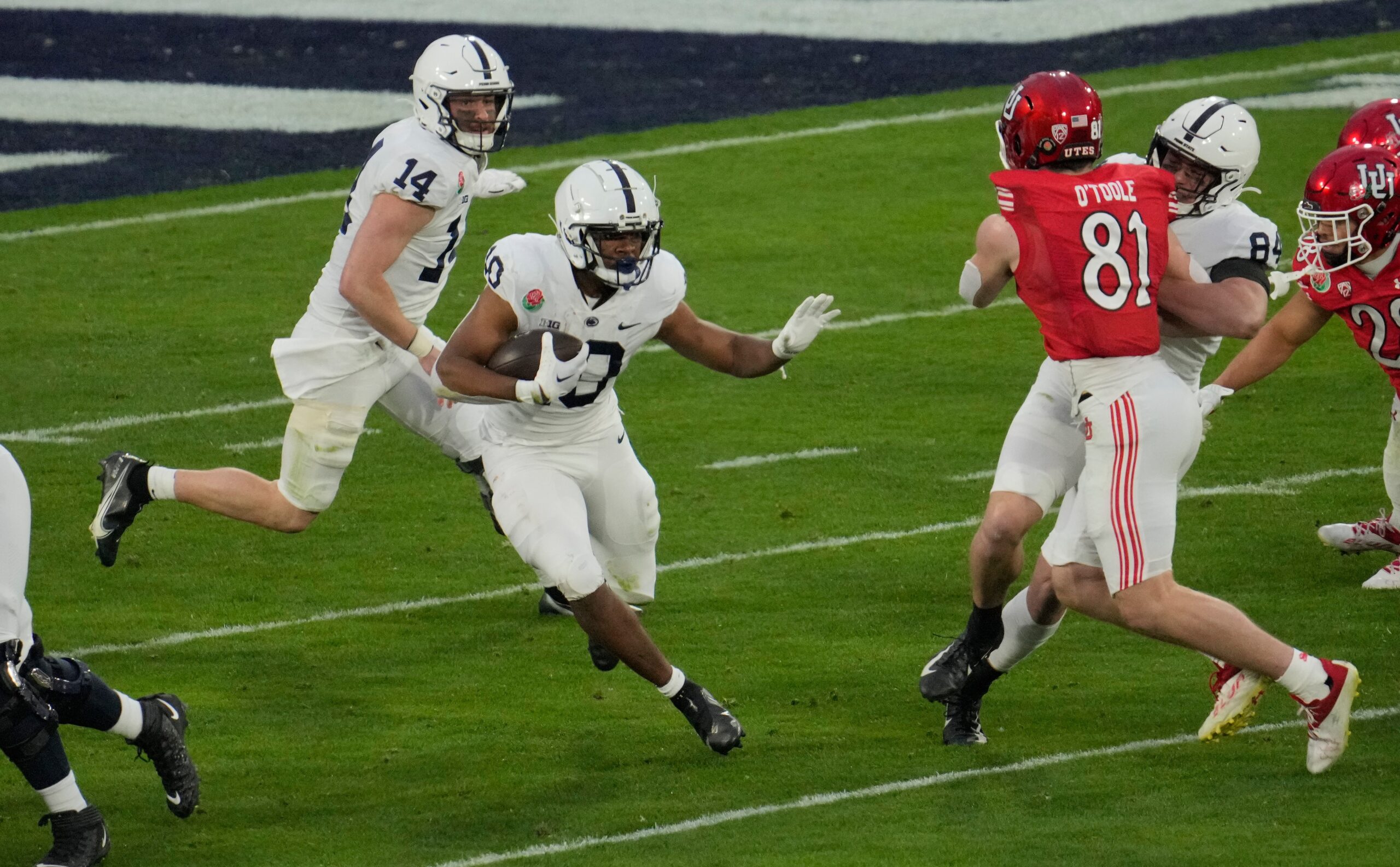 Penn State football is gaining momentum in the world of NIL, particularly with some of the Nittany Lions' younger stars. One notable player is Nick Singleton, a true sophomore running back, who recently secured a spot in the top 20 of the current college football NIL rankings by ON3 Sports.
Penn State football running back Nick Singleton breaks top 20 in newest NIL rankings
The ON3 college football NIL rankings reveal that Penn State football's star running back, Nick Singleton, is once again making strides. This time, Singleton, an impressive true sophomore standout for the Nittany Lions, has secured a spot among the nation's top 20 players.
Singleton holds the No. 20 position among active college football players, which is undeniably impressive. Currently, his NIL evaluation stands at $880,000, reflecting his value as a former five-star Nittany Lions commit. Moreover, Singleton's remarkable presence on social media has earned him an impressive following of 46,000; he is also ranked No. 30 in the overall NIL 100, a comprehensive list that includes athletes from all Division 1 college sports.
At present, Nick Singleton has two active NIL deals reported on his profile. His most recent signing is with Philadelphia Sportscard and Memorabilia Show, while his other deal is with West Shore Home.
Singleton on the rise in all aspects of college football
In addition to his remarkable NIL evaluation, Singleton is undeniably one of the premier players in college football. As he enters his second year with the Nittany Lions, the true sophomore carries lofty expectations, and rightfully so.
After an eventful freshman season, Nick Singleton showcased his remarkable skills on the field. Carrying the ball 156 times, he amassed an impressive total of 1,061 yards and scored 12 touchdowns.
Notably, he achieved a significant milestone by becoming the first running back since Keyvone Lee in 2020 to surpass 100 yards in a single game. Furthermore, Singleton joined the ranks of exceptional Penn State running backs, such as Mile Sanders in 2018, as he surpassed 1,000 rushing yards in a single season.
Singleton's stellar performances played a vital role in Penn State's successful 11-2 season. His exceptional contributions helped propel the team to victory in the Rose Bowl, where they triumphed over the eighth-ranked Utah Utes — the defending PAC-12 Champions. This achievement culminated in a top-10 finish for Penn State, leaving them eager for even greater accomplishments in the upcoming season.
As the new season approaches, Singleton is driven by his desire for further success. With his determination and talent, he aims to exceed his previous achievements and elevate Penn State's offense to new heights. The stage is set for Singleton to continue making a significant impact on the team, and his aspirations extend beyond what he has already accomplished.
---
---
Thank you for reading Basic Blues Nation. Please follow us on Facebook and Twitter for the latest news and insights on your favorite Penn State athletics. For feedback, questions, concerns, or to apply for a writing position, please email us at [email protected] or direct message us on our social media. It's due to your support that we can become one of the market's fastest-growing Penn State sports outlets!