Penn State football: Where are they now – Geno Lewis
Today, we look back on the playing career and legacy of former Penn State football wide receiver Geno Lewis.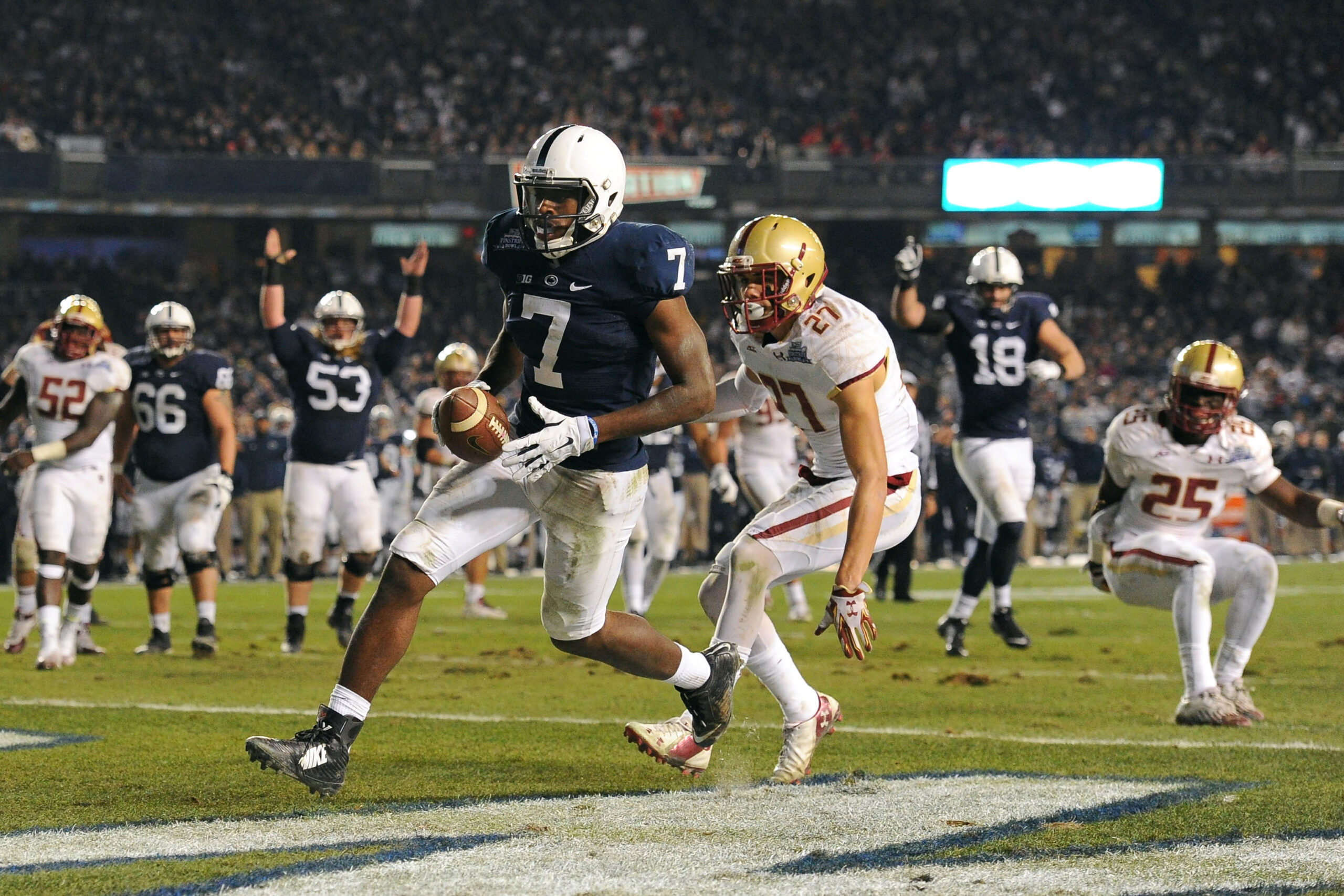 The years 2012 through 2015 are blocked out of the minds of Penn State football fans. It's not a product of a poor fanbase. In fact, the fanbase might have been more devout to their team than ever. These seasons of Penn State football were among the lowest in Happy Valley.
Longtime, multi-national championship-winning head coach Joe Paterno was fired during the 2011 football season. This was in the wake of the Jerry Sandusky sex abuse scandal. It was the first time there was some shame attached to being a Penn State football fan. The program was one of the best in all of college football. Suddenly, people were making fun of your fandom of the school and its football program. 
Before all of this happened, Penn State had some recent success. From 2005-2010, Penn State did not have a losing season. Three of those seasons were 11-win seasons. Paterno was 8-1 in the first nine games of 2011. Once fired, the Nittany Lions lost three out of their last four for interim coach Tom Bradley. 
Despite recent success, the program was in turmoil. Sanctions were placed on the Nittany Lions: a hefty fine, reduced scholarships to 65 (from 85), and a postseason ban. It was also the first time that Joe Paterno had not been head coach since 1966 and not on the coaching staff for the first time since 1950. Penn State would need to find a new head coach.
Penn State decided to go in the direction of Bill O'Brien. O'Brien was the offensive coordinator and quarterbacks coach of the New England Patriots. O'Brien was just what Penn State needed. The new head coach made a very infamous decision in Penn State history. He decided to put the names on the back of his players' jerseys. This was to show the names of the student-athletes who chose to stay at Penn State in the wake of the scandal. 
One of the players whose name would become known to every Penn State football fan was Geno Lewis. 
Geno Lewis shines early
Eugene "Geno" Lewis was the highest-ranked commitment from Pennsylvania to Penn State's 2012 recruiting class. The 6-1, 205-pound Lewis played his high school ball at Wyoming Valley West High School in Plymouth, PA. Lewis, a four-star wide receiver, originally committed to play at Penn State under Joe Paterno. O'Brien was able to retain Lewis through the coaching transition. 
Like many other college athletes, Lewis redshirted his first year. Since this was before the updated redshirt rule, Lewis could not play in any games during the 2012 season unless he wanted to burn his redshirt. The 2013 season was significant for a lot of Penn State's freshmen. Five-star quarterback Christian Hackenberg was good enough to play right away. Top 50 tight end Adam Breneman was also going to play right away. Geno Lewis was also able to make his Penn State debut. Lewis played in all 12 games and started four. He caught 18 passes, had 234 receiving yards, and three touchdowns. The talented freshman receiver finished fourth on the team in receiving yards. 
Geno Lewis broke out in his next season. There was definitely not a sophomore slump for number seven. In year two, Lewis was second on the team with 55 catches for 751 yards and two touchdowns. Lewis was tied for eighth in the Big Ten with 4.2 receptions per game. 
But the 2015 season was very different for Geno Lewis. Despite appearing in all 13 games, Lewis only had three starts. The emergence of Chris Godwin and DaeSean Hamilton took away targets from Lewis. Ultimately, Lewis only caught 17 passes for 196 yards and 3 touchdowns. After the 2015 season, Lewis decided it was in his best interest to transfer elsewhere after graduating from Penn State. Unbeknownst to Lewis, Penn State would turn around two 7-6 seasons in a row into a Big Ten Championship and a Rose Bowl appearance. 
What happened to Lewis after he left Happy Valley?
Geno Lewis took his talents to Oklahoma for the 2016 season. Lewis was third on the Sooners in receptions in his lone season in crimson and white. He finished the year with 32 receptions for 388 yards and 2 touchdowns. Lewis was a solid weapon for Oklahoma quarterback Baker Mayfield. 
Despite testing pretty well at Oklahoma's Pro Day in 2017, Lewis went undrafted. Lewis joined the Cincinnati Bengals and Seattle Seahawks for their rookie minicamp. In June of 2017, Lewis signed with the Montreal Alouettes of the CFL. Lewis took the ball and ran.
Since signing with the Alouettes, Lewis has been one of the best wide receivers in the CFL. From 2017-2022, Lewis caught 276 passes for 4347 yards and 28 TDs. This includes his 2022 campaign, in which he caught 91 passes for 1,303 yards and 10 TDs. His 91 receptions were second in the league, and his receiving yards and touchdowns were good for third in the league. Lewis was also effective in the postseason, recording 12 receptions for 181 yards. His 2022 campaign saw him winning the East Division's Most Outstanding Player. 
After the 2022 season, Geno Lewis became a free agent. Lewis signed a 2-year contract with the Edmonton Elks at $320,000 per season. This made Lewis the highest-paid non-quarterback in the CFL. Lewis' 2023 campaign is not what he had expected after his best season to date. So far, Lewis has just 11 catches for 200 yards and a touchdown. This was due to a knee injury that has Lewis on the 6-game injured list. 
What is Geno Lewis' Penn State football legacy?
People tend to forget just how good Geno Lewis was at Penn State. The talented wide receiver was overshadowed later in his career by guys who would ultimately be on NFL rosters. Geno Lewis' 2014 season was able to get the Nittany Lions through a rough patch in their history. In James Franklin's first season, he needed a rock at wide receiver. He got one in Geno Lewis.
It was in Lewis's best interest to transfer with the talent Franklin could bring in at wide receiver. Fans should not forget the reliable weapon Geno Lewis was for Christian Hackenberg. Even though his career in blue and white was shortened, Lewis was able to get the Nittany Lions through a dark time. 
Geno Lewis' success in the CFL does come as somewhat of a surprise. But people forget just how good Lewis was for Penn State in 2015. The talent was all there. Penn State fans should celebrate his success in the CFL and remember his commitment to a program that was at its lowest.  
---
---
Thank you for reading Basic Blues Nation. Please follow us on Facebook and Twitter for the latest news and insights on your favorite Penn State athletics. For feedback, questions, concerns, or to apply for a writing position, please email us at [email protected] or direct message us on our social media. Also, be sure to check out our new site shop. It's due to your support that we can become one of the market's fastest-growing Penn State sports outlets!