What did Drew Allar learn about himself after his first major test?
After two stellar starts, Penn State QB Drew Allar returned to human form against Illinois Saturday. Following the game, Allar told us what he learned about himself and the Penn State offense during his first road test.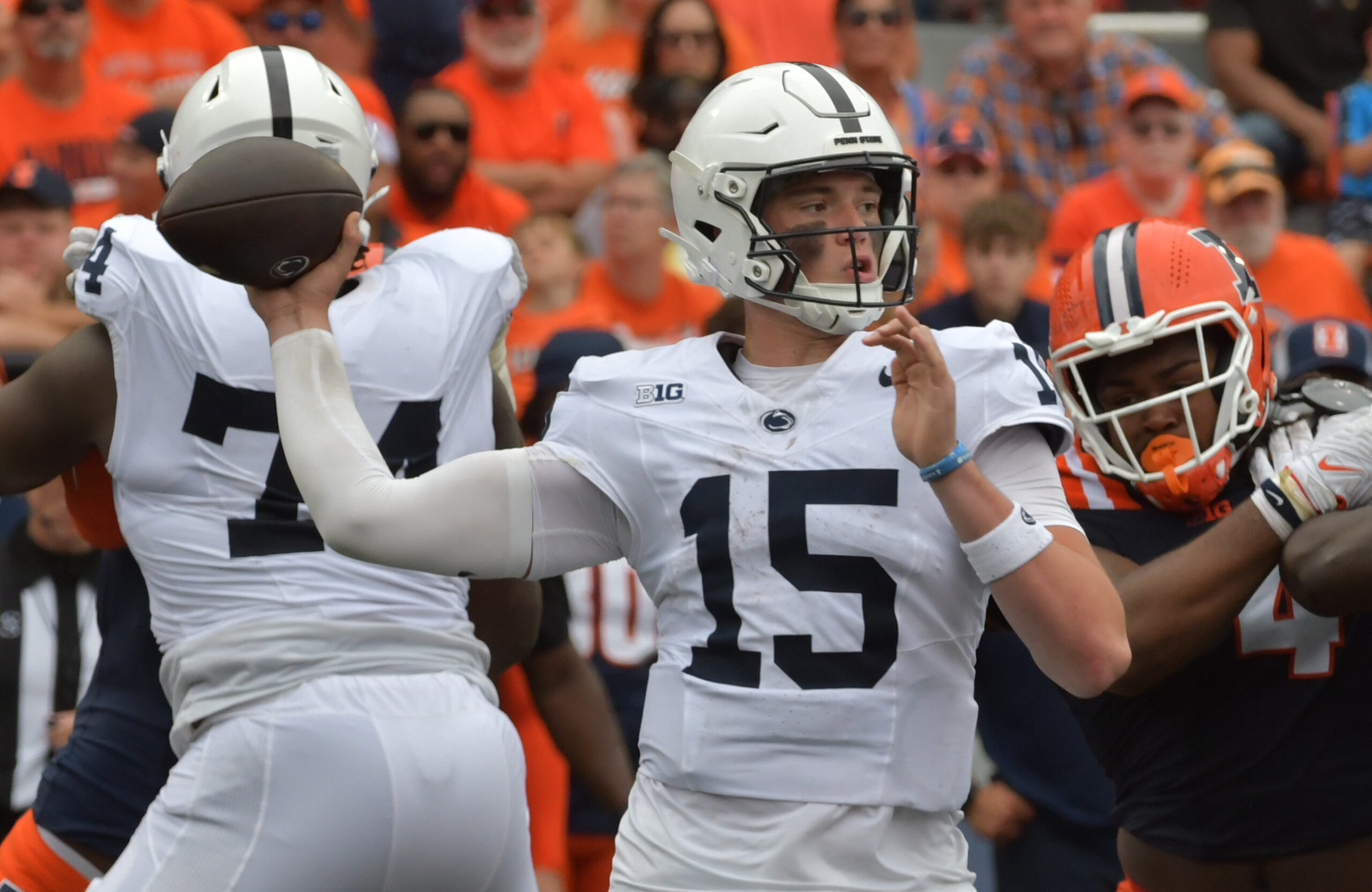 On Saturday, Penn State football traveled to Illinois for its first road game of the year. Not only was this the first time away from Beaver Stadium for this 2023 team, but it was also the first time new Penn State QB Drew Allar made a start on the road. It was not the smoothest of games from Allar or the Nittany Lions. Still, Penn State got out of Champaign with a comfortable 30-13 victory.
After living up to his billing as a former five-star prospect, Allar looked more human on Saturday afternoon. This return back to earth was bound to happen eventually. The important thing will be to watch how Allar grows from this experience. Following today's win, Penn State QB Drew Allar talked about his performance, and what he will take away from this game moving forward.
Penn State offense struggles early in win at Illinois
It looked like the early 11 a.m. local kickoff impacted the Penn State offense at many points throughout today's game. Although the Nittany Lions put up 16 points and almost 200 yards in the first half, the offense struggled to be effective early. The Penn State defense forced turnovers on three consecutive Illini series, but the offense could only mount two field goals before Kaytron Allen finally reached the end zone.
For Penn State QB Drew Allar, Saturday's game was a return to reality. After completing nearly 80% of his passes for 529 yards and four touchdowns coming into this matchup, Allar's stat line was much more humbling against Illinois. Allar finished the day going 16-33 for 208 yards and no scores.
Allar maintains his composure despite pressure
While it may not have been the superhuman-like performance that we have come to expect after two games, it was by no means a bad start for Penn State QB Drew Allar. The sophomore finished the day with no turnovers, a critically important stat for Penn State football in a Big Ten road game.
Allar also led the offense to scoring drives when the Nittany Lions needed it most. On a pass that put him over the 1,000-yard career mark, Allar found Liam Clifford down the sideline in the closing seconds of the first half to set up a Penn State field goal. He then spearheaded a seven-play, 70-yard touchdown drive in the third quarter to put the game away.
After today's game, Nittany Lion RB Nicholas Singleton spoke about how Allar maintained his composure despite things not necessarily going Penn State's way on offense.
"Yeah, he handled it really well," Singelton said. "Drew, obviously, is a mature player. He's a good quarterback. You give credit to Illinois; their defense is really good. They were able to stop the run a little bit…Their corners are really good. They were able to bat down the balls…In the second half, we just knew we had to make adjustments. Once we did that, we just went out and did it."
Penn State QB Drew Allar details what he learned from first major test as the starter
Overall, Nittany Lions fans likely had heartburn watching Penn State's win over Illinois. But when it comes down to it, the game was a hard-fought win on the road against a well-respected coach in Bret Bielema and a historically strong defense.
Following the victory, Penn State QB Drew Allar spoke to the media about what he learned from Saturday's game. According to the sophomore QB, the Nittany Lions got the only stat that matters – a win.
"By no means was it perfect," Allar said. "Especially offensively, by no means was it perfect. But at the day, we're going home with a 'W," and that's all that matters to us. We talk as an offense; the only stat we want to lead the nation in is in wins."
Allar then continued to explain where he thought the Penn State offense could improve coming out of Week 3. While he appreciated the support the offense received from the Nittany Lion defense and special teams, Allar recognized he'll return the favor soon.
"Obviously, there's going to be a ton of stuff to clean up from the game," he said. "But I mean, the defense stepped up huge…We got to do a better job of converting those turnovers into points. Special teams stepped up when we couldn't punch it into the endzone. Overall, the special teams and the defense had our backs today, and they know we're gonna have their backs in the future."
Penn State football returns home next weekend to take on Iowa in the annual White Out game.
---
---
Thank you for reading Basic Blues Nation. Please follow us on Facebook and Twitter for the latest news and insights on your favorite Penn State athletics. For feedback, questions, concerns, or to apply for a writing position, please email us at [email protected] or direct message us on our social media. Also, be sure to check out our new site shop. It's due to your support that we can become one of the market's fastest-growing Penn State sports outlets!