OPINION: Can Penn State be successful in the future of college football?
Is it time for a reality check for Penn State fans as we stand on the cusp of the next generation of college football?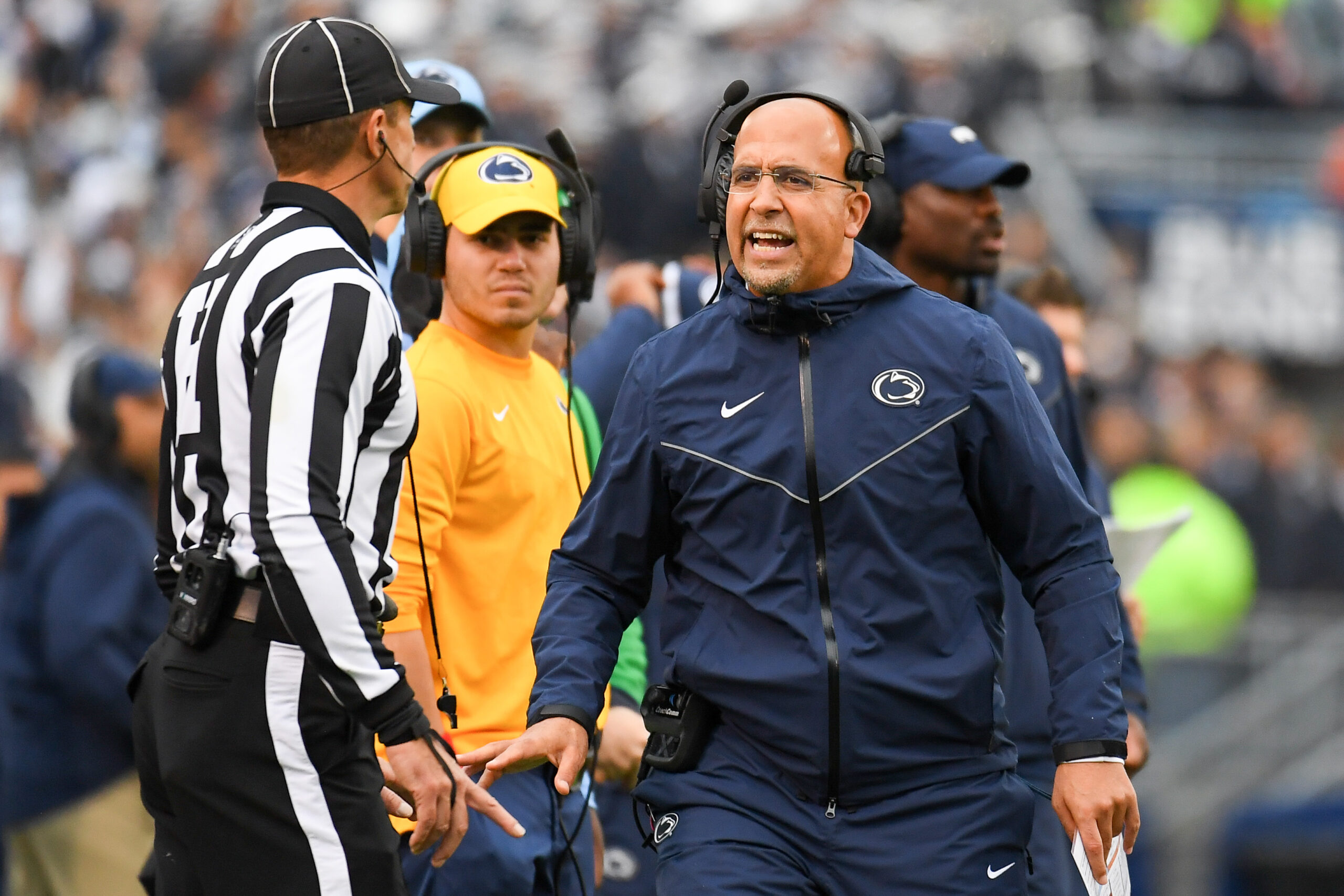 Editor's note: This is an opinion piece and reflects the thoughts and opinions of the author.
As conference realignment takes hold of college football, how have the expectations for Penn State football changed? Adding USC, UCLA, Oregon, and Washington to the conference will almost certainly make the regular season tougher to get through with double-digit wins. Gone are the days of having only one or two opponents on the schedule that are the "big" games for the season. This isn't your parents or grandparents' college football. Obviously, everyone wants to win a national championship but whether that is obtainable depends on who you ask. There is a generational divide in the expectations for Penn State football.
Defining success in modern college football
College football has evolved for better or worse in the past decade with the introduction of the College Football Playoff. No longer is it acceptable for teams to have a 9-3 or 10-2 season and make a New Year's Day bowl game. The best players sit out almost every bowl game outside of the playoff games to avoid hurting their future NFL career with a devastating injury. It makes sense when you look at it from a financial level, but we can't help but notice what it has done to the game itself. If the players don't care about these non-playoff games then why would the fanbases?
In the past what Penn State football has done in the James Franklin era of having four 11-win seasons and multiple big-time NY6 bowl wins would be considered a success. Now the critique is that Penn State can't break through to the elite level because they aren't reaching the college football playoff.
Is this a fair expectation? Part of what made college football different from professional sports is that it wasn't all focused on who won the national title. The bowl system was one of the most unique postseasons in sports and is the last breath of what made college football different.
Penn State's contention for a national title: A reality check
Almost every metric says that the program that James Franklin built should be in the mix every year for a national championship. Bud Elliott of 247Sports believes that there are only 18 schools in the country that can have realistic expectations that they can win a national title, and Penn State is in that group. What was taken into account was a combination of financial backing from the school and boosters, NIL opportunities, and recruiting results.
On the recruiting side, teams need to have over 50% of their roster consisting of 4 and 5-star players. James Franklin has done a great job of getting Penn State above this threshold but the team still sits at 55% for 2023 while there is a record 8 teams above the 70% mark.
So, while the Nittany Lions have the talent to contend for a title, there are still other factors to take into account. Player development and on-field coaching still need to be top-notch to compete, especially with the talent gap with a team such as Ohio State. That has been a mixed bag in the Franklin era, but generally having more talented athletes does help aid the need to be a great developer.
The cyclical history and changing times
If you ask most Penn State football fans that watched during the height of the Joe Paterno era, they will all tell you a similar story. "We didn't expect to win every season but knew that once every 4 years the team would be in contention for a national championship."
Looking at the history of Penn State football the data shows that statement was factual. Penn State finished undefeated and #2 in both 1968 and 1969 and had two Orange Bowl wins to start the cycle. About 4 years later in 1973, Joe Paterno had the team in contention again finishing 12-0 with another Orange Bowl win and a #5 finish.
We start to see a trend with a tune-up year that has a strong finish right before the team is a legit contender for a national title. In 1977 the team finished 11-1 and #5 and sure enough, in 1978, Penn State had its opportunity as the #1 team in the nation entering the Sugar Bowl before a loss against Alabama. The next cycle concluded with a #3 finish in 1981 and a national title in 1982.
Then we transition to 1985 where Penn State got close to another title before falling to Oklahoma in the Orange Bowl. Sure enough like clockwork, the Nittany Lions defeated Miami in the Fiesta Bowl the next season for their 2nd national title in 5 seasons. We see the cycle ultimately broken in the early 1990s with a brief resurgence in 1994 with the undefeated team led by the likes of Kerry Collins and Ki-Jana Carter taking Penn State football all the way to a #2 finish in the AP poll. This trend was something that the older generation of Penn State fans became accustomed to and expected as we reached the 21st century.
Generational divide: A clash of expectations
Comparing what happened in the peak of the Joe Paterno era to now is something that has come up since James Franklin brought Penn State football back to national relevance in 2016. There is a generational divide in the expectations for Penn State football.
Baby boomers and Generation X believe that Penn State should have its sites set on a national title, and at least compete within the already mentioned cycles. Millennials and Generation Z have only seen occasional flare-ups of success during their lives. Since that 1994 season Penn State has finished in the top 10 just 8 times and has cracked the top 5 just once. The majority of those top 10 finishes came during the James Franklin era in 2016, 2017, 2019, and 2022. Generation Z is typically considered people who are currently between the ages of 11-26. The best season since 1997 was the 2005 season which saw the Nittany Lions finish #3 in the AP poll. That is also the only season in the last 30 years where Penn State finished with just one loss. A sort of unofficial requirement to make the current 4-team playoff.
This younger generation of Penn State football fans has never experienced the highs of truly having a title-contending team. There hasn't been a national title-winning or undefeated team like we consistently saw in the 1970s-1990s. Sure 2017 was close with Trace McSorley and Saquon Barkley but the depth just wasn't quite there for that team to break through.
Is it time to adjust expectations for Penn State fans? Should 10-2 seasons and NY6 Bowl appearances be applauded in Happy Valley? One could argue that this may be the peak in the current climate of the sport and where the program sits on a national level. With the 12-team playoff coming next season the expectation by most fans will be that the Nittany Lions should at least make the field every season. Will making that playoff but getting bounced in the 1st round or quarterfinals satisfy the expectations of the fanbase?
I don't think that the younger generation truly believes that Penn State is in serious contention to win the national title. Many might think that they can eventually make the College Football Playoff but won't lift the trophy. How that impacts the willingness to donate to the program or NIL collectives themselves is a completely different topic, but certainly one that may impact the longevity of Penn State being nationally relevant for decades to come.
James Franklin's influence and fan expectations
How much does James Franklin have to do with all of this? Certainly, most fans will argue he is a great recruiter, but the on-field coaching has been a constant discussion over the past decade. Is he getting the most out of what Penn State can be?
Based on the way the college game has shifted in talent geographically towards the southeast there is an argument that he is doing better than expected. Consistently Franklin pulls in the top 15 classes by going into the states like Virginia and Florida where deeper talent pools are more common than in Pennsylvania. Penn State fans need to ask themselves if there is anyone else out there who can do better than James Franklin. The grass isn't always greener, just ask Nebraska fans how quickly that can change.
Looking to the future: embracing change
The great thing about college football is that one player or season can alter a program's long-term future. This year's squad has multiple players who could fill that position, whether it be highly touted quarterback Drew Allar, star running back Nick Singleton, or the dynamic linebacker Abdul Carter.
Every great team needs a guy that can take them over the top to being great. There isn't a question that Penn State has arguably one of the most talented teams they have had in the last 20 years, the preseason rankings demonstrate that. If Allar can elevate the Nittany Lions to the next level and they make the playoffs this year, maybe it could be a similar catalyst that  Clemson saw in 2015 that ended up leading to national championships a few years later.
Sometimes looking too far into the past can hurt your future. At the same time worrying about what the game will look like in 10 years doesn't always help either. Patience is something that college football fans have very little of, but for now, all we can do is wait for September 2 and see what happens.
---
---
Thank you for reading Basic Blues Nation. Please follow us on Facebook and Twitter for the latest news and insights on your favorite Penn State athletics. For feedback, questions, concerns, or to apply for a writing position, please email us at [email protected] or direct message us on our social media. Also, be sure to check out our new site shop. It's due to your support that we can become one of the market's fastest-growing Penn State sports outlets!