What should we really expect from Drew Allar in year one?
The expectations for Penn State football in 2023 largely rest on the well-known, but unproven, arm of Drew Allar. The 19-year-old has received a ton of hype this offseason, but what is a reasonable expectation for Allar in year one?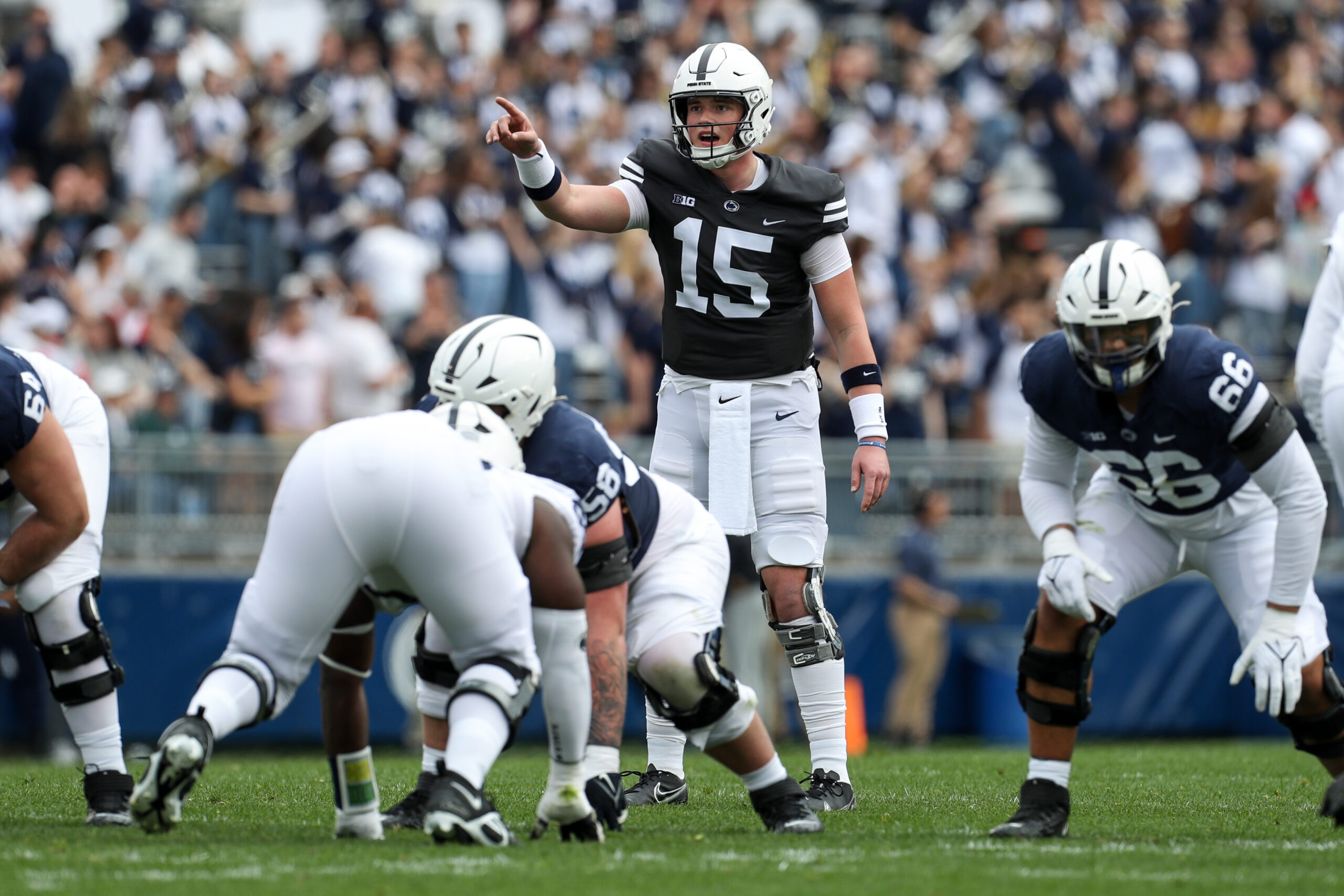 We are fast approaching the start of one of the most highly anticipated Penn State football seasons in recent memory. The Nittany Lions come into 2023 ranked as the preseason No. 7 team in the country, and have become a trendy pick to make a run at the Big Ten title and College Football Playoff. Many of these expectations reside on the well-known, but unproven, arm of expected first-year starting quarterback Drew Allar. But is it reasonable to place such high expectations on the 19-year-old quarterback? In the season premiere of the Tailgate Talk podcast, the gang discusses what Nittany Lions fans should really expect from Allar in year one, and provides updates from the midway point of Penn State football fall camp.
What should we 
really
 expect from Drew Allar in year one?
Drew Allar arrived in Happy Valley as one of the highest-rated quarterback recruits in Penn State football history. A former five-star recruit, most expect Allar to be the Nittany Lions' new starting quarterback this season, and recent comments from James Franklin suggest the sophomore may be pulling ahead in the quarterback competition.
The conversation around Allar has been all over the map this offseason. Some have already declared the 19-year-old one of the most important players in the College Football Playoff race this year. Still, others, including at least one anonymous Big Ten defensive coordinator, have expressed hesitancy and would prefer to see how things shake up on the field.
So, what should Penn State fans really expect from Drew Allar in year one? As a freshman, Allar completed 35 of 60 passes for 344 yards and 4 touchdowns last year in relief of Sean Clifford. We saw flashes of his playmaking abilities at times, whereas other times, he looked like, well, a true freshman.
Overall, it's fair to expect some sort of adjustment period as Allar learns how to lead the Penn State offense for the first time. With perhaps the best running back duo in college football, it's likely to see Allar handing the ball off a lot through the early portion of the year. But if Allar can show flashes of his five-star potential in critical spots this season, it's not outrageous to expect Penn State to accomplish something special.
You can watch the full discussion on what should be the reasonable expectation for Drew Allar on the podcast HERE.
What else is covered on the show?
In the season premiere of Tailgate Talk, the gang covers all the happenings around Penn State football through the midway point of fall camp. Some of the other topics discussed during this episode include:
Tailgate Talk
: A Penn State Football Podcast
Tailgate Talk is a podcast that brings together a collection of lifelong friends and Penn State fans to cover all the happenings around the Nittany Lion football program. Each week, the gang provides their honest, unfiltered, and (sometimes) wild opinions in what can only be described as tailgate talk. For the 2023 season, Tailgate Talk has joined the Basic Blues Nation family of podcasts, Basic Blues Studios.
---
---
Thank you for reading Basic Blues Nation. Please follow us on Facebook and Twitter for the latest news and insights on your favorite Penn State athletics. For feedback, questions, concerns, or to apply for a writing position, please email us at [email protected] or direct message us on our social media. Also, be sure to check out our new site shop. It's due to your support that we can become one of the market's fastest-growing Penn State sports outlets!