REPORT: Drew Allar might be starting to pull ahead in QB competition
Drew Allar is starting to show off his five-star recruiting ranking.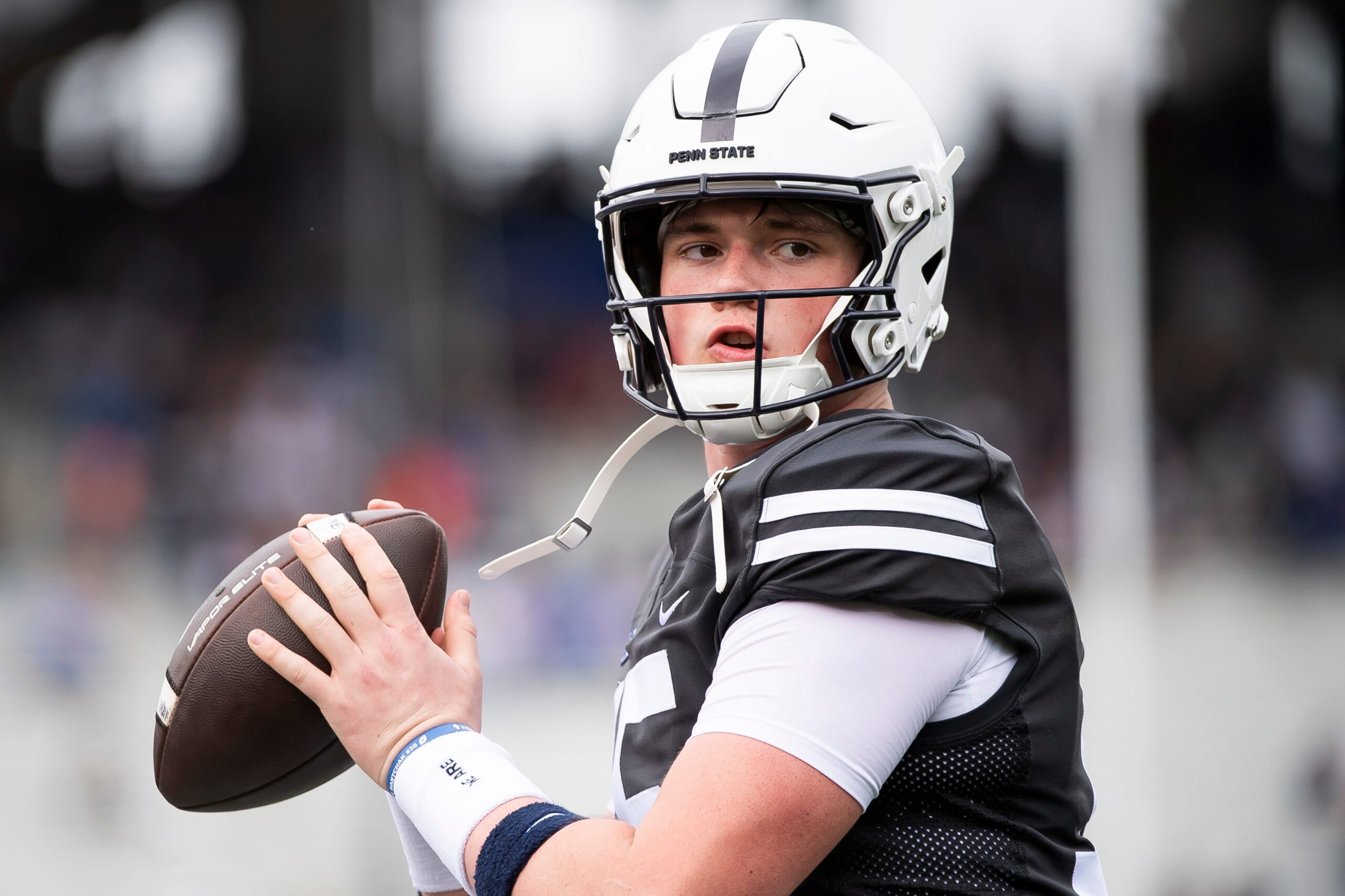 Drew Allar and Beau Pribula have been competing for the starting quarterback position of the Penn State football team during the 2023 fall camp. Now, there is reason to believe that one of these players is starting to separate from the other. Drew Allar was the expected starter once Sean Clifford said his goodbye to Penn State during the 2022 Rose Bowl game. But as always the Nittany Lion head coach James Franklin wants the QB room to compete and for the position to be earned and not given.
REPORT: Drew Allar might be starting to pull ahead in QB competition
It was reported by Lions247 staff writer Daniel Gallen that Drew Allar is starting to get the majority of the first-team reps in the latest fall camp update for Penn State. Gallen gathered a quote from James Franklin where he said "I would say that Drew's getting the majority of the reps, but I think [Pribula] is getting a few. But I would say Drew is getting the majority of them."
This shouldn't be a surprise to the Penn State community as Drew Allar is a former five-star prospect and he was in the backup QB role last season. But it is great to hear that he is taking the competition very seriously and making his presence known by asserting himself as the leader of the offense.
It feels like a matter of when not if Drew Allar will be named the starting QB for the Penn State football team ahead of their season opener against West Virginia on September 2nd.
What will Beau Pribula's role be this fall?
Clearly, if Allar is named the starter that means that Beau Pribula will most likely be the backup to Allar. However, many wonder if Pribula could see the field in a different role or specific packages this fall. Almost like former Penn State QB Tommy Stevens during the 2017 season where he was on the field as a decoy or to run the ball with Pribula's athleticism it would be great to see him involved. It also would keep him engaged with the team even if he loses the QB battle.
The other side of this is the progress that Jaxon Smolik has made since the Spring. James Franklin called Smolik the "surprise of fall camp," which makes you think can the Nittany Lions be more aggressive with Pribula if the staff is confident in what Smolik can provide if needed.
---
---
Thank you for reading Basic Blues Nation. Please follow us on Facebook and Twitter for the latest news and insights on your favorite Penn State athletics. For feedback, questions, concerns, or to apply for a writing position, please email us at [email protected] or direct message us on our social media. Also, be sure to check out our new site shop. It's due to your support that we can become one of the market's fastest-growing Penn State sports outlets!