Is UMass the worst homecoming opponent in Penn State football history?
UMass comes into Saturday with an abysmal 1-6 record, raising the question: are the Minutemen the worst homecoming opponent in Penn State football history?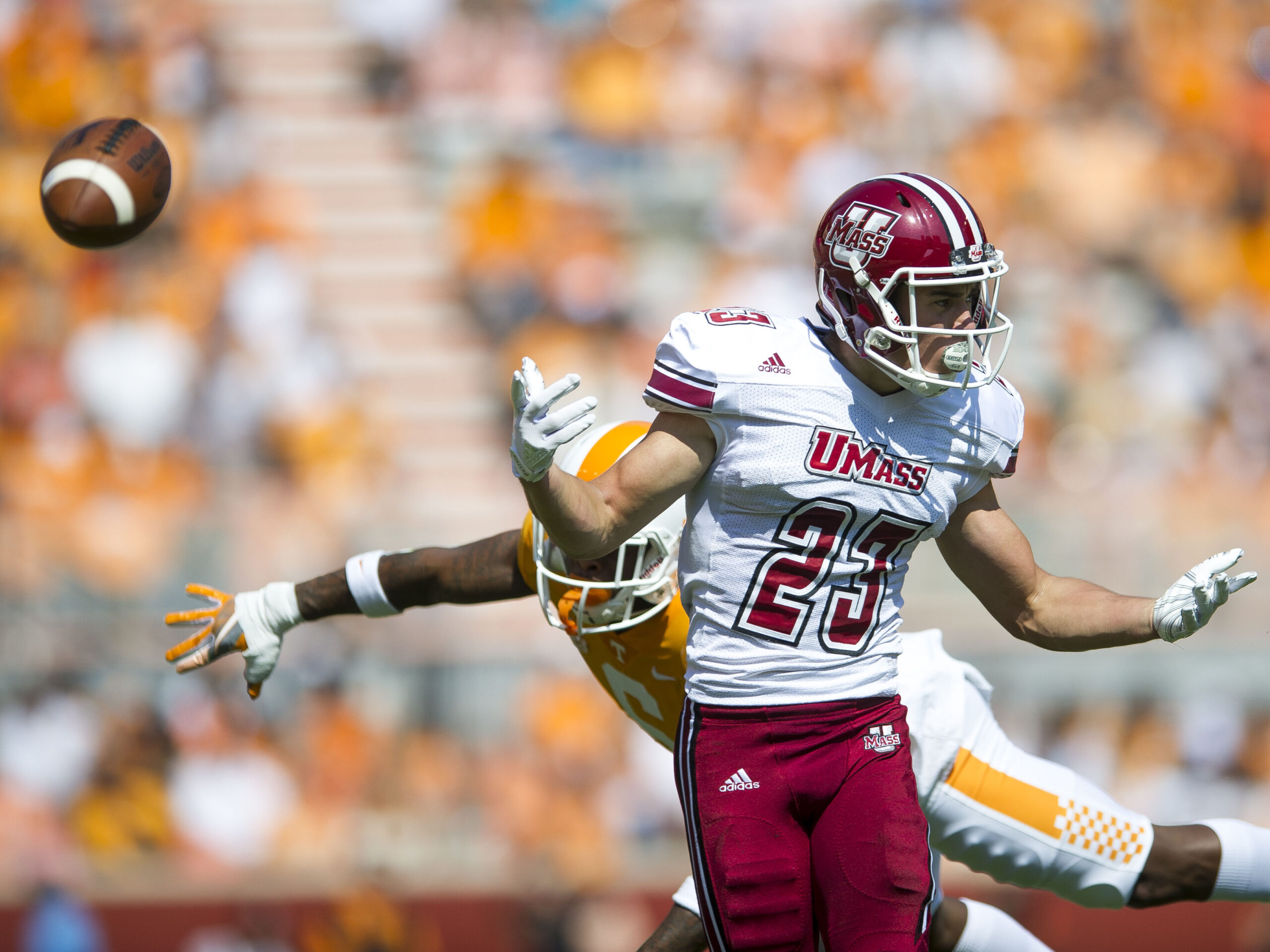 Penn State football kicks off its post-bye week schedule with a homecoming date against UMass Saturday. This will be only the second time the Nittany Lions and the Minutemen have met on the gridiron. The first meeting occurred in 2014 during James Franklin's first season, ending in a 48-7 victory for Penn State.
Even though Franklin preaches the "1-0" mantra, most Nittany Lion fans are probably looking past UMass to the October 21 trip to Columbus. It is difficult not to look ahead, considering Penn State's season depends on how it fares against the Buckeyes and Wolverines.
Nevertheless, this particular homecoming game raises a question. Are the Minutemen the worst opponent Penn State football has faced for homecoming? Let's take a deep dive to find out.
Who are the Minutemen?
Before diving into Penn State's homecoming past, let's look at a brief history of UMass football. The Minutemen began playing football in 1879 and eventually played in what was then called the College Division, which consisted of a group of schools playing lower-level college sports. Eventually, in 1973, the College Division split into Division II and Division III, and UMass entered Division II.
Life in Division II was short-lived for UMass. In 1978, the Minutemen moved up to the Division I level. Competing in what was then known as Division I-AA, now FCS, UMass was pretty successful. The Minutemen won several Yankee Conference and Atlantic 10 Conference titles during their run in the FCS. UMass also appeared thrice in the Division I-AA/FCS Championship game, winning it in 1998.
With success came a chance to move up to FBS as the Minutemen began their transition in 2011, becoming a full FBS member in 2013. Since joining the FBS, their success has evaporated. The best record the Minutemen have achieved in a single season as a full member of the FBS is 4-8. UMass was a football-only member of the MAC through 2015 when it declined to become a full conference member. Since 2016, the Minutemen have competed as a football independent, and they are one of only three current FBS teams to never have obtained bowl eligibility.
Penn State football homecoming history
Penn State played its first homecoming game in 1920 against Dartmouth. However, for the purposes of this article, we will only be looking back to 1966, the first year of Joe Paterno and what most would call the modern era of Penn State football.
Since 1966, the Nittany Lions have compiled a 47-9 record on homecoming. While the game is always scheduled in advance, and there is no way of knowing how matchups will shake out during the season, Penn State has only faced 10 ranked teams on homecoming, winning eight of those games.
Penn State's most common homecoming opponent as an independent was Syracuse, facing off against the Orange eight times. In the Big Ten era, the Nittany Lions have played against Purdue the most on homecoming, meeting the Boilermakers five times.
Facing off against UMass will be only the second time Penn State football has faced a nonconference opponent for homecoming, the first being Southern Miss back in 2001.
Is UMass Penn State's worst homecoming opponent ever?
The Minutemen enter Saturday's matchup at 1-6, their lone victory coming in Week 0 against New Mexico State. There have been only 11 other homecoming matchups where Penn State's opponent entered the game with one win or less. Only one of those opponents, Syracuse in 1970, went on to finish with a winning record.
Iowa in 1973 and Wake Forest in 1974 entered the Penn State homecoming game with zero wins. The Hawkeyes finished the season 0-11. So, in terms of wins, the 1973 Hawkeyes are the worst homecoming opponent ever for Penn State football.
However, in the Big Ten era, no team has entered with a worse record than UMass. So, the Minutemen probably deserve a share of the worst homecoming opponent ever.
Penn State football just needs to take care of business Saturday. Get the offense on track, play lights out on defense, hopefully, no injuries, and get a comfortable victory. Then, get ready to play one of the biggest games of the year in Columbus.
---
---
Thank you for reading Basic Blues Nation. Please follow us on Facebook and Twitter for the latest news and insights on your favorite Penn State athletics. For feedback, questions, concerns, or to apply for a writing position, please email us at [email protected] or direct message us on our social media. Also, be sure to check out our new site shop. It's due to your support that we can become one of the market's fastest-growing Penn State sports outlets!