Drew Allar now leads the nation with gaudy active passing streak
This stat separates Penn State QB Drew Allar from the rest of the pack in college football.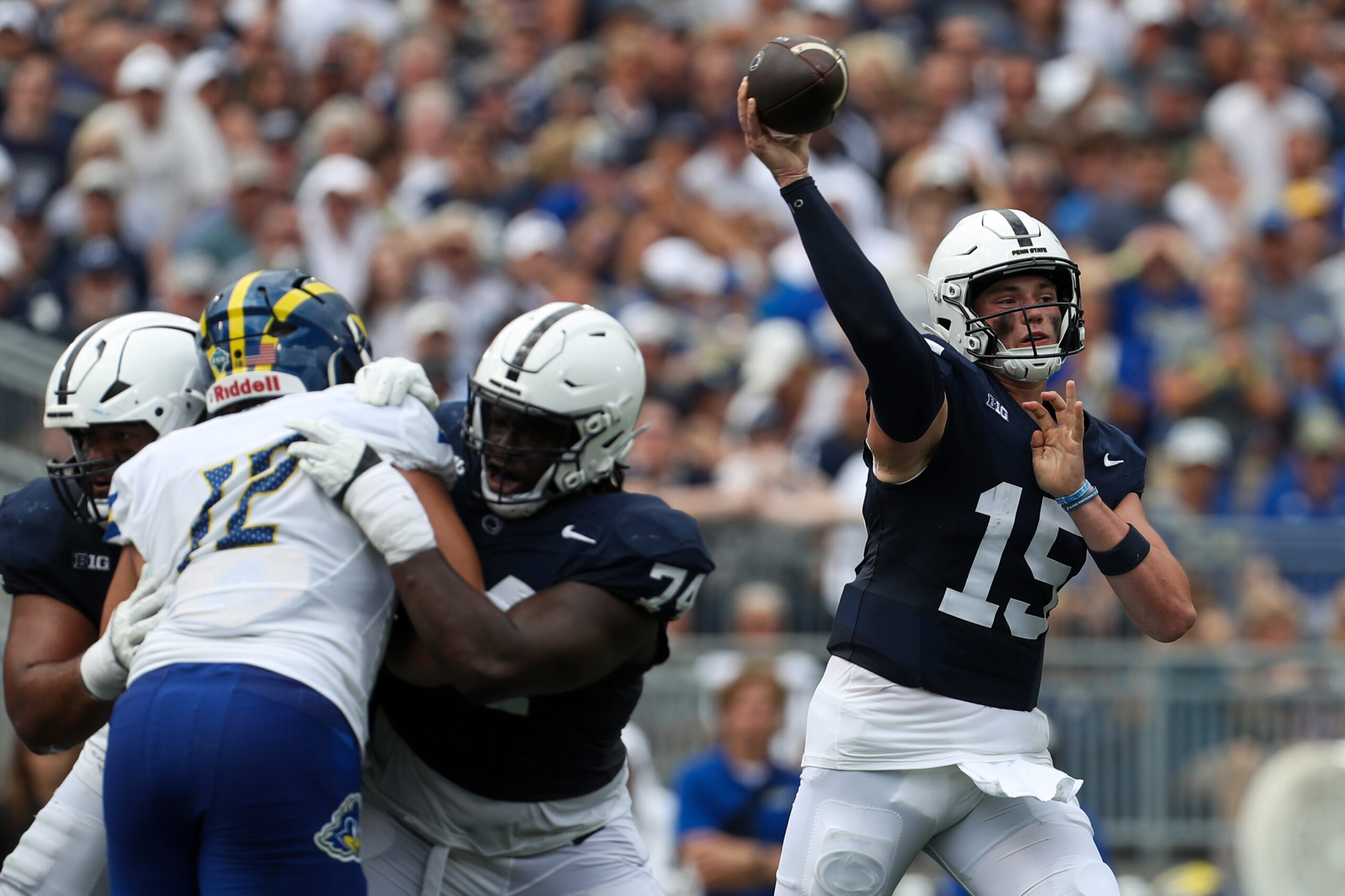 Drew Allar came to Happy Valley with about as high of expectations as any player in recent Penn State football history. Through the first five starts of his career, Allar has shown on numerous occasions why he's the former top QB recruit in the nation. However, Allar's gaudiest stat line comes from something he hasn't done: commit a turnover. After Week 6 action, the Nittany Lions QB now leads the nation with the longest active passing streak without throwing an interception.
Penn State QB Drew Allar leads nation with longest active passing streak without throwing an interception
On Saturday, Missouri QB Brady Cook threw two interceptions in a 49-39 loss to LSU. As 247Sports notes, this ended Cook's streak of 365 passing attempts without an interception, the fourth-longest streak in FBS history.
With Cook's historic run ended, there's now a new active streak for most passes without throwing a pick, and it's held by Penn State QB Drew Allar. Dating back to last year, Allar has thrown 218 consecutive passes without an interception.
In fact, Allar has yet to throw a pick in his college career, touting a perfect 13-0 touchdown-to-interception ratio. According to PFF, Allar has only thrown the ball into one "turnover-worthy scenario" this year as well.
And taking things yet another step further, Allar has yet to commit a turnover in his Penn State football career. The sophomore QB recovered his own fumble on a strip-sack in the Nittany Lions' last game against Northwestern. But besides that, Allar has yet to put the ball into the hands of the opposition.
Allar recognizes the importance of turnover-free football
The ability of Drew Allar to keep the ball out of harm's way is highly impressive for a 19-year-old first-time starting QB. While some have criticized the Penn State offense for not being explosive enough, there's something to be said for playing good, clean football.
"I think we're doing a really good job right now of being efficient and staying on track," Allar said of the Nittany Lions offense after the Iowa game. "…I think we're doing a really good job right now just taking what the defense has given us, taking care of the ball, which is the biggest thing for the offense, and controlling the ball. So, I think we're just doing a really good job of being very efficient."
"He's done a really good job from a decision-making perspective," James Franklin said of Allar's turnover-free play during Tuesday's press conference. "…I think the biggest thing is what we've talked about before, is his poise. A lot of times, turnovers go hand-in-hand with guys that are panicking in the pocket or in decision-making that force you into a bad decision."
Allar's ball security can be a significant asset for Penn State football down the stretch
But, the biggest tests for Drew Allar and Penn State football still lie ahead this season. The Nittany Lions travel to Columbus in two weeks before a home date with Michigan on November 11. The Buckeyes and Wolverines join Penn State among the most efficient defenses in college football this year.
While his turnover-free streak can't possibly last forever, ball security can be a major asset for Penn State in the stretch run of the season. The Nittany Lions can't afford to give away possessions, especially to high-powered offenses like Ohio State and Michigan.
James Franklin will look to Allar to continue his poised play over the next two months. And if Allar can keep his stat sheet relatively clean, then Penn State football could be in good position when the College Football Playoff picks are announced in December.
---
---
Thank you for reading Basic Blues Nation. Please follow us on Facebook and Twitter for the latest news and insights on your favorite Penn State athletics. For feedback, questions, concerns, or to apply for a writing position, please email us at [email protected] or direct message us on our social media. Also, be sure to check out our new site shop. It's due to your support that we can become one of the market's fastest-growing Penn State sports outlets!